Live Updates:
2352 Thanks for tuning in. The full programme will be available on the RTÉ Player.
2334 The show is over but give us a few minutes and we'll have the debate available to view on demand.
2328 Pat thanks the candidates and the audience as the show ends.
2324 The candiates are asked to they have any regrets about the campaign?

Dana says she regrets the "low level" of reporting. Gallagher has no regrets, and neither does Norris. Higgins says he has loved the debates, particularly one with young people. Mitchell says it is a terrible pity we didn't get to focus on the place the country is in.
McGuinness says his critics could learn something about peacemaking. Davis thanks people for the reception she received.
2323 McGuinness says it is wrong to ask candidates their opinion of an individual who is not here.
2318 Is Denis O'Brien a suitable person to be on the Council of State.
Davis says she sees no problem with a business person being on the state. Higgins says anyone who is a "tax exile" should not be on the council. Norris says O'Brien is not on his list either. Gallagher says he would not announce his Council of State until he is elected. Mitchell says the question is not relevant and criticises the way the debate has been handled.
2317 Dana says the President can work with the Government and the IDA. She says no-one is listening to the people of the country.
2316 Higgins says he would "link creative industries with creative industries". Davis says a President cannot create jobs but can be "an influence".
2312 Gallagher is asked how many jobs he created still exist?
He says there are approximately 20 jobs remaining, and his former company has suffered like others. He says it would "symbolic" if he was the first entrepreneur elected President.
2311 Carers feel "invisible", says Gallagher. He says he can shine a light on their plight.
2310 McGuinness says the Presidency should be "dignified" but the President also needs to "share the pain" of the people.
2307 Mitchell says the President can help to "lead" this country. Davis says there is "confusion" around the role of President. She says there are other ways to stand among the people. Norris says he would not let his salary go back to the Exchequer for it to waste it.
2304 Has the Presidency been cheapened by some of the campaign promises to volunteer?
Higgins says a President should "do what is in the Constitution". Dana says the Presidency "belongs to the people" and it is not below a President to stand "shoulder to shoulder" with the people.
2304 Mitchell says the opposition to the legislation is "typical of a certain class".
2303 The time for judicial reform has come, says Mitchell.
2301 Higgins says he will vote yes, and that we should have a full and fair debate.
2259 Gallagher says he would be cautious and he has not made up his mind.
2258 McGuinness says he does not have a vote, but he says he shares the concerns about the speed of the legislation.
2257 Davis says the legislation is rushed and debate has not been "adequate". Norris says it would create a "frightening" concentration of power.
2254 How will the candidates vote on the "Abbeylara amendment".
Dana says she will vot no on both referendums. Mitchell is not impressed by eight former Attorneys-General trying to protect judges' wages.
2240 Will the candidates agree to sign any law that will make the reporting any allegations of the sexual abuse of minors mandatory?
Mitchell says he will sign any law that he believes to be constitutional. Dana says care of the child must come first in all cases. Davis the protection of children is "paramount". Norris says it is wrong "morally and legally" for an adult to have sex with a minor. McGuinness says the safety of children has to come "first and foremost". Gallagher says those who are "most vulnerable" need to be protected.
2234 "In the annals of murder there has never been anything as low as the murder of Jean McConville," says Mitchell. Dana hopes we can find a "common ground" in "moving forward".
"There is no such thing as collateral damage in describing the killing of civilians," says Higgins.
2230 Are those killed in The Troubles "murder vicitms or "collateral damage," McGuinness is asked. He says a "lot of terrible things" happened. He says he "deals with the reality" of the situation and "regrets" that the deaths happened.
2229 Mitchell calls for a "clear statement" on Gallagher's financial history.
2228 Davis says "truthfulness" and "integrity" is important, especially in the closing days of the campaign.
2224 Gallagher is asked does he still feel he should run for President, given the possibility of scandal in the future.
Pat asks him how did he mislay a cheque for €89,000 in a bank account? Gallagher says the cheque was made out to the wrong account. He says the matter was resolved and there was no breach of law. He says he is "100% tax compliant".
2221 Higgins says we should look at some of the "anomalies" related to citizenship. Mitchell says he has been "called names" because of some of his proposals regarding Northern Ireland. Dana says she does not see a "border".
2217 An audience member asks McGuinness why he has come down south with his "baggage".
"I come from Derry and Derry is as Irish as Cork," he responds, adding that the people of Ireland are "not partitionist". He says Irish citizens in Northern Ireland and the diaspora should be allowed to vote.
2212 "Familiarly warm" is how McGuinness describes the reaction of people to him.
2210 Norris is asked has he shown a "remarkable lack of judgement". He says there are "dark horses" in the race and he hopes one of them wins.
2209 Higgins says his campaign reflected the "dignity" of the office. He says he has steadily improved in the polls. He says he has an excellent chance with transfers.
2208 Dana says she has never polled well and insists she is not "dismayed". She doesn't trust the "Dublin 4 polls".
2207 Davis says she went through a challenging time earlier in the campaign, but she is saying vote for "someone with a track record".
2205 Why are Mitchell's ratings at odds with Fine Gael's? Mitchell says it is not a "celebrity" contest.
2204 Norris says he is sorry to disappoint the Irish people but his closet is "absolutely" empty.
2159 Gallagher says he has met Pat Kenny as many times as he has met Brian Cowen. He says he was at about two Cairde Fáil dinners. McGuinness cautions Gallagher about what he is saying and that a man told him that Gallagher took a cheque for €5,000 for Fianna Fáil. He says Gallagher is in "deep, deep trouble".
2157 Mitchell says he does not believe the polls and they cannot be relied upon.
2156 Dana says Fine Gael and Labour are implementing FF policies. She says party leaders are not listening to the public.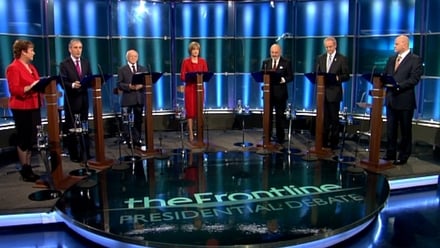 2154 McGuinness says there was something "very rotten at the heart of the last administration" and Gallagher was "up to his neck in it".
2154 Davis says she is the only "truly Independent candidate".
2152 Norris says Gallagher paid himself over €800,000 from one of his companies. Norris says the election of Gallagher would prove that the Irish people "have not learned very much".
2151 Gallagher says he has stood back from all his business obligations in order to devote himself to the campaign.
Higgins says the Celtic Tiger was "mismanaged" and "misdirected". He adds that he does not believe that Gallagher will be President and that voters are rallying behind him
2149 The panel is asked what they think of the possibility that the electorate will put a former Fianna Fáil member Gallagher into office, eight months after FF was ejected from government.
2148 Higgins wants to heal the country and "bring generations together".
2147 The creation of jobs is important to Gallagher, who would bring his experience as an entrepreneur to bear.
2146 Norris will put the welfare of the "marginalised" at the centre of his Presidency.
2146 Dana wants to bring a "sense of hope" and she wants to be remembered as "consistent" on the side of the people.
2145 McGuinness wants to "share the pain" and get the "economy back on track".
2144 Mitchell wants to be remembered as "compassionate" and a "moral influence".
2143 Pat asks what the candidates' would like their legacy to be as President.
Davis wants to "renew community spirit" and "pride".
2142 Each candidate has five supporters each in the audience.
2141 Pat introduces the candiates - Dana, Mitchell, Higgins, Davis, Norris, McGuinness and Gallagher.
2140 Seven people. One job. The final debate. Pat Kenny gets the ball rolling.
2138 Just moments to go now until the programme starts. A live stream will appear at the top of this page.
2133 Don't forget to let your voice be heard on our comments page.
2105 And Martin McGuinness makes seven.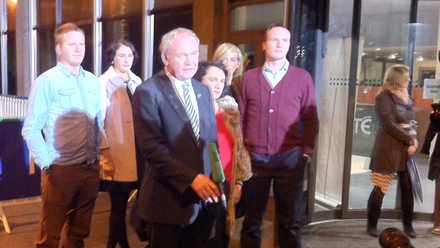 2058 David Norris is the penultimate candidate to arrive.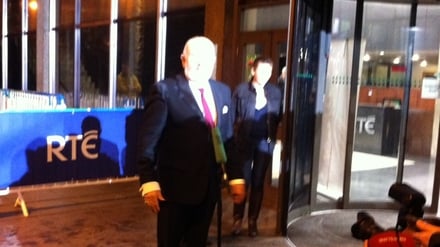 2053 Michael D Higgins follows shortly afterwards. A veritable flood of candidates. Speaking of floods, keep up to date with the emergency situation in Dublin here.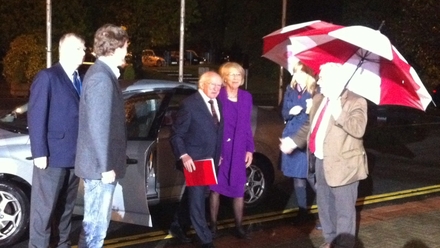 2051 Followed by the man they all have to catch, if the polls are to be believed. Seán Gallagher is at Montrose.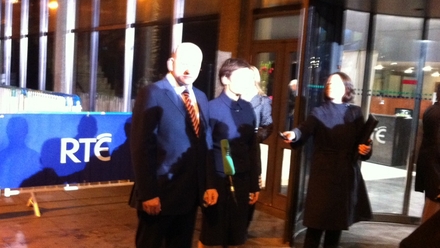 2050 Gay Mitchell is the first male on the scene.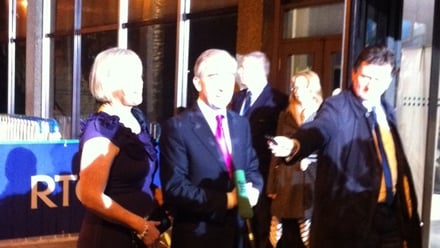 2043 Both female candidates are now in situ after Dana Rosemary Scallon's arrival.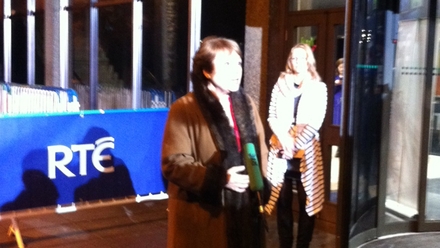 And no problems with her car this evening.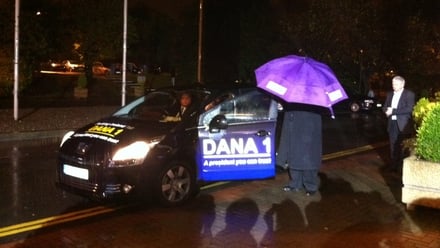 2035 Mary Davis has arrived and is subjected to the full glare of the media.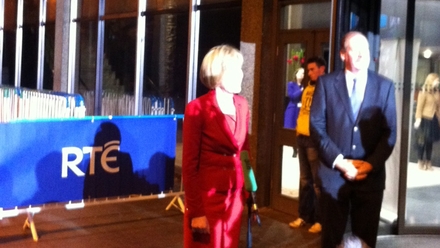 2015 On this evening's Six-One, Political Correspondent David Davin-Power reported that neither of the Government parties - Fine Gael and Labour - are likely to have their candidate returned.
2009 What are your feelings ahead of tonight's showdown? Post your comments here.
2003 The first votes in the Presidential election were cast today on islands off the coast of Co Donegal, so voters on the likes of Tory and Inisboffin islands will not be able to factors tonight's performances into their decision.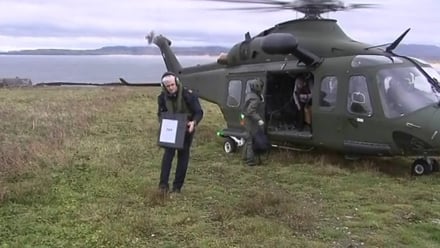 2001 Candidates are due to start arriving from 8.30pm, though with the rain in Dublin at the moment they may be lucky to make it!