Muammar Gaddafi has been killed in his hometown of Sirte, two months after the fall of Tripoli and the end of his 42-year rule in Libya.
Senior officials in the National Transitional Council, who had laboured to subdue thousands of Gaddafi loyalists in Sirte, said his death would allow a declaration of "liberation" after eight months of bloodshed.
"We confirm that all the evils, plus Gaddafi, have vanished from this beloved country," Prime Minister Mahmoud Jibril said in Tripoli as the body was delivered to Misrata, the city whose siege and suffering at the hands of Gaddafi's forces made it a symbol of the rebel cause.
"It's time to start a new Libya, a united Libya," Mr Jibril added. "One people, one future." A formal declaration of liberation, that will set the clock ticking on a timeline to elections, would be made by Friday, he said later.
Western leaders, who had held off cautiously from comment until Mr Jibril spoke, echoed his sentiments following the confirmation of the death of the former Libyan leader.
A NATO aircraft may have hit the Libya convoy but it is not known whether it was a US or French drone which struck the vehicles.
President Barack Obama said that the death of Muammar Gaddafi marks the end of a long and painful chapter for Libya.
The US president said that the Libyan people now have the opportunity to determine their own destiny.
He says that they also have a great responsibility to build a tolerant and democratic Libya.
Barack Obama has sent out a warning to authoritarian leaders across the Middle East that iron-fisted rule "inevitably comes to an end."

British Prime Minister David Cameron, who with French President Nicolas Sarkozy was an early sponsor of February's revolt in Benghazi, said: "People in Libya today have an even greater chance after this news of building themselves a strong and democratic future."
The new national flag, resurrected by rebels who forced Gaddafi from his capital Tripoli in August, filled streets and squares as jubilant crowds whooped for joy and fired in the air.
In Sirte, fighters danced, brandishing a golden pistol they said they had taken from Gaddafi.
Accounts are hazy of Muammar Gaddafi's final hours and the fighting which appears to have claimed the lives of several of his senior aides.
Various sources suggest that Gaddafi may have tried to break out of his last refuge at dawn local time.
However, he was stopped by a NATO air strike and captured - possibly three or four hours later - after gun battles with NTC fighters who found him hiding in a storm drain.
NATO said its warplanes fired on a convoy near Sirte about 8.30am local time, striking two military vehicles, but could not confirm that Gaddafi had been a passenger.
Accounts from NTC fighters suggested his capture, and death soon after from wounds, may have taken place around noon.

After February's uprising in the long discontented east of the country around Benghazi - inspired by the Arab Spring movements that overthrew the leaders of neighbouring Tunisia and Egypt - the revolt against Gaddafi ground slowly across the country before a dramatic turn saw Tripoli fall in August.
Hundreds of NTC troops had surrounded the Mediterranean coastal town of Sirte for weeks in a chaotic struggle that killed and wounded scores of the besieging forces and an unknown number of defenders.
The death of Muammar Gaddafi: As it happened
1738 The African Union has lifted Libya's suspension from the AU.
The AU was slow to recognise Libya's National Transitional Council as the de facto government. Gaddafi had been one of the bloc's main financiers.
1730 Al Jazeera says there are unconfirmed reports that Saif al Islam has been captured outside Sirte. It is not known whether he is alive or dead.
1713 French Foreign Minister Alain Juppe has hailed the "end of 42 years of tyranny" in Libya and said France was "proud" to have helped bring freedom to the country, referring to the role of French forces in NATO actions during the conflict.

1710 Another video - this one apparently showing Gaddafi while still alive in Sirte this morning (graphic content)
1658 Dead bodies are being found regularly in mass graves, hospitals and other sites in Libya, including on roadsides, the International Committee of the Red Cross has warned.
The humanitarian agency said many bodies had not been claimed, but that thousands of families were waiting to find out what had happened to missing loved ones.
It gave no estimate of the number of unclaimed bodies.

1653 Update on Saif al-Islam: "There is fighting going on in Wadi al-Ather. The revolutionaries have attacked an armed convoy. We suspect that Saif might be in the convoy."
1644 Relatives of victims of the flight blown up over Lockerbie by Libyan agents 23 years ago said "justice was served" with the death of Muammar Gaddafi.
"I hope he's in hell with Hitler," said Kathy Tedeschi, whose husband Bill Daniels was among the 270 people killed in the 1988 bombing of PanAm Flight 103.
1636 Some more comments from Ban Ki-moon: "We have all seen the reports of the death of Colonel Muammar Gaddafi and the end of fighting in Sirte and other cities. Clearly, this day marks an historic transition for Libya.
"Combatants on all sides must lay down their arms in peace."
1627 The Guardian has published video of what appears to be the body of Muammar Gaddafi shortly after his death in Sirte (warning graphic content)
1622 "A historic transition for Libya" is how UN Secretary Ban Ki-moon has described today's events.
1615 Libya's prime minister Mahmoud Jibril says he has unconfirmed reports that Saif al-Islam has been tracked down near the city of Sirte and that his convoy is under attack.

1607 Summary from Reuters: One possible description, pieced together from various sources, suggests that Gaddafi may have tried to break out of his final redoubt at dawn in a convoy of vehicles after weeks of resistance.
However, he was stopped by a NATO airstrike and captured, possibly three or four hours later, after gun battles with NTC fighters who found him hiding in storm drain.
NATO said its warplanes fired on a convoy near Sirte about 8.30am (0630 GMT), striking two military vehicles in the group, but could not confirm that Gaddafi had been a passenger.
Accounts from his enemies suggested his capture, and death soon after from wounds, may have taken place around noon local time.
1604 "I think today is a day to remember all of Colonel Gaddafi's victims, from those who died in connection with the Pan Am flight over Lockerbie, to Yvonne Fletcher in a London street, and obviously all the victims of IRA terrorism who died through their use of Libyan Semtex" British Prime Minister David Cameron speaking this afternoon.

1557 There are reports coming that the convoy of Saif al Islam - another of Gaddafi's sons - is under attack near Bani Walid.
No further details as yet.
1555 The International Monetary Fund and the World Bank will visit Libya "in the coming weeks" to assess economic and financial needs, an IMF spokesman said a short time ago.
"Follow-up missions are planned to undertake a needs assessment."

1553 A Reuters witness reports seeing a video of the captured son of Muammar Gaddafi, Motassim, lying on a bed and covered in blood - but alive.
He was bearded and wearing a bloody singlet, wounded but clearly alive at the time the video was taken.
1542 Al-Arabiyya television has said Gaddafi's body is in Misrata, but the body is in a commercial centre in the city's Souq Tawansa neighbourhood.
1539 European Parliament president Jerzy Buzek says he will visit Libya from Saturday.
1532 Al Jazeera is reporting that Gaddafi's body has been placed in a mosque.
1526 Another pic from the site where Gaddafi was found in Sirte: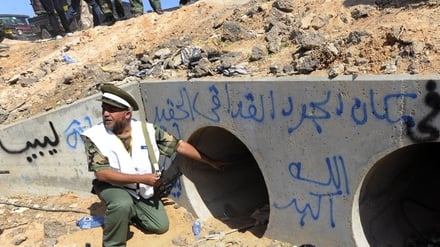 1514 Muammar Gaddafi's body has reportedly reached Misrata. No video or photographs confirming this as yet.
1508 Al Jazeera has broadcast what it says is exclusive footage clearly showing the body of Libya's Muammar Gaddafi being dragged by rebels along a street.
The footage shows the half naked body of the toppled Libyan strongman being stripped of his shirt. His face was red with blood and had a bullet hole in the side of his head.
1500 The liberation of Libya will be announced "within hours," according to the vice chairman of Libya's National Transitional Council - who confirmed that Muammar Gaddafi was killed this morning.
That would be a landmark announcement, after which the interim government said it would begin the transition to democracy.
"We announce to the world that Muammar Gaddafi has been killed at the hands of the revolutionaries," Abdul Hafiz Ghoga told a news conference in Benghazi.
"We will announce the liberation of Libya within hours, maybe sooner."

1453 This is reportedly the gold-plated gun belonging to the ousted Libyan leader. Instantly claimed as a souvenir.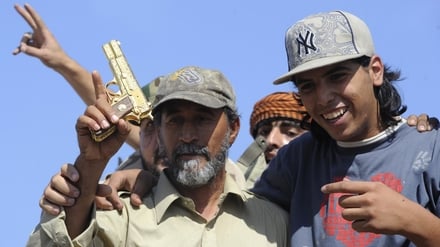 1447 The death of Gaddafi "marks the end of an era of despotism," European Union president Herman Van Rompuy told Reuters.
"It is an end to the repression from which the Libyan people have suffered for too long."
1445 Muammar Gaddafi's son Saif al-Islam is believed to be still at large in the Libyan desert
Abdelmajid Saif al-Nasr told Al Jazeera a few minutes ago that Saif al-Islam is last known to have been in the area of Bani Walid and was believed to be "in the desert" around the town.
"He will be captured soon."

1439 More on Mutassim Gaddafi: "We found him dead. We put his body and that of (former defence minister) Abu Bakr Yunis in an ambulance to take them to Misrata," said Mohamed Leith, who had earlier confirmed that Moammer Kadhafi had been captured in his hometown and subsequently died of his wounds.
1435 NTC commander claims Muammar Gaddafi's son Mutassim found dead in Sirte. Earlier reports said Mutassim was captured alive.
No independent confirmation as yet.
1432 This is the scene in Sirte: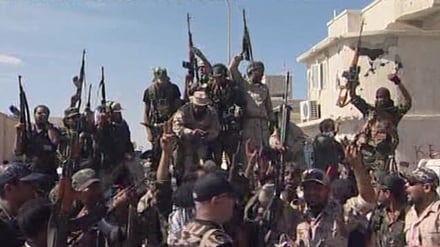 1423 A video circulating among NTC fighters in Sirte shows what appears to be Gaddafi's bloodied corpse.
In the grainy images, a large number of NTC fighters are seen yelling in chaotic scenes around a khaki-clad body which has blood oozing from the face and neck.
The body is then dragged off by the fighters and loaded in the back of a pick-up truck.

1419 Al Arabiya television channel is reporting that the body of deposed Libyan leader Muammar Gaddafi has arrived in Misrata - where TV crews will be allowed to film the corpse.
1418 "We announce to the world that Kadhafi has been killed at the hands of the revolution," NTC spokesperson Abdel Hafez Ghoga said a short time ago.
"It is an historic moment. It is the end of tyranny and dictatorship. Kadhafi has met his fate."
1416 Below is allegedly a photo of the site where Muammar Gaddafi was found this morning.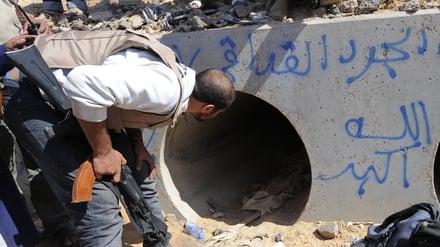 1414 Al Jazeera has just broadcast pictures of the body of a man it identifies as Muammar Gaddafi's defence minister - Abu Bakr Younus.
The television footage showed a bearded man with a bullet hole just below his neck.

1403 Gaddafi: "He was killed in an attack by the fighters. There is footage of that," the National Transitional Council's information minister, Mahmoud Shammam, told Reuters.
There was no independent confirmation of his remarks.

1357 The body of deposed Libyan leader Muammar Gaddafi is being taken to a location which is being kept secret, according to National Transitional Council official.
"Gaddafi's body is with our unit in a car and we are taking the body to a secret place for security reasons," Mohamed Abdel Kafi, an NTC official in the city of Misrata told Reuters.

1345 "The reports peddled by the lackeys of NATO about the capture or death of the brother leader, Muammar Gaddafi, are baseless," read a statement just broadcast on (Pro-Gaddafi) Al-Libiya television.

Gaddafi "is in good health," it insisted.
However the NTC is confirming Gaddafi has been killed.
1339 NATO has said its aircraft attacked two military vehicles near Muammar Gaddafi's holdout in Sirte this morning - but stopped short of confirming reports that these had been carrying Gaddafi.
"At approximately 0830 local time (0630 GMT) today, NATO aircraft struck two pro-Gaddafi forces military vehicles which were part of a larger group moving in the vicinity of Sirte," NATO military spokesman Colonel Roland Lavoie said.
"These armed vehicles were conducting military operations and presented a clear threat to civilians."

1332 Short summary: NTC says Muammar captured and wounded in both legs at dawn this morning as he tried to flee in a convoy which NATO warplanes attacked.
He was initially taken away by ambulance after suffering wounds to the head and both legs.
NTC to address the nation shortly
1325 AFP has published a picture of what appears to a badly wounded or dead Muammar Gaddafi. (Warning: graphic image)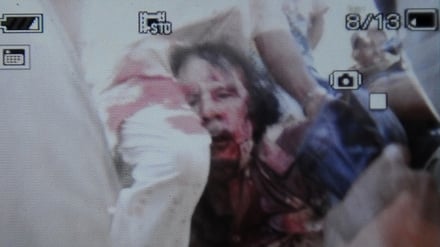 1324 An NTC fighter said Gaddafi had been found hiding in a hole in the ground and had said "Don't shoot, don't shoot" to the men who grabbed him.

1323 NATO says its aircraft struck pro-Gaddafi vehicles near Sirte this morning.
1321 Lots of conflicting reports. No independent confirmation of Gaddafi death as yet.
1321 Further details from the NTC: "He (Gaddafi) was also hit in his head ... There was a lot of firing against his group and he died."

1320 Deposed Libyan leader Muammar Gaddafi died of wounds suffered in his capture near his hometown of Sirte, a senior National Transitional Council military official has said.

1318 NTC leader Mustafa Abdel to address the nation shortly - AFP
1309 White House: Senior official for Barack Obama "working to confirm reports of Gaddafi's death or capture"
1306 AL Jazeera reporting that its sources say Gaddafi died in "a gun battle" near Sirte.
1302 A Libyan transitional forces commander said Moussa Ibrahim, former spokesman for Muammar Gaddafi's fallen government, has been captured near the city of Sirte.
Abdul Hakim Al Jalil, commander of the 11th brigade, also said he had seen the body of the chief of Gaddafi's armed forces, Abu Bakr Younus Jabr.
"I've seen him with my own eyes," he said and showed Reuters a picture of Jabr's body.
"Moussa Ibrahim was also captured and both of them were transferred to (our) operations room."

1301 A number of outlets - including Al-Jazeera - are now confirming the death of Muammar Gaddafi.
Prepared obit packages, looking back on GAddafi's life, are being broadcast.
1259 "We've seen the media reports but can't confirm them," US State Department spokeswoman Beth Gosselin told Reuters.
White House officials were not immediately available to comment. The Pentagon also said it could not confirm the reports.
The official did confirm that the head of Gaddafi's armed forces, Abu Bakr Younus Jabr, had been killed.
1257 "Clearly these are very significant developments, which will take time to confirm. If it is true, then this is truly a historic day for the people of Libya" - NATO
"We are checking and assessing the situation"

1255 Russian President Dmitry Medvedev says that the Libyan people should decide the fate of Muammar Gaddafi - who has variously been reported as dead, captured or wounded.
1252 "Gaddafi dies of wounds" - NTC claim via Reuters
1248 The website for the pro-Gaddafi TV station is - unsurprisingly - denying that the former Libyan leader has been captured or wounded.
1245 NATO says the Gaddafi capture claims "will take time to confirm"
1240 Further details have emerged from NTC official Abdel Majid - who says Gaddafi was captured while "fleeing in a convoy which NATO warplanes attacked."
1238 The so far unconfirmed reports have not prevented Dutch Prime Minister from welcoming the "good news."

1233 The US State department says it cannot confirm the capture claim.
"We've seen the media reports but can't confirm them," US State Department spokeswoman Beth Gosselin told Reuters.

1230 In Sirte, medics said the defence minister in Gaddafi's ousted regime, Abu Bakr Yunis, had been killed in the final battle for the strongman's hometown.
His body was identified at the field hospital where it was brought in a pick-up truck on Thursday, Dr Abdu Rauf told AFP.
Libyan TV channel Libya Al-Ahrar also said that he was in custody.
1223 Another official, Mohamed Leith, has backed up the capture claim.
"He has been captured. He is badly wounded, but he is still breathing."
Mohamed Leith also told AFP that he had seen Gaddafi himself and that he was wearing a kaki uniform and a turban
1215 "He's captured. He's wounded in both legs ... He's been taken away by ambulance," NTC military official Abdel Majid told Reuters by telephone.
Sirte falls
NTC forces earlier captured the last positions held by Gaddafi loyalists in the deposed leader's home town of Sirte.
"Sirte has been liberated. There are no Gaddafi forces any more," said Colonel Yunus Al Abdali, head of operations in the eastern half of the city.
Another front line commander confirmed the capture of Sirte, which was the last remaining significant bastion of pro-Gaddafi fighters almost three months after the ex-leader was overthrown by rebels.
Libyan interim government fighters hoisted the new national flag above the centre of Sirte this morning.
A Reuters witness said celebratory gunfire broke out among NTC forces as the flag was raised above a large utilities building in the Mediterranean city, which had been under NTC siege for nearly two months.