Martin McGuinness has claimed that last night's Prime Time debate was unfair and amounted to "trial by television".
Speaking during a visit to the Cavan Institute this lunchtime, Mr McGuinness denied that he had a row with the programme's presenter, Miriam O'Callaghan.
He said that after the programme he asked for a one-to-one meeting with her.
Mr McGuinness described it as a very low-key encounter, saying there were no raised voices and he expressed his disappointment at the way the debate was handled.
It was, he said, unfair and totally out of order.
"I was accused of being a murderer. That was wrong," said Mr McGuinness, adding that he was then "subject to a show trial on television".
He added: "Miriam went round all the other candidates and asked each and every one of them if I was suitable to be President.
"She didn't ask me if I thought any of them were suitable for the President of Ireland."
Mr McGuinness also responded to claims made again by Environment Minister Phil Hogan that, if elected, Mr McGuinness would be bad for inward investment.
"I'm glad he's said that again. He just made a fool of himself twice," said Mr McGuinness, claiming that he and Peter Robinson had secured thousands of jobs for Northern Ireland from major US companies, such as Citigroup among others.
Commenting on the treatment of Martin McGuinness on the Prime Time debate, Mary Davis has said she did not think questions put to him were unfair.
Speaking during a canvass in Galway city this evening, Mrs Davis said that any reporter was entitled to ask whatever question they wished.
However, she said the level of questioning towards candidates had been very intense at times during the campaign so far.
Mrs Davis said she felt it would be interesting for voters if the focus was to move on, in order for the electorate to get to know more about the personality of the seven candidates standing and to ascertain what they could do for the Irish people.

Gallagher criticises FF's performance in govt
For the first time in the Presidential election campaign, Seán Gallagher has criticised Fianna Fáil's performance in government in the lead-up to the collapse of the economy.
Mr Gallagher, a former member of Fianna Fáil's National Executive who resigned from that position in January of this year, said he abhorred what he described as the mismanagement of the country and its finances in the run-up to the economic collapse.
He said this mismanagement had led the country to the position it is in today.
Speaking this afternoon during a canvass at Cork Institute of Technology, Mr Gallagher said it was quite clear that Fianna Fáil allowed the economy to overheat and public spending to run amok.
He described the decision to remove the medical card from elderly people as appalling and bad management.
Mr Gallagher said he hesitated when questioned about Fianna Fáil's failures on last night's Presidential debate because he did not want to condemn ordinary party members.
He said Fianna Fáil moved away from its grassroots and that was why he and many thousands of ordinary members had left the party.
Mr Gallagher insisted he was standing in the Presidential election as an independent candidate with a Fianna Fáil background.
He said he was not standing for Fianna Fáil and was only being associated with the party because it had no candidate of its own in the contest.

David Norris 'sorry' for Dana after statement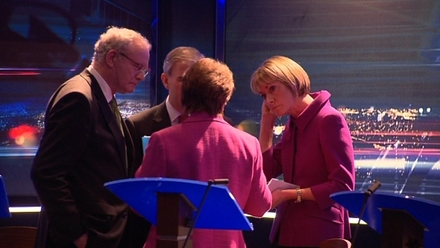 Dana Rosemary Scallon is not campaigning today after a dramatic claim in last night's Prime Time debate about what she said was a vile and false allegation about her family that was about to surface.
Today, David Norris said he felt sorry for Dana and he lamented the tone of the campaign.
He said he had comforted her, but as he did not know what it was about, he could not comment on it.
Gay Mitchell said he did not know what the source of Dana's problem is, but he does not think it is coming from Ireland.
He said he thinks there are issues and he wished her well with them.
In Dublin, Mr Norris said that he had been libelled in recent reports in the media and that he had gathered some files in relation to these cases.
He was speaking at the Famine Memorial in Dublin's IFSC where he called for recent emigrants to be given the right to vote.
He said 120,000 people had left the country in the last three years. Mr Norris said that was equivalent to the population of Cork City and that he wanted to be their voice.
Meanwhile, Mr Mitchell has said that based on the response he is getting, he thinks he is going to "head the poll and win the election".
Asked if the campaign had crossed a line last night, Mr Mitchell said he thinks some of the things that were said about him earlier in the campaign crossed the line.
In relation to reports in the Irish Independent about his wife's pay under his employment, Mr Mitchell said she had come to work for him as nobody would take the job on very low pay as an assistant to him. He said that had been a matter of public record for a very long time.
Mr Mitchell said the six staff who work for him are paid a total of €184,000, including PRSI contributions.
His wife retired from the job on 9 June and MEPs can no longer take on relatives, he said, adding that he wishes other public bodies would implement the same rules.
Share any campaign trail images you have with us at yourphotos@rte.ie