Miriam O'Callaghan was the moderator as the seven candidates faced each other in the third televised debate since the deadline for nominations closed on 28 September.
In the interests of saving time, we referred to the candidates by their initials during the 70-minute debate.
The pivotal moment came near the end when Dana Rosemary Scallon revealed that a newspaper will run a "malicious" story about her and her family.
Ms Scallon would not be drawn on what the story is.
2259 Miriam thanks the candidates for their time and wishes them luck. The debate ends.
2257 MD says illiteracy is holding people in disadvantaged communities back. She will highlight people's problems and give them back hope.
2256 I can "enhance" and "restore" Ireland - MDH.
2255 DN raises the issue of the age of consent. He says he "unashamedly" stands for the "liberal agenda".
2254 DRS says she has never let Ireland down. She says we must put the people first.
2254 "I want to be a President who delivers" - MMG.
2253 "I will visit every single secondary school in this school" - SG. He also wants to hold an expo to celebrate the centenary of 1916.
2252 I have "natural empathy" with people - GM. He can help this country to "network back to success".
2250 DN says he was subjected to an "unprecedented" campaign that attempted to stall his Presidential run. He says he will celebrate individual counties if he is elected as President.
2247 DRS says a "malicious" and "false" accusation has been made against her and her family in the US. She will leave "no stone unturned" to find out who is behind the allegation.
She says the story will break in tomorrow's newspapers. She says she will not talk about it now.
2246 "The role of President is not the preserve of politicians" - SG. He says both Mary McAleese and Mary Robinson were successful in areas they were not noted for before they took up the office.
2245 MMG says the people need a President who will stand with them and will give up a Presidential salary.
2243 GM and DN clash over a claim by the latter that GM does think the Presidency is a party political position. GM denies the claim and says "that's below the belt, David".
2241 "The President's job is a political job" - GM. He says he would bring his experience as a Lord Mayor, TD and MEP to bear on the office.
MD believes it is a "non political job". If she thinks that she "doesn't understand the position", says GM.
2240 MD would work to remove "stigma".
2238 "I am a very practical person" - MD. She says, as President, she would put a young person and someone from the Global Irish on the Council of State.
2235 MDH says his previous statements on Israel would not prevent him visiting that country as President. He says he would not be representing himself; he would be representing Ireland.
He says he has spent his political life developing rights.
MDH says on visits to China he has asked questions about people who had disappeared.
He says we need to talk about the "transformation" of this country.
2234 Miriam asks could GM's views be divisive? He says no. He would be "inclusive".
2232 GM says he is receiving the backing of the Fine Gael party. He says the Taoiseach is running the country and he does not expect Enda Kenny to travel everywhere with him.
2228 Miriam asks have the letters controversy and revelations about his disability pensions affected the credibility of DN? He asks for time to answer the question. He says everything he did regarding his pension was legal. Reports of fraud on his behalf were erroneous, he insists.
2227 Her first attempt for the Áras in 1997 was fuelled by a desire to open up the Presidency and prove that it was not owned by political parties - DRS
2225 DN says he has been "pigeon-holed" for his work fighting for the rights of homosexuals. DRS claims she has been similarly "pigeon-holed".
2223 DRS says she has been assured that the oath she took to become a US citizen was "antiquated". She says she took citizenship for work reasons. Many Irish sons and daughters are in the US and do not have the legal standing that would allow them to visit home, she says.
2222 DRS says she did not want to become a US citizen if it affected her Irish citizenship.
2215 MD says she has never been a member of any political party. The reports that she was on 25 boards is "a myth". She says she was on three State boards, and a number of other councils and boards.
She says ICS was not a "leader" in the banking problems that have engulfed the country. ICS was one of the boards MD served on.
2214 GM says he can't believe that the other candidates have found their voice to criticise SG, but had nothing bad to say about MMG, who was a "subversive".
2212 SG is asked did FF let the country down. He says he can't answer for FF. He says there were many wrong decision made. He says that Miriam is trying to paint a picture that he was involved in Cabinet decisions.
2210 MDH says he does believe that SG is from "the ethos" of FF. MDH says there are many people within FF who are very disappointed with how the party behaved in government.
MDH says he became a TD to change the law and he did it.
2208 Asked if he is running as an Independent to avoid the ill feeling towards Fianna Fáil, SG says he is not a politician. He says the experience of former Fine Gael TD George Lee showed that he would achieve little in the Dáil.
2205 SG says he paid back "almost all" of a debt one of his companies owed the State. He says a settlement was reached that both sides were satisfied with.
2203 MD says MMG has a democratic right to run for the Presidency and it is up to the people to make the decision. Asked if he would vote for MMG, MDH says he would vote for himself.
2202 GM says we have spent 30 years trying to convince people like MMG to accept peace.
2201 MMG says people are very quick to blame Republicans and Nationalists for the conflict in NI without taking into account the role of the British authorities.
2200 DN says everyone who has been nominated deserves the right to run for office. He says he is "glad" that MMG has turned his back on violence.
2158 Miriam poses the question would it be humiliating if, as President, MMG was confronted by relatives of victims of IRA violence?
He believes a large percentage of the Irish Army will vote for him.
2156 MMG is asked can he ever renounce the oath he took to the IRA? He says he took an oath to the Official IRA but he did not swear an oath when he joined the Provisional IRA.
He says he served time in prison for his membership of the IRA. He says he has been at the heart of trying to break a vicious cycle in Northern Ireland for over 20 years.
2153 MMG says he is a Catholic and he would have no problem taking the oath. He is asked how God would feel about him being "involved in so many murders". He says that is a "disgraceful" question.
He says he "absolutely" believes that people do have the right to resist an "occupying force".
2150 MDH says he believes in God but he would not impose his spirituality on others. MD says we must be "inclusive". GM says nobody would reject to anyone refusing to put his/her hand on the Constitution during the inauguration.
DRS accuses Labour of "secularising" the country and the Constitution. DN says his faith is growing as he gets older. But he insists that a person's lack of faith should not be an impediment to becoming President.
2147 SG says he would refuse to dissolve a Dáil if he thought the Taoiseach had rushed to the Áras to avoid a vote after he/she had lost the support of their party.
2145 The direct mandate from the people give the President huge moral authority, says GM. He says the President is the only "one person institution".
He says he wants to take a report on suicide to the Oireachtas.
2144 DN says being the voice of the people is the most important power. He says people are fed up with point-scoring politics.
2143 DRS says she understands that the Supreme Court is the ultimate power. She says the President has no right to refer any Finance Bill.
2142 MDH says there is "room for confusion" in the powers of the President. He says you must remember that the Govt can always redraft any legislation that is ruled against.
2141 MMG agrees and says the Supreme Court makes the ultimate decision in a dispute between the President and the Government.
2139 MD says Article 26, which gives the President the ability to refer legislation, is the biggest power.
2138 SG says the real power is the discretionary power to set "themes". He says the only time he would refuse to dissolve the Dáil is in a time of crisis.
2137 What powers does the President have and how would the candidates use them?
2135 We have lift off. The show begins with a look back at some images and incidents of the campaign so far.
2132 Just minutes away from the start of the debate. Don't forget to share your views.
That means Mary Davis is MD, Seán Gallagher is SG, Michael D Higgins is MDH, Martin McGuinness is MMG, Gay Mitchell is GM, David Norris is DN and Dana Rosemary Scallon is DRS.
2120 David McCullagh reports that the candidates are hoping to move on from controversies that have dogged the campaign and concentrate more on their respective visions for the Presidency.
He says any faux pas could have a negative effect on individual campaigns, while a strong performance could gain some much sought after momentum.

2115 MMG gets here in the end, with about 20 minutes to spare. He was so quick we could not get a decent photo of him.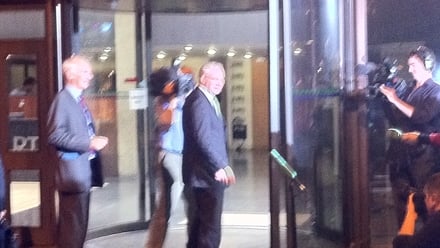 2110 While we wait for Martin McGuinness to arrive why don't you speak your mind on our comments page.
2108 RTÉ's Political Correspondent David McCullagh previewed the debate on Six-One earlier. Watch it here.
2057 The penultimate candidate to arrive is Mary Davis.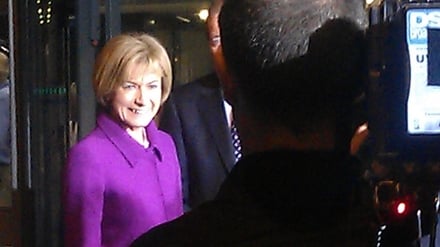 2056 David Norris is next to face the glare.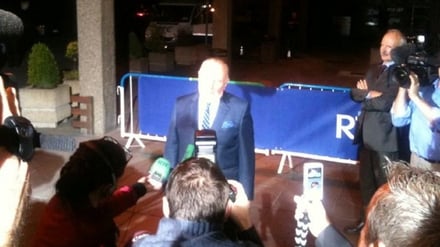 2049 Seán Gallagher comes under the spotlight.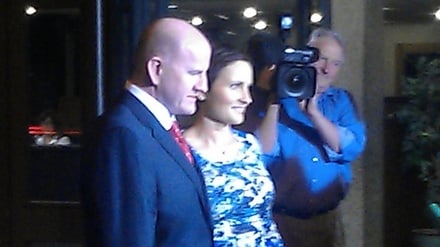 2043 Gay Mitchell has had a few words for the assembled media.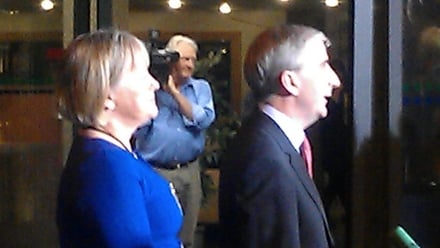 2035 Michael D Higgins has arrived.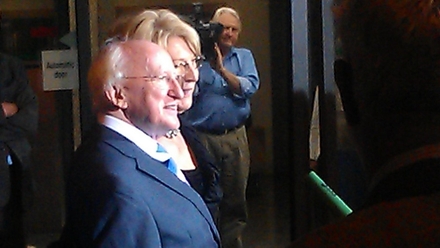 2021 As ever, the debate is attracting the interest of the media at large. A posse of camera operators and journalists are in attendance.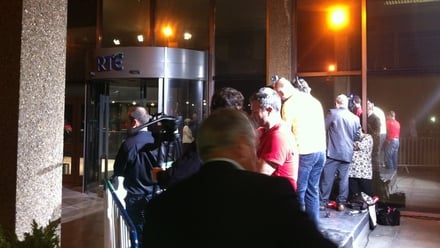 2011 The candidates are starting to arrive at RTÉ. Dana Rosemary Scallon is the first to reach the front door at Montrose.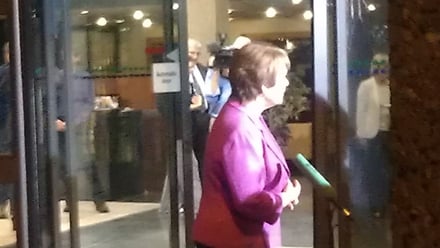 2010 Miriam O'Callaghan has said she is expecting the debate to be a challenge.