Live Schedule | Who's Attending? | Video Interviews
2036 That's it from us for the first day of the 2011 Global Irish Economic Forum. We'll be back for day two at 10am tomorrow. Thanks for reading.
2035 President McAleese says "we are making progress, we are doing our best and now with your help we hope to do even better".
She signs off with the following advice for Ireland: "deep breaths and short steps, and don't stop".

2028 "Our increased competitiveness, the increases in our exports of goods and services, the foreign direct investment that is here and still coming into Ireland from global leading edge companies, these tell of a place that is very attractive to business and industry," says President McAleese.
2025 Quoting the author Colm Tóibín - one of the forum participants - President McAleese says "it is easier to renounce bravery than to be brave over and over".
She says the Irish people have chosen to be brave over and over, adapting speedily to the rapid changes in fortune, accepting the new era of austerity despite the personal hardships being endured.
2022 President McAleese tells the participants that their presence is really appreciated, and thanks them for "putting Ireland so high up your list of priorities".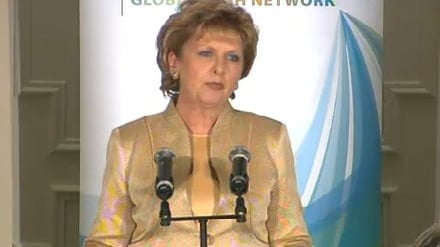 2020 President McAleese sums up the forum as a "gathering of Ireland's global Irish family, a gathering that makes sense of and gives perspective to the dispersal and scattering of our family over many generations".

2013 Taoiseach Enda Kenny introduces President McAleese, saying that for 14 years she has "dazzled us with her grace and judgement".
He says she has been a "tower of strength".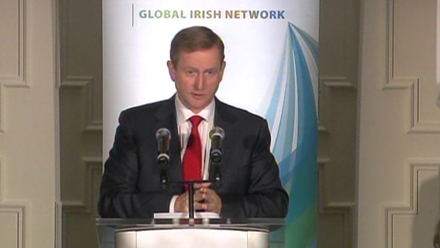 2010 President McAleese's address to the Global Irish Economic Forum 2011 participants is beginning now.
1930 President Mary McAleese's address will begin at 8pm. Ish.
1828 Willie Walsh and Basil Geoghegan are talking to Bryan Dobson on the Six One News about the Forum. Watch live.
1822 Enda Kenny said the Forum is about talking the country up and improving the economy.
1819 Taoiseach Enda Kenny tells Bryan Dobson he has been impressed by the number of people who have given up their time for the Forum. He said he and the Tánaiste will chair an implementation committee with public servants and people from the private sector to make sure ideas generated will take root.
1800 Bryan Dobson is co-presenting the Six One News from Dublin Castle this evening. Watch it live here
1725 We have more interviews with the participants at the forum available here.
1635 The session on Ireland's image abroad has ended. The next live video session will be President Mary McAleese's address to forum participants from the Royal Hospital Kilmainham at 7.30pm.
1627 Mr Gilmore says economic recovery is about building a better society. He insists that there is a determination to get through the crisis, and a determination not to let it happen again.
1624 Eamon Gilmore agrees with contributor Philip King that Culture Ireland is doing a great job.
1621 Andy Rogers, Chair, Irish Community Group for the Olympic Games in Britain, says he is frustrated that he cannot watch GAA matches on the RTÉ website from abroad.
In response, RTÉ Director-General Noel Curran says: "We don't have the rights. International sports rights is a massively complicated business. They are sold separately. There is nothing I'd like more than to have rights. It's not a lack of commitment from RTÉ, nor a lack of will, just an absence of rights."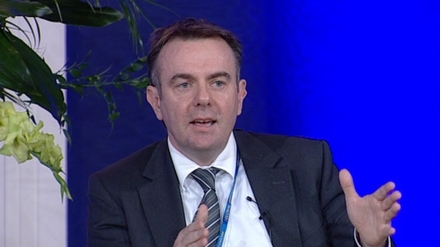 1612 Adrian Jones: "The perception of Ireland in the markets dwarves everything else. Right now, taking back control of our own sovereignty – the economic impact of that dwarves everything else we can do. It's an absolute imperative."
1606 Eamon Gilmore says that himself, Minister for Jobs Richard Bruton and Taoiseach Enda Kenny will be going on trade missions to Asia in the next few months.
1602 Noel Curran says that 68% of people coming to Ireland use the internet to research the country.
1600 John McColgan says the Gateway Ireland website has been launched - www.worldirish.com/. "The website has a lot of potential. We are inviting everybody into this space," he said.
1557 James Hogan says Asian travellers go for safe destinations. "There is a great appeal for Ireland. I don't think you sell to your strengths. You have got something that is unique."
1553 A contributor from the floor, Gerry from Singapore, says "Ireland does not have a bad image in Asia. There is no image. We need to build that. Yet, two years on from Farmleigh 2009, and we're not seeing that." He says the Government should tap into education and bring young people to study in Ireland.
1550 Eamon Gilmore says the phrase "We're good fun, we pay our buills and we don't cause aggro" should not just apply to the Rugby World Cup.
1545 Rodney Walsh, from New Zealand, says the up-to-date image of Ireland in New Zealand is good. Mr Walsh said the majority of provinces wanted the Irish rugby team to stay and train in their area for the World Cup. "Most popular team in the country," he concluded.
1542 Mr Hogan said: "I don't hear this negative talk about Ireland. Our aircraft are 80% full coming out of Ireland. Irish businesses are coming into the Middle East.
"I think there is a great story to tell in the international arena. I think you should be much more bullish about the future."

1540 Etihad chief James Hogan: "I am very confident about Ireland as a destination, as a business, and as an opportunity."
1537 On the subject of the diaspora, Mr Curran says: "Last month we had 1.4m unique users of RTÉ.ie internationally. [The international audience] got news, sport, arts & culture, and access to a broad range of programmes that show off Irish talent.
"We have a legal obligation in terms of providing output to the diaspora and we also have a huge audience out there. We take them very seriously."

1534 RTÉ Director General Noel Curran says there has been an awful lot of bad news, from the unemployment rate to the EU/IMF bailout.

Mr Curran said it is the same broadcasters, RTÉ, Newstalk, Today FM etc, who are reporting negative bad news that are also covering good news stories, such as the Barack Obama and Queen Elizabeth visits.
"We have a huge national responsibility. We received public funding in a recession. Our contract is with the audience. We can't become cheerleaders for government policy because you lose the trust of your audience," he added.

1531 Mr McColgan says the economy is beginning to turn around and that things are getting better. He says it's been a bruising time.
1530 John McColgan says the Irish rugby team have turned themselves around and he says there are a great example of the Irish spirit.
1528 Eamon Gilmore say "we have to recapture that grounded sense of confidence".
1527 Tánaiste Eamon Gilmore says the government assumed that it's job was to rebuild Ireland's image abroad – with investors, the financial markets, the business world, and with commentators.
He says Ireland's self-image has dropped and that we have to rebuild our confidence in ourselves.

1522 Adrian Jones, Goldman Sachs: "Brands are all about trust and what you can believe. There are a great many countries and institutions that have let people down. There has been a breakdown of trust. Rebuilding trust is a tremendous challenge."
1515 The session on 'Ireland's Image Abroad - Communicating the Message' is about to start. It is being moderated by Fionnuala Sweeney of CNN, formerly of RTÉ.
1503 Angel investor Chris Horn on Twitter: "Our working group leader working so hard he literally set fire to the filpchat".
1430 RTÉ's Robert Shortt on Twitter: "Min for Tourism Leo Varadkar announces 'The Gathering.' Plan to bring 300,000 tourists to Ireland in 2013."
1426 WorldIrish on Twitter: "Our tech team are working hard to get the site back on track after huge traffic."
1344 Watch this morning's first session of the Global Irish Economic Forum.
1340 The Irish Technology Leadership Group has announced a new initiative that will create a pool of global industry and technology leaders who will volunteer to serve on relevant State boards until 2016 without remuneration.
The group said: "The objective of the Diaspora 2016 initiative is to make available to the Government a list of, at least, 100 highly qualified business leaders from across the globe who want to contribute their experience and time to helping Ireland succeed and thrive as we head towards 2016."
Speaking at today's Global Irish Forum, President & Founder of ITLG John Hartnett said, "We expect this group to cover many sectors of the economy with particular focus on information technology, life sciences, innovation and entrepreneurship. It will be a seasoned group of leaders with a track record of achievement at a vice president or C-suite level on the global stage."

1250 An interview with the chairman of Digicel, Denis O'Brien, has now been added to our video page.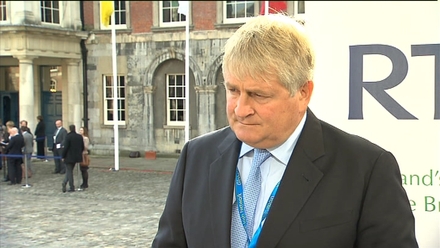 1242 A new website called worldirish.com is being launched at the Global Irish Economic Forum. The site is a "an online community for Irish people and those who think Irish".
1225 The list of speakers for the 3.15pm session - 'Ireland's Image Abroad - Communicating The Message' - is Tánaiste Eamon Gilmore, RTÉ Director-General Noel Curran, Etihad Airlines CEO James Hogan, Adrian Jones of Goldman Sachs, producer/director John McColgan, and Laureen Regan of Regan Productions and SCDL (Canada).
We'll have live video of that session.
1205 Have a view on the forum? Anyone? Let us know what you think on our comments section.
1200 Video - Gerry Adams, pictured below at the forum, speaks to RTÉ's Robert Shortt about following up on ideas generated today and tomorrow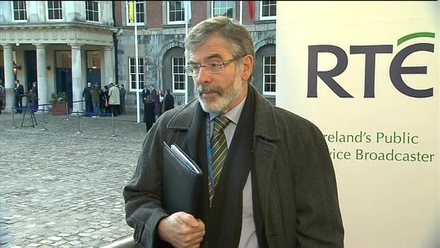 1137 We have a range of videos from the forum available to view here.
1134 The next live session is at 3.15pm, when a panel will be discussing the topic 'Ireland's Image Abroad'.
1101 The plenary panel discussion ends.
1100 Enda Kenny is asked about the issue of facilitating would-be philanthropists in funding education.
Mr Kenny says he is open to the idea, but a "transparent" system for donations will have be worked out first.

1058 Mr Sutherland says we are spending more on a day-to-day basis than we can afford.
He says it is hard to see how there is any sizeable amount of money for anything other than reducing the deficit.
Eamon Gilmore says we have to simultaneously fix the banks and stimulate investment. He says we are moving in the right direction but have lots more to do. He says the Government has a strategy to target Asian business.
Mr Kenny says the primary deficit will not go away with "fair and proportionate" political decisions.

1052 Mr Adams says the biggest problem is money going into toxic banks, and that there is no jobs stimulus.
1050 Gerry Adams is speaking from the floor. He says he wants to "throw away the microphone" - a reference to ongoing sound issues with the mics.
1046 Peter Sutherland: "We have deluded ourselves a little bit about the standard of our third-level education. Rather than spreading everything equally, those that deliver need to be rewarded for it."
1035 The panel is asked how can we stop negative equity in the housing market leading to the emigration of out brightest workers.
Eamon Gilmore says we are in a position we have never been in before. He says old tactics will not work and, therefore, we need to find new solutions.
The area of personal insolvency needs to be addressed, he says.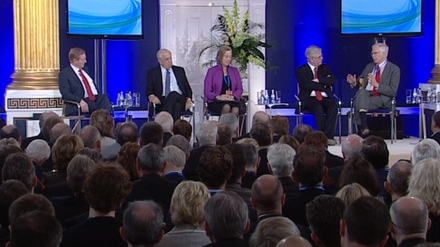 1033 The Taoiseach and Tánaiste are asked about Irish universities dropping out of the top 100 list. The leaders are asked about their plans for paying for education and getting standards back up to attract more people from abroad.
Enda Kenny admits it's a challenge: "We can't be the best in everything but we can be the best in some things and that's where we need to concentrate."
1029 Mr Schramm is asked how would advise Government to balance inward investment with home-grown firms.
He says "angel investors" should be targeted and there should be a huge exchange of Irish students who should spend time with companies such as IBM.
Peter Sutherland says the area of public sector reform is huge.
Enda Kenny says Europe should have a competitiveness index. He says we have excellent people signing on the dole.
He says Government will set up a mechanism to provide credit for small start-up firms. He says the spin-off from large multinationals will provide the next big wave of investment.
Mr Kenny says it is the Government's job to pull all the "threads" together.

1020 Catherine Day says there are things that governments can do to support start-up companies. She says governments can provide guarantees to get lending going again.
"There is a lot of money in Europe but banks are risk-averse and those who would normally invest are risk–averse," she says.

1017 Mr Schramm says high-growth firms (technology and business processing) are the ones which should be encouraged most.
Mr Sutherland says Irish people and companies are "hoarding money because they are afraid to invest". However he says credit is beginning to become available.

1013 Mr Schramm is asked how can governments facilitate the setting up of new businesses.
He says governments can provide "human capital" and then get out of the way. He says his heart breaks when he sees young Irish people forced to go to the US for work.
1010 Questions have been opened up to the floor.
1009 Peter Sutherland: "We have to upgrade our educational system. We have to produce excellence more and more."
1006 Carl Schramm, President and CEO of the Ewing Marion Kauffman Foundation, says existing big firms are destroying jobs. He says, therefore, that the focus needs to be on creating new firms.
He says governments cannot create jobs, but they can create the conditions for job creation.

1002 Catherine Day, Secretary General of the European Commission, says the sovereign debt of Greece and the recapitalisation of the banks are the two biggest issues facing Europe.
She says it is "not a crisis of the euro, it is a crisis of some members of the euro".
0958 Peter Sutherland, the non-executive Chairman of Goldman Sachs International says we must "benchmark costs internationally". He also says that we need to continue to attract investment into this country.
0955 The session on 'Ireland: The Road to Recovery' is underway. The panel is Enda Kenny, Eamon Gilmore, Catherine Day, Peter Sutherland, and Carl Schramm.
0953 Mr Gilmore concludes by saying that all Irish people, at home and abroad, can play their part in "a new chapter in Irish history". He says Ireland needs be to a "better place" to both grow up and grow old in.
Ireland's success should not be judged on out GDP but by the "reach and breadth of our children's opportunites".
0951 Cultivating the next generation of leaders is crucial, the Tánaiste says. It is also important that the forum is not a "one-off event" and that it becomes part of an ongoing process.
0949 Unemployment and long-term unemployment, in particular, is an "affront" to many of our fellow men and women, Mr Gilmore says. Job creation must be central to the work done at the forum, he adds.
0947 Mr Gilmore says the appointment of actor Gabriel Byrne as a cultural ambassador has raised our "profile" in that area.
0943 Mr Gilmore praises his predecessor as Minister for Foreign Affairs, Micheál Martin, for organising the first Global Irish Economic Forum at Farmleigh in 2009. He says it marked a "shift" in the relationship with the Irish disapora.
0941 Tánaiste Eamon Gilmore is next to speak. He says people are proud of their Irish heritage and of our economic development, even if that has been shaken of late.
He says the Irish disapora are "creative, in the business of solutions and they don't need a fanfare announcing it".

0937 The Taoiseach says he wants the delegates to be able to tell their grandchildren that they were present at "a new age for our country".
Mr Kenny says that a flare will be sent up in the southern hemisphere tomorrow morning when we "shove our Welsh colleagues around that pitch" and show that "Ireland is back".

0934 Mr Kenny says the delegates bring experience, energy and entrepreneurship. He says we need to "broaden and deepen" the footprint of Irish firms abroad.
0932 The Taoiseach says it's his intention to deliver on his "vision to make Ireland the best small country in the world to do business by 2016, and to make my country synonymous with genius and innovation".
0930 Mr Kenny says the Government's plan for the protection and creation of jobs is working.
0928 Mr Kenny tells the gathering that "you believe in Ireland, and you believe in our potential – thank you for that".
Mr Kenny echoes the words of US President Barack Obama: "Our best days are ahead of us."

0924 Taoiseach Enda Kenny is addressing the forum. He welcomes the Irish diaspora who are "our friends" and "our people".
0900 Finance Minister Michael Noonan arriving for day one.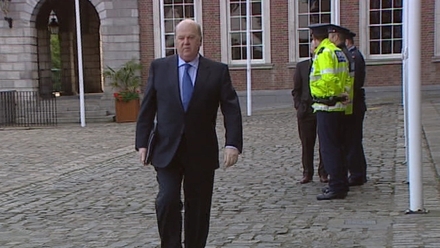 0840 Comedian Dara Ó Briain arriving at Dublin Castle for the Forum.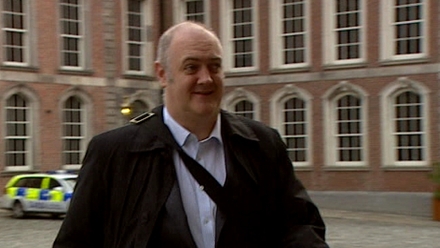 0820 Speaking to Morning Ireland at Dublin Castle, Tánaiste Eamon Gilmore said the event's aim is to mobilise people with Irish connections from around the world to help the Irish Economy.
Mr Gilmore said he will chair an implementation group, who together with high-level civil servants, will seek to bring about the recommendations from the Forum.

Mr Gilmore said the Government's principle objective is to get jobs into Ireland, which he said the Forum is about.

He denied that standards within third level Irish education are slipping.

0810 We have a selection of videos on the forum here, including interviews with Tánaiste Eamon Gilmore and economist and broadcaster David McWilliams. We'll be adding more videos to the page throughout today and tomorrow.
0800 Welcome to our live text updates on the Global Irish Economic Forum, a gathering of globally connected Irish business leaders to discuss Ireland's economic recovery.
Many of the sessions at the forum will be webcast live here on RTÉ.ie and will also be available on RTÉ News Now on the iPhone/Android apps or Saorview. Click here for a full schedule.
What is your view of the Global Irish Economic Forum? Do you think it can make a difference for Ireland's recovery? Tell us what you think in our comments section.
Bill Clinton, Gabriel Byrne, Paul McGuinness, Willie Walsh, Noel Curran, Neil Jordan and Colm Tóibín are among those attending the forum. You can see a picture gallery here; a full list of participants is available here.