The seven candidates taking part were Independents Mary Davis, Seán Gallagher, David Norris and Dana Rosemary Scallon, Sinn Féin's Martin McGuinness, Fine Gael's Gay Mitchell and Labour's Michael D Higgins.
Prior to his official nomination, Senator Norris appeared on the Late Late Show to announce he was re-entering the race for the Áras.
He, in the interest of balance, will received less speaking time on tonight's show.
2348 The debate and show ends.
2341 One reason why people should vote for them?
Mr Higgins says he has experience and he is committed to Ireland's "skills and genius".
Mr Gallagher says wants to bring youth and dynamism to the office. He will bridge the gap between enterprise and community.
Ms Scallon says she will protect the sovereignty of the people. She can be a President for all the people of Ireland because she respects everyone she meets.
Ms Davis wants to demonstate that people matter. We can work to repair our reputation. She would contact the Government and the IDA to see how best she could be put to work for the country.
Mr McGuinness says we need a new Ireland and an inspirational leader. He has been at the heart of key peace agreements. We need to address the "brokenness" of Irish people
Mr Norris says he can bring the country with him. A vote for him is a vote for change.
Mr Mitchell says he will make his country proud and make his family proud.
2337 Mr Norris says the bank guarantee was a terrible piece of legislation.
He says he is appalled by all forms of child abuse. He adds that the rights of any church must be subservient to the rights of victims.
Mr Mitchell says the Oireachtas needs to restore accountabilty to the Dáil.
Mr Higgins says there were fine debates on the Civil Partnership Bill.
Dana says the bank guarantee has imposed great suffering on the people of Ireland. She says it is "better to burn the bondholders rather than burn the Constitution".
2335 Should same-sex couples be able to marry and adopt children?
Mary Davis says she is in favour of both.
Mr Gallagher says he is in favour of same-sex marriage, but would need to be convinced of the benefits of same-sex adoption.
2331 Would the candidates be willing to sign into law anything that would force priests to break the seal of confession?
Ms Scallon says the right to religion is enshrined in the Constitution. She says that offenders would not confess to priests if the seal of confession was compromised.
Dana says she is not a "mouthpiece" for the Catholic Church.
Mr Gallagher says he is a practcising Catholic, but the rights of children should come before any religion.
Mr McGuinness says offenders should not be able to hide behind confession. He says he is disappointed by the response of the church to the Cloyne Report.
2329 Mr Higgins says he nearly sought a Labour Party nomination to run in 2004 because he felt we needed a discourse on the direction the country was headed.
Asked whether he has the stamina to do the job, Mr Higgins says he is "fit and healthy".
2325 Aside from the Special Olympics, what has Mary Davis achieved?
Ms Davis says she has brought her expertise to various boards and the Council of State.
She says she has seen the power of people coming together.
The Council of State met four times while she was on it. She reiterates that she would like to rename Áras an Uachtaráin as "Áras na nDaoine".
2321 Does David Norris want to publish the remaining letters?
Mr Norris says the welfare of the victim of his former partner is at stake. He says he has had no opportunity to outline his vision.
He says there is no "traction" with the letters issue. He says Israeli lawyers have told him not to publish the letters.
The issue should be "parked", as he does not want any "collateral damage" in the campaign.
He wants to be a voice for change for the people of Ireland.
Mr Higgins says he is not an "estalishment" candidate. He says the Labour Party put him in the field, but he has the support of many others.
2319 People are not warming to Gay Mitchell?
Mr Mitchell says he is paying little heed to opinion polls. He points to Adi Roche's collapse in 1997 to highlight the danger of opinion polls
Asked about his letter of clemency for a US murderer, Mr Mitchell says he "abhors" all forms of violence.
2316 Gay Mitchell says Martin McGuinness is an "awful name dropper".
He says Mr McGuinness wants to be the head of state of a country that he will not call "Ireland". Mr McGuinness says he will abide by the Irish Constitution.
People should not be called "West Brits", says Gay Mitchell.
2314 Why didn't Martin McGuinness attend a dinner with the British Queen?
He says he has made it absolutely clear that we will meet all heads of state who visit Ireland - including the Queen of England. He says an encounter with Prince Charles would boost the peace process.
He says the day that the British Queen meets with Martin McGuinness would be a "huge occasion".
2312 How can Seán Gallagher claim to be Independent given his Fianna Fáil past?
He says he embraces his Fianna Fáil past, but insists he is not a member of FF now. He says he will accept votes from all parties.
2310 What has changed to make Dana electable?
Ms Scallon says her mission is to warn people of the danger to the Irish Constitution. She says people can trust here with their rights
She says she will need time to "get into the flow" of the job.
2303 How much will they spend on their campaigns?
Dana says she will spend much less than she did in her previous run in 1997. No companies have donated to her yet.
Mr Gallagher says he will spend €200,000. He will not be putting posters up at the behest of Tidy Towns groups. His campaign will rely on small donations.
Ms Davis says she will spend more than €200,000. She says she is not a "celebrity" and so she needs to use posters. Her husband has taken out a loan. She will accept any donations that are within the limits.
Asked is Denis O'Brien supporting her campaign financially, she says he has given €2,500.
Mr Norris says it is worth spending money on the campaign. He has already gone into overdraft. He says every penny he gets will be accounted for.
He says he would accept money under the rules and regulations.
Mr Higgins says the budget for his campaign is €321,000. He has put some of his money in to start to campaign. Artists are going to help his fundraising drive.
Mr Mitchell has spent €15,000-€20,000 of his own money. His bid will cost around €350,000.
Mr McGuinness says his campaign will cost significantly less than Mr Mitchell and Mr Higgins. The total spent will be contingent on how much money he raises.
2258 Would the candidates accept the salary of €250,000?
Gay Mitchell says he understands the salary will be reduced.
Dana says she is not in it for the money.
Seán Gallagher says the Government should review the salary and he will accept its decision.
Mary Davis says it should be more about how a President puts the money to use.
David Norris says the vast majority of his salary would be placed in an "independent fund". He say she would honour every county.
Micheal D Higgins says he will not be drawing any ministerial pension if he wins the election.
Martin McGuinness says there are a host of cost-saving measures that a President could take.
2255 David Norris has joined proceedings for the seven-way debate.
2243 Mr Higgins says we need to make progress towards a "real Republic".
He says the kind of Ireland that was represented in the last 15 years, which involved "strutting", needs to be changed.
Mr Higgins says a President must be open about the values he/she holds.
Social cohesian is an important issue for him. He says he is committed to public space. He says he has "independence of mind" and has shown "courage".
His time in Cabinet will help him because he understands the limits of the office of President.
2242 Michael D Higgins is welcomed.
2241 Mr Gallagher says his life has been about developing confidence in others. He says the 50,000 young people forced to emigrate each year should be able to fulfil their potential here.
He says the attracting foreign direct investment is important, and there is a role for the President in that.
Mr Gallagher says young people need more role models to look up to. He says he will visit students in order to draw a light on the need for entrepreneurship.
Mr Gallagher says is driven by the sense of building on our strengths. People are looking for someone "fresh" and "relevant".
He says he was unemployed twice in the 1980s and knows the adverse affect it can have on individuals and communities.
2236 Seán Gallagher is introduced.
2235 Dana says the issue of sovereignty is a key one at the moment.
Ms Scallon says we are suffering in Ireland in order to protect the euro. The former MEP says she fought against the Nice referendums because she saw a move towards a European Constitution.
She says our fishing industry has been decimated by Europe.
She says she wants the people of this country to feel that the Constitution and their Constitutional rights are safe.
Ms Scallon says she would not sign into law any legislation that would undermine the Constitution.
2230 The order of candidates was decided by a pre-draw show. Fourth out is Dana Rosemary Scallon.
2224 Ms Davis says she has been a "leader" all her life and is very proud of the people she has worked with in her time with the Special Olympics organisation.
She says she is a "restless" person who wants to make change happen.
Ms Davis lists homelessness and literacy as some of the key issues she would embrace.
She says President Mary McAleese asked her to join the Council of State in the aftermath of the World Games in 2003.
Asked if she is the ultimate insider, given the 23 boards she has served on, Ms Davis says she is "completely independent".
She says she may not be a "conventional" politician, but she is politically competent.
2218 Mary Davis is introduced.
2217 Mr McGuinness says we have seen enormous selfishness and greed.
He says he would give the vast majority of his salary back to the people of Ireland.
The NI Deputy First Minister says the President should be an example to those "who failed us for so long".
He says there needs to be a "new order". He says he would use the office to "embarrass" those people who drove this country into the ground.
Mr McGuinness says he left the IRA to help develop Sinn Féin. He denies that he "walked away" from the IRA and says he always engaged with the organisation.
He says he has never apologised for his membership of the IRA and was never ashamed of his past with them.
The "powers that be" have become "frightened" by his entry into the election race, according to Mr McGuinness.
2212 Martin McGuinness is next up.
2207 Gay Mitchell says we should take this decision seriously. He says in every job he has held, he has brought reform and value for money.
He says he will bring the quality of innovation to the office.
Mr Mitchell says his idea to bring the Olympics to Dublin, during his time as Mayor, was viable.
He says his appeal is across the board. He rejects the suggestion that he has been let down by the leadership of his party, Fine Gael.
Mr Mitchell says more than 80% of Young Fine Gael voted for him. He says the "backroom boys" in Fine Gael are breaking their backs for him.
Suicide is a major issue for him.
2206 Host Ryan Tubridy introduces Gay Mitchell.
2200 Jedward have come and gone.
2139 The show's first guest Mike Murphy says he told Gay Byrne that he would have have a great President as Ireland needs a "Queen Mother" figure.
2136 The Late Late Show has begun.
2121 Martin McGuinness has arrived. He too must brave the Jedward hordes.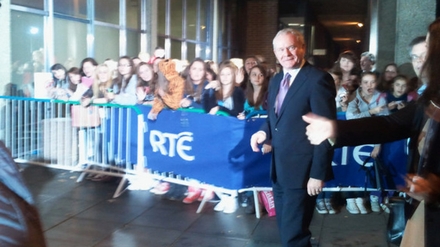 2106 There are still occasional outbursts from the Jedward contingent.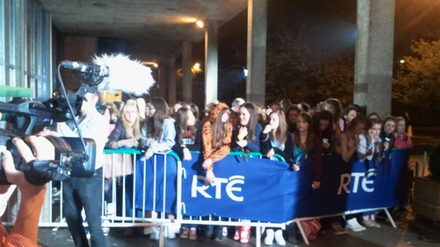 2103 RTÉ Political Correspondent David McCullagh reports that all the candidates have arrived at Montrose, with the exception of Martin McGuinness.
Gay Mitchell endeared himself to the Jedward fans by simulating a quiff.
2059 Are you excited, angry or frustrated by the campaign thus far? Express your feelings on our comments page.
2047 The candidates have already debated on the News At One and Prime Time. Click on the links to listen/watch back.
2044 The race for the Áras may be well and truly under way, but the big noise out here in RTÉ tonight is for Jedward.
The pop duo's fans have congrgated at the entrance to the studios and have been making quite the racket for over an hour.
The latest chant is "Jedward For President". Too late, they missed the deadline for nominations.