President Mary McAleese has led the tributes to former Fianna Fáil minister Brian Lenihan, who died earlier today.
Mrs McAleese said she was deeply saddened by the death of 'such a young and talented public servant'.
She said: 'He was a brilliant scholar whose early promise as a student was fully vindicated in his subsequent career as a barrister and public representative.
'As Minister for Finance, Brian had to confront challenges, the scale and gravity of which were unprecedented in the history of the State.
'Despite his illness, he faced up to those challenges with extraordinary but characteristic dignity, courage and good humour.
'Brian's death is an enormous loss to public life in Ireland.'
Taoiseach Enda Kenny described Mr Lenihan as an exemplary public servant.

Mr Kenny said: 'Brian Lenihan was exemplary in the carrying out of his public duties.
'He exemplified a great sense of humanity in the public representation he gave.
'I'd like to say I've known Brian Lenihan for many years and regard him as a friend in politics.
'Throughout his political career, Brian Lenihan displayed huge commitment to public service and carried out his responsibilities with integrity and compassion.
'During his illness, which he fought with serenity, he courageously continued to fully perform his ministerial responsibilities in the most challenging and difficult circumstances.'

Speaking in Tanzania, Tánaiste Eamon Gilmore said Mr Lenihan was a great public servant who had fought his illness so valiantly.

He said everyone in Leinster House had warm feelings for him and said he was someone we can look to as a man of great courage and ability.
Former Taoiseach Brian Cowen said his successor as finance minister was 'totally committed to public service'.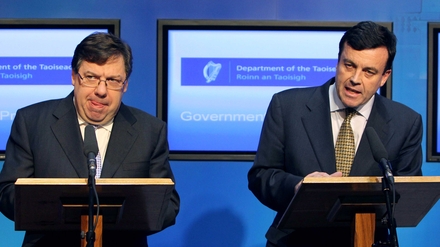 Mr Cowen said: 'He made an immense contribution to dealing with the problems the country has faced and I believe that this will be appreciated all the more in time.

'His commitment and application to his duties never faltered at any time.

'He had political courage but he also had huge personal fortitude as well particularly during the period of his recent illness.

'He will be remembered fondly, with great affection and with respect by all who knew him. His passing is a great loss to our country.'

Mr Lenihan's aunt Mary O'Rourke, a former TD and Senator, praised her nephew's work in government.
'It's all over. It's kind of unbelievable,' she told RTÉ Radio.
'He always worked for his country and he worked for the best of Ireland and I suppose in the end what anybody in public life would wish to do, and that's what he did.'
Details of Mr Lenihan's funeral have been published.
Mr Lenihan will lie in repose from 10am on Monday at Jennings Funeral Home, Main Street, Blanchardstown Village.
Removal will be on Monday evening to St Mochta's Church, Porterstown, arriving at 6pm.
His funeral will take place on Tuesday, after 11am Mass, to St David's church graveyard, Kilsallaghan.

Respected in Europe
European Commissioner for Economic and Financial Affairs Olli Rehn said he held Mr Lenihan in 'very high respect, both as a colleague and friend.'
Speaking to RTÉ News, the commissioner said that Mr Lenihan's illness did not affect him when it came to negotiations.
He said: 'That did not show at all. He was always fully concentrated and very sharp in negotiations over the months.'
Mr Rehn described Brian Lenihan as a 'greatly respected colleague'.
The commissioner added: 'He had a warm and sharp personality. He was intelligent, quick-minded and had a very good sense of humour, even in the difficult times.'
Mr Rehn described the late finance minister as a substantive figure and a tough negotiator who will be remembered warmly and fondly by his colleagues in Europe.
French Finance Minister Christine Lagarde described Mr Lenihan as a rock and a hero.
Speaking to RTÉ News, she described how Mr Lenihan had joined EcoFin at the worst of the crisis but was always very calm and analytical despite the fact that Ireland certainly suffered more than other countries.
Ms Lagarde said that he was equally strong when he went through the beginning of his disease.
She said 'despite the fact that he was going through chemotherapy he was still going strong'.
She said Mr Lenihan was a very good colleague and a friend who was a very good French speaker.
'He liked the language and liked France, I always enjoyed working with him. I'm very sad. My thoughts go to his family, to his wife, to his children and I'll pray for Brian.'

Martin praises 'modern patriot'

Fianna Fáil leader Micheál Martin said he was deeply saddened by the death of his friend and colleague.
Mr Martin described Mr Lenihan as 'an outstanding public representative of this generation' and a 'modern patriot'.
He said: 'Brian's untimely death robs this country of a hugely talented politician and someone who had so much more to give.

'Brian Lenihan will be remembered with affection, gratitude and enduring respect by the Irish people.'
Former Taoiseach Bertie Ahern paid tribute to a politician of 'outstanding capabilities and compassion'.
Mr Ahern added: 'He did immense work on behalf of the people of this country as a minister and his loss is a huge one for Irish politics.'
Former Minister for Defence Willie O'Dea said his former Cabinet colleague gave up a glittering career in the Law Library in favour of public life.
He described him as an intellectual powerhouse, erudite and someone who wore his enormous learning lightly and wonderful company.
Former Minister for Health Mary Harney said Mr Lenihan was a powerful personality. She said he never lost his sense of public purpose or his unflagging commitment to the country

Sinn Féin President Gerry Adams has extended his condolences to the Lenihan family.
'My deepest condolences are extended to Brian's family at this sad time and to his extended circle of family and friends and to the Fianna Fáil Party.
'Brian was a man who was very popular across the political divide and was much loved in his constituency and across the state.'
Central bank Governor Patrick Honohan said Brian Lenihan was a strong and energetic Minister for Finance who acted patriotically to stabilise the state's finances in the face of unprecedented pressures.
'His quick intellect and grasp of constitutional detail made it a pleasure to conduct professional dealings with him. His death is a major loss to public life in Ireland,' he said.
SIPTU President Jack O'Connor said he may not have always agreed with Mr Lenihan's policies, but said he was a 'highly-intelligent person possessing immense political skill'.

Lenihan was a 'true statesman' - Robinson
Northern Ireland First Minister Peter Robinson and Deputy First Minister Martin McGuinness have also expressed their sadness.
Mr Robinson said: 'I want offer my deepest condolences to Brian's wife Patricia and family at this sad time. Everyone who knows him will agree that he bore his illness with tremendous dignity and fortitude.
'Brian and I worked closely over recent years and got to know each other well. He was a true statesman and will be sorely missed.'
Mr McGuinness said: 'Even when ill, he continued to play a critical role in Irish politics over the past 18 months. His dedication and tenacity will not be forgotten.
'I would like to offer Brian's family and loved ones my deepest condolences, my thoughts and prayers are with them all.'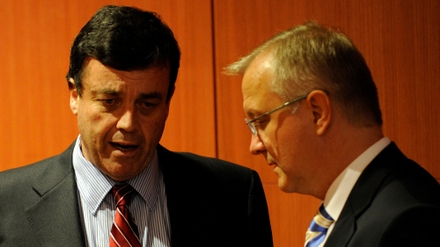 European Commissioner for Economic and Monetary Affairs Olli Rehn praised Mr Lenihan's great 'personal courage, strength and dedication'.

Mr Rehn said: 'Brian's extraordinary personal and professional contribution, have ensured that he is and will always be held in the highest esteem by those of us who worked with him in Europe.

'In placing his duty to the nation above his personal difficulties, Brian Lenihan has provided us with an outstanding example of public service.'
Former British Chancellor of the Exchequer Alastair Darling has said he is deeply saddened by Mr Lenihan's death.
He said he had enjoyed working with Mr Lenihan and that his thoughts were with his family.

John O'Shea of aid agency Goal described Mr Lenihan as exceptionally courageous and deeply patriotic.
'Despite his illness, he continued to serve our country at the highest level until the end of his all-too-short life.'
The Gay and Lesbian and Equality Network (GLEN) has praised Mr Lenihan's work in the ministries of justice and finance.

'We are very saddened at the news of the death of Brian Lenihan. We extend our deepest sympathy to his family, friends and colleagues' said Kieran Rose, Chair of GLEN.

'Brian Lenihan made a major contribution to the advancement of legal recognition for same-sex couples, both as Minister for Justice Equality and Law Reform and as Minister for Finance.

'We will remember his contribution and his considerable charm, friendliness and courtesy.'

There has also been praise for Mr Lenihan's work from the business community.

Chief Executive Chambers Ireland Ian Talbot said: 'As a member of one of Irish politics' most famous families, Brian Lenihan showed his unwavering commitment to the Irish public and his constituents by working through his illness.'
ICTU General Secretary David Begg said that he was deeply saddened to hear of the untimely death of Mr Lenihan.
Mr Begg said he had always been impressed by Mr Lenihan's commitment to public service and by the fortitude and bravery he showed while battling illness.