Queen Elizabeth II has been given a tour of the National Stud in Kildare on the third day of her State visit.
This evening, the British Ambassador will host a return event, celebrating the visit at the Convention Centre in Dublin.
British Queen's itinerary
AA Roadwatch travel updates
Garda travel updates
Day One - As It Happened
Day Two - As It Happened
Gallery: Third day of the Queen's visit
Gallery: Second day of the Queen's visit
Gallery: First day of the Queen's visit
Gallery: George V's 1911 visit
RTÉ's coverage

Follow us on Twitter: @rtenews
2050 Gardaí say there are no planned traffic restrictions in the Dublin area tomorrow morning.
The parking restrictions remain in force in the Phoenix Park but it will be open to traffic.
2048 The Queen enjoys tonight's fashion show.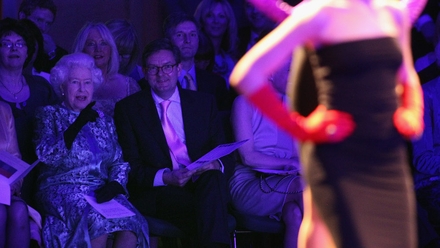 2028 Cork's civic and business leaders have appealed to the public to come to city tomorrow. They say it remains open for business despite the disruption caused by the Queen's visit.
The Royal couple are expected to spend around two hours in the city visiting the English Market and the Tyndall Institute.
2024 The Phoenix Park is open to traffic, as are the North and South Quays. The Liffey bridges are open to traffic except North Wall/Samuel Beckett Bridge.
2006 Gardaí now say that 12 people (11 men and one woman) have been arrested for public order offences in the Connolly Station area.
All 12 will appear before a special sitting of Cloverhill District Court this evening at 9.30pm.
1936 Viewing figures for RTÉ's coverage of the State Dinner in honour of Queen Elizabeth last night peaked at just over 875,000. The programme was watched live by an average of over 680,000 people.
During the visits to the Guinness Storehouse, the Memorial Gardens at Islandbridge and Croke Park viewer numbers remained constant at over 200,000.
1916 Ten known republican activists have been arrested near Connolly Station in Dublin this evening.

They were stopped and searched as they made their way to the Convention Centre.

Rockets, flares and other fireworks along with bottles, fishing leads and other potential missiles were found.

The ten people who have been arrested are being detained under Public Order legislation at Store Street Garda Station.

1844 Road closures are in place in the Phoenix Park, on Parkgate Street and along the North & South Quays until 8.30pm. The Liffey bridges will also be blocked at times.
The N4/Lucan Road is closed inbound at the M50 Interchange until 8.30pm with diversions onto the M50 both ways.
The Port Tunnel is free of charge until 9pm for northbound traffic only. The East Link toll is free of charge both ways until 7.30pm.
The Luas Red Line is only operating from Tallaght to Connolly until 8:30pm.
1842 AA Roadwatch says traffic is extremely busy in Dublin on the Merrion Road onto Strand Road and through to the East Link toll plaza. Traffic is also heavy on Sandymount Road.
This is due to the closure of Samuel Beckett Bridge, North Wall Quay and Guild Street.
1834 RTÉ's Ailbhe Conneely reports that the Queen is wearing a teal lace coat and dress trimmed with teal satin edging designed by Angela Kelly.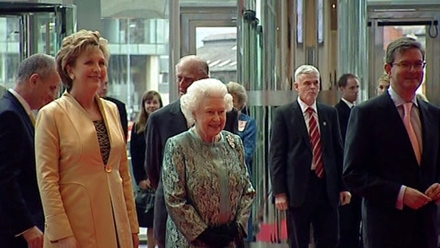 1810 The Queen has arrived at the National Convention Centre for tonight's event.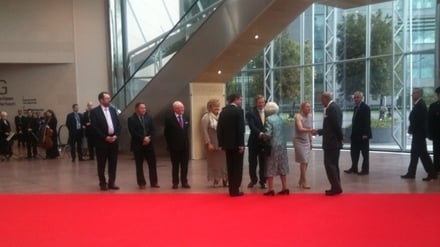 1800 Around 2,000 guests have arrived at the National Convention Centre for an indoor garden party hosted by the British Embassy.
Politicians, actors, sports stars and members of the media are among the invited guests.
1659 AA Roadwatch From 6pm, J7 Cashel North will close entirely. Access to Cashel via J8 Fethard and J9 Cashel South until Friday.
1647 Gardaí have advised that the Port Tunnel (north bound) will be toll free this evening from 4pm to 9pm
1642 Gardaí have announced the roads that will be closed in Cork tomorrow:
10am to 4pm: Tuckey Street, North Main Street, South Main Street, Copley Street, Union Quay Bachelor's Quay, Grenville Place, Grattan Street, Liberty Street, Adelaide Street, Kyle Street, Castle Street, Cornmarket Street, Paul Street.
Midday to 4pm: George's Quay, Sullivan's Quay, South Terrace, Infirmary Road, Ruthland Street, White Street, Dunbar Street, Mary Street and Cobh Street.
There will be no access to the city centre from the western suburbs via the Western Road.
Traffic attempting to enter the city centre via this route will be diverted via Sundays Well Road or Wilton Road.
1636 Guests for tonight's concert and fashion show in the Convention Centre have begun gathering for security checks at the O2.
1634 AA Roadwatch says that at present M50 northbound traffic is slow via J7 Lucan. Southbound is slow from J6 Blanchardstown to J9 Red Cow.
1505 Dublin Bus says that due to security arrangements there will be significant delays to Clondalkin, Ballyfermot and Lucan services until further notice.
1503 AA Roadwatch says parking restrictions will be in place in Cork city this evening from 6pm.
1500 A reminder that the north and south quays in Dublin will close at 1630 until 2000.
1424 AA Roadwatch is urging people to avoid the M50. Closures are imminent as the Queen returns to Dublin.
1418 Phoenix Park, Parkgate Street, Conyngham Road, South Circular Road (between Con Colbert Road and Conyngham Road) and Infirmary Road are expected to close shortly.
1416 The Duke of Edinburgh Prince Philip has said it is very nice to know that so many people are involved in the President's Award and getting so much pleasure and encouragement from it.
Prince Philip was speaking at a reception in Farmleigh organised by Gaisce - The President's Award.
Addressing the Gaisce members, Prince Philip said that doing the work to achieve the award may seem pretty awful at the time. But he added that like all things, it is wonderful when you stop doing it and when you can bask in the award for the rest of your lives.
1414 Gardaí say that rolling traffic calming restrictions are in place northbound on the M50 from J9.
1302 AA Roadwatch says the M7 is closed briefly again southbound from J12 Newbridge to J2 Kingswood.
1300 Luas says there will be red line Disruption between 1530-20.30. There will be no service in Docklands for this period.
1228 The Duke of Edinburgh has arrived at Farmleigh House in Dublin for a reception with members of Gaisce - The President's Award.
At the reception Prince Philip will meet leading figures behind Gaisce, as well as award recipients and current participants of the programme from both sides of the border.
Minister for Children Frances Fitzgerald is also present. The award is Ireland's national challenge award programme for young people aged between 15 and 25.

1209 Dublin's M50 northbound is currently closed from J10 Ballymount to J7 Lucan. There are no closures southbound.
1200 The Samuel Beckett Bridge has been closed to traffic.
1153 In Dublin City Centre, North Wall Quay has been closed.
1149 A horse reared up on his hind legs as Queen Elizabeth was in close attendance.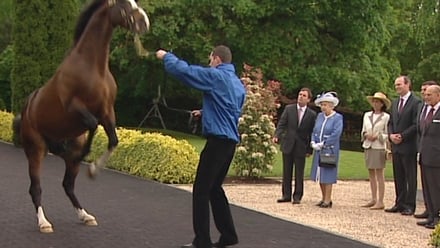 1139 The Queen has offered her sympathies following the death of former Irish taoiseach Garret FitzGerald.
'I was saddened to hear this morning's news of the death of the Garret FitzGerald, a true statesman. He made a lasting contribution to peace and will be greatly missed,' she said.

1128 The Queen has arrived at the National Stud.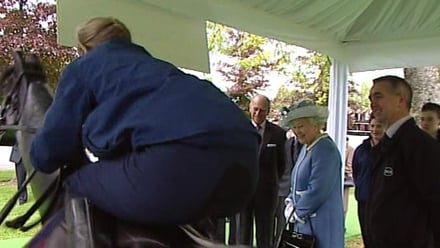 1123 Gardaí have advised that delays are being experienced on the M50 between J6 and J10 and on all cross routes.
1105 The Defence Forces has posted a nice video to YouTube from the War Memorial yesterday.
1103 All restrictions have been lifted on the M50. Gardaí say that minor delays will be experienced because of earlier delays.
1019 Responding to the Queen's speech at Dublin Castle last night, Sinn Féin President Gerry Adams said: 'I believe that her expression of sincere sympathy for those who have suffered as a consequence of our troubled past is genuine.'
1004 Parkgate Street, Conyngham Rd, SCR (between Con Colbert Rd & Conyngham Rd) and Infirmary Rd are all now closed.
1000 Listen back to Morning Ireland's coverage of the Queen's speech last night at Dublin Castle.
0945 Gardaí say the Phoenix Park has now been closed to all traffic. Details of the Dublin traffic management plan here and Kildare here.
0930 Luas Red Line service delays are expected between 10am and 11pm from Blackhorse to Tallaght today.