CIA Director Leon Panetta has said that US officials ruled out informing Pakistani authorities about a planned raid against Osama bin Laden's compound as they feared their Pakistani counterparts might alert the Al-Qaeda chief.
Mr Panetta told Time magazine that 'it was decided that any effort to work with the Pakistanis could jeopardise the mission: They might alert the targets.'

Earlier, Pakistan president Asif Ali Zardari dismissed any notion that his country is failing to take action against militants on its territory.
Writing in The Washington Post, President Asif Ali Zardari acknowledged that the killing of Osama bin Laden by US forces was not a joint operation with Pakistan.
Mr Zardari said the whereabouts of the al-Qaeda leader, who was killed in Abbottabad, 95km north of Islamabad, were not known to the Pakistani authorities.
'He was not anywhere we had anticipated he would be, but now he is gone,' he wrote.
'Although the events of Sunday were not a joint operation, a decade of cooperation and partnership between the United States and Pakistan led up to the elimination of Osama bin Laden as a continuing threat to the civilised world.'
The Pakistani leader said it was simply untrue to suggest that his country, as badly hit as any by Bin Laden and his militants with 30,000 civilian deaths, was sluggish or unwilling to track down activists.
Even within hours of the operation that killed Bin Laden, US politicians were asking how he had been able to live in a populated area of Pakistan without anyone in authority knowing about it, possibly for years.
Some said it was time to review the billions in aid the US provides Pakistan.
'Our government is in fiscal distress. To make contributions to a country that isn't going to be fully supportive is a problem for many,' said Senate Intelligence Committee chair Dianne Feinstein.
Mr Zardari said: 'Some in the US press have suggested that Pakistan lacked vitality in its pursuit of terrorism or, worse yet, that we were disingenuous and actually protected the terrorists we claimed to be pursuing.
'Such baseless speculation may make exciting cable news, but it doesn't reflect fact. Pakistan had as much reason to despise al-Qaeda as any nation.
'The war on terrorism is as much Pakistan's war as it is America's. And though it may have started with bin Laden, the forces of modernity remain under serious threat.'
US counter-terrorism advisor John Brennan has said it was 'inconceivable' that Bin Laden did not have a support system in Pakistan.
At a news conference, he said the US would pursue all leads to find out what kind of support system and benefactors Bin Laden might have had.
The body of the al-Qaeda leader was buried at sea after he was shot in the head and chest by US special forces who were dropped at his fortified compound by Black Hawk helicopters.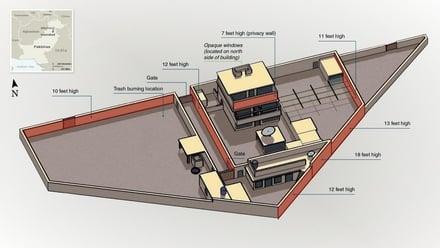 Bin Laden, 54, was given a sea burial after Muslim funeral rites on a US aircraft carrier, the Carl Vinson.
His shrouded body was placed in a weighted bag and eased into the north Arabian Sea, the US military said.
President Barack Obama was given a standing ovation by Democratic and Republican lawmakers at a White House dinner last night.
He told the group the operation was a reminder that 'there is pride in what this nation stands for and what we can achieve that runs far deeper than party, far deeper than politics'.
Mr Obama plans to travel to New York on Thursday to visit Ground Zero and meet families of 11 September victims.
The Obama administration is considering whether to release a photo of Bin Laden's body as proof that he had been killed.
A US official said there is also a video of the sea burial but it was not clear if it would be released.
Pakistan has questions to answer - Cameron
Britain will ask 'searching questions' of Pakistan about bin Laden's death, Prime Minister David Cameron said today, but added that Islamabad remains a key ally in fighting terrorism.
'The fact that bin Laden was living in a large house in a populated area suggests that he must have had a support network in Pakistan,' Mr Cameron told the UK parliament.
'We don't currently know the extent of that network, so it is right that we ask searching questions about it. And we will.'
However, he said Pakistan had suffered more from terrorism than any other country in the world, and many of the attacks were carried out by the Al-Qaeda network on the orders of bin Laden.

'I believe it is in Britain's national interest to recognise that we share the same struggle against terrorism,' he said.

Earlier, Mr Cameron said the mission that led to the death of Bin Laden was 'justified, lawful and right'.
Mr Cameron said Pakistan has questions to answer, but he warned against a 'flaming great row' with a leadership that was committed to tackling terrorism.
'There are lots of questions that need to be asked. And we should be tough in asking those questions,' he told BBC Radio.
'We should work with those forces in Pakistan that want us to combat terrorism and extremism and make democracy take hold in that country. That is in our national interest.
'We could go down the other route of just having a flaming great row with Pakistan over this. I think that would achieve nothing.'