Main developments:
Fourth night of air strikes
Death toll in Misrata yesterday increases to 40
Libyan government says targets in Tripoli hit
Unconfirmed reports of civilian deaths
Coalition enforcing no-fly zone over Libya
US plane crashes in field after engine failure
2210 US Secretary of State Hillary Clinton has said the US believes Gaddafi may be exploring exile options, but it is unclear if he is serious
2205 US President Barack Obama said the Libyan people face potential threats from Muammar Gaddafi if he remains in power.

Unless Gaddafi is willing to step down 'there are still going to be potential threats toward the Libyan people,' Mr Obama said.

2148 US President Barack Obama has said he expects 'clarity' on the future command structure of allied military operations in Libya 'over the next several days'.
He said: 'I would expect that over the next several days we will have clarity and a meeting of the minds of all those who are participating in the process.'
Mr Obama also said has already been a 'significant reduction' in US flights over Libya.
2135 'We will be victorious in the end,' Libyan leader Muammar Gaddafi tonight vowed to continue fighting.
2130 Saudi Foreign Minister Prince Saud al-Faisal has expressed strong support for the goals of the UN resolution on Libya at a meeting with British Prime Minister David Cameron in London tonight.
2027 A senior US official, speaking on condition of anonymity, told reporters that the US expects more Arab nations to contribute to the no-fly zone in the next several days.
The official also said the US is confident that it could find a way to use NATO military capabilities while bringing in countries from outside the alliance.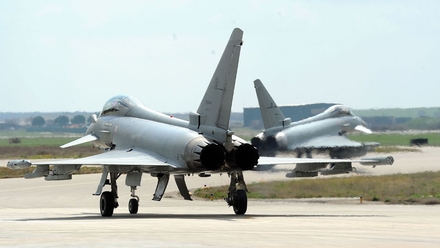 2012 The Libyan authorities will free three Western journalists, two from Agence France-Presse and one from the Getty agency, in 'one or two hours', a spokesman for the regime said on Tuesday.
1955 UN Secretary General Ban Ki-moon has said that Russia has a duty to cooperate with the Security Council resolution that approved the air strikes.
1939 AFP journalists have reported anti-aircraft fire over Tripoli amid explosions.
1936 Libya's deputy foreign minister said western forces are more interested in helping rebels advance than protecting civilians.
Khaled Kaim said they have made it clear they intend to assassinate Muammar Gaddafi.

1852 Barack Obama, Nicolas Sarkozy and David Cameron have discussed 'substantial progress' in Libya, according to the US.
The White House has also said that NATO should be part of Libya command structure.

1847 One of the heads of a Pro-Gaddafi brigade near Tripoli has been killed, Al Jazeera television reported.
The broadcaster gave the commander's name as Hussein El Warfali.
1821 Taoiseach Enda Kenny said he expects a summit of EU leaders later this week to increase the pressure on Colonel Gaddafi to order a complete ceasefire and then to surrender.
He told the Dáil the people of Libya deserve a democratic future.

1755 Russian Prime Minister Vladimir said that all those responsible for civilian casualties in Libya should pray for the salvation of their own souls.
1645 Tánaiste and Minister for Foreign Affairs Eamon Gilmore has condemned what he called Colonel Gadaffi's violent suppression of opposition in Libya, which he said has made no effort to spare civilians.
Mr Gilmore said Gadaffi should order an immediate and genuine cessation of his military offensive and surrender power to allow the Libyan people determine their future.
The Tánaiste said the Government stood prepared to provide further humanitarian assistance in support of Libyans affected by the current violence.
1632 US Admiral Samuel Locklear said Qatari forces will be up and flying in coalition operations by this weekend.
1620 US Admiral Samuel Locklear said Muammar Gaddafi and his forces have not complied with a UNSC resolution demanding an end to attacks on civilians.
1600 The crashed US fighter jet has become a curiosity for locals ...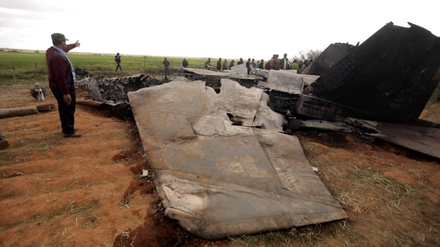 1532 Al Jazeera is reporting that western warplanes attacked a military aircraft belonging to Muammar Gaddafi's armed forces that was flying towards Benghazi.
1525 Two French planes launched their first missions from the aircraft carrier Charles de Gaulle today.
The two Rafale jets were on a reconnaissance mission and did not fire any shots.
1508 In other news for the troubled region, Arab League representatives meeting in Cairo have condemned 'crimes against civilians' in Yemen and urged the Sanaa government to deal with the people's demands in a 'peaceful manner.'
The Arab League 'strongly condemns the crimes committed against civilians, and calls for concerted efforts to safeguard national unity and the right to free expression,' they said in a statement.
They also called for 'dialogue and democratic methods to deal with the demands of the Yemeni people in a peaceful manner'.
A top official said that Yemen's embattled President Ali Abdullah Saleh has agreed to leave office by January 2012 after a parliamentary election, 20 months earlier than planned.
But Yemen's parliamentary opposition rejected the offer.

1440 Fighting has erupted in Yafran, southwest of Tripoli, between Libyan loyalists and the rebels who control the area, killing at least nine people, residents said by telephone.

'Kadhafi forces launched a deadly offensive in the area on Monday and Tuesday. The fighting killed at least nine people and wounded many, one resident told news agency AFP.
Yafran is located 130km from the capital.
1426 Algerian Foreign Minister Mourad Medelci says the Western military intervention in Libya is 'disproportionate' and must end immediately.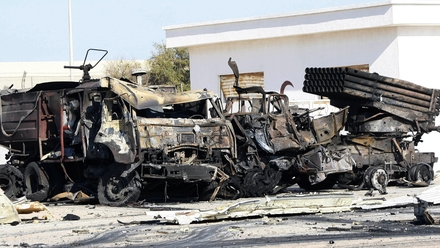 1341 US President Barack Obama has spoken to Turkish Prime Minister Recep Tayyip Erdogan about the situation in Libya.
Mr Obama thanked Turkey for helping secure the release of four New York Times journalists.
The White House has said both countries remain fully committed to enforcing the UN Security Council resolution.
1322 NATO allies have agreed to use the alliance's naval power to enforce an arms embargo on Libya, a NATO diplomat has said.
1252 Greece is to open its airspace to warplanes operating from the French aircraft carrier Charles de Gaulle, enabling them to join the international campaign in Libya, a Greek military source said Tuesday.
The French carrier is expected at the island of Crete by Wednesday and will position itself in international waters.
1247 An immediate ceasefire would be the best way to protect civilians in Libya, according to Russian Defence Minister Anatoly Serdyukov.
After a meeting with US Defence Secretary Robert Gates, Serdyukov said Russia believes 'that an immediate cease-fire and a dialogue between the belligerent parties is the surest path to the reliable security of civilians.'
Mr Gates responded by saying that some people in Russia seem to believe what he termed Muammar Gaddafi's 'lies' about civilian casualties in Libya.
'We've been very careful about this and it's almost as though some people here are taking at face value Gaddafi's claims about the number of civilian casualties, which as far as I am concerned are just outright lies,' Mr Gates said.

1245 The French foreign ministry has said that NATO will support the military intervention by the Western coalition in Libya when the United States scaled back its participation.
Foreign ministry spokeswoman Christine Fages was speaking to reporters.
A heated meeting of NATO ambassadors yesterday failed to agree on whether the 28-nation alliance should run the operation to enforce a UN-mandated no-fly zone.

1138 The World Food Programme says it has stepped up food aid to people fleeing the conflict in Libya.
WFP also said it had heard worrying reports about the sharp rise in food prices within Libya in recent weeks 'with the price of flour more than doubling, rice by 88%, vegetable oil by 58% and bread by over 110%.'
It also quoted reports as saying that 95% of shops in areas like Zawiya, Misrata and Sirte were closed.

1133 Cyprus says it had refused permission to Qatari air force jets to land at Larnaca airport and only changed tack when they reported they were running out of fuel.
Civil Aviation acting under international rules had to give permission for landing and refuelling, Cyprus government spokesman Stefanos Stefanou said in a written statement.
He said three aircraft landed at Larnaca, the main civil airport in Cyprus, two Mirage jet fighters and a C-17 transport plane.
Qatar was the only Arab state to agree to participate in military operations in Libya.

1129 Forces loyal to the Libyan leader are said to have killed five people in Misrata today, a spokesman in the rebel-held city east of Tripoli said.
Snipers and tanks deployed on the city's main artery opened fire 'blindly' killing five, according to the rebel spokesman.
'The martyrs include four children who were in a car with their parents,' he said adding that 'the fifth martyr fell in a different attack.'

1125 The US defence secretary has said the coalition is going to great lengths to avoid civilian casualties in Libya.
Robert Gates said most Libyan targets are air defences, which are isolated from populated areas.
He said military fighting in Libya should recede in the next few days.
1123 The NATO council is meeting again today to resume the debate on who should command the military campaign in Libya once the US steps back from leading the operation.
1115 The second crewman from a US Air Force fighter jet that crashed overnight in Libya has been safely rescued.
Both crewmembers suffered only minor injuries after ejecting from the jet, a US Air Force spokeswoman told Reuters.
1042 The Turkish Prime Minister has said that Turkey will 'never point guns' at Libyans. He said the operation should be under the UN.
1041 Thousands of Libyans have fled from their homes in the east of the country, according to witnesses crossing the border into Egypt.
'UNHCR staff at Egypt's border with Libya have been hearing from new arrivals that thousands of Libyans are displaced in the east of the country, taking refuge in homes, schools and university halls," said Adrian Edwards, a spokesman for the office of the UN High Commissioner for Refugees.

1024 The US military has confirmed that one of its fighter jets has crashed in Libya.
It said one crewman has been safely rescued, and that one is 'in process of recovery.'
It blamed mechanical failure and not hostile fire for the crash.
1017 Death toll from fighting in Misrata yesterday has reached 40.
1000 The Daily Telegraph is reporting that a US warplane has crashed in a rebel-held part of Libya. Its pilot has been rescued by rebels.
The plane is an F-15E Eagle (similar to the one below), the Telegraph added in a report from a correspondent on the ground in Libya. US officials have not commented.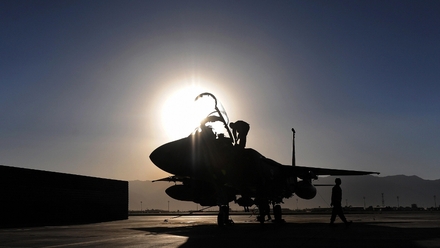 0957 Three western journalists who went missing in eastern Libya last week, including two from Agence France-Presse, were arrested by forces loyal to Gaddafi, their driver has said.
AFP reporter Dave Clark and photographer Roberto Schmidt, and Getty photographer Joe Raedle, had not been heard from since Friday evening.
0956 Forces loyal to Gaddafi are shelling the rebel-held western city of Misrata and casualties include four children killed when the car they were in was hit, Reuters is reporting.
'The situation here is very bad. Tanks started shelling the town this morning,' the resident, called Mohammed, told Reuters by telephone from outside the city's hospital.

'Snipers are taking part in the operation too. A civilian car was destroyed killing four children on board, the oldest is aged 13 years,' he said.

0918 Gaddafi forces are attacking the Libyan town of Zintan using heavy weapons, according to Al-Jazeera.
0915 Al Jazeera is reporting that Gaddafi forces are attacking the Libyan town of Zintan using heavy weapons.
0908 North Korea has condemned air strikes by the US-led coalition on Libya.
Its foreign ministry spokesman called the air assault 'a hideous crime against humanity' and a 'gross breach of the dignity' of Libyans, in an interview with the state-run Korean Central News Agency.
'Such war action can never be justified and should be halted at once,' the spokesman said.
0904 The Brazilian government has called for a ceasefire in Libya.
The goal of a ceasefire should be to protect civilians and pave the way for dialogue between the Libyan government and its opponents, the Foreign Affairs Ministry said.

0903 The US-led international coalition has no right to interfere in Libya's affairs, India has said.
0902 China has warned of a 'humanitarian disaster' in Libya and expressed 'deep concern' at reported civilian casualties, as it renewed calls for an end to fighting in the North African country.
0901 Turkey has ruled out the possibility of sending any combat mission to Libya.
However, it could take part in operations with humanitarian purposes, the daily Hurriyet quoted Turkish Prime Minister as saying.
0900 The Libyan government has said that coalition forces launched air strikes for a third night against targets in the capital Tripoli.
Explosions and anti-aircraft fire could be heard across the city.
Officials said civilians had been killed but this has not been independently confirmed.
There were also reports that a naval base east of Tripoli was bombed.
The coalition enforcing a no-fly zone over Libya has given no details of its operations during the night.