Highlights:
St Patrick's Day parades across Ireland
550,000 attended Dublin parade
Obama confirms he will visit Ireland
Videos of the parades in your area
Send your St Patrick's Day picture to yourphotos@rte.ie
That is all from us on this sunny St Patrick's Day.
2139 Watch videos of today's parades in the 'Video' tab at the top of this page
2055 Irish soldiers in Afghanistan have marked St Patrick's Day with a mixture of sadness and celebration.
In the early hours of the day, soldiers in the 1st Battalion The Royal Irish Regiment paid tribute to their fallen comrades in Afghanistan, including Lance Corporal Stephen McKee, who died when his vehicle hit an improvised explosive device on 9 March.
A St Patrick's Day parade was held in the midday sun with Pipe Major Glen Loe playing traditional Irish tunes.
Troops received the gift of an Irish shamrock, sent on behalf of the Princess Royal, a tradition started by Queen Alexandra in 1901.

2018 For St Patrick's Day in Kilrush, Co Clare organisers of a world record attempt set two world records.
Firstly 207 people wore St Patrick's attire and gathered in the Square in the heart of Kilrush Town to complete an official record.
The goal was to set a world record for the largest gathering of St Patricks.
Then 202 St Patricks proceeded to the starting line of a 5k Road race, 'the Paddy Dash', attempting a new world record for the largest race of St Patricks.
2010 Watch videos of the parade in your area on our Watch & Listen page
1755 Staying with the water-dyeing theme, here's the traditional White-House-dyes-its-fountain-green photograph. Makes for an impressive image all the same. Worth remembering, for the size this country, we really do box above our weight!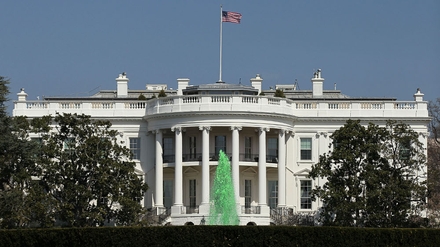 1746 Cary Mele is following RTÉ from Chicago this year, and wanted to send a photo of the dyeing of the Chicago River.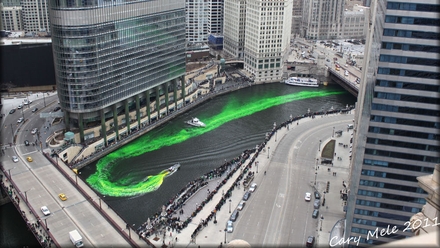 1729 This photo was taken at the St Patrick's Day Parade in Munich, Germany last weekend (Pic: Julie Hornecker):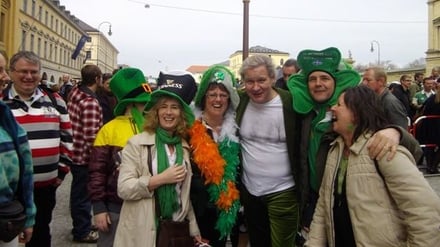 1723 This image is just in of the St Patrick's Day parade in Downpatrick, Co Down: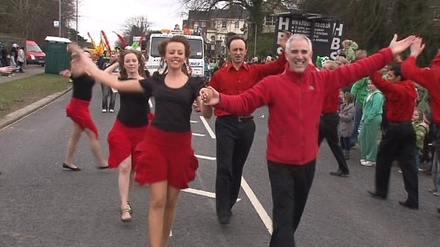 1716 Ian Rice has sent in this lovely image of Aimèe and Shauna Rice waiting for the parade on Drogheda, Co Louth: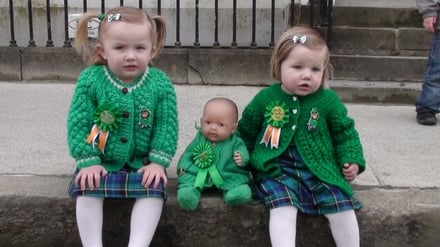 1705 Apparently Taoiseach Enda Kenny learned of the US President's decision only 15 minutes before the announcement was made, according to RTÉs Washington Correspondent Richard Downes.
1655 Now here's something you don't see every day, or even every St Patrick's Day for that matter. Expedition 27 Flight Engineer Cady Coleman aboard the International Space Station sends her best wishes on St Patrick's Day.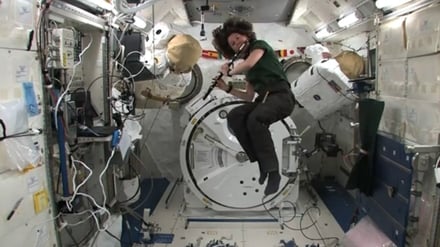 1649 Members of the Mitchelstown School of Music & Arts at Mitchelstown's parade (Pic Sean Burke):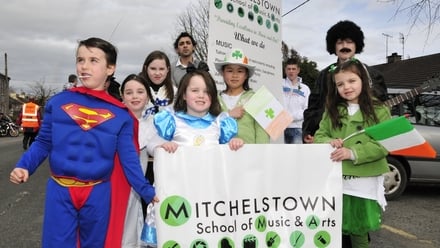 1632 Members of the Ring of Hook No Name Club performing line dancing in Duncannon, Co Wexford (Pic: Hendrik Potgieter):
1628 Up to 6,000 people attended the St Patrick's Day parade in Ennis, Co Clare with 40 different community groups and associations taking part in the celebrations: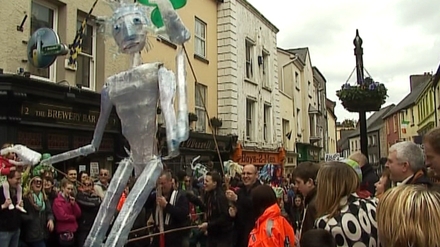 1624 'The announcement that President Obama will visit Ireland in May is great news.
'It will be a wonderful opportunity to showcase the island of Ireland to a huge audience of potential holidaymakers in the US, and indeed across the globe, and has the potential to deliver a major boost to Irish tourism in 2011 and beyond.'
So says Tourism Ireland chief Niall Gibbons.
1606 Read Taoiseach Enda Kenny's speech at a breakfast meeting hosted by US Vice President Joe Biden here.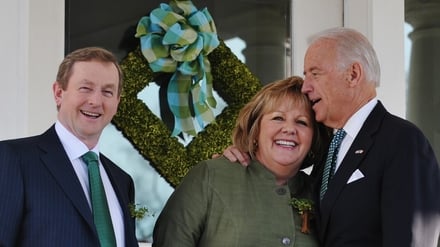 1556 Have you any comment on the US President's upcoming visit? Let us know.
1549 US President Obama said he is looking forward to visiting Ireland and is 'excited' about going to Moneygall where some of his ancestors came from.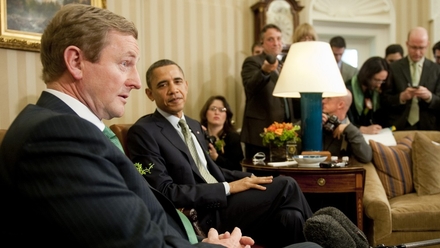 Mr Kenny said the visit was a vote of confidence in the Irish people at a time of difficulty.
He offered to join the president in a round of golf during his visit. Mr Obama said he had heard that the Taoiseach was a good player and he would have to practice. It's well known that our last Taoiseach liked a game of golf, but not much is known about Enda Kenny's golfing prowess.
1545 Cork city lays claim to hosting the biggest parade in the south of the country and this year's was no exception with over 60,000 spectators lining the streets.
It also heralds the start of a four day St Patrick's Festival in the city with plenty of free entertainment between now and Sunday.
There were plenty of overseas visitors among the crowds lining the city centre - the theme of this year's parade was 'happiness' and this year's grand marshals - the County's Senior Football team sporting the Sam McGuire cup.
1540 In honour of US President's Barack Obama's confirmation of a visit, we should all remember this cringeworthy effort from The Corrigan Brothers.
1524 US President Barack Obama is planning to visit Ireland later in May.
Mr Obama said he discussed with Taoiseach Enda Kenny how Ireland would bounce back from economic turmoil.
1520 And sure what would St Patrick's Day be without a song? Watch The Dubliners and The Pogues perform their classic 'The Irish Rover' here
1515 The Galway St Patrick's Day parade in full flow:
1511 Just tweeted from Presidential hopeful Senator David Norris:
'Just about to set off as Grand Marshall of the Portlaoise St. Patrick's Day parade. Great to be back on home turf!'
1455 More images from Tourism Ireland's efforts at turning the world's landmarks green:
Sky Tower in Auckland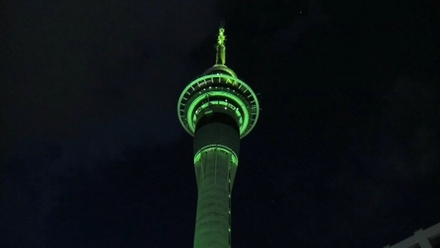 Burj Al Arab in Dubai: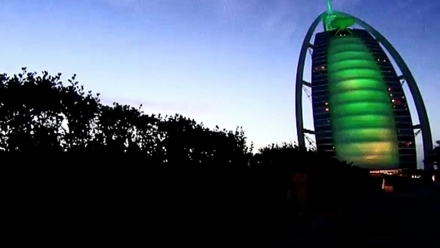 The London Eye: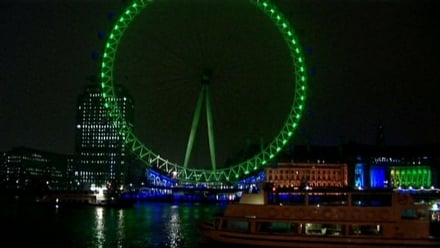 Table Mountain in South Africa: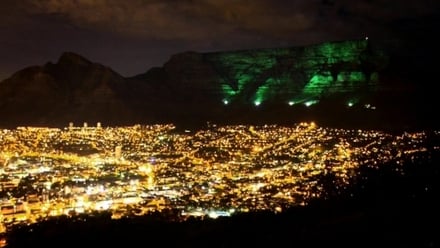 1450 Tens of thousands have watched the parade in Waterford city.
The theme of the parade was 'The Three Shippes' (their spelling, not ours!), highlighting Waterford's maritime heritage.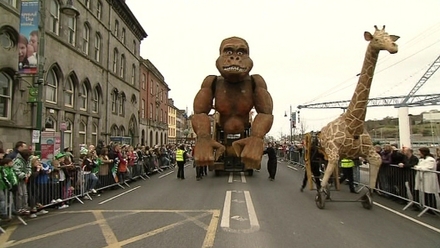 1430 Belfast is holding the largest parade in Northern Ireland: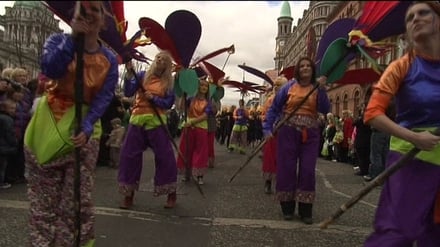 1427 A rather egg-centric Cork city parade: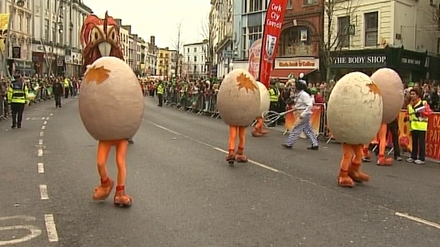 1415 An estimated 50,000 people are on the streets of Limerick for its St Patricks day which celebrates its rich and diverse sporting tradition, as its the European city of Sport for 2011.
Five of its great sporting heros were this years grand marshalls -transatlantic rower Sean McGowan, Limerick hurler Gary Kirby, Hockey player Emer Cregan, former soccer international player and manager Eoin Hand, and Munster and Ireland rugby cap John 'the bull' Hayes.
Over 4,000 participants are in this years parade, in over 100 floats representing sporting clubs, and voluntary and community groups, making it one of the largest parades in the country.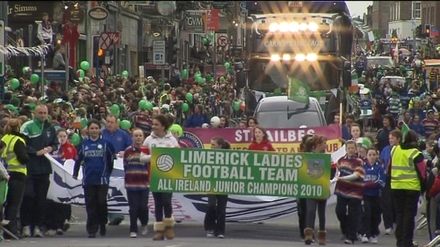 Huge participation also from music groups and schools including the Santa Clara band from California, here on an exchange with pupils from the city's St Clement's school, who marched with the biggest tricolour in the country.
There was plenty of colour and a look at other traditions, with music and dance performances from representatives of the Filipino, Nepalese and Congo communities under the Doras Luimni group group which works with migrants.
1410 Scenes from St Patrick's Boot Camp at the Sligo Parade.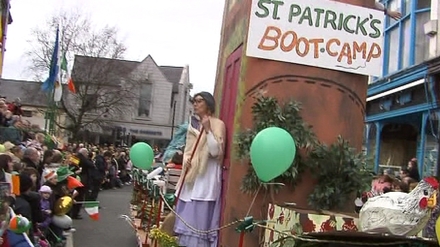 1351 More revellers at the Cheltenham Festival. Let's hope the famous (or mythical) luck of the Irish was with them!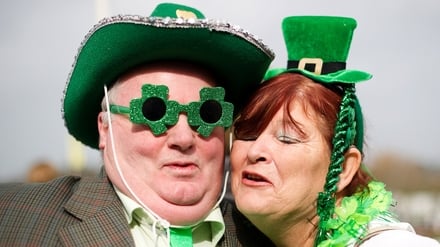 1350 Reports of a massive turnout out at the Cork parade - Kathleen Lynch, Cork's new junior minister was spotted enjoying the festivities.
Pictures hopefully to follow.
1349 Dingle, Co Kerry held their parade last night - well those Kerrymen always go against the grain: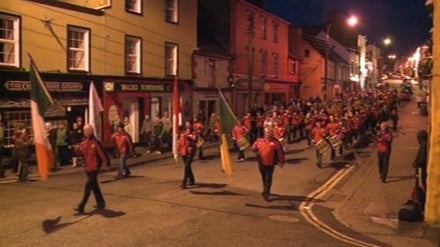 1348 If anyone has any pictures or comments from around the country please do send them in!!
1346 Roddy Doyle's 'Brilliant' is starting to come to an end, with the black dog being driving from Dublin by children shouting the word brilliant at him. Hurrah!!
1344 Army tanks rolling through Swords, Co Dublin as part of the parade there: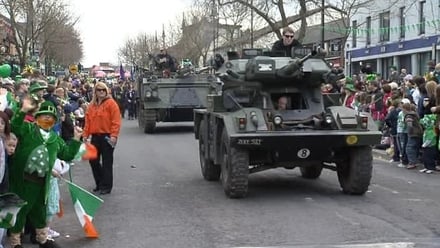 1341 One of the iconic Dublin figures, Ronnie Drew, lookiing down on today's parade: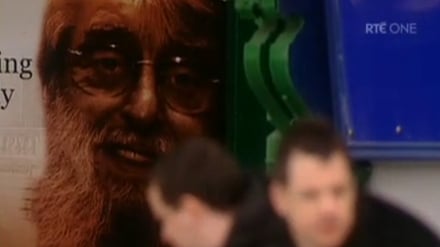 1332 Whoops! Up to Chapter 6 of Roddy Doyle's 'Brilliant'.... and we're in the zoo, where the Black Dog is still telling the children of Ireland that they're no good - that's not very nice is it?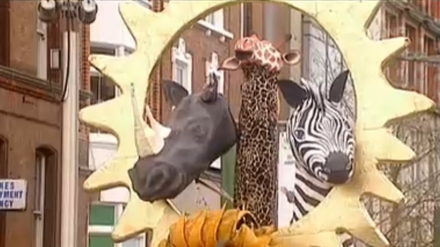 1330 The Phoenix (of Phoenix Park fame) has entered the narrative of Roddy Doyle's 'Brilliant':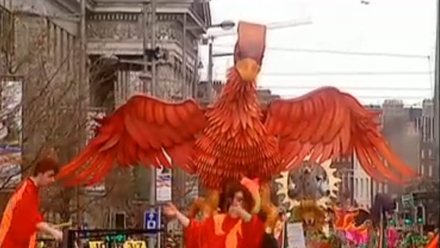 1320 Sorry - wrong black dog, didn't mean to be casting aspersions over the wolfhound in the previous photo. Apologies. The dog in question is this altogether meaner-looking customer: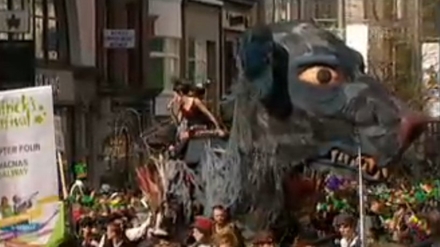 1311 Des Cahill describing chapter three of Roddy Doyle's 'Brilliant' - the theme of this year's parade. Hard to figure out what its about though, something about a black dog chasing the tail of the Celtic Tiger!!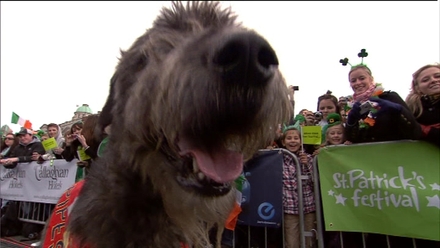 1309 And not forgetting the ladies - also at the Cheltenham Festival: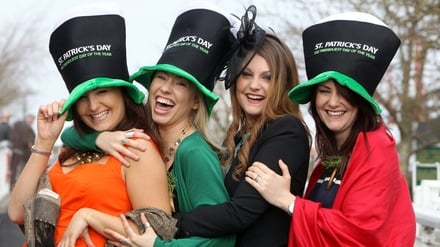 1305 Four St Patrick's Day revellers at the Cheltenham Festival: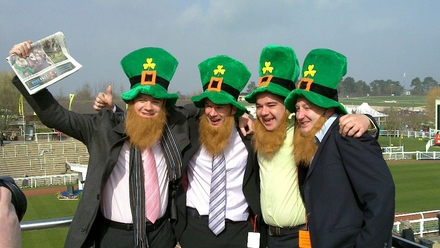 1302 As always, if you've any comments please feel free to leave them on our comments page, accessible as a tab on the top of this page.
1301 Roddy Doyle's short story 'Brilliant' is the theme of this year's parade. The chapter - Brighter Futures - has just begun.
1255 RTÉ's Aidan Power is accompanying Grand Marshall Katie Taylor on the parade: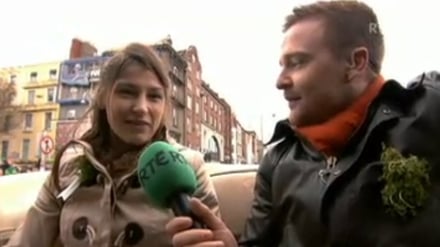 1251 The Dublin Fire Brigade Band are crossing O'Connell Bridge as part of today's parade. The first of the bands leading the parade through the city of Dublin.
1249 Paris's Moulin Rouge turned into Moulin Vert for the day: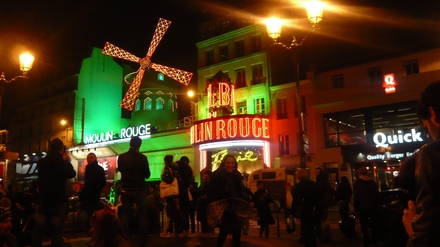 1246 Various adjectives have been bandied about the office here to describe this year's St Patrick - 'lively' and 'colourful' being two of the more complimentary: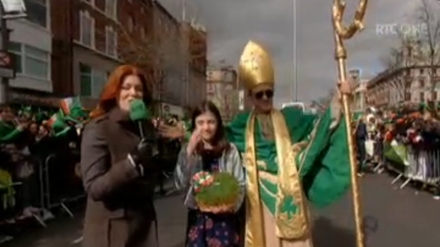 1241 Dublin's Lord Mayor taking part in today's parade: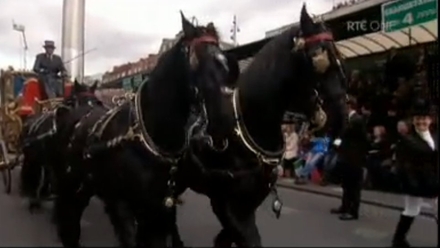 1232 And they say we have the gift of the gab, but in the first mishap of RTÉ's live coverage, the sound failed as we cut to Bláthnaid talking to a panda.
1231 RTÉ's Aidan Power is 164 feet above Dublin viewing the shenanigans below.
1230 RTÉ's coverage of Dublin's St Patrick's Day parade is live on RTÉ's News Now. It's easy to view by clicking our embedded video at the top of this page.
1223 Located deep in the RTÉ archives there's this powerful rendition by Luke Kelly of the Patrick Kavanagh song 'On Raglan Road'.
Luke Kelly explains how he met Patrick Kavanagh only once. During this encounter Kavanagh told him he had a song for him. The song was 'On Raglan Road'.
Powerful stuff.
1210 Around 650, 000 people are attending the country's largest St Patrick's Day Parade in Dublin city centre. The parade started at midday at Parnell Square and will continue up O'Connell St, around College Green, down Dame St, finishing at St Patrick's Cathedral.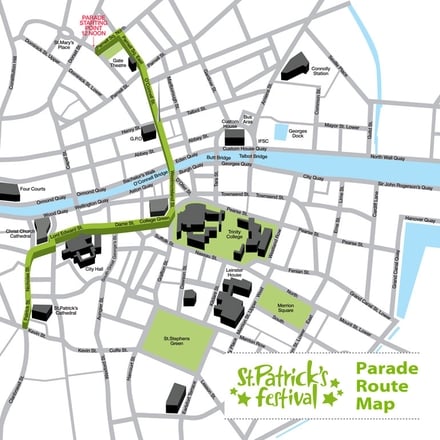 RTÉ's live coverage beings at 12.30pm with Aidan Power, Des Cahill and Bláthnaid Ní Chofaigh.
1207 Reuters has released 17 'Bizarre but True' facts about Ireland - maybe it's the British sense of humour, but some of them aren't really that bizarre!
1159 Despite his efforts on the pitch last weekend, rugby international Tommy Bowe has enough fuel left in the tank to celebrate St Patrick's Day.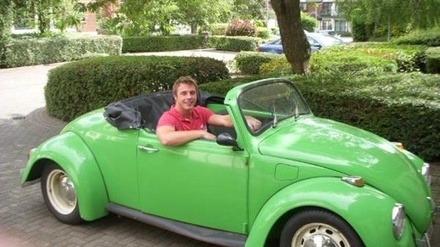 1154 Berlin is holding its first ever St Patrick's Day parade. It starts at 5pm Irish time.
Organisers are expecting about 350 people will turn out to watch it.

1136 Central Station in Sydney was subjected to a St Patrick's Day 'flash mob' - check out the YouTube video here
1133 Iconic landmarks and buildings around the world are going green today for St Patrick's Day, as part of the major push to restore overseas tourism to growth in 2011.

Tourism Ireland has arranged for major landmarks and iconic sites around the globe - including the London Eye, Table Mountain in South Africa, the Burj Al Arab in Dubai and the Moulin Rouge in Paris - to 'go green' in honour of St Patrick's Day.

1125 The cast from the 'Riverdance' perform a number during a St. Patrick's Day luncheon at The Lansdowne Club in Sydney: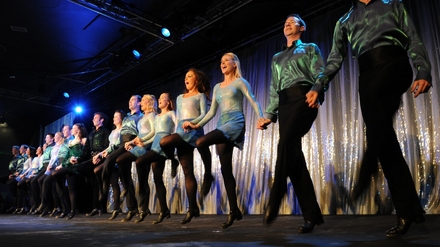 1119 There's free Barry's Tea on Cork's Grand Parade today at the Cork Market, probably a lot healthier than what will be drank by a lot of people across Ireland today!
1114 As you can imagine, there might be a small amount of traffic disruption up and down Ireland. AA Roadwatch have released a very instructive map to possible traffic disruption during the St Patrick's Day Festival: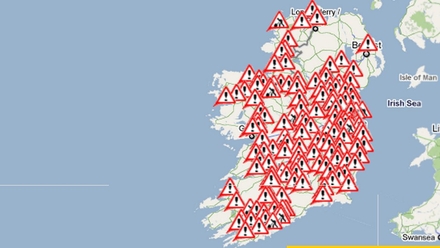 1104 If you've any photos of preparations for today's parades, or how your town is looking send them in to yourphotos@rte.ie. Our comments page is open, so if you've any memories of parades gone by let us know.
1040 The largest St Patrick's Day parade in Northern Ireland is due to take place in Belfast.
1,000 people are due to take part in the carnival, which leaves the City Hall at midday and heads to Custom House Square for an open-air concert with pop stars Stacey Solomon and Lemar.
The Environment is the main theme this year.
The parade will be led by the lord Mayor of Belfast Councillor Pat Convery.
Current World, European and All-Ireland Pipe Band Champions St Laurence O'Toole will also take part.
There are also events taking place in Derry, Armagh and Downpatrick.

1000 More than 100 parades will be held across the country today to mark St Patrick's Day.
Up to 650,000 spectators are expected to attend the largest parade in Dublin, which begins at midday.
World boxing champion Katie Taylor will be Grand Marshal of this year's parade in the capital.
Ireland's literary heritage is being celebrated throughout the five-day St Patrick's Day Festival.
Booker-prize winning author Roddy Doyle has written a short story called Brilliant, which will provide the theme for the Dublin parade.

Gardai are advising motorists of major traffic restrictions around the city.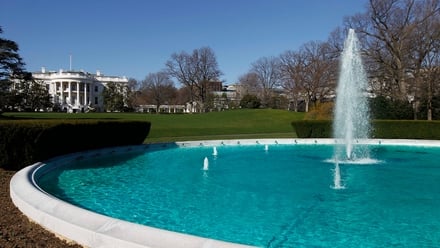 0950 Taoiseach Enda Kenny will meet US President Barack Obama in the White House for the traditional presentation of shamrock.
Mr Kenny's day in Washington will begin with breakfast with Vice-President Joe Biden.