An explosion and radiation leakage has been confirmed at Japan's Fukushima 1 nuclear power plant, a day after a powerful earthquake damaged the facility's cooling system.
Read a timeline of events yesterday (0900 -2359)
Watch footage of the explosion
Department of Foreign Affairs helpline: (01) 4180233
2233 The USS Ronald Reagan has arrived in Japan to assist relief efforts.

The aircraft carrier is expected to serve as an afloat platform for refueling Japan Self Defense Force and other helicopters involved in rescue and recovery efforts ashore.

It will also help transport JSDF troops to affected areas. The USS Ronald Reagan has a 3,200 Navy crew as well as 2,480 aviators and air wing personnel and approximately 85 planes.
2135 An official of Japan's nuclear safety agency said the number of individuals exposed to radiation from the quake-hit Fukushima nuclear power plant could reach as high as 160.

Nine people had already shown possible exposure to radiation from the plant, based on information from tests by municipal authorities and other sources.
2133 Four workers at Fukushima Daiichi nuclear plant were injured by the explosion.

An estimated 110,000 people have been evacuated within a 20-km radius around Fukushima Daiichi. In a 10-km radius around Fukushima Daini about 30,000 people have been evacuated.
2125 Japan's nuclear power safety agency said the emergency cooling system is no longer functioning at the No 3 reactor at Tokyo Electric Power Co's Fukushima Daiichi nuclear power facility, requiring the facility to urgently secure a means to supply water to the reactor,
2041 At least 140,000 people have been evacuated in the areas around two nuclear plants.
2021 The IAEA has said Japanese authorities have informed it that radioactivity levels near Fukushima nuclear plant have lessened.

The plant's operator has confirmed that the primary containment vessel is intact.

1824 The World Health Organisation said that the public health risk from Japan's radiation leak appeared to be 'quite low' but the WHO network of medical experts was ready to assist if requested.
1801 Favourable winds will likely blow possible radioactive pollution out over the Pacific Ocean, the French Nuclear Safety Authority said.
1600 The Radiological Institute of Ireland (RPII) has confirmed that the potential for the explosion at the nuclear power plant in north eastern Japan this morning to have implications in Ireland is remote.
The RPII confirmed this following a meeting of Government departments and agencies that was convened to review the available information and assess the consequences for Ireland.
RPII Chief Executive Dr Ann McGarry said: 'The distance between Ireland and Japan means that in the highly unlikely event of contamination reaching Ireland, the levels would be insignificant. We are monitoring developments through official channels and will provide an updated assessment, as appropriate'.

1557 Japan's nuclear safety agency has said the nuclear plant incident was rated as less serious than both the Three Mile Island accident in 1979 and the 1986 Chernobyl nuclear disaster.
An official at the agency said it has rated the incident at Tokyo Electric Power's nuclear plant north of Tokyo a 4 according to the International Nuclear and Radiological Event Scale (INES) .

Three Mile Island was rated 5 while Chernobyl was rated 7 on the 1 to 7 scale, the official said.
1556 Japan's Kyodo News said about 300,000 people were evacuated nationwide, including 90,000 from areas near the nuclear plant in Fukushima.
1554 In districts around Fukushima city, survivors lined up for drinking water in town centres, filling teapots and plastic containers.
Japan deployed tens of thousands of Self-Defense Force officers to search for missing people.

1413 View our gallery of some of the most striking images from Japan here. It includes this one of damaged houses and cars in Fukushima.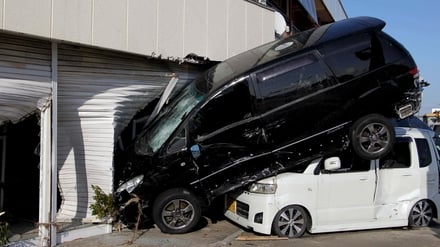 1356 The Department of Foreign Affairs has said as of 1pm there have been no reports of any Irish casualties following the earthquake in Japan.
The Consular Crisis Centre of the Department of Foreign Affairs and the Irish Embassy in Tokyo have been able to account for almost all of the Irish nationals believed to have been in the affected areas.
They continue to try to make contact with a small number of others who remain on our list as communication links are restored.
Irish nationals in Japan can contact the Irish Embassy in Tokyo at +81 332 630695.

1341 As much as 10,000 people are unaccounted for in Japan port of Minamisanriku, according to the public broadcaster NHK.
1338 An earthquake with a preliminary magnitude of 6 has hit Fukushima around 25 minutes ago, public broadcaster NHK said.
1320 Japanese authorities have told the IAEA they are making preparations to distribute iodine to people living near nuclear power plants affected by yesterday's earthquake.

Iodine can be used to help protect the body from radioactive exposure.

1237 The wind at a nuclear plant in Japan that is leaking radiation is blowing from the south, which could affect residents north of the facility, Japan's national weather forecaster has said.
The weather agency said the wind direction may shift later so that it blows from the north west towards the sea.
The direction of the wind is a key factor in judging possible damage on the environment from the radiation leaking from the plant, which was hit by Japan's biggest earthquake on record and a tsunami.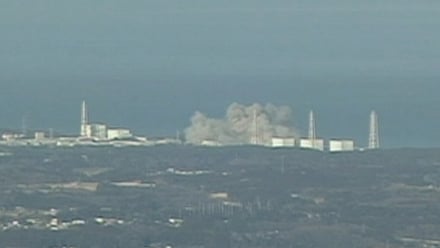 1212 Tsunami waves from the earthquake have killed at least one person in the United States, officials said.
A 25-year-old man was confirmed dead in California's Del Norte County after being swept into the Pacific Ocean near the mouth of the Klamath River, according to local emergency officials.
The man and two friends were taking photographs of the incoming tsunami waves.
1155 The Japanese government has said the radiation level actually fell after the nuclear plant blast.
1150 The Fukushima plant operator has confirmed that no damge has been done to the container of the nuclear reactor, according to the Japanese government.
1147 Japan's Prime Minister Naoto Kan has urged people to be calm near the damaged nuclear power plant and vowed to protect people's health.
He called the earthquake and tsunami an 'unprecedented national disaster'.


1115 RTÉ's Paul Cunningham has just arrived in Japan - 'Just landed at Tokyo. Warning not to let rain land on skin due to chemicals released by blazing plant' via @RTENewsPaulC.
1111 The Centre Sismologique Euro-Méditerranéen has reported a 6.1 Magnitude earthquake has struck the northeast coast of Honshu, Japan.
1040 Japan's nuclear agency says serious damage to the reactor container is 'unlikely', Kyodo reports.
1038 A nuclear industry body official has said he believed the blast was due to hydrogen igniting, adding it may not necessarily have caused radiation leakage.
'It is obviously an hydrogen explosion ... due to hydrogen igniting,' Ian Hore-Lacy, communications director at the World Nuclear Association, a London-based industry body, told Reuters after reports of the explosion in Japan.
'If the hydrogen has ignited, then it is gone, it doesn't pose any further threat.'

1032 Japan military says it has found 300-400 bodies in Iwate's Rikuzentakata city.
1016 Evacuation radius at Fukushima 1 plant has now been widened to 20km, according to public broadcaster NHK.
1000 The UN nuclear watchdog has said it is aware of media reports of an explosion at Japan's Fukushima No 1 nuclear power plant and is urgently seeking information from the country's authorities.
An official at the International Atomic Energy Agency (IAEA), the Vienna-based U.N. atom body, gave no further details.
0937 Japanese Chief Cabinet Secretary Yukio Edano has confirmed there has been an explosion and radiation leakage at Fukushima No 1 nuclear power plant.
'We are looking into the cause and the situation and we'll make that public when we have further information,' Mr Edano said.
'At present, we think 10 km evacuation is appropriate.'

0913 The Tokyo Fire Department has sent a 'hyper rescue team' to the plant.
0904 Hourly radiation at Fukushima matches the allowable annual dose, according to some reports.