Follow on Twitter: RTÉ Elections | RTÉ News
2257 At its first meeting tonight, the Government has agreed to cut its own pay.
The Taoiseach's pay will be cut from €214,187 to €200,000.
Other rates will be reduced pro rata - the Tánaiste from €197,486 to €184,405; Ministers from $181,283 to €169,275; and Ministers of State from €139,266 to €130,042.

2012 Former Fine Gael Minister Gemma Hussey has said Joan Burton did not get the kind of ministry she deserved, as she had earned her place as an alternative finance minister.
Ms Hussey told Prime Time that she was not saying Social Protection was not an important ministry, but she believed Ms Burton had done 'splendid' work on financial issues.
She added that she did not think there was enough women in the Cabinet.

2208 The Irish Independent's Brendan Keenan says he thinks Labour's Brendan Howlin has the more important Finance role as Minister for Public Expenditure & Reform.
2206 Damien English says the Government will make changes to severance packages and the way ministers are paid.
2205 Fianna Fáil TD Michael McGrath says the Government parties said a lot during the election and his party's job will be to hold them to account.

Deputy McGrath says the Programme for Government is low on detail in regard to finance.

2203 Fine Gael TD Damien English says his phone was on but he was not expecting a call from Enda Kenny.

Deputy English says the percentage of women in the Dáil has not changed much and the coalition has to work with the figures that are there.

He rejects the suggestion that Joan Burton's position as Minister of Social Protection is not important. He says it has an important role to play in deficit reduction.

2200 There are some very unpalatable realities that face the new Government, says Harry McGee.
2159 Female ministers have been put into 'women-friendly' departments, says Political Analyst and Lecturer Jane Suit.
2158 Fine Gael had to select young people, otherwise the Cabinet would have had an old, male, Dublin-based imbalance to it, says Harry McGee of The Irish Times.

2157 Click here for a map of the geographical spread of the Cabinet selected by Fine Gael and Labour.
2115 The TDs line up to receive their seals of office.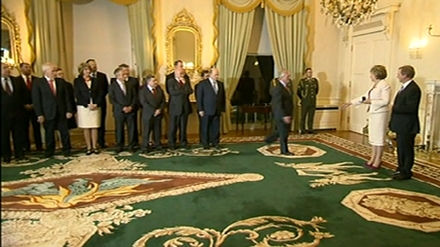 2100 The bus carrying the new ministers has arrived at Áras an Uachtaráin.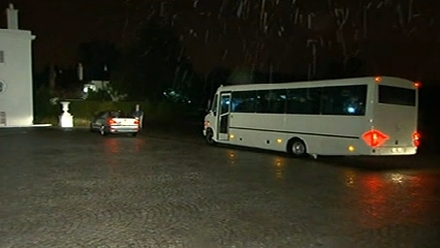 2045 New members of Cabinet have just left Government Buildings for Áras an Uachtaráin.

They are travelling together on a bus accompanied by garda outriders.

Taoiseach Enda Kenny is on board with them, as well as Secretary General of the Department of the Taoiseach, Dermot McCarthy.

They will shortly receive their seals of office from President Mary McAleese.

2032 Jim Fahy reports that the people of Islandeady say Enda Kenny's self-belief has never failed him.
1954 Taoiseach Enda Kenny has adjourned the Dáil until next Tuesday.

The Cabinet appointees will now travel to Áras an Uachtaráin to receive their seals of office.
1953 The motion to approve the Cabinet nominees has been carried by a margin of 115 votes to 26.
1930 The debate on the Cabinet nominations has ended and a motion has been put to the House to ratify the appointments.
1929 Fine Gael TD Peter Mathews says he is confident the new Government will make Ireland a place emigrants want to come back to during its term.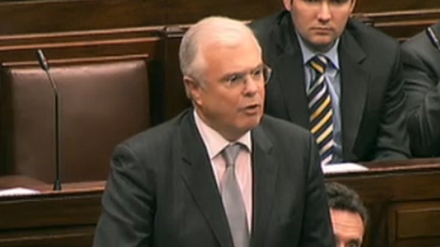 1922 Independent TD Mattie McGrath says the renegotiation of the EU-IMF bailout must be put to a referendum.
1913 Drivetime's Fergal Keane says that it appears that a major internal row in Labour over who got what was the cause of today's delay in announcing a new Cabinet.
1906 Sinn Féin's Mary Lou McDonald says that the abolition of the Universal Social Charge is essential.

She claims that Fine Gael and Labour will 'walk the path of your Fianna Fáil and Green Party predecessors'.

Ms McDonald adds that austerity measures that lead to cuts against the lower paid are 'unfair' and 'unjust'.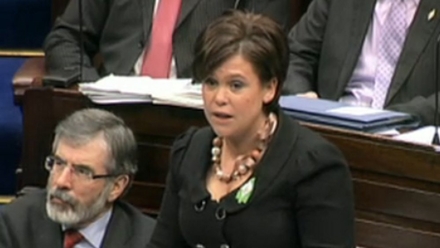 1903 Finance Minister-elect Michael Noonan has said the Government will restore the economy and create jobs, while also protecting the vulnerable in society.

Mr Noonan said it was unprecedented for the Taoiseach to have been elected by a majority of 90.

And he said the reason the Government had been given a mandate by the public was that they offered hope, at a time when the other parties only offered negativity.

He said that Fianna Fáil, Sinn Féin and the Independents had talked of how they would oppose the new Government's policies, but none had produced even one idea of what should be done.

So he appealed to them to be more positive and to join in rescuing the country.

1852 David McCullagh says it is somewhat surprising that there are only two female TDs in the nominated Cabinet.

Ten of the 15 nominees have either been Ministers or Junior Ministers in the past.

The Junior Ministers are likely to be announced sooner than usual so will be known in the coming days, he adds.

1835 This is a great day for Enda Kenny and for his home county of Mayo - Hayes.

Both Hayes and Sherlock say they are just happy to be there when Bryan Dobson tentatively asks about junior ministerial positions.

1833 It would have been easier for Labour to go into Opposition, but they took the decision to form a stable Government, Seán Sherlock says.

If we are attacked so be it, he adds.

1832 Brian Hayes says the people gave Fine Gael/Labour a great majority as they know it will be required to get through the tough decisions.

He adds one thing that is needed is a greater consensus in the Dáil and Opposition voices need to be listened to.

There will be attacks on all of us but it is clear where we need to go, he concludes.

1831 Seán Sherlock says jobs will be a key issue in the initial days of the new Government, as will EU negotiations on debt.
1829 Brian Hayes says there is a huge job in the Department of Finance and it is too big for one person.

Therefore, he says, Brendan Howlin's role as Minister for Public Expenditure and Reform will be crucial.

1828 Labour's Seán Sherlock says he is very proud of the Labour team and that you could slot any of those people into any position and they would do well.
1827 Fine Gael's Brian Hayes says he thinks the nominated Cabinet is a good team, with a mix of new and experienced deputies.
1825 Interesting statistic from Drivetime.

The combined ages of the 15 voting members of the proposed Cabinet is 833 years. That is an average age of 55 and a half.

For comparison, the average age of a Cabinet member in Bertie Ahern's 2002 government was 49.
1816 Sinn Féin leader Gerry Adams said the Fine Gael and Labour Programme for Government implements the Fianna Fáil policy, despite its promises of new approaches.

He said the programme was a far cry from the democratic document of the first Dáil.

He documented the problems of emigration, unemployment and ghost estates, which he referred to as monuments to corruption.

Deputy Adams said the Programme for Government did nothing to address such issues.

1810 David Davin-Power says in all his time he has never seen a day like today at the Dáil.

He wonders if there has ever been a time before now that Defence did not have its own full ministry.
1809 Fianna Fáil leader Micheál Martin welcomed the movement of the Trade portfolio to Foreign Affairs.

He told Eamon Gilmore that the role of minister in that department was a challenging one and that he would discover that it was not 'Labour's way or Frankfurt's way' and that he would realise that Jean-Claude Trichet was 'more than just a civil servant' - a reference to statements made by Eamon Gilmore during the election.

Mr Martin attacked the vagueness of the Programme for Government, saying it contained many hybrid proposals of both parties.

He questioned the wisdom of a strategic investment bank, saying people would wonder at the need for yet another bank.

The FF leader also cast doubt on the move to divide Finance between two Cabinet ministers.

1805 Eamon Gilmore said the Government was determined to break from the failed policies of the past.

Deputy Gilmore said the Government would deliver on the agenda for fairness, end the Apartheid health system that he said had bedevilled the country for so long, and deliver an open politics with a parliament that works.

1800 Marie Whelan SC has been put forward as Attorney General.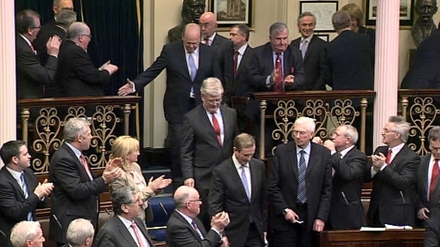 1755 Speaking in the Dáil, Tánaiste-elect and Labour leader Eamon Gilmore described the Programme for Government as a 'radical' and 'reforming' document.
1748 Speaking on Drivetime, Olivia O'Leary described the Cabinet as a 'Dáil Bar Cabinet.'

She adds that the attitude to women in the assignation of Cabinet jobs is 'a slap in the face'.

1748 Sinn Féin Eoin Ó Broin says there are only two women in Cabinet, while a number of very competent women overlooked - even if he disagrees with their politics.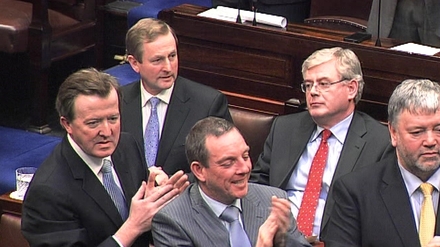 1740 Enda Kenny has announced his new cabinet in the Dáil.
Eamon Gilmore - Tánaiste & Foreign Affairs and Trade
Michael Noonan - Finance
Ruairi Quinn - Education and Skills
Richard Bruton - Enterprise, Jobs and Innovation
Frances Fitzgerald - Children
James Reilly - Health
Phil Hogan - Environment, Community and Local Government
Leo Varadkar - Transport, Tourism and Sport
Jimmy Deenihan - Arts, Heritage and Gaeltacht Affairs
Paul Kehoe - Chief Whip
Alan Shatter - Justice, Equality and Defence
Simon Coveney - Agriculture, Marine and Food
Joan Burton - Social Protection
Pat Rabbitte - Communications, Energy and Natural Resources
Brendan Howlin - Public Expenditure and Reform
Willie Penrose - Super Junior Minister at Department of Environment with responsibility for Housing and Planning (will sit at Cabinet)

1728 FF leader Micheál Martin says real reform of the Dáil is needed and what is proposed is just optics politics, unless there is a real agenda for next Tuesday.
1726 The Dáil will resume on the 15 March once it rises tonight, according to Enda Kenny. The Taoiseach says normally the Dáil would break for two weeks but he sees no reason why that has to happen in this case.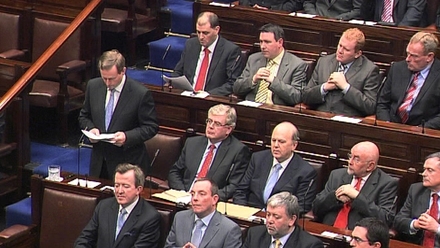 1725 Following Enda Kenny and Eamon Gilmore were Michael Noonan, Ruairi Quinn, Brendan Howlin, Richard Bruton, Joan Burton, Pat Rabbitte, Willie Penrose, Leo Varadkar, Alan Shatter, Frances Fitzgerald, Simon Coveney, James Reilly & Phil Hogan.
1720 Taoiseach Enda Kenny has entered the Dáil followed by his Cabinet.
1708 Shane Coleman says the turnaround between polling day and the election of a Government has been much shorter than in the past.
1706 SF's Pádraig Mac Lochlainn says his party plans to be constructive in opposition but will make their opposition clear to the Government.
1705 Mary O'Rourke says the likes of Sinn Féin made clear in the Dáil this morning that Labour would be their target in the time ahead.
1700 Shane Coleman says he finds it hard to believe that people were not told if they had cabinet positions last night.
1659 Former Fianna Fáil Minister Mary O'Rourke suggests Enda Kenny may be taking time to people who are not going to get a position in the new Cabinet.
1655 The former Fianna Fáil Deputy, Mattie McGrath, was among five Independents who voted in favour of Enda Kenny's election as Taoiseach.

The other four were Stephen Donnelly, Noel Grealish, Michael Healy-Rae, Michael Lowry.

13 other Independents voted against.

Tom Fleming abstained.

Those Independents who voted against were Richard Boyd Barrett, Joan Collins, Clare Daly, Joe Higgins, Luke 'Ming' Flanagan, John Halligan, Seamus Healy, Finian McGrath, Catherine Murphy, Maureen O'Sullivan, Thomas Pringle, Shane Ross and Mick Wallace.

Enda Kenny won the vote in the Dail by 117 votes to 27.

Fianna Fáil TDs abstained.
1650 Shane Coleman says the apparent presence of Fine Gael's Leo Varadkar in the Dáil Chamber suggests he has not received a Cabinet post.
1649 Fianna Fáil leader Micheál Martin requested more time for the debate scheduled on the Cabinet, which the Ceann Comhairle said can be discussed later.
1648 The planned resumption of the Dáil - to hear the new Taoiseach name his Cabinet - has been delayed for another 30 minutes, at the request of the Fine Gael Whip, Paul Kehoe.
1646 Two Labour TDs who had been tipped for possible inclusion in the Cabinet, Róisín Shortall and Jan O'Sullivan, are in the Dáil chamber, indicating that they have not been included.
1645 Ceann Comhairle Seán Barrett has entered the Chamber and will address the TDs.
1638 The Sunday Tribune's Shane Coleman says 13 of the 15 Cabinet positions are pretty much nailed down already.

He adds that there will have to be a Fine Gael TD from the Western seaboard considered for a cabinet position.
Peak behind closed doors in the Dáil

1528 As he left Áras an Uachtaráin, Taoiseach Enda Kenny was asked by reporters how he felt.

He replied: 'It feels very different but I hope I'm the same'.

He was then asked is it a good day for the country.

He said he hopes it is, adding 'I hope I can prove that'.

1505 Coverage of today's events will resume on RTÉ One Television at 4.30pm.
1500 The new Taoiseach is on his way back to Leinster House to name his Cabinet, which will include ten Fine Gael members and five Labour Party members.
1443 President Mary McAleese and Taoiseach Enda Kenny are in the State reception room at Áras an Uachtaráin.
Mrs McAleese presents the Taoiseach with his seal of office and the seal of Government.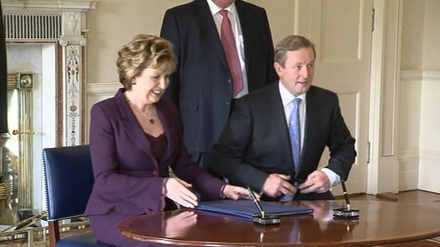 1440 Sources have told RTÉ News that Taoiseach Enda Kenny will hold a meeting with the European Commission president Jose Manuel Barroso tomorrow evening.
It will be the first international engagement as Taoiseach for Mr Kenny.
The hour-long meeting will take place in the European Commission headquarters in Brussels on the eve of a special summit of EU leaders on Friday.
1437 'Just need to sign on the line now,' Mr Kenny tells reporters.
1434 Enda Kenny's car has arrived at Áras an Uachtaráin. Mr Kenny waves to crowds at entrance.
1427 'This is a great day and Ireland will get the new start it needs,' says Fine Gael deputy leader Dr James Reilly.
1425 President of the European People's Party Wilfried Martens has congratulated Mr Kenny on his election as Taoiseach.
Mr Martens said: 'Enda Kenny now has the mandate to put his country back on track and get Ireland working.'
1413 Enda Kenny has been a TD since winning a by-election in 1975. RTÉ's Western Editor Jim Fahy takes a closer look at the man.
1410 The Dáil has been suspended for two-and-a-half hours to allow Mr Kenny go to Áras an Uachtaráin to receive his seal of office from President Mary McAleese.
On his return, he will name the members of his Cabinet.
1408 The country's 13th Taoiseach has promised to work with the Opposition in the interests of the country and the people. Today 'is the first day of the journey to a better future'.
Listen to the extended News at One for all the coverage in the Dáil earlier today.
1404 Taoiseach Enda Kenny thanked the members of the Dáil for the honour they had given to him in electing him.
An emotional Mr Kenny said the country was on the threshold of fundamental change.
He said he was entering into a covenant with the public. Honesty was his only policy. 'This is the darkest hour before the dawn'.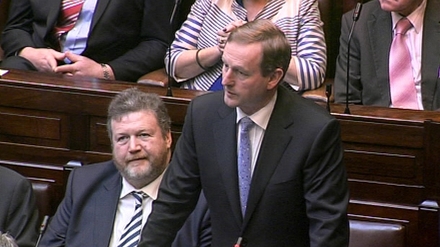 1356 Fine Gael leader Enda Kenny is elected Taoiseach by 117 votes to 27.
1331 The Dáil is now voting on the sole nomination of Enda Kenny as Taoiseach, by way of a walk-through.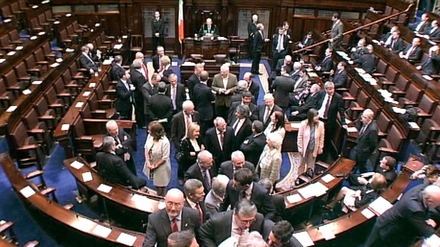 1326 Independent Michael Healy-Rae said he had already raised the fears for jobs in Castleisland, Co Kerry with the incoming government.
He also said he would support the new government in any measures which were in the national interest.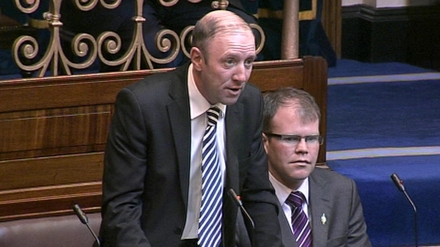 1317 Enda Kenny listens intently as deputies reveal whether they will support or oppose his nomination: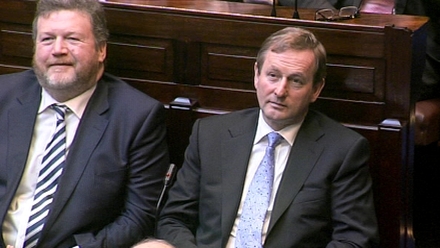 1316 Independent Luke 'Ming' Flanagan said he would not be supporting Mr Kenny's nomination as Taoiseach. Mr Flanagan raised the spectre of emmigration, and said no child in Denmark or Germany has to leave their country when they turn 18.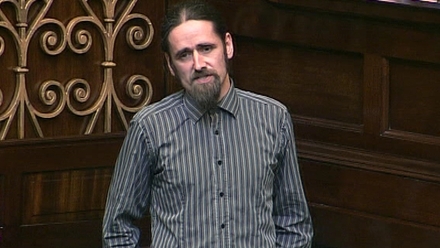 1313 Independent Mick Wallace said he would not be supporting Enda Kenny's nomination as Taoiseach but he said he did wish him well.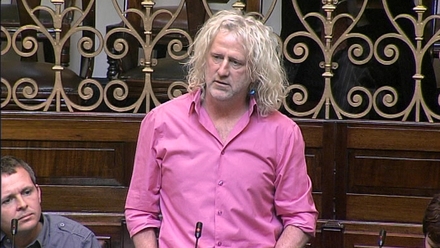 1304 'It is utterly shameful to sell off the family silver,' said People Before Profit's Richard Boyd Barrett as he criticised the new government's Programme for Government.
1300 Independent Seamus Healy said he would be opposing Mr Kenny's nomination as Taoiseach.
1255 'You spent too long in the Senate,' one TD was heard to say as Mr Ross's speech was interrupted.
1248 Independent Shane Ross said there is an 'avalanche' of goodwill for the incoming government.
However, he said he was dispirited by the Programme for Government. He said it would be implementing Fianna Fáil's four-year plan.
1243 Sinn Féin leader Gerry Adams has said he will not be supporting the nomination of Enda Kenny.
However, he also pledged to be constructive in opposition.
'Be assured we will not oppose the government just for the sake of it,' he said.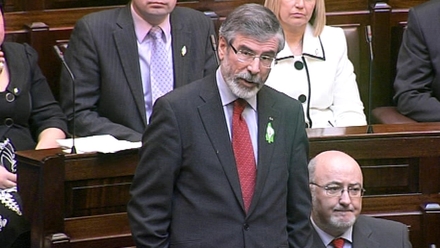 1234 The Socialist Party's Joe Higgins has said he will be opposing Mr Kenny's nomination for election as Taoiseach.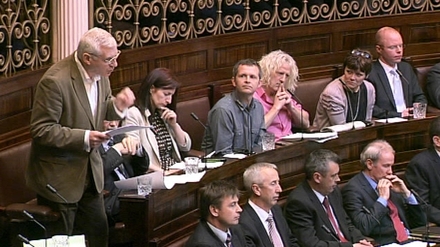 1230 Fianna Fáil's Micheál Martin has said he will not oppose Mr Kenny's nomination and will not support any other candidate.
This was breaking, he said, with tradition that he would nominate a party member for the post of Taoiseach.
He said this does not extend to support of the new government in all matters.
1228 Labour's Ciara Conway has seconded Mr Kenny's nomination.
1225 The Dáil's youngest TD, Fine Gael's Simon Harris is nominating Enda Kenny for Taoiseach.
1223 Addressing the Dáil, Ceann Comhairle Sean Barrett invoked the words of Nelson Mandela saying:
'It always seems impossible until its done.'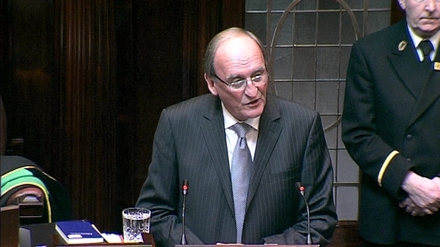 1219 'We need a modern parliament for a modern age,' said Mr Barrett.
'I will not only be fair but firm.'
1217 Fine Gael's Sean Barrett is elected Ceann Comhairle of the 31st Dáil.
1215 Sinn Féin leader Gerry Adams and Independent Technical Group spokesperson Finian McGrath have also said he will support Mr Barrett as Ceann Comhairle.
1213 Labour Party leader Eamon Gilmore has also said he supports Mr Barrett as Ceann Comhairle.
1211 Fianna Fáil leader Micheál Martin says he supports Sean Barrett's nomination as Ceann Comhairle.
Mr Martin said he ultimately wanted to see the Ceann Comhairle elected by secret ballot.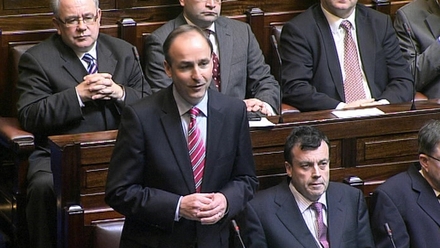 1210 Fine Gael leader Enda Kenny proposes Sean Barrett as Ceann Comhairle.
'He has a deep understanding of the mechanics of how this House works'.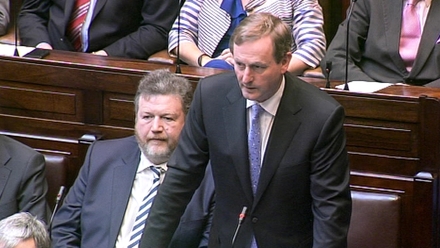 1207 A full house as Dáil Éireann convenes: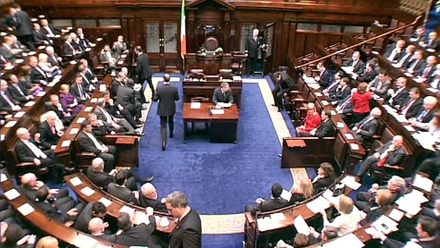 1200 Want to know more about our 76 new TDs? All you need to know about the fresh faces in the 31st Dáil is here
1155 Former Fianna Fáil TD Mary O'Rourke and former Fine Gael TD Michael D'Arcy are live on RTÉs News Special now.
1125 Enda Kenny with then Taoiseach Liam Cosgrave on his election to the Dáil in 1975.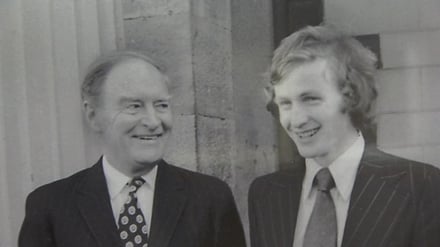 1103 Fine Gael TD Simon Coveney said he was hopeful he would receive a call from the Taoiseach's office asking him to serve in a ministry but he said he was not overconfident.

He said he had received no indication from Enda Kenny that he would be called adding that 'people are being left waiting'.

He said the election marked a new day for the country and said the government will have a responsibility to meet the commitments made during the election campaign.

Michael Noonan said calls to prospective ministers would be made mid-afternoon. Asked if he was expecting a phonecall from Enda Kenny he said, 'I won't be leaving the house anyway'.
1102 Outgoing Taoiseach Brian Cowen has wished the new government and Enda Kenny well and said it is important for the country that the new government succeeds aad continues to work to restore Ireland's future.
He said had stepped on to a new part of his life and wished the new members of the Daíl well.
He said Kenny will see plenty of ebbs and flows of public opinion as Taoiseach, he said he was sure Mr Kenny would remain focused and was determined.

1046 David McCullagh reports it is understood Enda Kenny's constituency colleague, Michael Ring, definitely will not be in the Cabinet.
This is likely to leave Mr Kenny as the only Cabinet member from the North West region, compared to three in the outgoing Cabinet - Mary Coughlan, Éamon Ó Cuív and Brendan Smith.
1042 RTÉ's Caitríona Perry reports buses of Enda Kenny supporters have arrived on Kildare St to much excitement.
1036 Dún Laoghaire Fine Gael TD Sean Barrett has confirmed he will be nominated as Ceann Comhairle when the Dáil meets this afternoon.
Mr Barrett says he was looking forward to the challenge and would be a firm and fair Ceann Comhairle. He said there was huge scope for the reform of the position.
1034 Pat Kenny is discussing the new political landscape with Irish Times Political Editor Stephen Collins. Listen live here

1029 President Mary McAleese and her husband Martin are taking part in an inter-denominational service of prayer at St Ann's Church of Ireland Church in Dawson Street not far from Leinster House.
On his way in, Fine Gael leader Enda Kenny said his Government would tell people what was happening whether the news was good or bad.
Fianna Fáil leader Micheál Martin arrived with the Labour Party leader Eamon Gilmore who quipped that he was keeping his options open.
Former Taoiseach Albert Reynolds said he thought the new coalition would last for a considerable time.
The church, which accommodates about 250 people, was almost full as family members took their places alongside many of the new Dáil deputies.

1025 Hundreds of well wishers have travelled in convoys of coaches from Mayo to Dublin to celebrate Enda Kenny's election as Taoiseach.
Some of Mr Kenny's oldest friends have told RTÉ Western Editor Jim Fahy that Mr Kenny would have made fine footballer if he had not been taken by politics.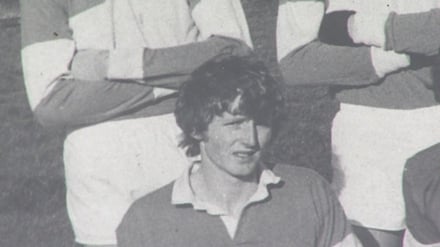 1020 Fine Gael leader Enda Kenny has said one of the greatest problems he faces today is deciding who to appoint to Cabinet.
There are too few jobs and too many talented people, Mr Kenny said.

1000 Morning Ireland spoke to some of the 76 new TDs in the 31st Dáil.
0852 Ryan Tubridy just tweeted this picture of himself on the plinth at Leinster House: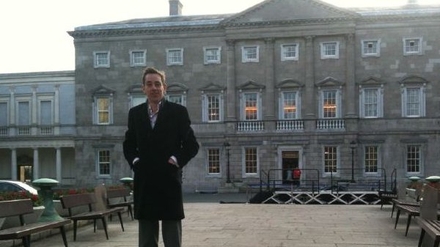 0815 RTÉ's Political Correspondent David MCCullagh is telling Morning Ireland what is expected to happen later today.
0814 Press Government Secretary Eoghan Ó Neachtain has confirmed to RTÉ Raidió na Gaeltachta that he will remain on in his post for a short period following the appointment of a new government.
0810 There will be coverage of today's proceedings in the Dáil in a specially-extended edition of RTÉ's News at One at midday and on RTÉ One. All will be available on RTÉ.ie here
0743 The Socialist Party's Clare Daly, Dublin North TD, has told RTÉ's Morning Ireland she and other members of the United Left Alliance will be marching to the Dáil from the Central Bank after 11am.