RTÉ Radio | Results by Constituency
Twitter: RTE Elections | Twitter by Constituency

Saturday 0700-1500 | 1500-2359
Sunday 0000-0800 | 0800-2359
0627 So that's it. 161 of 166 seats have been filled in the 31st Dáil, with the final five TDs of Galway West deemed elected, but not yet declared.

With only 17 votes separating Connolly from Kyne she was always going to ask for a recount - it's set for 4pm today.

0616 Request for recount and re-examination of all ballots by Catherine Connolly has been acceeded to by Returning Officer.

Counting starts again at at 4pm.
0614 Galway West: Count 13 Independent Catherine Connolly gained 12 votes to reach 9,100, Independent Noel Grealish gained 17 votes to reach 9,883 and Fine Gael's Sean Kyne awarded 87 votes to each 9,117.
0613 Figures show Kyne took 87 of colleague Walsh's surplus. No word yet on possible recount.
0606 Galway West: At the rare old time of 6.06am, Fine Gael's Seán Kyne and Independent Noel Grealish deemed elected on 13th count.
0600 Still no word on Galway West.
0519 We haven't gone away you know. Still waiting for Brian Walsh's 116 surplus to be distributed.
0451 Count 13 continuing in Galway West: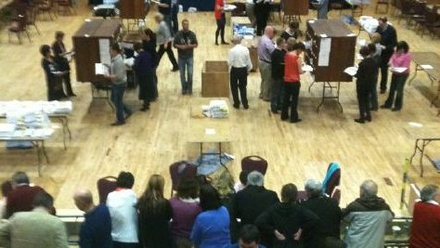 0448 Wicklow: Speaking following her election, Anne Ferris admitted that the Labour strategy of running three candidates might not have worked out as well as it could as there was not a good geographical spread between them.

But she defended the decision saying it was a strategy chosen at a time when more than three candidates wanted to run.

0446 58 votes separate Connolly and Kyne in battle for last seat in Galway West. Grealish will be elected without reaching the quota. Count 13 is continuing.
0431 Galway West: Talk from both Connolly and Kyne camps that this will come down to a handful of votes. We are probably looking at another recount.
0428 Fine Gael's Brian Walsh reacts to becoming the 31st Dáil's 164th TD: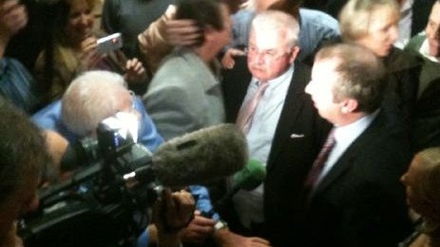 0419 Independent Catherine Connolly is on 9,088 after 12th count - 58 ahead of Fine Gael's Sean Kyne.

Independent Noel Grealish is on 9,816 and will be elected without reaching the quota.

0418 Galway West: Fine Gael's Brian Walsh elected on the 12th count with a surplus of 116 votes.
0409 Galway West: Expecting results of 12th count shortly.
0406 Wicklow: Independent Stephen Donnelly said he would use his position as a TD to try to make a difference.

He said the country was facing into a deep crisis and we need to deal with the economy and political reform and the health and education system.

He said he expects Fine Gael to form a government with Labour and without the need for Independents, but added that he would talk to other independents later today to see where they stand.

0403 Reacting to his election, Simon Harris said the result in Wicklow was a resounding success for Fine Gael.

He said that as the baby in the Dáil, aged 24, he would bring a fresh perspective to feed into government and represent a generation that all too often doesn't have a voice in the political system.

He said he wasn't daunted by the challenge he faces as he is going into the Dail with a party with plenty of experience.

0401 There is feverish activity around the count centre with supporters of Fine Gael's Sean Kyne and Independent Catherine Connolly pouring over each ballot paper in an effort to ascertain how Fidelma Healy Eames votes are being distributed.
Fine Gael strategists say that Brian Walsh may be elected to the third seat on this count, leaving a surplus to be distributed.

0354 Serious Fine Gael number crunching going on in Galway West: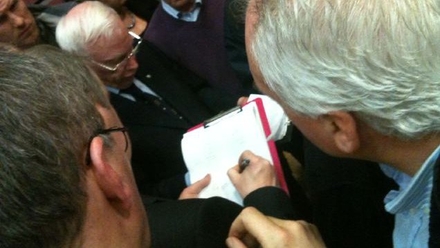 0334 Fine Gael strategists in conference at Galway West count: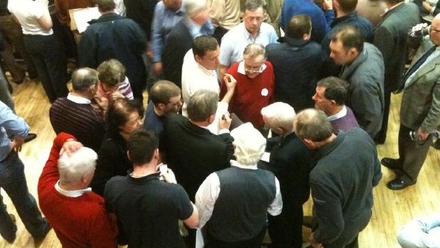 0319 After Wicklow's marathon 19 counts that leaves only the three remaining seats in Galway West to be filled.
0318 Wicklow: Request withdrawn! Doyle, Timmins, Harris, Ferris and Donnelly all formally elected.
0316 Wicklow: Sinn Féin's John Brady has requested a recount. It will only be of Counts 14-19 and begins at 3pm tomorrow.
0315 Wicklow: Fine Gael's Simon Harris, Labour's Anne Ferris and Independent Stephen Donnelly are deemed elected on 19th count.
0311 Wicklow result due any second...
0305 A relaxed-looking Noel Grealish awaits results in Galway West: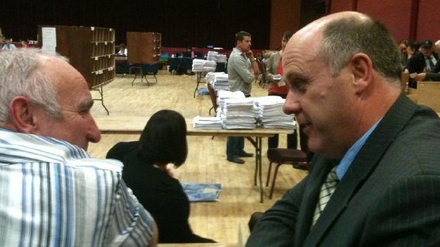 0301 Galway West: Connolly says that if there was a small margin separating her from Kyne after this count she would have to request a recount.
0254 Wicklow: Big huddle under way involving John Brady's Sinn Féin team and the returning officer. Will there be a request for a recount?
0241 Bad news for those out there (me included) who want to see this wrapped up soon - According to RTÉ's Correspondent in Galway West there are mixed views about the remaining duration of the count. Some agreement about a 4.30am conclusion.

Put the kettle on so.

0239 Wicklow: Fine Gael's Simon Harris of and Labour's Anne Ferris expected to claim the third and fourth seats.

Independent Stephen Donnelly looks set for the final seat. Margin may be small enough for Sinn Féin's John Brady to want a recount.

0238 Galway West: Transfers should give Walsh and Grealish the third and fourth seats. Too close to call how they'll fall for Kyne and Connolly.
0229 Galway West: Independent Catherine Connolly checks the figures. Expected to be in a very close fight for last seat.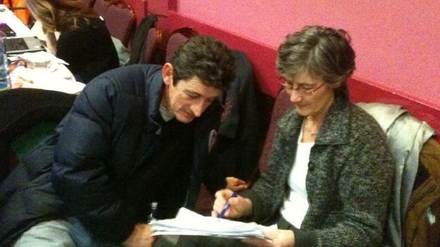 0222 Wicklow: No candidate reached quota following 18th Count. Now redistributing Billy Timmins' surplus of 113.
0209 There are now three seats to be filled and four candidates in each of the counts yet to be completed - Galway West and Wicklow.
0203 Galway West: Fine Gael's Fidelma Healy Eames has been eliminated following the 11th count, which involved the distribution of Derek Nolan's surplus.

Her 7,024 votes are now being distributed.

Four candidates remain in the running for the last three seats. Independents Catherine Connolly and Noel Grealish, and Fine Gael's Sean Kyne and Brian Walsh.

Walsh and Grealish are expected to take the third and fourth seats.

0201 Wicklow: Fine Gael's Billy Timmins surplus over the quota was 113. Andrew Doyle's surplus of 240 is now being redistributed.

0156 Galway West: Labour's Derek Nolan surplus announcement on the way. Fine Gael's Fidelma Healy Eames has conceded she will be eliminated afterwards.
0153 Laois-Offaly: Victory speeches in Tullamore, pic courtesy of @RTElaoisOFFALY: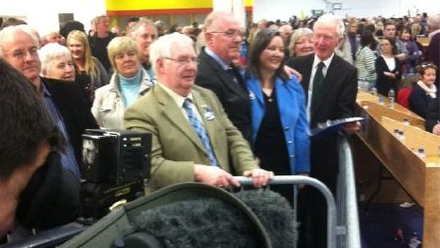 0150 Wicklow: Fine Gael's Billy Timmins has been elected on the 17th count.
0144 If your still up following the late-night drama, we have seven seats left to be filled - four in Wicklow and three in Galway West.
0132 Laois-Offaly: Fine Gael's Marcella Corcoran Kennedy, Sinn Fein's Brian Stanley, Fianna Fáil's Barry Cowen and Sean Fleming all elected on 13th count. Count now complete.
0125 Wicklow: Independent Stephen Donnelly's camp looking very happy and very confident ahead of final results announcement. Sinn Féin John Brady's people much less so, according to RTÉ's Will Goodbody.
0113 Count staff back, supporters watching ballot papers ... The real action is back on in Galway West: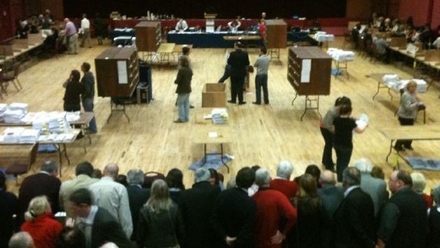 0109 Galway West: Fine Gael's Sean Kyne is 45 votes ahead of Fine Gael's Fidelma Healy Eames heading into Count 11. Gap was 56 before recount was requested at 4.30pm on Sunday.
0106 Andrew Doyle is congratulated in Wicklow: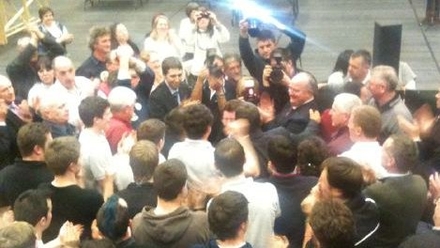 0104 Galway West: Distribution of Labour's Derek Nolan surplus of 326 votes is under way in count 11.
0056 Galway West: Now on revised count ten.
0046 Laois-Offaly: Latest indications are Corcoran Kennedy, Cowen, Stanley & Fleming to be elected on 13th count in ten minutes.
0044 Wicklow: Update from RTÉ's Will Goodbody - As Andrew Doyle's surplus of 240 votes would not affect the outcome of the ballot, the Returning Officer decided against distributing it and instead proceeded to eliminate Fianna Fáil's Pat Fitzgerald.

His votes are now being distributed among the remaining candidates. Fine Gael's Simon Harris and Billy Timmins are expected to be the next to be elected.

It now looks increasingly likely that Labour's Anne Ferris will take the fourth seat.

The fifth will be taken by Sinn Féin's John Brady or Independent Stephen Donnelly. 57 votes separate the two candidates in Brady's favour.
0036 Laois-Offaly: Labour's John Whelan concedes defeat in and says next count will be the last.
0031 Wicklow: Fianna Fáil's Pat Fitzgerald was eliminated on the 15th count.

Labour's Anne Ferris received 2,530 transfers. Sinn Féin's John Brady ahead of Independent Stephen Donnelly by 57.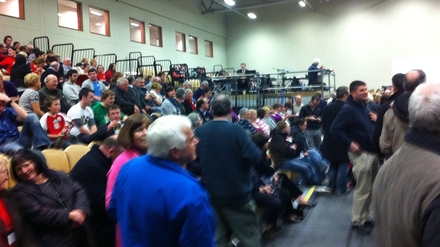 0020 Wicklow: Fine Gael's Andrew Doyle elected on the 15th Count.
0019 Éamon Ó Cuív has been elected in Galway West on the eighth revised count.

His surplus of 1,034 is now being distributed in the ninth count.
0018 Independent Joe Behan said he was disappointed to lose his seat.

He said the reality was that people thought when he voted for the last budget in the national interest, he was aligning himself in some way with Fianna Fáil.

He said he accepted the fact that that's the verdict the people have offered.

2352 Wicklow: Update from RTÉ's Will Goodbody - The results of the revised 13th count and the 14th and 15th counts have been announced in Wicklow.
The revised 13th count saw Dick Roche's margin on his running mate widen from 3 to 11 votes. The distribution of Roche's vote saw Independent Joe Behan eliminated in the 14th count.
His transfers put Independent Stephen Donnelly within 50 votes of Sinn Fein's John Brady.
Labour's Tom Fortune was eliminated in the 15th count and his votes are now being distributed. That leaves seven candidates in the field. Fortune's distribution will be crucial in determining the position of running mate Anne Ferris.
She will be in shakeup for the last two seats with Brady and Donnelly.

2349 Wicklow: Labour's Tom Fortune has been excluded on the 15th count.
2346 Laois-Offaly: Fianna Fáil party officials expect Barry Cowen to be elected on next count.
2344 Laois-Offaly: Labour's John Whelan has wished Fianna Fáil's Sean Fleming well at count. Mr Fleming he was surprised at scale of transfer from John Moloney.
2335 Laois-Offaly: Independent John Foley has just been eliminated on the 12th count.
2325 The Wicklow faithful amuse themselves with a Mexican wave. Picture from @eamonharbison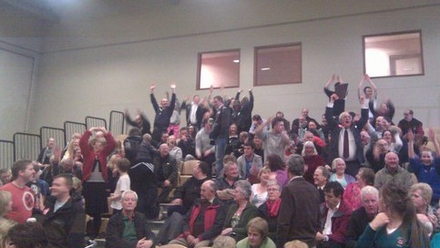 2313 Galway West: Revised fifth count just announced. In most cases the number of transfers is unchanged from Saturday's count. Count six to follow.
2255 Galway West: We've now had revised third and fourth counts. Again no major change to the initial corresponding counts.
2246 Including those waiting on recounts, there are 20 candidates still competing for the last 12 seats.
2222 Galway West: Revised second count has been announced. No major change to initial second count.
2220 Laois-Offaly: Fianna Fáil's John Moloney has been eliminated after the 11th count.
His votes will now be distributed among the remaining candidates withthe majority expected to go to Fianna Fail's Sean Fleming and help secure his re-election.
Counting will continue in Tullamore until all seats have been filled.

2146 A revised first count has been announced in Galway West following a recount that has lasted all day.

There have been some changes to the first preference allocations to candidates as a result. Two candidates increased their totals (Crowe and Grealish by four and one vote respectively).

Eight candidates had their totals revised slightly downwards. The remainder were unchanged.

The number of spoiled votes has been revised upwards from 540 to 621. The quota has been revised downwards from 10,122 to 10,108.

2134 People await results in Galway West, which could go late into the night: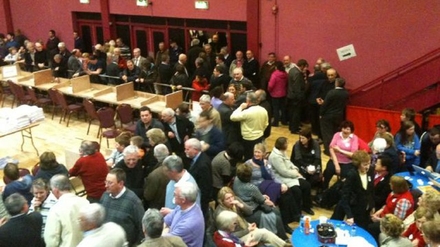 2132 Joe Behan confirms to RTÉ he has been eliminated after 14th count. Official announcement on it, corrected 13th and 15th count due shortly.
2127 Wicklow: With nine candidates left and all five seats to fill. It is possible to finish tonight, barring full recounts.
2121 Wicklow: The returning officer intends completing count tonight, even if that means going late into the night.
2045 The Returning Officer in Galway West, Marian Chambers Higgins, has addressed the crowd at the count centre in Salthill and apologised for the delay in completing the recount of ballot papers.

She thanked those presence for their patience and said that count officials were engaged in a complicated and demanding process.

She said it was hoped to complete the procedure soon, but added that she could not put a timeframe on how long it would take.

2036 Laois-Offaly: Fine Gael's Liam Quinn eliminated on the tenth count.
2032 Dick Roche was not present for the announcement of his elimination in Wicklow, which was greeted with loud applause and cheering.
2032 Galway West: Returning officer has just addressed count apologising about the delay with results but says it is hard to put a timeframe on progress of recount.
2025 A spokesman for Dick Roche said the Fianna Fáil candidate was very disappointed at the outcome of the ballot in Wicklow, but did not rule out further challenges.

David Grant said the party would have representatives monitor the count as it continues in Greystones, and 'see if there are options open at some point later in the count'.

It is understood the only further option open to the Roche camp is to mount a legal challenge.

Mr Roche's running mate, Pat Fitzgerald, repeated that he didn't agree with the decision by Mr Roche to seek a recount in the first place.

Mr Fitzgerald was three votes ahead of Dick Roche at the end of the 13th count last night.

It is understood the gap may have widened in favour of Mr Fitzgerald in today's proceedings.

Pat Fitzgerald said he wasn't confident of securing a seat.

The 14th count is continuing in Greystones.

2011 Figures released show RTÉ's digital coverage of the Election 2011 weekend received record traffic across all platforms.

There were almost 19 million page views of RTÉ.ie from 1.1 million browsers, which was double the performance delivered during the 2007 General Election.

The specially-designed constituency map, which was updated count-by-count to give the latest results, proved to be hugely popular with approximately 4.5m views across the whole weekend.

Additionally, RTÉ's 24 hour rolling news service, News Now, witnessed its highest ever usage with 182,000 streams served.

Starting at 11.00am on Saturday, television audience figures steadily increased to reach a peak viewership of over 850,000 people during the Nine O'Clock News.

The extraordinary reach figure for all RTÉ News and Current Affairs programming was over 2.7 million - an increase of over half a million from Election 2007.
2009 Political parties in Laois-Offaly have told RTÉ they expect outcome of recount at 8.15pm.
1955 Wicklow: Fianna Fáil's Dick Roche has been eliminated following a recheck of ballots in Wicklow this evening.

Returning Officer Patricia Casey said there would be a readjustment in the number of spolied votes which will be announced with the results of the 14th count when Dick Roche's votes have been distributed.

It is expected this may slightly alter the quota.

The rechecking of ballots started this morning at the request of Dick Roche after he was eliminated in the 13th count. He sought a full recount as he was just three votes behind his running mate, Pat Fitzgerald.
1939 Talks between Fine gael and Labour are expected to resume around 9am tomorrow.
1937 Wicklow: Spoiled vote re-check appears to have concluded quickly. We might finally be about to see some progress.
1932 It's been over 21 hours since the last result from a count - at approximately 10 yesterday evening from Galway East.
1921 Laois-Offaly: Returning officer says count will finish tonight.
1919 Wicklow: An announcment on the outcome of the recheck of first preference votes in Wicklow has been delayed.
It follows a decision by the Returning Officer to re-examine the 702 spoiled votes which weren't examined as part of today's recheck.
It is understood that Fianna Fáil advisers prompted the decision by pointing out to the Returning Officer that spoiled votes had been examined as part of the recheck in Laois-Offaly.
It is not known how long the process will take but on Saturday the checking of the original batch of 1,200 potential spoiled votes took three hours.
1907 Dr Colm O'Reardon, Policy Director for the Labour Party, is also on the Labour team to conduct any negotiations regarding a possible programme for government.
1902 The announcement of the recount in Laois-Offaly is due imminently.
1850 The Fine Gael negotiating team is Phil Hogan, Michael Noonan and Alan Shatter.

The Labour Party team is Joan Burton, Pat Rabbitte and Brendan Howlin.
1835 The meeting between Enda Kenny and Eamon Gilmore finished in the last 15 minutes.

Both men are now in discussions with senior members and officials from their own parties.

The discussions are all taking place within the Leinster House complex.

1832 Independent TD for Wexford Mick Wallace says the 'archaic' dress code in the Dáil is antiquated.

He says he does not own a suit or tie.

The Wexford Youths manager says he will make sure to shower before he enters the Dáil.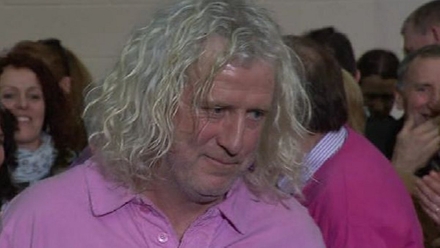 1928 David Davin-Power says Labour is very up for coalition talks and there is an appetite for office.

However, there are substantial obstacles to overcome not least because of a very left-wing opposition, he says.

The pace of the cut in the deficit is fundamental and will determine much of the rest of the talks says.

Labour will be arguing for a 9-6 split in the cabinet but probably won't get that.

1827 Galway West: Fidelma Healy Eames has tweeted: 'No truth to rumour that FG HQ asked me to concede. Party's legal advisor supporting my request for the recount.'
1825 Laois-Offaly candidates told there are 71 NEW spoiled votes after the recount. If Fianna Fáil's John Moloney had 28 of those he could be gone.
1817 Fianna Fáil's Dick Roche and other candidates in are taking legal advice in Wicklow.
1815 Will Goodbody says rechecking process has ended in last few minutes in Wicklow.

There were discrepancies found, but with no material impact on count 13.
1812 Ciaran Mullooly says the recount has brought up 71 new spoilt votes in Laois-Offaly, thus offering hope to Independent John Foley.
1811 Fine Gael's Fidelma Healy Eames has told RTÉ she thinks it unlikely that she will take a seat in Galway West.
1807 David Davin-Power says policy differences will need to be bridged in a range of areas, not least public sector cuts and tax policy.
1744 Fine Gael's Billy Timmins has expressed unhappiness with the layout of the ballot paper in the constituency.

Mr Timmins, who is poised to take one of the first three seats in the five seat constituency, said the fact the ballot paper had two columns of candidates to accommodate all 24, caused alot of confusion.

He added that the fact blank squares were placed beside Independent candidates, in the place where the party logo normally goes, had caused people to put their preference in the wrong place.

In the cases of the 14 Independent candidates, Mr Timmins said the party logo box should have been blanked off, or contained a Non-Party tag.

Mr Timmins also said there was no excuse and it was totally unacceptable that a small percentage of ballot papers appear to have not been franked.

Mr Timmins said it was a tiring process, but Dick Roche was entitled to call for a recount and it was very important that the election is done correctly, regardless of how long it takes.

He added that he did not think that it would make a huge difference to Fianna Fáil's chances of winning a seat.

1731 Independent TD Luke 'Ming' Flanagan has called on Enda Kenny to make contact with him at open talks with a view to agreeing a programme of work that he could support in government.

Mr Flanagan said this afternoon that Fine Gael shared common ground with him on a number of critical issues including his strongly held view that the government should renegotiate its deal with the IMF as a matter of urgency.

Mr Flanagan said he would also go ahead with plans to cut turf along with local farmers in Roscommon and Leitrim on conserved bogs next April in defiance of an EU directive.

1721 Galway West: An announcement on the outcome of the recount is expected in the next hour.
1655 Labour Party Whip Emmet Stagg has said he has no doubt Fine Gael and Labour will be able to come up with a programme for government in a very short time.

Speaking as he arrived at Leinster House where the Fine Gael and Labour leaders are presently meeting, Mr Stagg said there is a serious job of work to be done.

Deputy Stagg said both sides appreciate the urgency of the matter, and that he expected talks to be successful.

1652 It is understood that Enda Kenny and Eamon Gilmore have begun their meeting in Leinster House.

Mr Kenny arrived in Leinster house about half an hour ago from Mayo.
1648 There is a question over some ballots in Wicklow whether they were perforated properly.

Brian Finn at the count centre says that it looks unlikely that Fianna Fáil's Dick Roche will be in the final shake-up for a seat.
1646 Eileen Dunne says that recount in Laois-Offaly is at an advanced stage, according to the returning officer. She predicts Fianna Fáil's Sean Fleming will take the last seat.
1641 Joan Collins, the woman who famously heckled Bertie Ahern outside the Dáil three weeks ago, says she is looking forward to being on the other side of the gates after being elected a TD.

The former Taoiseach had suggested that people like Ms Collins regularly stood outside the gates just to get their faces on television.

Now, she will be taking up her place on the opposition benches alongside a much depleted Fianna Fáil party.

She told Joe Duffy today that she was 'humbled.' 'It's all very new to me.

'When you see six-and-a-half thousand first preference votes coming out, you feel very, very humbled and proud that people would actually go out and vote for your ideas, as well and the ideas we argued on the doorsteps.'

She said the last time she was there was on a day visit 'about 20 years ago.'

At the weekend, Joan Collins said she didn't heckle him for publicity but from a 'sense of outrage.' Watch the clip

'People come along to try and get themselves on TV and radio, in all my years that's the same,' said Bertie when Ms Collins asked him had he 'no shame.'

1637 Pat McGrath says there is a consensus that Fine Gael will take third seat in Galway West and Independent Noel Grealish will take number four, but a dogfight is expected for last.

Mr Grealish says that he has had no contact from FG. He adds that a stable government of FG and Labour may be the right signal to send out internationally.

1635 Galway West: Fidelma Healy Eames says there is a massive discrepancy between the Fine Gael tally and the official first count.
1626 Enda Kenny and Eamon Gilmore have not yet had their meeting to discuss possible coalition arrangements.

Sources in Leinster House say the meeting will take place sometime after 5pm.

No venue has been given. A number of senior Fine Gael and Labour deputies are in Leinster House, however, including Phil Hogan, Michael Noonan and Ruairi Quinn.

Meanwhile, Independent TD Shane Ross has said he has not been contacted by anyone in Fine Gael to discuss supporting that party.

Mr Ross says he believes a deal between Fine Gael and Labour will be done very quickly.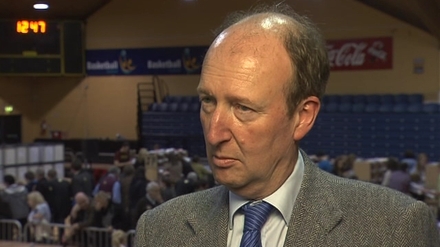 1619 Laois-Offaly: Three of the candidates have approached the returning officer and asked that an announcement be made with regard to the progress of the count.

The move follows an unexplained delay of more than three hours this afternoon.

Fine Gael's Charles Flanagan, Fianna Fáil's Barry Cowen and Sinn Féin's Brian Stanley approached count staff with their supporters and spoke to a legal adviser for the returning officer, solicitor Dermot Scanlon.

They asked for an immediate announcement to be made to the public and the candidates.

Mr Scanlon told them the returning officer was at an advanced stage in her examination of the rechecked ballot papers.

A public announcement was then made by one of the assistants to the returning officer, Paul Fetherson Haugh, to tell members of the public at the count that the returning officer was at an advanced stage and appealed to everybody to bear with them.

1559 Galway West: The re-examination and recounting of votes in has been continuing all day.
Latest indications are that the recount results will be announced around 5.30pm.

1557 Three County Registrars are now in control of, or assisting with, the count in Laois-Offaly.
1553 The recheck process is continuing in the Wicklow constituency count centre.

At present, two agents or representatives of each candidate are assisting the returning officer in adjudicating on each one of the disputed ballot papers.

It is estimated that there could be up to 2,500 of these.

After that it is expected that the necessary adjustments will be made to the totals for each of the candidates and an announcement made.

It is not clear, however, how long it will take to complete this process. There are still strong suggestions, however, coming from a number of parties, that a full fresh recount will be demanded at that stage.

1548 Apparently there are a lot of legal types at the Wicklow count. 'Ominous', says Will Goodbody.
1535 Wicklow: The candidates' agents have been called to examine the quarantined disputed votes. Estimates of up to 2,500 papers to be examined.
1530 Former TD Ger Connolly says he expects recount result in Laois-Offaly at 3.45pm.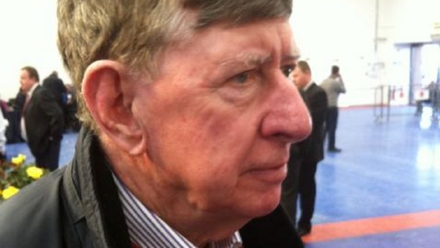 1526 Speaking at the count centre in Laois-Offaly, Mary Lou McDonald says Sinn Féin will win more seats in the Midlands in next General Election.
1512 Taoiseach Brian Cowen has said the election results were very difficult for Fianna Fáil, and many very fine deputies had not been successful.

He was speaking at the Cistercian College in Roscrea this afternoon where he attended school as a secondary school pupil and where his uncle Fr Andrew was a monk and taught for many years.

He wished Micheál Martin well in the task he had ahead in re-building the party, defining Fianna Fáil policy and being a constructive opposition.

He said during his Government's time in office, it served the people to the best of its ability, making decisions in very difficult domestic and international circumstances.

He believed that a dispassionate assessment of those decisions in time will show that they were right for the country, even if the Fianna Fail party's short-term prospects have been affected.

He also wished Fine Gael leader Enda Kenny and Labour leader Eamon Gilmore well in their talks to form a coalition. as it looks like this is their intention for the stability for the country.

Mr Cowen also said his office is available to both leaders to make the transition of power as smooth as possible.

1506 Fine Gael's Fidelma Healy Eames has arrived at count centre in Galway West.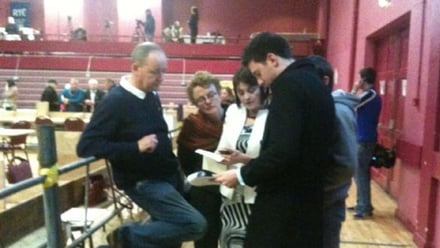 1504 Wicklow: A picture of the ballot paper in Wicklow. Picture from @eamonharbison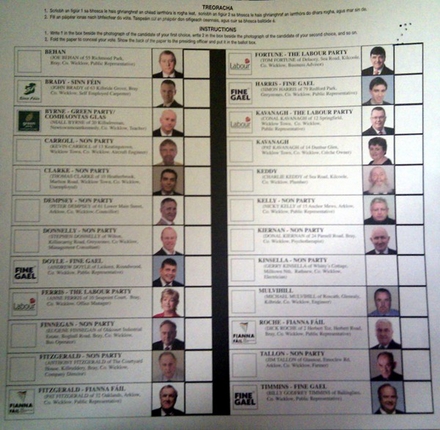 1457 They are still waiting for recount results in Galway West. Our reporter says the ballot papers are neatly stacked and a perplexed mood prevails.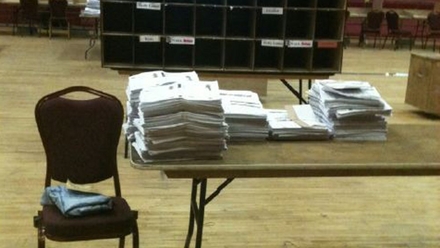 1450 Sinn Féin TD for Dublin Central Mary Lou McDonald gets a warm reception from Brian Stanley and his supporters on her arrival at the Laois-Offaly count centre.
1445 The News At One's Jonathan Clynch was talking to Sinn Féin TDs this morning. Listen to what they had to say.
1440 Gerry Naughton, Political Director for Fine Gael 2002-2007, predicts what kind of Taoiseach Enda Kenny will make.
1435 Enda Kenny and Eamon Gilmore have not yet met. The meeting will be in Dublin, but no one is saying where.
1430 You can follow the last constituencies still counting with the RTÉ Twitter feeds: rtelaoisoffaly, rtewicklow and rtegalwaywest
1426 Wicklow: A full recount now seems pretty certain, as multiple candidates are apparently unhappy with this morning's 'recheck' proceedings.
1355 If you missed this afternoon's One News, you can watch it here
1320 Fine Gael's Charlie Flanagan says the situation in Laois-Offaly is a cliffhanger because of the county boundary factor making prediction impossible.
1310 Dick Roche tel