Follow on Twitter: RTE Elections | RTENews
2257 Final voter turnout in the Dublin city area is being put at 65% up around 5% on the average across the six constituencies in the 2007 General Election.
The figures include wide variations between polling stations within the same constituency - in Dublin North West it ranged from 54% to 71%.
The returning officer for Dublin County predicted an overall turnout in excess of 70% for its five constituencies higher than the 67% national turnout in 2007.

2156 Turnout in Donegal North East could hit 80% in some places.
At 9.15pm the turnout in Cranford was 73% while in Downings it was 68%.
In Woodlands in Letterkenny turnout may reach 80%.
The figure in Inishowen stood at 70% with a steady flow of people still going to vote.
2125 Final turnout in the west and north west now heading for 73-75%. In 2007 the average was 69%.

A number of polling stations had the unusual phenomenon of people queuing up before the booths opened at 7am.
Cavan/ Monaghan is expected to be between 55 and 60%
Sligo Leitrim is at 58 to 60 %.
In Roscommon turnout is estimated to be up to 64%.
Mayo turnout is averaging 60 % to 65% but expecting finally turnout of well into the mid 70s.
In Galway City there have been queues at polling stations.
2110 Turnout in Co Dublin is expected to exceed 70%. But the polling stations are so busy that figures are hard to decipher at the moment.
2100 Turn out in Munster is higher than the national average of 67%, with just under an hour to go turnout may exceed 70%.
2056 Turnout so far in Kilkenny City is recorded at 68%. In Carlow it is said to be at 65%.
2045 Voter turnout in Limerick, Clare and North Tipperary is well up on the last General Election.

Limerick city 60-65%. Limerick county 62-64%. Ennis 56%. Shannon 54%. North Tipperary 65%.

Polling stations in Leitrim are also reporting big surge in voting.

2040 Donegal North East around 60% turnout.
Final poll will be higher than last time when it was 68%.

Letterkenny (Errigal College) turnout at 58%.
Clonmany and Inishowen have so far a 61% turnout.
Carrigart has had a 62% turnout.
The Lowest figure was near Kilmacrennan at 55%.
Manorcunningham 58%
2030 In Wexford the turnout is ranging from 63-69%.
2028 Parts of rural South Tipperary have a turnout of 65% in Ardfinnan and Ballyboreen.
One polling booth in Waterford City was reporting a 75% turnout by 8.15pm with an average of 71% turnout in Waterford city so far.
2015 Voting turnout in Sligo town is ranging from 54 to 60%. At the moment in Tubbercurry, turnout is 54%, but it is expected that final turnout will be in the low 60s.
1938 RTÉ's North-West Correspondent Eileen Magnier says polling is now averaging 51% in Ballyshannon in the Donegal South West constituency.
1930 RTÉ's Television, Radio, Online, Aertel and mobile phone services will be keeping audiences up to date with the latest election news and results.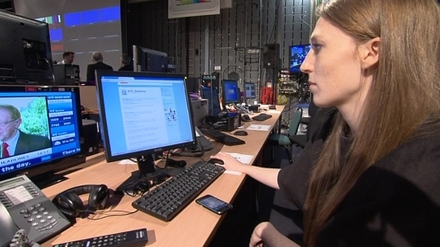 1816 Trinity Students' Union says hundreds of students who registered to vote in two on-campus drives in recent months were unable to cast their ballots today.

1,800 registered in the first round of the on campus initiative, and almost 900 registered in a second round. TCD Students Union has received hundreds of calls from concerned students claiming that the paperwork was never processed by Dublin City Council and they were unable to vote.
1801 Election staff across Munster are reporting a higher voter turnout at this time than the corresponding time in the 2007 general election. Most areas have exceeded a 35% turnout and many others have passed 40%.

These include Glanmire and Riverstown outside Cork City and parts of Douglas in the city and Youghal in the county. Turnout in the northern and eastern suburbs of Limerick City has also exceeded 40%.

And voters in Tipperary North are continuing to turnout in large numbers. This was the constituency that had the highest turnout in the country in the 2007 election at 78.5%. Turnout at urban polling stations in Tipperary North this teatime is between 41and 43%.

Turnout in the rural boxes is at around 40%. In Co Waterford, a number of polling stations in Dungarvan have reported a turnout of over 50%; in Tramore it is 48% and in Waterford city turnout is estimated to be greater than 42%.

Elsewhere in Kerry and Clare there is a turnout ranging from the mid-30s to the mid-40%.
1800 Letterkenny Town (39-43%), Kilmacrennan (40%),
Manorcunningham (41%), Buncrana (43%), Good mild weather helping turnout. Rush now expected after tea-time.
Students returning home later this evening could also swell numbers.
1755 Meath west: Average turnout is around 25 to 30%. Polling in urban areas like Navan and Trim is said to be strong.
Meath east: Averaging over 30%, Dunboyne over 40% while Ashbourne over 35%. However, in rural areas like Moynalty 27%.
CAVAN / MONAGHAN:Turnout in Carrickmacross is strong at around 40%. Elsewhere around the constituency the average seems to be between 28-33%.
LOUTH: In Blackrock, the home of the former Minister for Justice, Dermot Ahern, polling is said to be strong at 30% with a similar figure being reported at polling stations in Dundalk town.
Some reports of people having to queue to vote as electors are taking more time in the polling booths. In rural areas it seems like the turnout is not as strong at the moment.
1753 Donegal South West, ranging from 38-52 %
Particularly strong in south west Carrick 52% Kilcar 45%. North West area Gweedore, Gortahork, Falcarragh 48-50%
Letterkenny average in 17 booths at 38%.
1731 Voting has continued to be busy at polling booths across Limerick city. Voter turnout at polling stations on the North and Eastern suburbs are between 40 and 43%, which is a larger percentage for this time of the day than in previous elections.
In the rural Limerick constituency, which covers most of Co Limerick, voter turnout is running at between 30 and 35% at places like Croom, Bruff, Caherconlish and Cappamore.
And voters in Tipperary North are continuing to turn out in large numbers, it had the higest turnout in the country in the 2007 election at 78.5%.
Turnout at urban polling stations in Tipperary North is between 41 and 43%, which polling station supervisors say is higher for the same time in the 2007 General Election.
Turnout in the rural boxes is at around 40%.
In the Clare constituency voter turnout is at around 30-35% in Ennis, and at 32% in Shannon, 35% in Kilrush, in West Clare, and at 33% in Ennistymon.
1729 Donegal Polling is slow in Ballyshannon turnout is only 25%, while in Cloughaneely it is 35%.
1727 A number of polling stations in Dungarvan reporting turnouts of just over 50%, as is the case in polling stations in Ballybeg in the city.
Every polling station in Waterford reporting higher than 42% by 5.15pm.
Tramore polling stations ranging from 42% to 48%.
In south Tipperary, parts of Clonmel have already reached 55%.
Voting in Cashel 46% and 45% in Tipperary town.

1716 In Mayo, some booths in the Castlebar area are reporting 50% turnouts.
The majority of stations across the county are experiencing between 40 and 45%. Westport said the turn out was 40%.
The village of Bekan has recorded a turn out is of 42%
1712 Voter turnout is said to be brisk all afternoon in most polling stations in the southeast. In Wicklow turnout was said to vary between 42 and 48%.
On the Dunmore Road in Waterford city, 43% have already cast their ballots.
In Faythe in Wexford, despite the discovery of a historical shell in a house close to the polling station, voting has not been affected.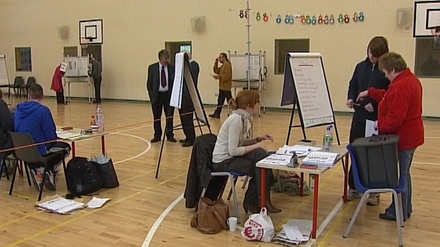 1710 Turnout in Leitrim is between 30 and 33%.
In Sligo town some booths are recording turnout as high as 36%.
In Killybegs 37% of those registered have cast their vote and one presiding officer has said that it is the best poll in 20 years.
Rathmelton and Inishowen has a 34% turnout.
In Carrigart, the turn out is recorded at 38%.
It is expected that many young people in Donegal will vote later this evening after buses arrive from University and college towns.
1704 Voting was disrupted in Galway city when the floor began to buckle at St Enda's National School on Dr Manix Road, Salthill, Galway.
There were about half a dozen voters in the hall at the time.
One of the instructions of the returning officers Marion Chambers Higgins instructed that the polling booths be moved out of the hall and into individual classrooms.
1635 In Cork North Central, turnout is at 40% in Glanmire and Riverstick, which is considered very high for this time of the day.
In the more urban city area of Mayfield, turnout is said to be in the high 30s.
It has also been busier than usual in Cork South Central. At one national school in Douglas, it is averaging at 45%.
And in the east of the county, in the urban areas of Youghal, many polling staff are reporting turnout in the 30s, with one polling station hitting 40%.
In Cork South West, polling stations are reporting a marked increase in their traditional mid-afternoon turnout.
42% of registered voters on Bere Island have voted at this stage and it is expected to get even busier following the 6.30pm and 8.30pm ferries later tonight.
And in the Gaeltacht areas of Cork North West, the turnout has ranged from 31% to 33% in the past hour.
1615 Voting in parts of Waterford city and county is ranging from 32% to 40%. In Clonmel, voting is ranging from 33% to 43%.
1551 Cork County Sheriff Michael O'Driscoll has said an unsealed ballot box at a polling station in Ballincollig was immediately sealed once it was brought to the attention of staff by a voter this morning.
Mark O'Donoghue from Muskerry Estate in Ballincollig had just voted at his local polling station at around 11am when he said his four-year-old son Ruairí opened the ballot box, which had not been properly sealed.
Mr O'Donoghue said he immediately brought this to the attention of the polling staff and to a garda on duty at the polling station.
County Sheriff Michael O'Driscoll said he could not say why the ballot box had not been sealed but once alerted, the box was immediately sealed properly.
It is understood there were 65 votes in the box at the time.
1538 Voting in Longford has started to pick up this afternoon with a 30% turn out in rural areas and 29% in the urban areas.
1538 Dublin city was reporting an average of 30% turnout by 3pm.
The highest turnout was in Raheny in Dublin North East constituency with a 35% turnout, but the lowest was in the same constituency in Donaghmede at 24%.
1535 Returning officer for Wicklow says turnout was roughly 30% on average by lunchtime across the county.
1433 Taoiseach Brian Cowen has cast his vote in the general election. Mr Cowen, his wife Mary and their daughter Sinead voted at Mucklagh NS outside Tullamore.
Afterwards, Mr Cowen said he would probably attend the Laois/Offaly constituency count in Tullamore tomorrow.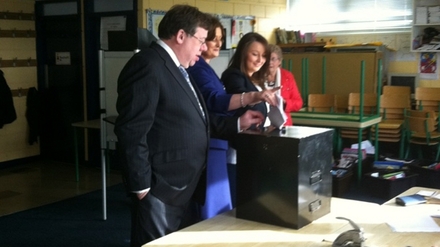 1419 Voter turnout is reported to be good in Dublin with an average turnout of 18% by noon - an increase of 4% on the turnout for the second Lisbon referendum in 2009.
The highest turnout in the city area was reported in Donnycarney in the Dublin North Central constituency where over 25% had cast their vote.
In the county area there were queues reported in Carrickmines in Dublin South, where the turnout was up to 20% by noon.
The lowest turnout by then was in Lucan in Dublin Mid West where it was under 8%.
By lunchtime turnout had risen to 24% in Whitehall in Dublin North West while the lowest city figure was under 16% in Francis St in Dublin South Central.

1401 Joe Higgins was in good form as he cast his vote in Dublin this morning.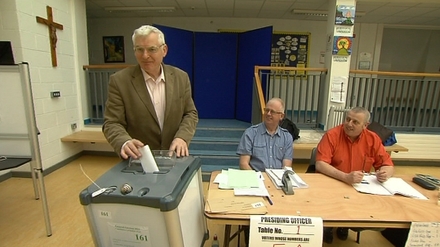 1310 Sinn Féin President Gerry Adams voted in Dulargy National School at Ravensdale near Dundalk.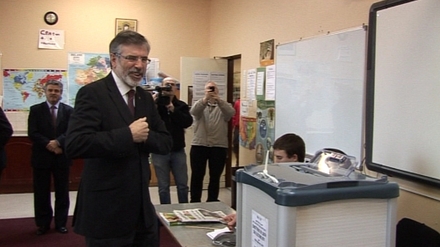 1252 Voter turnout across Munster has exceeded 10% at most polling stations this lunchtime, although there are wide variations between different areas and even within individual constituencies.
Poor weather this morning made for a slower than normal start but the day looks as if it is going to improve.
Some polling stations in Cork City are already approaching 20% turnout and it is also at around 20% in parts of Dunmanway in West Cork, Kenmare and other parts of South Kerry and in parts of Tipperary North - which had the highest turnout in the State at the last general election at more than 78%.
Across other Kerry, Limerick, Clare and Waterford, turnout varies from between 11% to as high as 18%.

1224 A photo of Enda Kenny voting with his wife Fionnuala in Castlebar this morning (credit Liam Sweeney).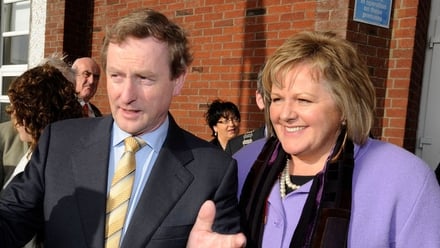 1200 Voting in the Donegal South West constituency running at between 10% to 15% by noon. One presiding officer remarked that a lot of young people were coming out to vote.
1152 Voting has been sready in South Tipperary this morning, running between 8% and 12%.
1150 There are varied turnouts across Wicklow, running at aound 9% in rural areas and around 14% in towns.
1145 At 11.30am, polling was reported to be very high in Enda Kenny's hometown of Castlebar with some booths reporting a turnout of 20%. Across Mayo, rural polling stations appear to be averaging 12% to 15% turnout.
1144 Voting slow to start in Longford, with turnout around 10%.
1143 After a slow start, voting has picked up steadily in the Waterford area. It is now running at 11%-12%.
1141 John Gormley is pictured on his way to vote while being shadowed by a member of the 'Irish Lemmings Group'. Not sure what their policies are...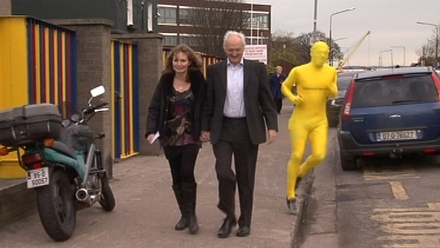 1137 Turnout figures in the Dublin City so far have varied from a high of nearly 15% in Dublin South East to a low of 7% in Dublin North East.
1130 Eamon Gilmore looks relieved after casting his vote in Shankill, Co Dublin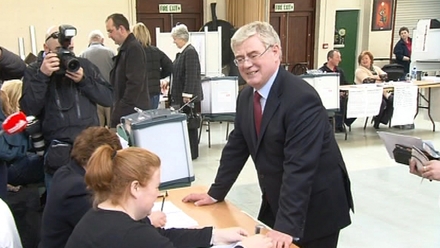 1112 A quick snapshot of trends in Cork and Kerry: In Rochestown, Cork South Central, voting has hit 8%. Similar figures were reported in Killarney polling stations, while Scoil Mhic Easmainn polling centre in Tralee had hit just 5.5% by 11am.
1110 Fine Gael's Enda Kenny urged 'as many people as possible' to go and cast their votes today.
'The more people who vote, the stronger the message within our democratic system will be,' he said.
1058 In Donegal turnout across is as low as 4% in some booths, which presiding officers is slower than it was in the bye-election three months back.
1046 President Mary McAleese and husband Martin casting their votes this morning.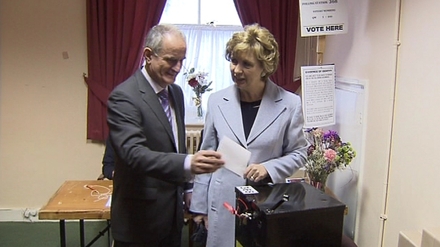 1044 Voting in Galway City is reported as 'brisk' with a significant number of people going to the polls during the early morning commute to work.
In the five-seat Mayo constituency voting levels are at 'higher than usual levels' for this time of the day.

1040 Initial reports from Longford/Westmeath are that polling booths are pretty much in line with the turn out for the last election.
1035 Fine Gael leader Enda Kenny's arrival to cast his vote at St Patrick's NS in Castlebar with wife Fionnuala and daughter Aoibhinn was watched by a large contingent of the national and international media.
1001 Micheál Martin voting in Cork a short time ago.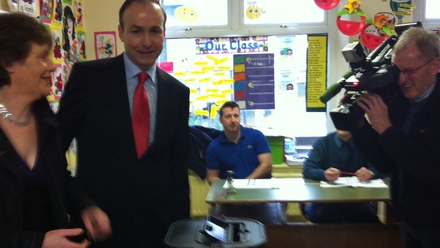 0919 Polling across the west and the northwest has been described as slow to steady during the first two hours of voting.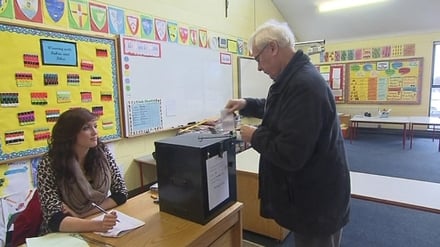 Stations in Galway were reporting a turnout of between 3 and 4% by 9am. Polling officers say weather conditions may be resulting in a slightly lower than expected turnout so far.
0914 Voting has got off to a slow start in sligo town. A sample of booths show only between 1 and 2% of voters had balloted by 9am.

0801 There has been something of a damp start to voting in Cork and Kerry, where politicians will be hoping that the forecast for drier, brighter weather later this morning will encourage voters to go to the polling stations and cast their votes.
Unlike many of the island inhabitants off the west coast, islanders on the seven populated islands off Co Cork will vote with the rest of the country today.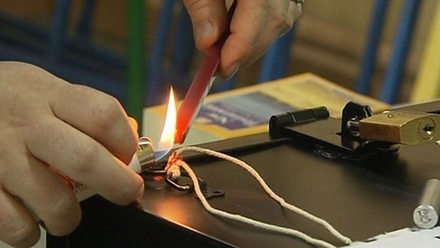 A total of 466 people are registered to vote on these islands. Bere Island has the largest number of voters, 179, followed by Cape Clear (122), Sherkin Island (102), Heir Island (29), Whiddy Island (14), Long Island (11) and Dursey Island (9).