Follow on Twitter: RTE Elections | RTENews
What do you think? Submit comments using the tab above
Live Updates:

2325 David Davin Power: Enda Kenny and Eamon Gilmore turned their fire on Micheal Martin in a debate that was predictably dominated by banking and the economy.
Both Opposition leaders said the government had done a bad deal with the EU and the IMF - and botched the bank guarantee.
Enda Kenny and Eamon Gilmore will be happy with performances in which they buried the hatchet after the spats of the campaign; Micheál Martin sought to highlight inconsistencies but what looked like a joint approach deflected many of his punches.

2315 The Eleventh Hour is now assessing the performance of the party leaders.
2311 'Labour's values centre on the idea of fairness. We are all equal. Whatever decisions we have to make in govt will be done fairly. Labour was the party that stood by the taxpayer when the bank guarantee was done. Labour is best placed to provide leadership and to bring people together'. - Eamon Gilmore.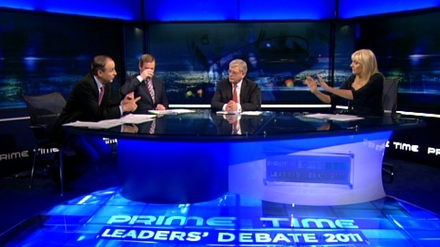 2310 Martin says he has embraced radical decisions all his life and would do so again as the leader of this country.
'I want to see our electoral system changed. I want to unify people. To build consensus.'
2309 In his closing remarks, Enda Kenny said Kenny that on the centenary on the Rising he would love to say we have sent the IMF home.
'By 2016 I want to see the IMF sent home, to have the best small country in which to do business, and the best country in which to raise a family.'
2307 'Ireland is a country of less than 4.5 million and FF could not organise a decent health service' - Gilmore.
'Labour's plan is to develop a primary care focus to healthcare. Labour will also make our hospitals more efficient and provide a fairer service for patients. '

2304 Martin accepts there are problems in the health service but says the thousands working there have achieved a lot.
2303 Micheál Martin set up the HSE - its legacy has been a disaster for so many people,' - Kenny
Enda Kenny says his party is proposing radical change of the health system over the next seven years.
He said FG will eliminate waiting lists and change the system so that hospitals gets paid for what they do and not what they plan to do.
2257 Eamon Gilmore disagrees that power generation is non-strategic and that 'now is certainly not the time' to sell such an asset
2256 Martin says a 'fire sale' of state assets would not help the economy.
'Energy will be crucial in the years ahead & the state needs to keep control of ESB & Bord Gais because of that.'
2255 Enda Kenny says parts of ESB would be sold.
'We'd sell ESB power generation, but not transmission lines. We'd do the same with Bord Gáis. They would not be sold at firesale prices.'

2254 'I'd like by 2016 - the centenary of the Rising - to demonstrate that we are the best small country in the world to do business. - Enda Kenny.
2248 'I don't think Fianna Fáil are credible on the issue of jobs,' says Eamon Gilmore.
'In the short-term, we need to get the get the school building programme moving. Establish a jobs fund from which employers would get relief from PRSI where they're taking on people. Create a strategic investment bank.
Gilmore says it is not government that creates jobs - it is businesses - and government must create the right circumstances.
2246 Martin says his party has plans, along with the IDA & Enterprise Ireland, to create 150,000 jobs over four years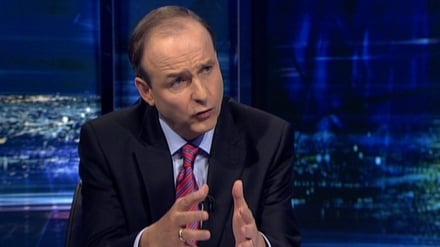 2244 Enda Kenny: 'We said we would honour the Croke Park deal in terms of jobs. Our programme does not envisage any compulsory redundancies. We believe we can achieve a reduction of 18,000 by voluntary redundancies.'
'We'll invest 7bn from the national pension reserve fund to create 100,000 jobs over 4 years in water, broadband, and renewable energy. We'll abolish travel tax if the airlines measure up. Deal with the plethora of red tape.'
2243 'Abolishing 145 quangos is not going to get you 6.5 billion. FF has laid out dept by dept where we are going to make the savings. Let's be realistic and honest.' - Micheál Martin
2239 'If you don't get the numbers, are you going to proceed with compulsory redundancies? If you don't do it that way, the numbers don't add up.' - Gilmore to Kenny.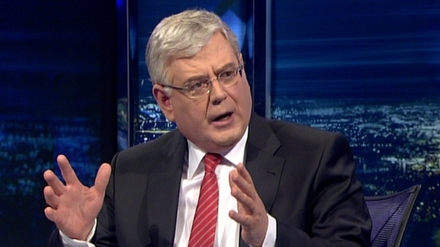 2237 Gilmore says the cuts to the numbers employed has to be looked at - although cuts can be achieved on a voluntary basis.
2236 'Micheál Martin doesn't have a plan at all,' responds Kenny. 'Our five-point plan is designed to get Ireland working. What FG proposes to do in govt is within 100 days to bring in a jobs budget. We will reduce VAT at the lower level (13.5 to 12%). We will bring in a credit insurance scheme.'

2235 Martin and Kenny clash over the issue of FG plans. 'Fine Gael are not talking about the painful side of their plans,' claims Martin.
2229 On the Issue of taxes, Enda Kenny says there won't be any changes in income tax from his party.
'We recognise that you cannot tax your way out of the recession. You need to keep taxes low, and interest rates low. We've put together our programme without a property tax. We give the local authorities the option to increase their charges, or do nothing.'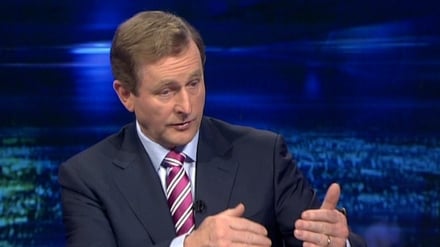 2228 Eamon Gilmore promises that his party will not increase income tax on people earning less than €100k a year.
2224 'You can't burn bondholders unless a bank has been declared insolvent. In the context of putting extra money into these banks, FG would be reluctant to do this until we see the scale of what's involved.' - Enda Kenny
2222 'The main banks do require recapitalisation, and whoever is in govt is going to have to deliver. We don't know the extent of the recapitalisation until the stress tests are completed at the end of March. Any recapitalisation of the banks - there has to be a quid pro quo.' - Eamon Gilmore
2220 FG & Labour will both 'run with NAMA' says Martin. He says FG's plan will privatise the profit that is made from distressed asset sales.
2219 'The next issue with NAMA is whether taxpayers are burned again through the sale of assets, warns Eamon Gilmore.
He says the second and third phases of NAMA should not proceed.
2219 MOC: Are you happy with the way NAMA is going?
2218 Martin said the two main banks needed to be put on a sound footing so that small businesses can get moving again. 'AIB and Bank of Ireland will have to be protected and will have to survive. The bottom line is that those banks have to be strengthened'
2217 Kenny says he thinks there are enough banks as it is and says FG is proposing a credit insurance scheme
2216 'I would close down Anglo and Irish Nationwide before the end of the year. I would see BoI having the opportunity to trade as it always did. I would sell AIB.
'There are opportunities for further niche banks. But we'll never get things moving unless we get jobs moving. We have to stimulate our indigenous industries' - Enda Kenny

2215 'We have to work with the ECB, and the EC in terms of getting the banks right. That means bringing confidence back to the banks. That's why stress tests are underway.
'There will have to be further recapitalisation to get their levels up and market confidence back.' - Martin

2212 There has to be a strategic investment arm in Irish banking, says Eamon Gilmore. He says agreement must be reached with the banks that no family will lose their home during this crisis.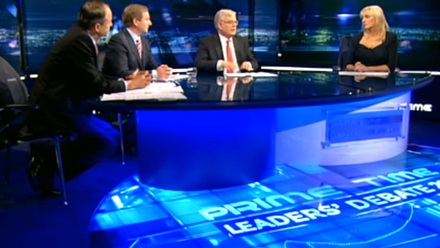 2209 Martin says the fundamental aim of FF's banking policy is to get AIB & BOI back working so they can assist SMEs & individuals.
2208 Do we know who the bondholders are? Would we be burning the credit unions? - Martin.
2206 'I hear comments that there may be another 10 or 15bn required,' says Kenny.
'We have to wait until the end of March to see. Our country can't borrow money. Our banks can't borrow money.'
'We are living for banks and existing for families. That is where Fianna Fáil has left us.'
2205 Enda Kenny: 'You're full of wind and spoof about a lot of things.
It's important to be realistic and truthful. Let's see what the scale of the indebtedness is. If it's more than we've been led to believe, then FG will not be putting money into the banks unless there's a sharing of burden by bondholders. '
'From a working point of view, it has to be renegotiated. Labour opposed the bailout of Anglo. The govt made a policy decision that Anglo was systemic. Anglo was a piggy bank for property developers.'

2203 The deal you did with the EU and IMF was a bad deal says Gilmore to Micheál Martin. 'It is not right and not sustainable that the Irish taxpayer has to pay the full burden of what was done in the banks'
2200 'The people out there are fed up with Fianna Fail,' responds Enda Kenny.
'The EU/IMF deal will not work. There has to be sharing with bondholders. The deal imposes excessive rates on people. It has to be renegotiated.'

2158 'There is a fundamental dishonesty in what we are hearing from Fine Gael tonight' - Micheál Martin
'The EU/IMF package is a facility for us to pay our public servants. Intelligent diplomacy – working with other heads of state in the EU to enhance and improve the framework. '

2156 Kenny says he has already been to Berlin and Brussels and thinks it is right and proper that he should in be touch with Angela Merkel
2155 Enda Kenny says he cannot believe what he is hearing. 'Micheál Martin was a central member of a government which could not tell the truth about the IMF deal'
'This was a bad deal for Ireland and a bad deal for Europe.'
'This is a penal taxation level which would break the Irish people.'
2152 Anyone who says we can unilaterally renegotiate the EU/IMF deal is not being honest with the Irish people, says Martin.
2150 'Our plan is both honest, credible and realistic' - Micheál Martin.
He says his party is the only one to have such a detailed plan.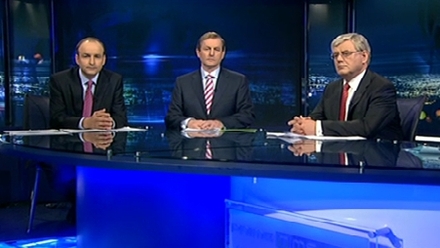 2149 We have to be absolutely straight with people, says Gilmore. 'We know there are huge changes that have to be made in our administrative system.'
'Labour is the party of work. To fix the broken system, Labour is the party of reform. Labour's values put people and families first. '
2148 'Our people are now being hammered' says Enda Kenny, when asked if his party is being straight with the electorate.
2145 Labour is the party of reform says Eamon Gilmore.
'Labour will make sure that no family will lose their home during this crisis.'
2143 'I know your fears,' says Enda Kenny. 'We cannot tax our way out of this crisis.'
'We have to stop the rot. 'When we are united - nothing, nothing can beat the Irish.'
2142 Micheál Martin says that he is not going to spend the next 90 minutes repeating the same soundbites.
'I look forward to a real debate about how together we can build a real future for Ireland'
2140 The three leaders are now delivering their opening statements
2130 Enda Kenny, Eamon Gilmore and Micheal Martin are all in place ahead of the debate. Watch in the player above in 10 minutes.
2111 Micheál Martin is the last of the leaders to reach RTÉ...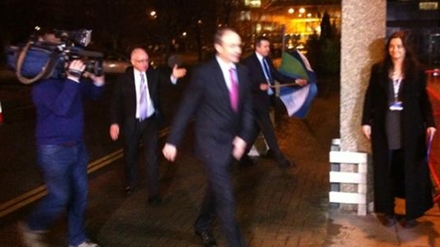 2104 The Fine Gael leader again chooses to walk to the entrance...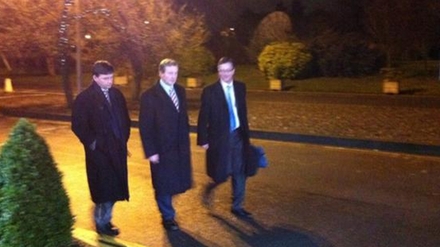 2054 Eamon Gilmore is the first leader to arrive...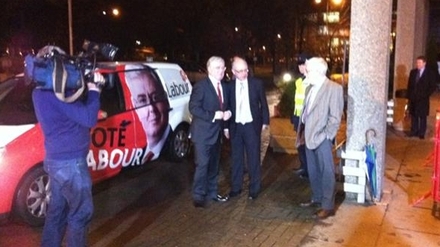 2051 If you cant wait until the debate begins at 2140 - every Election Debate from 1982 to 2007 is available to watch on the Prime Time website

2050 David McCullagh: If the opinion polls are to be believed, Fine Gael is heading for Government - today the party announced that if that happens, it will bring in a Job Creation Bill within 100 days.
Fine Gael plans to cut the lower rate of VAT for labour intensive industries; halve employers' PRSI for those on the minimum wage; remove VAT for service companies exporting their output; abolish the travel tax; invest the Pension Reserve in infrastructure; and introduce a Graduate Internship Scheme.

2023 David Davin Power: TV debates have been a feature of our elections since the early 80s but this contest has seen the first involving three party leaders - tonight's comes at the end of a campaign where the likely final outcome seems clearcut.
2009 The stage is being set ahead of the arrivals of Enda Kenny, Eamon Gilmore and Micheál Martin.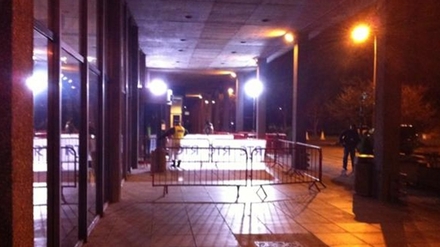 2001 David McCullagh: The latest national opinion poll shows a further slip in support for Fianna Fáil, with Independents and smaller parties benefitting.
The Millward Brown Lansdowne poll for tomorrow's Irish Independent shows Fine Gael support up marginally, while Labour holds steady.
Over 1,000 voters around the country were questioned for this poll - 11% of those polled were undecided, a drop of three points since the last poll by the same company, published on Sunday.

Fianna Fáil 14% (-2), Fine Gael 38% (+1), Labour 20% (unchanged), Green Party 1% (unchanged), Sinn Féin 11% (-1) and Independents and Others 16% (+2).