Follow on Twitter: RTE Elections | RTENews
Live Updates:

2230 Emigration and unemployment are the main issues for many rural voters as Philip Bromwell found out in the latest of his election reports.
2140 Out with the old. In with the new. The Frontline is hearing from election candidates that are offering an alternative to the main political parties.
2030 Charlie Bird's Election Nation is live now on RTÉ One Television and here on RTÉ.ie
2025 In tonight's Nine News, Philip Bromwell will be reporting from a rural community in Co Clare that is struggling to hold on to its young people.
1920 Watch tonight's Six-One News, which featured a profile of Waterford, an interview with Eamon Gilmore, as well as all the latest from the campaign trail.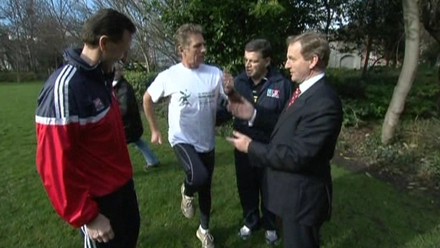 1850 'A monopoly of power is not desirable for the country', says Labour leader Eamon Gilmore
Speaking on RTE's Six-One News, Mr Gilmore said the election will not be decided by polls.
However, he acknowledged that they suggest the contest is a 'straightforward choice of a monopoly of power of Fine Gael Government or a coalition'.
He said the type of Government that the Labour wants is one that will get people back to work.
1801 There will be a profile of the Waterford constituency on tonight's Six-One News with Bryan Dobson and Sharon Ní Bheoláin.
1700 'Farmers deserve fairer prices for their products' was the message from Fine Gael leader Enda Kenny at IFA headquarters in Dublin.

He promised them he would seek to deliver fair prices, while keeping costs down for consumers, indicating the supermarket giants had a role to play.

1549 A poll conducted in six of Ireland's universities has found that 73% of students intend on voting this Friday.
The poll, co-ordinated by UCD's The College Tribune, surveyed a total of 1,248 students across the country.
23.72% of students who are intending to vote in the election are still undecided as to whom they will vote for.
The party breakdown was Fine Gael: 34%, Labour: 30%, Independents: 13%, Fianna Fáil: 10%, Sinn Féin: 6% and the Greens: 4%.

1543 The Green Party has published five pledges which it says are non-negotiable core issues for it over the next five years.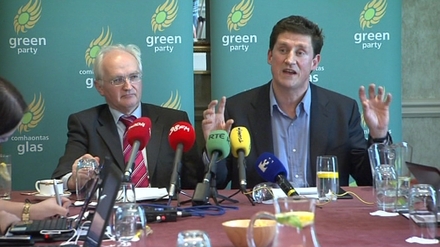 The five pledges include no destruction or sale of State assets such as Bord Gáis, Coillte or the ESB. They also include no increase in income tax and climate change legislation.
The party also say it will protect education and introduce real electoral reform.
On the issue of third-level fees the Green Party said while it would not rule out any further increases, it believed now was not the time for any fundamental change.

1531 In a statement, Newstalk confirmed that Fine Gael set no preconditions ahead of their interview with Enda Enda which was broadcast today.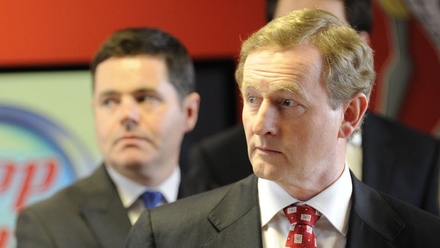 'In this morning's breakfast programme our presenter Chris Donoghue made reference to his preparation for an interview with Enda Kenny yesterday at the Aviva. He stated that he did not ask Enda Kenny questions about his pension.
'It has been suggested that the reason why no question was asked on the pension was because preconditions were set by Fine Gael.
'Newstalk wishes to state categorically that no such preconditions were in place. They were not sought and Newstalk considered that the issue of the pension had been dealt with in Enda Kenny's speech from the podium.'
1521 NUI Galway MSc student David Dolphin has created a website which shows the online visibility of candidates in Election 2011.
To view the site click here.
1515 Fianna Fáil leader Micheál Martin has promised that
State pension increases will be protected if his party is elected to Government.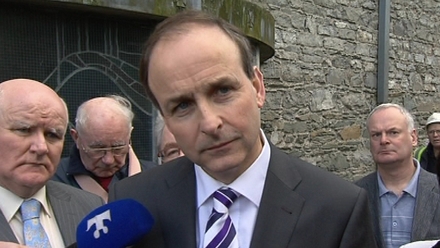 1450 Newstalk Chief Executive Radio Frank Cronin has said that there was no reason that Enda Kenny could not have been asked questions about his pension entitlements as a former school teacher during an interview on the radio station.
He was responding to comments made by a Newstalk presenter on air following a pre-recorded interview with Mr Kenny when the presenter said that Fine Gael had asked that the pension would not be spoken about during an interview which was recorded on Sunday.
Mr Cronin said this afternoon that the comments from the presenter were 'not absolutely perfect'.
Mr Cronin confirmed that there was a 'little discussion' prior to the interview being recorded yesterday with the Fine Gael leader, he said the discussion referred to the fact that Mr Kenny had clarified the position regarding his pension during a speech and it had been dealt with.
1442 Socialist MEP Joe Higgins has attacked the Labour Party claiming they've been running a dishonest campaign. He said they had cynically castigated Fine Gael and yet had their own huge agenda for cuts in public spending.

Speaking in Cork, Mr Higgins who is part of the United Left Alliance also declined to encourage voters to pass their preferences onto Sinn Féin having voted for the ULA candidate first.
He said people should consider passing their preferences onto others who they believed to be genuine left candidates who would fight to protect jobs and services.
He said it was important that the Alliance succeeded in getting as many candidates elected to provide a genuine opposition to the 'cuts coalition' of Fine Gael, Labour and Fianna Fáil.
1430 Labour leader Eamon Gilmore has told a meeting of farmers in Dublin that he would love to see a Labour Minister for Agriculture.
He also said that while Fine Gael belongs to the largest grouping in Europe, he said Labour was a member of the second largest group.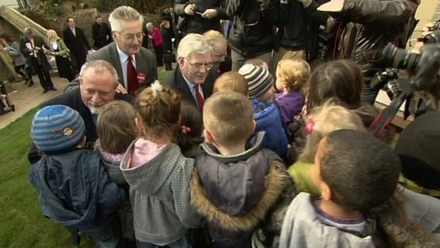 1359 Labour in Government would get rid of the €10 travel tax, and change the name of the Dublin Airport Authority to take the name Dublin out of it, according to Labour candidates Jan O'Sullivan and Joe Leddin, who are standing in Limerick City.
Speaking at a briefing on the importance of Shannon airport to Limerick and the wider Mid-West area, Ms O'Sullivan said she would support the establishment of an international cargo hub at Shannon.
1244 Political parties' manifesto proposals on political reform have again been scored by a panel of academic experts.
The scores come from Reformcard, a political reform scorecard developed for the General Election.
The scores have been revised from previous marks to take account of new policy documents published by Sinn Féin and the Green Party last week, and a new document on reform published by Fine Gael.
Reformcard scored each party's proposals in five categories of political reform - Oireachtas reform; Electoral reform; Open Government reform; Public Sector reform and Local Government reform.
Fine Gael continues to rank highest, followed by Labour, the Green Party, Fianna Fáil, and Sinn Féin.
The total scores, marked out of a maximum 100 points are: Fine Gael 74 (+1); Labour 68 (no change); Fianna Fáil 58 (no change); Green Party 68 (+15); Sinn Féin 51 (+25).

1226 Enda Kenny has said that to achieve the international reputation of Ireland as a digital island, Government would have to take a more active role in moving the Irish economy online.
He said that if in Government Fine Gael would ensure that all payments to government departments and agencies could be made electronically.
He said passports and driving licence renewals would also be able to be done digitally.

1218 Fine Gael's Paschal Donohoe said that the party, if in government, would look at the concept of a Digital Docklands.
He said that there is already a lot of space there in that part of our city.
And he said they wanted to ensure that when a company moves from 'start-up' phase that they have somewhere they can go where the infrastructure is already there.
1204 In his speech at a community centre in Dublin, Eamon Gilmore said he believed that people want to ensure there is balance in Government.
He had been asked if he was disappointed at Labour's drop in the opinion polls, he said he wasn't half as disappointed about that as many people around the country are disappointed at the drop in their pay packets.
His speech focused on the needs of families. Mr Gilmore said the next Governmet must give prority to the needs of families.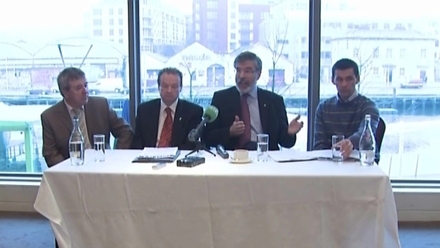 1202 Campiagn Daily is live now on RTÉ Television. Watch it live here
1157 Enda Kenny has said that people have known since 1970 that he entered the teaching profession.
He said that that has been public knowledge all along that he resigned his position and that that position has been publicly filled.
He said that he had never drawn a red cent from teaching.
1153 Labour Party leader Eamon Gilmore has said people voting in the election this week have a choice between a single-party Fine Gael Government or a Fine Gael-Labour coalition.
Mr Gilmore said people who want balance in the next Government need to vote for the Labour Party.
He said it is a certainty that Fine Gael would be in Government.
Asked about his own party's performance in opinion polls Mr Gilmore said the election is far from over and not a single vote had been cast.

1150 Enda Kenny has said that he clarified the issue of his teacher's pension yesterday. He said that that matter was closed.
Kenny said Micheál Martin does not speak for him or for his intentions.
Asked when this issue became an issue for him he said the Fianna Fáil leader seems to know more about his financial affairs than he does.
Asked about whether he expressed to Newstalk that he would not speak about this issue he said that he had spoken to the station's Chris Donoghue on Saturday and that he had said he would like an opportunity on Sunday to speak about the campaign that they had during the week in the West.
So, he said, when they spoke, the interview was in that context.

1141 Kenny has said that Fine Gael will ensure that Ireland becomes a digital island if in Government.
Speaking at a news conference about high-tech jobs at PopCap Games in Dublin this morning he said that he is hugely ambitious for Ireland in gaming and across the entire high-tech area.
1140 Answering questions from executive members Micheál Martin said a climate change bill is needed but it must play to our strengths.
He said the national herd is an enormous asset and the way to deal with climate change is through technology and innovation.
He identified the transport sector as the biggest problem and said it is not tenable or correct to reduce the national herd or restrict its expansion.

1122 Micheál Martin has been explaining his party's manifesto to the executive council of the IFA.
He said the agriculture sector will form a central part of the economic recovery and the sector was the star performer in 2010, growing by 11% and amounting to two-thirds of indigenous exports.
He assured them that a site value tax, when introduced, will not pertain to agricultural land and also said farmland will not be considered in any assessment for third-level grant eligibility.
He said 250,000 people are dependent on the agriculture sector. The sector has come through difficult times but his party will continue to support it and work with farmers to drive it forward, he said.
1058 Micheál Martin is at IFA headquarters in Dublin to address the organisation's 60 strong Executive Council.
1056 The President of Sinn Fein, Gerry Adams, has said that nearly 6,000 jobs could be created in Cork.
Speaking in the city this morning, the Louth candidate denied they were engaging in auction politics and insisted that the jobs could be created if the party's job creation strategy was implemented.
The jobs range from construction to health care and communications.
However, Mr Adams also conceded that Fine Gael will form the next Government either on their own or with support from others like the Labour Party.

1039 Fianna Fáil has said that party leader Micheál Martin 'agreed to answer questions on all topics on this morning's Newstalk Breakfast'.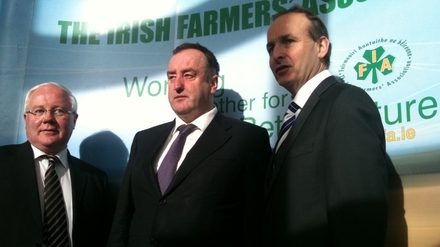 1029 Fine Gael has 'vehemently denied' suggestions that it tried to censor an interview with party leader Enda Kenny on Newstalk Radio.
The interview, which was recorded yesterday and broadcast this morning, did not deal with Mr Kenny's teacher's pension.
Newstalk said this morning that Mr Kenny only agreed to the interview on the condition that there would be no questions on this issue.
In response, Fianna Fáil's John Curran accused Fine Gael of censorship, saying it was on top of Mr Kenny's refusal to answer any other questions from the media yesterday.
A Fine Gael spokesperson denied this, saying the pension issue had been dealt with in Mr Kenny's speech, and in that context it was decided - and agreed by Newstalk - to conduct the interview on the basis originally agreed.

1016 Fianna Fáil's Barry Andrews, Fine Gael's Dr James Reilly and Labour's Jan O Sullivan discussing health now on Today with Pat Kenny. Listen here
0910 Fine Gael Leader Enda Kenny will be joined by athlete, Eamonn Coghlan and Fine Gael candidates and inter-county football managers, John O'Mahony (ex-manager Mayo, Galway, Leitrim) and Peter Fitzpatrick (manager Louth) to highlight Fine Gael's commitment to sport.
0909 Sinn Féin Social Protection Spokesperson Aengus Ó Snodaigh will today set out his party's approach to social welfare and minimum wage cuts.
0825 Fine Gael's Leo Vradakar is live on Morning Ireland. Listen here
0824 Eamon Gilmore will deliver what is described as a 'keynote speech' on the potential impact on families of the election outcome.
Enda Kenny, Eamon Gilmore and Micheál Martin will all separately address the Executive Council of the IFA.
Gerry Adams is campaigning in Cork.
0800 Jobs, families and farming will top the issues highlighted by the parties today.