Follow on Twitter: RTE Elections

| RTENews

Live Updates:
2301 Fine Gael deputy spokesman on health, Denis Naughten, has told a gathering of over 500 people in Ballinasloe that, should he be elected and is part of a Fine Gael-led government that would downgrade services at Roscommon County Hospital or Portiuncula in Ballinasloe, he would not hesitate in resigning the party whip and voting against the government.
2250 Watch the Nine News for the latest on Fine Gael and Labour moving to resolve a row over their respective economic plans
1945 The Green Party took a swipe at Fine Gael and their possible inclusion of Independents in a any future Government today: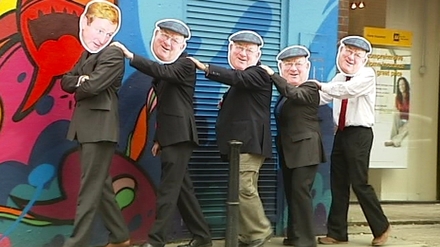 1803 Watch the Six One News with the latest on the campaign in the player at the top of this page
1751 Sinn Féin's Gerry Adams has said that if the Labour Party is genuinely concerned about Fine Gael's policies then they should not be willing to go into government with them.
Speaking while canvassing in Laytown the Sinn Féin President said Labour would have little or no influence on Fine Gael in government pointing out previous political parties had made claims about being able to do so such the Progressive Democrats, the Green Party and 'in another life' Pat Rabbitte, according to Mr Adams.
He said a single-party Fine Gael government would be a 'disaster'.
1701 Watch this morning's press conferences from Labour, Fine Gael and Fianna Fáil
1641 Labour Party leader Eamon Gilmore has said that comments made today by Fine Gael's Leo Varadkar are fanciful and fictional. He said he had heard Varadkar say that the Labour Party would bring in water charges.
Gilmore said this was not the case but added that Fine Gael are proposing water charges. He added that some people were having difficulty with their own policies so it was not surprising that they should be mistaken on their's.
He said there were areas of broad agreement between the parties, but he said there were also differences on budgetary policies.
1613 Sinn Féin's Aengus Ó Snodaigh has launched the party's proposals for the development of the community and voluntary sector.
Among the proposals are:
A shift toward multi-annual funding to allow groups to plan ahead and would eliminate the need to chase funding.
Ringfencing €50m a year from the dormant accounts fund and monies seized from CAB for community development funds.
Establishing an All-Ireland Consultative Civic Forum promised under the Good Friday Agreement which would allow communities to share information and ideas.

1546 Sinn Féin is to make a formal complaint to the Press Ombudsman, to the Fine Gael Party and to RTÉ over comments made by Brian Hayes' on Wednesday night's Late Debate programme.

'The outrageous comments by Brian Hayes on RTÉ Radio on Wednesday night were an attempt to bring racism to this election campaign,' said Sinn Féin Dublin South West Candidate Seán Crowe.

'These comments by Deputy Hayes are a new low in electoral attacks and Sinn Féin is currently in the process of making an official complaint to the Press Ombudsman, to the Fine Gael Party and to RTÉ.'
1519 Fianna Fáil leader Micheál Martin has said there is a widening chasm between Fine Gael and the Labour Party.
He said there are fundamental differences between them and that people deserve to know what programme would be implemented if the parties were to go into Government together.
Speaking in County Wexford where he is canvassing today, Mr Martin appealed to Fianna Fáil supporters and to other people thinking of voting for non-Fianna Fáil candidates to think again.
He said his party will intensify its campaign for the next week to win back support.

1510 Fine Gael Transport Spokesman Simon Coveney called Fianna Fáils Charlie O'Connor a spoofer, after he called for a cap on taxi licences.

'In one of his most populist stunts, Charlie O'Connor has called for a cap on taxi licences. The only problem is, there's already an effective cap in place.

'The only licences currently being awarded are for either for wheelchair accessible vehicles or limousines. No standard taxi licence has been awarded for over a year.'
1453 Fine Gael leader Enda Kenny has told businessmen in Cork his party will give full backing to the development of a major project in the city's docklands that could create thousands of jobs, and rival the IFSC in Dublin or Silicon Valley in California.
A economic assesment is to be carried out by Fine Gael in Government of possible options - that could range from financial services, to pharmaceucticals or software and technology development.
Speaking at the Silver Springs Convention centre Mr Kenny said : 'This is a great city, this is a great county. We would like you to know our vision for Cork can be signalled by an economic assessment which we have agreed to with part of the owners of the Cork Docklands about its future potential.
'That it might deliver in terms of thousands of jobs for Munster. To create a real flagship here in the south which will rival in many ways the IFSC in Dublin or other flagship enterprises in other European countries.'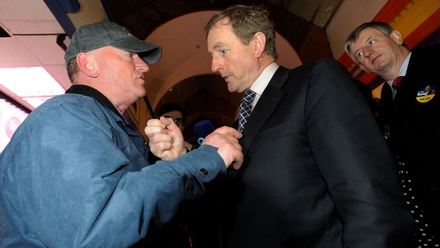 1442 Listen back to RTÉs News at One, which featured Mary Hanafin, Lucinda Creighton, Ivana Bacik, Eoin Ó Broin and Paul Gogarty here.

1424 Bryan Dobson: On Six One News this evening - Green Party leader John Gormley live in studio.



1405 Speaking on RTÉ's News at One, Fianna Fáil deputy leader Mary Hanafin said every vote was worth fighting for.
She was responding to today's Irish Times opinion poll which suggests Ms Hanafin is on course to retain her Dáil seat in Dun Laoghaire.
Also on the programme, the Labour's Ivana Bacik acknowledged that there appeared to be a battle for the last seat between her and People Before Profit candidate, Richard Boyd Barrett.

1310 Fine Gael claims that Labour's tax policies would cost every household 1,300 more than their tax policies were based on a falsehood - Labour leader Eamon Gilmore
1305 Fianna Fáil's Mary Hanafin, Fine Gael's Lucinda Creighton, Ivana Bacik from the Labour Party, Eoin Ó Broin from Sinn Féin and the Green Party's Paul Gogarty will be on today's News at One
1300 Enda Kenny says he is not in a row with Labour and that he is not interested in 'sniping from the sidelines'.
1250 Asked where it all went wrong for Labour in relation to their 'Gilmore for Taoiseach' campaign, Pat Rabbitte said he thought Eamon Gilmore's leadership of the party has been unrivalled.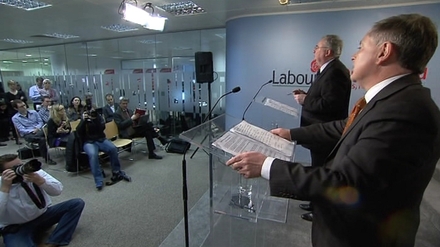 1240 A 'great many' people would be worried by a Fine Gael majority Government, says Labour's Pat Rabbitte.
1155 'There is ground-breaking change needed, even in the language of the constitution which really goes back to the 1920s,' says Brendan Howlin.
He said that the attitude and reflection of women in the constitution is wrong and needs to be updated and modernised

It is an opportunity to reshape the constitution for the anniversary of the 1916 Rising in 2016.
1145 'There is a view that the political system is broken and that 'tinkering with it is not enough - Labour spokesperson on Constitutional Reform Brendan Howlin.
This would be an opportunity to reshape the Constitution so that all of us can renew our pride in the Republic.
1140 Labour has outlined its plans for a new Constitution, which would be in place by 2016.
The new Constitution would be drawn up by a 90-member Constitutional Convention, one third representing the Oireachtas and one third from representative associations, community bodies and experts.
Another third of members would be from the public, chosen at random from the electoral register in the same way as juries.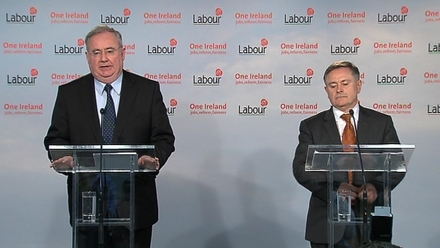 1134 Watch the Labour press conference live here
1133 Watch the Fine Gael press conference live now (at the top of this page)
1125 Micheál Martin gets Fianna Fáil's message across in Wexford...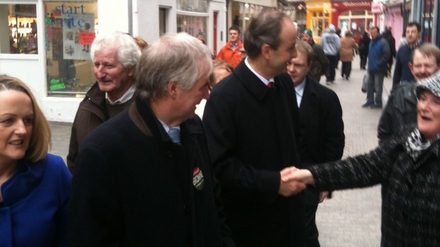 1118 'If Eamon Gilmore has so many problems with Fine Gael's austerity measures and thinks their economic plan doesn't add up then why on earth does he want to go into a Coalition Government with Fine Gael to help them inflict such misery,' Sinn Féin President Gerry Adams.
1115 Fine Gael has unveiled its NewERA stimulus plan 'to create thousands of jobs in the trade and construction industry'.

Simon Coveney says the plan will create 100,000 new jobs over the next five years.

It says the jobs will be 'concentrated in the following areas':
• Plumbing, electrical work and other construction crafts
• Telecoms, civil and structural engineering
• Construction materials suppliers
• Plant maintenance and operation
• Insulation and home energy appliances
• Software programming and support
• Construction professionals like architects, engineers

1102 Green Party leader John Gormley has called on people not to vote for Independents in the General Election but to use their vote to elect a stable government.
He said a Fine Gael plus Independents Government would be an unhealthy development.

1044 'Fianna Fáil's national recovery plan is the key to economic growth,' claims Brian Lenihan.
He said Fianna Fáil's economic policies were correct and honest while Fine Gael's were cooked up on the basis of focus group analysis.

1038 Asked on Today with Pat Kenny if Ireland is ready for an atheist Taoiseach Labour leader Eamonn Gilmore says it should not be an issue as it is, essentially, a private matter
Mr Gilmore said citizens would be charged for insurance under his party's Universal Health Insurance plan if they had a wage level above around €30-35,000.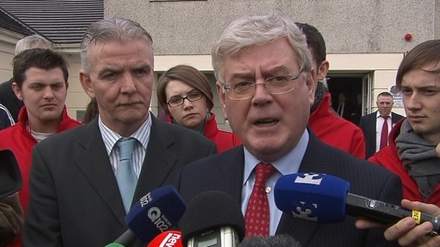 10.15 Eamon Gilmore said that if his party agrees with a programme for Government, they will see it through to the end.
'The Labour Party will honour the Croke Park agreement.'
Mr Gilmore added: 'Labour will not be beholden to any vested interests'
He said his party will not support legislation to reverse the ban on stag hunting.
1000 This morning's Fianna Fáil news conference is live on www.rte.ie/livenews
0852 Election analyst Sean Donnelly is speaking on Morning Ireland about the different tactics you can use to maximise your vote
0834 Fine Gael leader Enda Kenny has said on Morning Ireland that all jobs which Fine Gael plan to cut from the public sector will be 'voluntary'.
In relation to banking problems he said Fine Gael have been 'clear' about burden sharing.
He said Ireland can deal 'with some difficulty' with sovereign debt but there was 'no question' of defaulting.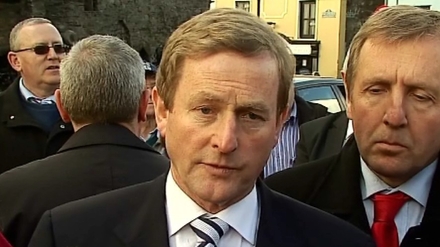 0819 Enda Kenny has said he was sorry if ICTU General Secretary David Begg was offended by election literature references.
'Trade Unions have a job to do and David Begg represents his members. In that respect they are a vested interest. I have a good working relationship with David Begg'
'These comments are not contained in our manifesto.'
In relation to potential cuts if elected Mr Kenny said: 'The entire country has got to suffer over the next few years - as a consequence of where we have been lead to'

0810 ICTU General Secretary David Begg has called on Fine Gael to explain references in its election literature to taking on vested interests who contributed to the economic crisis, 'including the unions'.
0800 The General Election campaign continues with Fine Gael leader Enda Kenny in Cork.
Labour leader Eamon Gilmore is due to canvass in the Louth constituency.
Fianna Fáil leader Michéal Martin will be campaigning in Wexford and Waterford.
Later, Sinn Féin will publish their proposals for developing the community and voluntary sector in Dublin.
The Greens will be premiering their party political broadcast, due to be transmitted on Saturday.