Follow on Twitter: RTE Elections | RTENews
Live Updates:
2300 Mortgages, debt forgiveness and negative equity discussed on The Eleventh Hour.
2253 The problems facing small businesses, and what politicians intend doing to help are covered on tonight's Primetime.
2253 Take a look at the Nine News, which features analysis of the latest poll results.
2105 Fine Gael retains a commanding lead in the latest opinion poll, which is due to be published in tomorrow's Irish Independent.
However, despite a poor showing by Fianna Fáil, the Millward Brown Lansdowne poll gives party leader Micheál Martin the highest satisfaction rating.
There were 1,000 voters polled around the country between Saturday and Monday and the results are very similar to other recent polls.
Fianna Fáil is on 12%, which is down four points since the last Irish Independent poll a fortnight ago. Fine Gael is up eight points to 38%, while Labour drops one point to 23%.
The Green Party is unchanged on 1%; Sinn Féin drops three to 10%. Independents and others increase one to 16%.
However, Mr Martin has the highest satisfaction rating of the party leaders at 42%, which is down two points.
Labour's Eamon Gilmore is down five at 41%; Enda Kenny is the only leader to increase and goes up three points to 30%.
Sinn Féin leader Gerry Adams is down five to 26% and John Gormley drops one to 13%.
2015 Take a look at some word clouds generated from the main parties' manifestos and from twitter hashtags.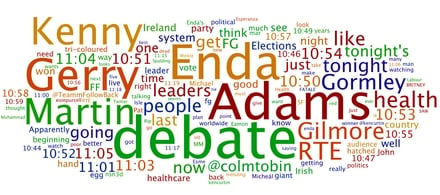 1930 Watch tonight's Six-One News, which featured a special focus on the Sligo-North Leitrim constituency.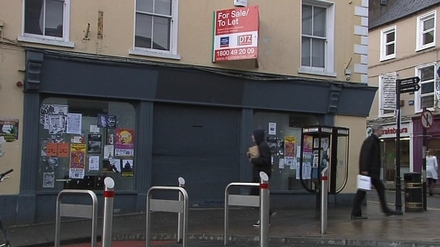 1630 The Green Party would abolish the television licence fee as a funding mechanism for the public sector component of RTÉ if in Government, Eamon Ryan has said.
'Media organisations all over the world are looking to their funding in the future,' Mr Ryan said.
'As Minister for Communications I had been working on a new type of funding for public service broadcasting.
'One approach to the financing of public sector broadcasting, including the possibility of other media, involves some small charge on the volume of data.
'We need to answer two main questions - How do we fund newsrooms while maintaining absolute editorial independence?'

1556 'There's considerable shock at the whole debate in Ireland about bond default and they see that as something that's deeply damaging to confidence in the Irish system - that's the European perspective on this,' said Finance Minister Brian Lenihan.
1542 The Metro North project should go ahead, the Green Party has said.
Launching the party's transport policy today, Ciarán Cuffe and Eamon Ryan said the party would prioritise the upgrade of secondary roads rather than building new motorways and would scale back on some planned road projects such as the Euro route to Rosslare.
It also said it would prioritise the introduction of sustainable transport towns.

1531 Minister for Finance Brian Lenihan has attacked the decision by Enda Kenny to travel to Berlin for a meeting with Chancellor Angela Merkel.
At a meeting of EU finance ministers in Brussels he described the visit as a 'stunt', 'very unhelpful', and 'rubberneck diplomacy'.
'In effect... he has inflamed the opinions of CDU backbenchers in relation to corporation tax,' Mr Lenihan said.
'The Government has been making steady progress on corporation tax since the EU IMF arrangement.
'It was left outside that arrangement, where it should be - one of our sovereign rights under EU law - and yesterday we had this stunt visit to Berlin and a negative reaction from CDU backbenchers who say that Deputy Kenny shouldn't have raised the issue.'
He said that Ireland's diplomatic efforts on the subject were not helped by 'unilateral election strokes'.
1520 The prospect of a single-party Fine Gael government is a 'recipe for disaster', says SIPTU President Jack O'Connor.
The majority of people in Fine Gael were good, well intentioned people, he said, but the party was committed to the same deflationary principles as the outgoing Fianna Fáil-led administration.
He said there was a need for a balanced Government made up of Fine Gael and Labour that would reflect the views of working people.
1458 Fine Gael is going to use the National Pension Reserve Fund to pay for a job stimulus, which will cost €7bn, Michael Noonan has said.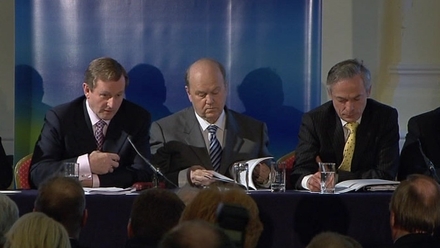 Commenting on Micheál Martin's remark in last night's debate that there is only €4.9bn left in the fund, Mr Noonan said there will be a lot 'nasty surprises' for the next Government because the Government is not giving the full facts.
He said Fine Gael will raise the rest of the money by letting some of the 'strong' semi-state bodies fund themselves.


1452 David McCullagh: Reading the Fine Gael manifesto. Page 43: 'FG will tackle leaking septic tanks'. Now you know who to call!
1415 John Gormley feels there is potential for agreement between his party and Fine Gael to form a government after the election.
Mr Gormley said Fine Gael had plagiarised some of the Green Party's policies - he sees this as a compliment.
'Enda is always very friendly and he knows that the Greens are responsible and have experience of government.'

1409 Bryan Dobson: In Sligo for Six-One special on Sligo/North Leitrim. Marc McSharry FF, Michael Colreavy SF & Susan O'Keeffe Lab will be on live
1335 'The vulnerable in society must be protected by the new government,' says Noonan. We're in a very bad place, but the new programme for government has to be fair.
1332 Martin seeing green shoots....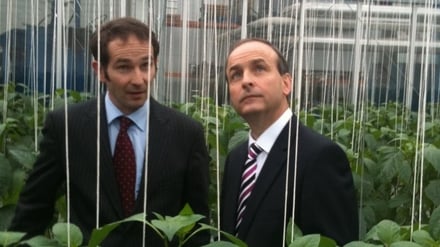 1331 Fine Gael believes everyone should get an allowance of free water, but they will have to pay if they go above the allowance, says Noonan. He says FG would set up a new water board, which would have to be run on commercial lines.
1330 Labour is proposing site valuation tax from 2013/2014. On water charges, people will have to pay for water above an allowance from 2014 – Rabbitte.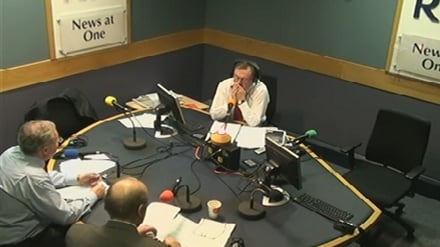 1329 Michael Noonan says that Labour's figures on growth are the same as Fine Gael. Pat Rabbitte says FG and Labour agree on many things, like reform of the health service and renegotiation of the IMF-EU deal. We both agree there must be a stimulus, that we must get growth up, that we must get people back to work, adds Rabbitte.
1328 Labour's Justice Spokesman Pat Rabbitte says he does not believe Fine Gael claims that it is a low tax party.

1327 Ruairi Quinn has said he doesn't believe Gerry Adams has been transparent about his past.
Mr Quinn said Gerry Adams had been asked numerous times about involvement in the IRA.
'He has given an answer which frankly I don't think anybody believes. I certainly don't believe it.
'I think the Irish public will form their own conclusions in relation to that but he's maintained that position for so long now I don't know if there is a demand from the ordinary public.
'I think they've moved on and recognised him for what he is.'


1306 David McCullagh: Very bad news for Fianna Fáil in the Herald poll. It shows the party in fourth place among the parties in the capital. Worse news for the Greens - who would be facing wipeout in the capital if this played out on election day.

The Millward Brown Lansdowne poll shows Labour on 31%, Fine Gael on 29%, Independents and others on 16%, Sinn Féin on 11%, Fianna Fáil on 10%, and the Green Party on 3%.
1300 One News live now (above)
1247 Reacting to the Evening Hearld poll, Micheál Martin has said they had significant challenges in this election but he said that it is all there to play for.
He said that they were confident that their candidates would do well in Dublin.
He said that there were similar polls in previous elections which did not turn out to be quite as accurate in terms of the actual outcome of the election in some constituencies.
1213 Tweets on last night's debate were 62% negative, 38% positive, according to O'Leary Analytics

1208 Brian Dowling: The leaders' debate contained 'broad brushstrokes' and not substance. Sinn Féin's 'not one red cent' policy on banks is not a million miles away from Labour and FG's increased stress tests.
1200 Campaign Daily live now (watch in player above)
1152 Labour's Director of Elections Ruairi Quinn, commenting on last night's debate, said it was quite clear that Eamon Gilmore was 'on top of his game.'
1151 Commenting on the abortion issue, Enda Kenny said it was a sensitive matter that requires serious consideration and analysis.
He said there are differences of opinions between parties on the issue.
He said Fine Gael will appoint an Oireachtas Committee to deal with the matter.
The Fine Gael leader said the best legal and medical advice should be made available to that committee. On the basis of that report from the Committee, the new Oireachtas would determine what the best thing to do is.
Commenting on former Fine Gael Minister and Independent election candidate Michael Lowry, Mr Kenny said he does not see any circumstances in which Mr Lowry will re-join Fine Gael.

1147 Fine Gael Finance Spokesman Michael Noonan said 'AIB should be put on the market and sold off'.
1145 Click here to read Fine Gael's manifesto in full.
1144 Fine Gael will 'revisit' the proposal for new prison at Thornton Hall. It will examine the 'marriage penalty' in the social welfare system. Fine Gael will oppose EU tax harmonisation. The party denies any softening of position on bank debt restructuring.
1141 There's a perception that we're an urban party, but rural candidates are aware of the issues affecting farmers – Labour.
1140 Micheál Martin said that he always had issues around the list system and about whether they should appoint people from outside.
But he said that he had evolved his thinking and he said that he has made it clear that it is not his personal dictatorship alone.
He said that he thinks that we have to learn lessons from the crisis, and he said that we should consider external expertise and a future Taoiseach should have that facility.
But he said that he was prepared to change on this issue and he was prepared for a radical departure in how we do politics.
1139 Asked if reducing the deficit by 2014 was a red line issue, Mr Kenny said people want the economic problems ended as quickly as possible with fairness, and didn't want 'endless night'.
He said people said they would much rather have the corrections done sooner than later.

1137 Labour now launching its plan for the rural economy...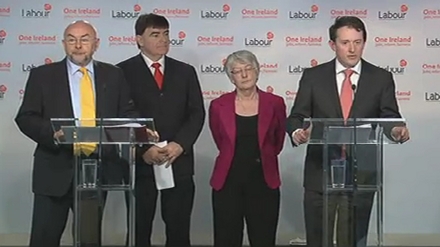 1134 Martin said that he thought that the Order of Business continues to be the most ridiculous show in town in his view.
He said observing it 'is just crazy and wastes so much time,' and is just one symptom of where the present system is all wrong
He said that what Fianna Fáil was planning to do here is a more radical change in terms of how we elect people, the relationship between parliament and the executive, and facilitating the bringing in of outside expertise.

1132 Asked how his party's manifesto would be implemented if he were in coalition with Labour after the election, Mr Kenny said he is 'not contemplating beyond the 25 February', but he wanted the strongest possible mandate from the people.
He said there were some issues in the manifesto which were 'of critical importance'.
He claimed the document was 'a signpost for the future', and 'the beginnings of a glimmer of hope' for the people.
1130 Mr Kenny said his party supports the Irish language very strongly and he has a real problem that many students cannot put six sentences in Irish together.
He said there are a number of serious issues with how Irish is taught, adding that his party will deal with the strengthening of the language.
1129 The country cannot and will not fix finances by continuing to write blank cheques for the banks, which was immoral, says Enda Kenny.

1128 Live Now: Labour News Conference (video will appear at the top of this page)
1127 Enda Kenny said other parties wanted to delay deficit reduction and taxes. He said those measure cannot be delayed as it will delay the cure the economy needs.
'The country cannot and will not fix finances by continuing to write blank cheques for the banks.'
In further manifesto details, Mr Kenny said Fine Gael would get efficiencies in the public service, but he said frontline services would be protected as part of that reform.
Fine Gael would also change the TV licence to the household-based Public Broadcasting Charge.
It would also abolish the travel tax, subject to deal with Aer Lingus and Ryanair on reopening routes.

1124 Fine Gael says it will ensure rogue bankers are pursued for their crimes, NAMA will be exposed to public scrutiny and there will be a new code of practice on use of government jet.

1120 David McCullagh: A new opinion poll in Dublin shows Labour in the lead in the capital, closely followed by Fine Gael, with Fianna Fáil in fourth place behind Sinn Féin.
The Millward Brown Lansdowne poll for the Evening Herald is based on a sample of over 1,000 voters.
It shows Labour on 31%, Fine Gael on 29%, Independents and others on 16%, Sinn Féin on 11%, Fianna Fái on 10%, and the Green Party on 3%.
1114 Fine Gael has published its election manifesto which Enda Kenny says is about transforming Ireland.
He said the manifesto is based on what the people of Ireland have told Fine Gael, he said it is an important document in making Government part of the people.
He said the plan will reduce the Budget deficit to 3% by 2014, overhaul the health service, protect frontline services in the reform of the public sector and will focus on Budget cuts rather than what the party calls job-destroying tax increases.
1106 Asked how people could be sure that political cronies are not appointed as Government ministers, Micheál Martin said that there would have to be confirmation hearings.

1056 David McCullagh: In the Physicians' College for FG manifesto launch. Think the last time I was here was after Brian Cowen became Taoiseach.
1049 Continuing his attack on Gerry Adams, Martin said said the Sinn Féin leader 'can't really talk about truth, honesty and transparency given his baggage from the past.'
'There is a fundamental problem for Gerry when he continues to deny his membership of the IRA.'

1038 Speaking about last night's debate, Micheál Martin he said it was an issue-focused affair.
He said he intervened with Gerry Adams when he started talking about fraud in the political system here as 'the Sinn Féin leader is the last person to talk about fraud and corruption given his past.'
'Gerry Adams should come clean and admit his membership of the IRA.'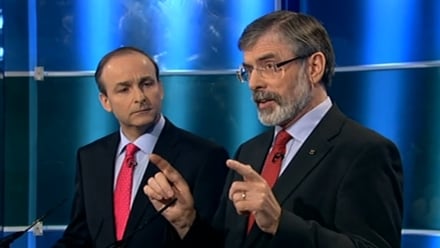 Martin also said that he believed from talking with Bertie Ahern that Gerry Adams and Martin McGuinness had prior knowledge of the Northern Bank robbery even as they were negotiating with the Government.
1037 I think Micheál Martin made a calculated tactical decision to go after Gerry Adams … he is looking for third place' – Finlay.

1036 Terry Prone says the Irish language debate will suit the fluent Enda Kenny.
1034 Terry Prone suggests that Enda Kenny didn't have time to be officially prepped for the debate, which would have worked in his favour.
1031 Last night's debate attracted an average audience of 961,000 – an overall audience share of 59.85%.
1030 Paddy Duffy says Enda Kenny was not beaten on any point last night, and adds that many voters are now heading towards the 'Fine Gael bandwagon'.

1029 Launching his party's plans for political reform, Micheál Martin claimed 'a clear difference has emerged' between FF and the other parties over political reform.
'The other parties propose to leave the current system of cabinet government unchanged, while Fianna Fails proposes that Ministers would not serve in the Dail while serving in government.'
Martin said his party is also proposing that government membership not be restricted to members of the Oireachtas only.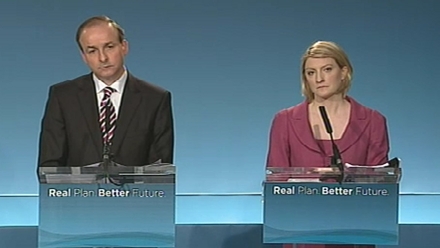 1026 Fergus Finlay, Labour supporter and Chief Executive of the charity Barnardo's in Ireland, says Eamon Gilmore did well.
He says John Gormley looked and sounded 'so defeated'.
1025 Terry Prone says the 'pure propaganda' of Gerry Adams connected with the electorate. Adams was 'playing fantasy football' last night, knowing he'd never have to deliver, she adds.
1022 Live now: Fianna Fáil news conference
1019 Terry Prone says Enda Kenny has a long political relationship with German Chancellor Angela Merkel. She says there was a dogged determination about Kenny's performance.
1017 Pat Kenny tells his media panel that the lack of audience involvement was due to a debate rule banning cheering. Listen to Today with Pat Kenny.
1016 Terry Prone says the use of the 'terminally indecisive' as a crowd was an interesting experiment.
1015 Terry Prone, Communications Clinic, says the spat between Micheál Martin and Gerry Adams rescued what had been a 'back-foot performance' by the Fianna Fáil leader.
1014 Paddy Duffy says Gerry Adams was echoing a lot of the frustrated feelings people have at the moment.
1011 Paddy Duffy, PR guru and former adviser to Bertie Ahern, says he felt the format of the debate was quite restricting.
0953 Keep it here to watch live streams of Fianna Fáil and Labour press conferences later.
0827 Noirín Hegarty says that Micheál Martin did not mention Fianna Fáil once in the debate, 'so toxic is the brand'.
0827 'Enda Kenny will never be loved by large sections of the public or the media,' according to Kevin Rafter.
0826 Sunday Tribune Editor Noirín Hegarty says Gerry Adams was the most alpha male in last night's debate. She says everyone seemed too polite and there was a lack of passionate debate. She says Adams was 'the king of the sound bites'.
0823 Lecturer in politics and media at DCU Kevin Rafter says the debate was very civilised and that having five leaders involved was not particularly television friendly.
0748 Brian Lenihan can put out as much 'spin and waffle' as he wants, but the figures are there (to support SF's argument) – Doherty.
0745 If Pearse Doherty was Finance Minister in Brussels yesterday, he'd have been laughed out of the room with what he's saying – Lenihan.
0740 Finance Minister Brian Lenihan and Sinn Féin's Finance Spokesman Pearse Doherty debate economic policy on Morning Ireland. Mr Lenihan says that when SF say they'll walk away from the EU-IMF agreement, they're saying they'll stop paying pensions and social welfare.