Follow on Twitter: RTE Elections | RTENews
Updates:
2348 The Irish Independent's front page says Kenny was 'unscathed' by the debate, while The Star called the Fine Gael leader as the biggest winner on the night.

2312 The Late Debate is also poring over the debate.
2311 The Eleventh Hour now assessing the performance of the party leaders
2306 The debate ends.
2305 Reform of local government is needed as well, where councillors are given more power and have revenue-raising powers too – Gormley.
2305 Our politics has to reflect the fact that the people own the government. I want this country to be a better place – Kenny.
2305 We do need to change how we do politics in this country, says Martin. We must learn lessons from the crisis. Our system is not fit-for-purpose. We have put forward proposals for single-seat constituencies.
2304 We need change, says Adams. I don't believe in negative campaigning. It's a matter of good, sound, solid political choices based on citizenship and equality. Nobody should let their heads go down. We can sort this mess out.
2304 We need to work together politically, and with people, to get us out of difficulty – Gilmore.
2304 The country needs a people's convention to draw up a new constitution for the country – Gilmore.
2303 Gormley says he welcomes other parties looking for political reform and the electoral system has 'ill-served' the people. He says if the number of TDs is reduced then it is just tinkering with a failed political system.
2302 Ireland is very unusual in the way it restricts Government to professional politicians – Martin. He says Ireland is getting 'Punch and Judy shows' at the moment and that needs to change.
2301 The political and electoral system needs to be changed to suit the Ireland of today – Martin.
2300 People need to get it into their heads that politics is about serving the people and not ruling over them, says Gilmore. He says the country needs to work in a more unified way in the years ahead.
2259 Gormley says others will find themselves in a 'straight-jacket' if they get into Government and will be forced to make unwanted cuts. He says he still believes in the idea of a national Government and thinks it would be in the best interest of the country.
2258 A better committee system would allow people to come in to give ideas to the Dáil, says Gormley. He says a complete reform of the political system is required to create a more constructive debate in Irish politics.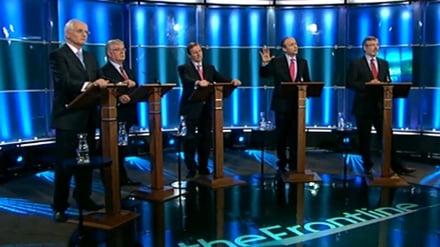 2257 Question 6: Considering the state of the country, why is it that political debates revolve around political points scoring?
2256 Healthcare should not be about profit, says Adams. There are 390 people as we talk now on hospital corridors up and down this State.
2255 Gormley says immediate investment in primary healthcare would deal with a large number of patients' issues.
2254 Martin says in Holland, on which FG's plan is based, the average family spends €5,000 a year on healthcare insurance.
2254 Labour has set out a phased basis for the introduction of universal healthcare – Gilmore. He says Martin failed to give the country a decent healthcare service while he was in government.
2253 Labour will be passionate and committed to reforming the healthcare system if in government – Gilmore.
2252 FG will not privatise the health system, our hospitals will remain in public ownership – Kenny.
2252 Gilmore rejects the suggestion that their plan effectively privatises the healthcare service.
2251 Hospitals should see patients as resources not as problems, says Kenny. Martin says Kenny's plan is about putting €14bn into private healthcare companies, as opposed to the HSE.
2250 Micheál should be ashamed to speak on health issues in this country, says Kenny. We have people who can't get on waiting lists, he adds. Martin tells Kenny to 'stop talking nonsense' in the debate on healthcare.
2249 Micheál Martin says Enda Kenny is proposing to borrow €1bn to get rid of 8,000 health workers for a plan that will take 10 years. Martin says people in the healthcare service want to be able to get on with providing services.
2248 The health service should be free to people at the point of access – Adams.
2247 Gormley says he would like to join Labour & FG in their healthcare plans but wants to see the figures add up first. He says if the money follows the patient that some hospitals will have to close as a result.
2246 Gilmore points out that healthcare is an area where Labour have broad agreement with Fine Gael.
2245 It is wrong, unfair and immoral that people are treated in the healthcare system based on how deep their pocket – Gilmore. He says Labour's plan will allow people to have access to healthcare based on need.
2244 The health system has failed the Irish people and needs radical transformation – Kenny. We want a system based on the Dutch system.
2244 There has been an extraordinary expansion of the Irish health service in recent years – Martin. He says the system has been advanced significantly in recent years.
2243 The health system is in a complete mess, says Adams. Every citizen should have the right to a healthcare system.
2242 First thing we have to do is invest in primary healthcare - Gormley.
2241 There is a two-tier health care system and the HSE has been a 'monstrous experiment that has not worked' – Kenny.
2240 Question 5: Why is it you need money to get healthcare?
2234 I am against social welfare fraud, but I'm also against fraud of the white collar type, says Adams.
How dare you talk about fraud down here in the Republic, Gerry? retorts Martin. The Sinn Féin leader says he has every right to talk about it because he has done his job up in Northern Ireland.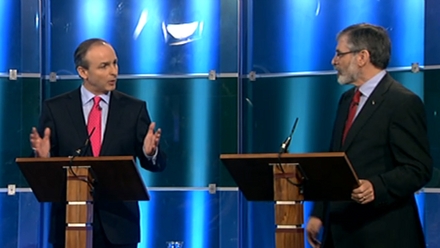 2233 A republic is about citizenship; you have to have rights. People on lower incomes have to spend; they can't afford not to spend – Adams.
2232 €6bn is the hardest adjustment we have ever made, says Gormley. It's going to be another 3+3+3.
2231 And they want to go into government together! Martin scores a point as Gilmore and Kenny bicker. We need to bring confidence and certainty back, in terms of investment, adds Martin/ That will come with certainty in our public finances. Each dept will suffer cuts, but we will protect Education. We'll be looking for more for less from departments.
2230 We signed on to have the deficit reduced to 3% by 2014, says Kenny. The rate of growth that FG is projecting is just over 3%. There is no €5bn hole in FG projections.
2229 Our cuts begin at the top, says Gormley. They begin with waste. Under the EU/IMF deal, there will be huge cuts.
2228 Everybody has to cut back, says Kenny. This is about cutting the cost of governance, without cutting front-line services. FG has said there will be no increase in income tax.
2227 SF would not inflict cuts on lower and middle-income families - Adams.
2226 The Greens in government protected education and the arts, and that's still the aim of the party. We had two progressive budgets, and one that wasn't, says Gormley. We can ensure greater efficiency through the Croke Park Agreement. No further social welfare cuts under GP proposals. People at the higher end, who can afford it, will suffer from the cuts.
2225 Everyone is going to suffer, frankly - Gormley.
2224 Citizens of this republic should not have to carry the burden for big bankers, says Adams.
2223 There is no painless way to cut back on public expenditure, says Martin. Education is the one area FF would protect, but every other dept would have to cut back.
2222 People who are at the lowest level of income will not suffer – Gilmore.
2221 Everybody will suffer, insists Kenny. Everyone is already suffering, he adds.
2220 Those who can afford it will pay the most, says Adams.
2219 Under Green proposals there will be no further social welfare cuts – Gormley.
2218 Question 4: Who is going to suffer because of the cutbacks if taxes are not raised?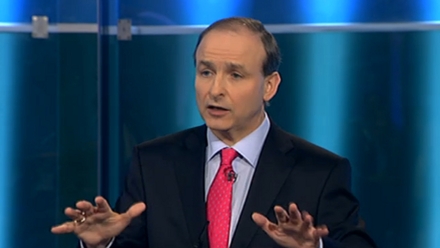 2218 People who can run GAA clubs can run businesses and we need to be supporting them, says Adams.
2217 Our greatest natural resource is wind and wave, says Gormley. We need to tap into that and create thousands of jobs in those areas.
2217 It has to be government-led, says Adams. Why don't we all take cuts. TDs by 20%. Ministers by 40%. That would be leading by example, and that's what the country needs.
2117 This is like a chapter from Rip Van Winkle, says Kenny. What were they doing for 14 years? There are lots of companies which cannot get money from banks.
2117 People are keeping their money in their pockets because of the austerity measures, says Gilmore. That has to be changed if we're to allow jobs to be created. Unless we renegotiate the EU/IMF deal, we're not going to get people back to work.
2216 Martin is going around the country like the 'great pretender', says Gilmore. Labour wants a strategic investment bank set-up.
2215 Micheál Martin asks where Gerry Adams is going to get the money needed to pay the public sector workers. Adams says the money will come from the National Pension Reserve Fund over four years.
2214 Gerry Adams says we give away natural resources, like oil.
2214 You have to get money from water rates, says Gormley. We're the only country in Europe that doesn't have some form of water levy.
2213 There are 100,000 businesses out there that cannot get money from banks, and they need it – Kenny.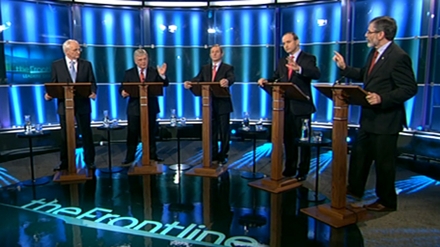 2212 Martin says we need to do more to help small and medium-sized business.
2011 Sinn Féin against blanket guarantees, says Adams.
2010 We have to support the domestic economy, says Gilmore.

2210 Enda Kenny says FG wants to invest €7bn to invest in creating 100,000 jobs.
2209 Governments don't create jobs, but they can create the environment and incentivise. We need an export-led recovery - Martin.
2208 We need to play to our strengths. Education is vital. We need to look at what we are good at - Gormley.
2207 We need a government-led programme to create jobs, says Adams.
2206 Labour would establish a jobs fund to get people back to work - Gormley.
2205 Question 3: How are we going to get the people back working?
2204 I believe we can renegotiate, but not unilaterally, says John Gormley. Has to be done within the forum of the European Union. The real problem is our sovereign debt.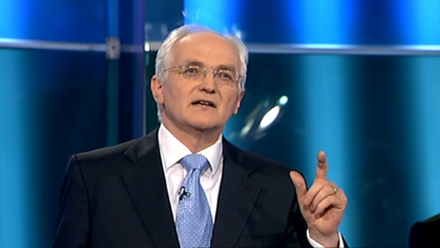 2203 We opposed the bailout, says Eamon Gilmore. All the other parties on this platform supported it. It was the biggest bank robbery in the history of this country, and it was the banks that robbed the people. We need a deal that ensures that people who are concerned about mortgages have peace of mind. Once the banks got the guarantee, they were in the driving seat.
2202 We are offering a specific advantage of increased mortgage interest relief for 250,000 people, says Enda Kenny. Fine Gael in govt will wind down Anglo and have it removed along with Nationwide by the end of this year, and set about renegotiating the IMF deal with cross-EU co-operation.
2201 Labour was only party that opposed the bailout, says Eamon Gilmore.
2200 Banks behaved recklessly, but we do need to get AIB and BoI on a secure footing. There won't be any big change in banking policy regardless of who's in government - Martin.
2200 It is an obscenity and a scandal that €100bn has been pumped into the banks because of incompetence, says Enda Kenny. FG will not put any more money into Anglo until we see the nature of the share of the burden the bondholders will take.
2158 Our main emphasis has been to prevent repossessions. It's not about bailing out banks. We need a banking system in operation for the sake of the 1.8m people working in this economy. They need capital and funding to develop - Micheál Martin.
2157 Micheál Martin says Gerry Adams would be a 'magician' if he can pay for services without making cuts. Mr Adams says we could save €50bn by not putting money into the toxic banks.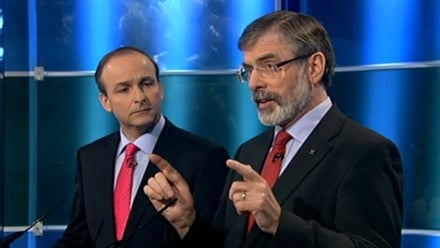 2156 It would be only prudent to find out the chasm in the banks – Kenny.
2155 There should be 'no evictions in Ireland as a matter of principle', says Mr Adams. SF would scrap the universal social charge.
2153 There is assistance out there for those who are in mortgage arrears - Gormley.
2153 We have to make political choices that protect people and their houses, says Gerry Adams. Sinn Féin will not put 'one red cent' into the banks until they are restructured.
2151 The Labour Party will guarantee that people will not lose their homes during this recession, providing they are making a reasonable effort to repay their mortgage – Gilmore.
2147 Fine Gael wants to increase mortgage interest relief to 30% - Enda Kenny.
2146 'There would be chaos without a functioning banking system' - Martin.
He says Fianna Fail's emphasis is to prevent repossessions.
Question 2: Why are the Government allowing the banks to put pressure on people to pay their mortgages when the banks themselves had to be bailed out?
2145 John Gormley says the Dáil should be slimmed down to 120 TDs. he says we have a dysfunctional political system. Our electoral system has failed the Irish people and we need radical reform.
2143 Gerry Adams says that taxpayers' money should be put into jobs and not toxic banks.
2142 'Creating jobs and growing the economy will make it so out young people do not have to emigrate,' says Eamon Gilmore.
2141 'We should open up politics to experts from outside the political world' - Micheál Martin.
2141 Enda Kenny wants Ireland to be the best small country in the world in which to do business by 2016.
2140 Question 1: Now that we've lost our sovereignty and economic welfare, have any of the parties have any meaningful or tangible reasons why we can survive?
2136 The Frontline Leaders' Debate programme begins.
2131 The five leaders are shown in silhouette in Pat Kenny's Frontline promo.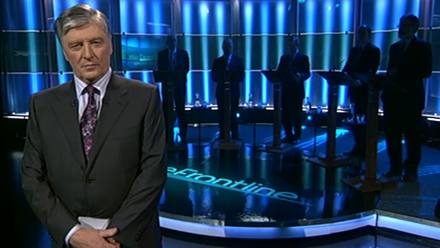 2125 Mr Adams made his journey in a Louth-registered car.
2122 We actually did manage to capture Sinn Féin leader Gerry Adams' entrance. The bluriness suggests he had some pep in his step.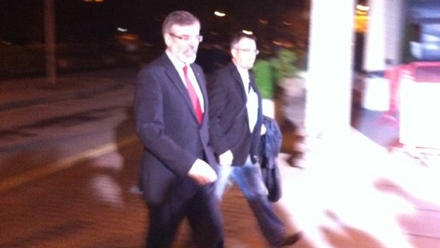 2112 All five leaders have now arrived for the debate. Fianna Fáil leader Micheál Martin accepted the format could squeeze discussion.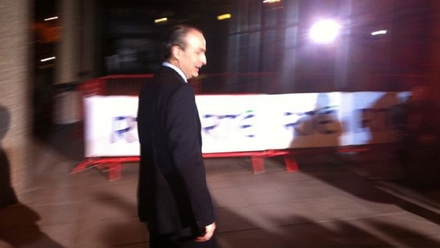 2109 David McCullagh: Micheál Martin said he can think of better ways of spending Valentine's night – and I think most people would probably agree with him.
2108 Fine Gael leader Enda Kenny has made it to RTÉ. John Gormley insisted there was no political significance to the colour of his tie tonight (he's wearing a blue one).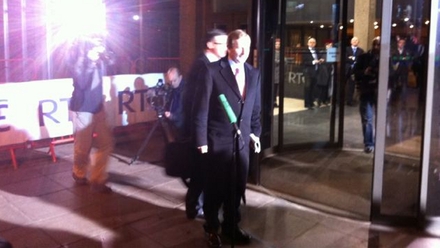 2051 Green Party leader John Gormley is the next to darken the doors at Montrose.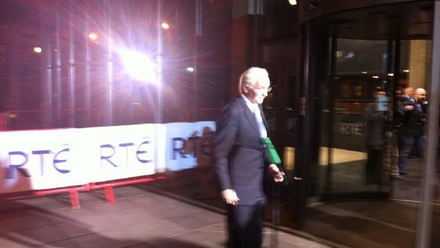 2048 Labour leader Eamon Gilmore has arrived at RTÉ for tonight's debate.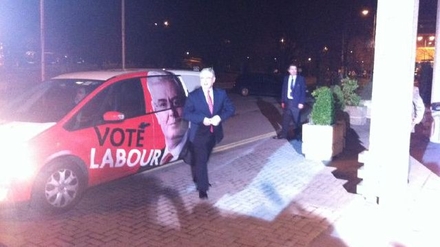 2027 Part One of Charlie Bird's Election Nation begins at 2030.
2013 Tonight's debate will take place in front of a live studio audience of around 140 people.
Six members of the audience will ask pre-selected questions
Final preparations are under way in Studio 4...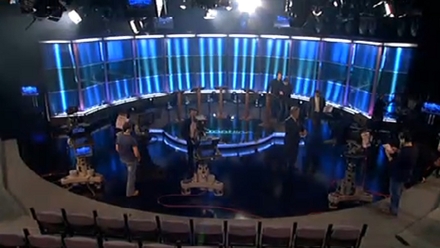 1950 An extended Late Debate tonight after 2300 will feature Brenda Power, Anton Savage and Brian O'Connell discussing the debate and will have Pat O'Mahony on Twitter watch.
1854 Read about the format for tonight's five-way debate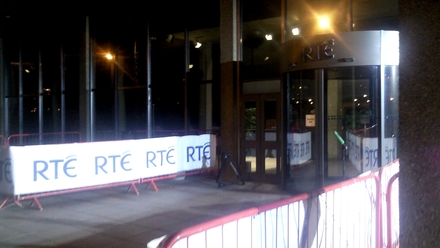 1820 Ireland's interest rate will not reduce 'just by Enda Kenny sitting down and having a chat with Angela Merkel', says Fianna Fáil Deputy Leader Mary Hanafin.
Ireland would like to see a reduced interest rate but 'that will only happen if all of Europe agrees to it'.
1757 Socialist Party MEP Joe Higgins has accused both Fine Gael and Labour of using talk of re-nogotiation of the EU/IMF deal for Ireland as a smokescreen to cover up the fact that they're committed to carry on austerity policies.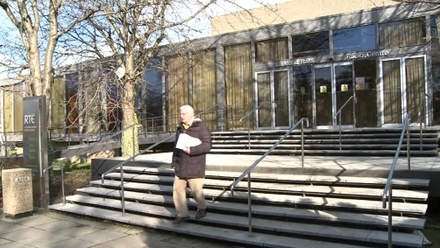 He said he will ask the European Commission President José Manuel Barroso if a re-negotiation of the deal is being contemplated by the Commission.
Mr Higgins said he intended to address Mr Barroso from the floor of the European Parliament in Strasbourg tomorrow.