Follow on Twitter: RTE Elections | RTENews
Live Updates:
1752 Fine Gael has said that it is not prepared to guarantee a 100% reversal of the threatened student nurses pay cut in the course of an election.
The party's health spokesperson James Reilly said to do so would lead to what he called "auction politics" into the future.
He said that while he was sympathetic to the student nurses cause - and would review and resolve the issue if in government - he said they could not have a gun held to their head before the election.
1650 Labour leader Eamon Gilmore has said that he received a severance payment for his period as a Junior Minister, but he said it was for a relatively short period and the amount reflected this.
Mr Gilmore said we are now living in different times and severance arrangements needed to be ended and politicians' pensions needed to be set by an independent body.
When asked if the amount would be similar to the €40,000 severance package which Enda Kenny said he received over three years, Mr Gilmore said he did not think so as he was a Minister of State and not a Cabinet Minister.
The Labour leader also said that by changing the required adjustment from almost €10bn to €7.1bn through renegotiation of the IMF deal, his party hoped to save almost €3bn.

1636 The SDLP has said that Fine Gael should reconsider its Irish language policy.
SDLP MLA Dominic Bradley said the Fine Gael policy to make Irish an optional subject at Leaving Cert level was 'a backward step for the language'.
Mr Bradley referred to an MRBI poll for Comhar na Múinteoirí Gaeilge, which showed that 61% of respondents are in favour of compulsory Irish up to the Leaving Cert.
A Fine Gael spokesman said that while they took Dominic Bradley's comments on board, they completely disagreed with his analysis.
The spokesman said: 'As part of our plans we will, of course, make Irish optional at Leaving Cert level, but this is not the be all and end all of Fine Gael policy.'

1521 Green Party Leader John Gormley has said his party feels it could legislate on the abortion issue. He said he does not feel a further referendum on the issue is needed.
1519 Given proposals the Green Party makes in its manifesto to force parties to have a 40% quota of women on election tickets. Mary White said it was difficult for women to get into politics.
Only 16% of Green Party candidates in this election are women.
Mary White said there are a small number of women candidates, but is only because many women within the party cannot run for one reason or another.
She said the Greens were the only one proposing a candidate quota for women. Mary White said the party has tried very had to increase the number of women running, but she said family and personal circumstances make that difficult. She said that is the 'norm'.
Eamon Ryan said the Green Party spent three-and-a-half years in Government fighting. He said the party was fighting for reform.
He said the party had a range of achievements in Government and ran out of road on many reforms, some of which were significant but would not grab headlines.

1459 Asked about severance for his work as a Minister and his entitlement to a severance payment, John Gormley said all income derived from political activity for Green Party members is subject to a contribution of 20% to the Green Party.
Mr Gormley said he would accept the payment, but would contribute 20% of it to the Green Party and the remaining 80% to a registered charity.
Minister Eamon Ryan said it had not been decided to whom to give the money to but decisions would be made when the money was paid.
He said Trevor Sargent had done a similar thing when he received a payment and had led the way on the issue.

1457 The Green Party, if returned to government, will hold a referendum aimed at creating a new constitution.
The referendum would be to establish a citizen's assembly, which would be tasked with drawing up a new draft constitution.
Launching its manifesto, the party also proposes reducing the number of TDs by more than 25%, from 166 to 120. Half would be elected from a list system, which the party says would ensure smaller parties are represented in proportion to their vote. The party says it would cap the number of Senators at 50.
On the Environment, the party says it would work towards making Ireland an oil-free economy by 2030 by working to foster wind and wave power. It says it would prioritise the passage of the Climate Change Response Bill. It would increase, without delay, levies for landfill and incineration. And it would ensure the rollout of water meters nationwide, with every household given a basic free allowance of water.
Equality initiatives promised in the manifesto include a commitment to introducing same-sex civil marriage.
On the economy, the Green Party reiterates plans outlined earlier this week which aim towards the creation of 100,000 'green' jobs.

1450 Green Party leader John Gormley has said there is a hunger for change in Ireland.
Mr Gormley said saying there is a need for change is easy, delivering it is the hard part.
He added that populist politics has gotten Ireland into the mess it is in.
Mr Gormley said the election campaign so far has been about who sits in the front seat of the car, rather than where we are going.
He said the election is happening because the Green Party made it happen, and that it would be one of the most important elections in the history of the country.
He said the 'cheap promises' that have dominated the campaign so will not deliver the change and reform which Ireland needs.

1446 Taoiseach Brian Cowen has officially opened the former PJ Carroll cigarette factory as the new School of Informatics & Creative Arts in Dundalk Institute of Technology.
Costing €38m, the building houses state of the art equipment and is used by students of creative media, music, computing and arts.
Located on a 45-acre site, the one-time cigarette factory is a listed building and won a number of international awards when it was constructed 40 years ago.
Around 6,200 third and fourth level students attend DKIT.

1440 Enda Kenny says he got a severance payment of around €40,000 when he left the Department of Tourism.
The Fine Gael leader said he wanted 'new rules for new times' and there would be no future severance payments for ministers.

1415 The Green Party says it will reduce the number of TDs in the Dáil from the current 166 to 120, half of which would be elected through a list system.
The party launched its manifesto today and says if in government it will cap State pensions at a rate of no more than twice the average industrial wage or €75,000.
1335 Labour hopes to save €2bn through the renegotiation of IMF/EU rescue package.
'Fine Gael figures don't add up' says Eamon Gilmore, who also accused Fine Gael of trying to bring in a number of stealth taxes such as motor tax and increased water charges.
1330 A growing economy and getting people back to work is the route to recovery for Ireland, the Labour leader says.
1320 This election is a three-way contest and Labour's objective is to lead the next Government, Eamon Gilmore tells RTÉ's News At One.
1220 Campaign Daily is live now on RTÉ One and RTÉ.ie. Guests include Eoin Ó Broin of Sinn Féin and Socialist Party MEP Joe Higgins.
1205 Summary of candidates for Election 2011 is here
1155 Sinn Féin has published its proposals on reform of the taxi industry called 'Fare Play For Taxi Drivers'.
1146 Labour Party publishes its election manifesto in which it promises economic, political and social reform.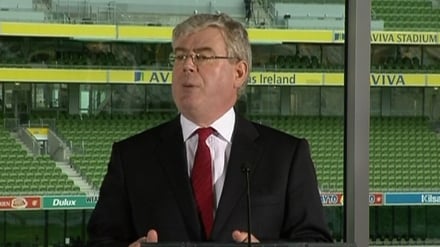 The document outlines how the party intends to hold a referendum on same-sex marriage.
Eamon Gilmore said no other party can or will publish a manifesto that is grounded in economic reality, but is still progressive and modernising.
1144 Fine Gael proposes to set up a €100m fund for new start-up companies if in government.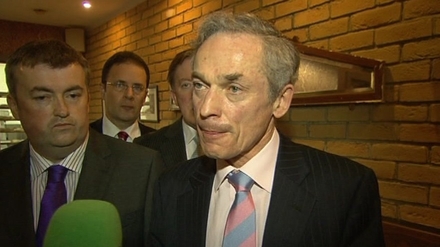 Party spokesman for Enterprise Jobs and Employment Richard Bruton says it would freeze local commercial rates and plans to introduce a temporary partial loan guarantee for businesses which would start getting credit flowing to viable businesses.
1045 Micheál Martin disagrees that he has flip-flopped on the issue of severance pay for ex-ministers - insisting he simply 'had thought about the issue.'
1025 'Problems remaining in the health system can be dealt with by implementing further reforms in the health system,' says Micheál Martin.
Mr Martin was speaking at a news conference in Dublin.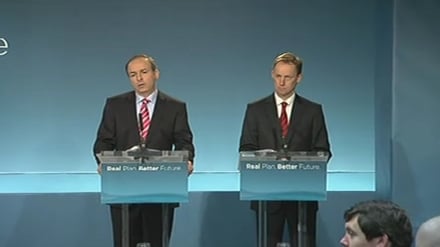 HSE staff numbers will be reduced over the coming years by non-replacement and a recruitment embargo.
He said the Fine Gael and Labour policies on health have no credible costs, will end local services and are all about election promises.

1015 Canvassing in Co Wexford this morning, Fine Gael leader Enda Kenny declared his intention is 'to keep Fianna Fáil out of Government for ten years' because of the damage they have done to the country.
0940 'I have informed colleagues that those who are elected to the 31st Dáil will be required to waive their ministerial severance payments,' Fianna Fáil Leader Micheál Martin.
0925 Fianna Fáil's morning press conference will be streamed live at 10am this morning on RTÉ.ie.
0915 'Brian Lenihan has shown once again that he cannot be trusted on the banks', says Fine Gael Finance Spokesman Michael Noonan.
The comments are in reponse to Mr Lenihan's decision to delay the recapitalisation of the banks.
0902 Morning Ireland is available to watch here
0900 There are now just two weeks to go to polling day and the parties will be out in force again today getting their message across.
The Labour Party and the Green Party are due to launch their manifestos later today.
Fianna Fáil is due to give more details of its health policy, while Fine Gael will be focusing on how it plans to help small businesses.