Events leading up to the crash of the Manx2 flight at Cork Airport
The flight was scheduled to depart from Belfast at 7.50am, according to Manx2.com.
Ten passengers and two crew - a captain and a co-pilot - were onboard the 19-seater Metroliner aircraft.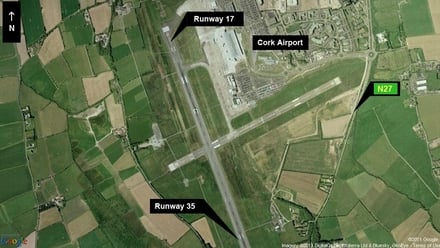 The flight left Belfast at 8.12am, according to the Irish Aviation Authority, and was due to land in Cork at 9.10am.
Weather conditions at Cork Airport were described as Category 2 - low visibility - due to heavy fog.
The plane first attempted to land from a southerly direction on Cork's main runway, known as Runway 17. This was aborted due to low visibility.
The plane then tried to land on the opposite, northerly, approach to the main runway - known as Runway 35. The Aviation Authority says it is believed wind was not a problem, but the pilot was still unhappy with visibility.
The plane went into a holding position for 20 minutes, before making a third attempt to land on the southerly approach to the main runway.
At 9.42am, the plane was ten miles out from the airport.
Minutes later, the plane landed at what is called the 'western threshold' of the runway. Eye witnesses reported hearing a loud bang.
Investigations
The Air Accident Unit of Department of Transport - an independent body which will publish all its findings - will now investigate the crash.
These investigations are carried out under Annex 13 of Chicago Convention, an internationally recognised treaty which ensures all assessments are conducted in the same way.
There are two categories:
First it will examine the physical condition of aircraft, qualifications of the crew, Air Traffic Control and the physical condition of airfield.
It will also examine what are called operating conditions - like the weather and whether correct decisions were taken by both the plane's crew and those assisting.
It is expected that the initial report will not be published for six months.