Follow on Twitter: RTE Elections | RTENews
Live Updates:

2255 Joe Mag Raollaigh has been getting up close and personal with the country's improved road network. Read his blog.
2146 Since its foundation in 1926, Fianna Fáil has always fielded enough candidates to give a majority in the Dáil if they were all elected.
The last time Fine Gael had more General Election candidates than Fianna Fáil was in 1969, when they had 125 compared to 122.
Before that, you have to go back to 1927 to find an election where Cumann na nGaedheal (forerunner of Fianna Fáil) had more candidates - 97 to 87 in June 1927, and 89 to 88 in September 1927.
It is also the highest recorded level of Independent and minor party candidates - the next highest was in 1992, when there were 186 recorded under 'Other' in the official results, made up of 103 Independents, 5 Christian Centrist, 19 Green, 41 Sinn Féin, and 18 Worker's Party.

2030 'We'd attended a most unusual event in Bray. It was speed dating - for elections,' Richard Dowling has had an interesting couple of days following Sinn Féin leader Gerry Adams.
1810 The total number of people on the electoral register 2011/2012 is 3,161,854. This compares to 3,066,517 on the register in 2007 - a rise of 95,337.
These recent figures do not include additions to the Supplementary Register.


1716 Bryan Dobson: Brian Lenihan & Michael Noonan live on Six One News speaking about IMF review of bailout & bank recapitalisation plan.
1700 New Vision, a new political group of independents, is fielding 19 candidates in the election.
Two of the contenders are sons of former Fianna Fail Minister Neil Blaney, while Luke 'Ming' Flanagan is also running in Roscommon.
The new vision candidates only got together nine days ago and say they have no money but are determined to change the Irish political landscape.
The new grouping is entirely different from Fís Nua, a registered political party. New Vision says if public anger translates into votes, it is bound to get people elected.
1649 Caoimhghín Ó Caoláin has expressed support for the student nurses who are protesting against pay cuts.
'We have repeatedly criticised and called for reversals of the savage health cuts of the Fianna Fáil/Green Party government'
1524 It would appear that last night's 'heckling at Enda Kenny's event in Carrick-on-Shannon was all a prank from a certain 'Cllr Terry Ghusto'.
Ghusto later addressed the FG meeting to apologise for the behaviour of his 'brother-in-law.'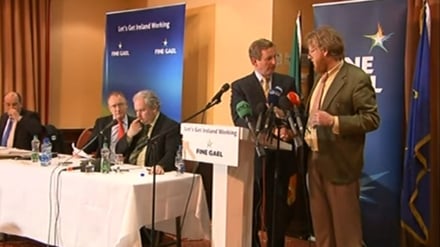 Ghusto says 'Bobby' (below) has taken the rest of the week off as his campaign manager..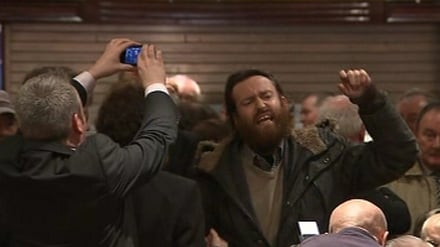 Some nice research on Broadsheet.ie and Politics.ie
1351 In Sligo this afternoon, Enda Kenny reiterated that Fine Gael would not give any more money to Anglo Irish Bank.
He was responding to reports that the banking sector may need an injection of another €15 billion.
1337 Eamon Gilmore also went face to face with students - in Dunboyne...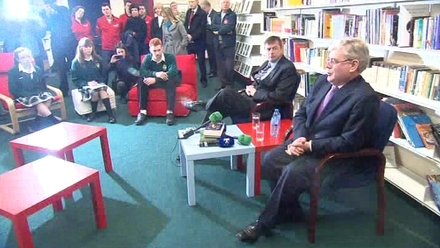 1333 Enda Kenny went back to school this morning in Co Mayo...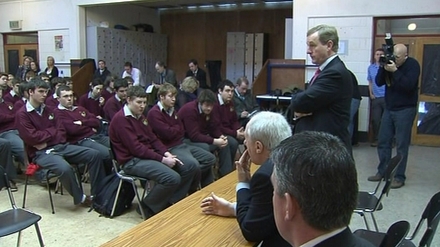 1331 The son of Neil T Blaney is to stand in Donegal North East as an Independant candidate. He is 40-year-old IT Consultant Dara Blaney.


1326 Brian Dowling: Since 1927 Fianna Fáil has had at least one seat in every single constituency. Even the best estimates at this stage say Fianna Fáil would do remarkably well to get a number of seats in the mid 30s.
It is a big ask for anyone to win an overall majority.. but if Fine Gael get momentum they could come very, very close.


1312 David McCullagh: No surprise that Fine Gael and Labour have an increased number of candidates this year.
I think for the first time in a long time, Fianna Fáil don't have enough candidates running to give them a majority in the Dáil if elected.
1311 Brian Dowling speaks about the closing of nominations for Election 2011 - News At One live webcam

1310 Over 470 candidates are contesting the election.
Fianna Fáil has 75 candidates, down from a total of 106 in 2007.
Fine Gael has 104 candidates, up from 91 in 2007. Labour is fielding 68 candidates, up from 50 in 2007.
The Greens are running 43 candidates, while Sinn Féin is running 41 candidates - the same number of candidates as 2007.
There is a very high number of other parties and independent candidates this year. There are at least 170 independents and others.
1254 Labour's Eamon Gilmore has said he will not be changing tactics or adopting a more aggressive approach for the next leaders' debate.
He said he was happy with last night's performance but added that no one is going into a polling station and biting their pencils wondering who has the best debating tactics.
He said most people would be voting on issues such as jobs and emigration.

1253 No time for Fianna Fáil leader Micheál Martin to take a drink on the campaign trail: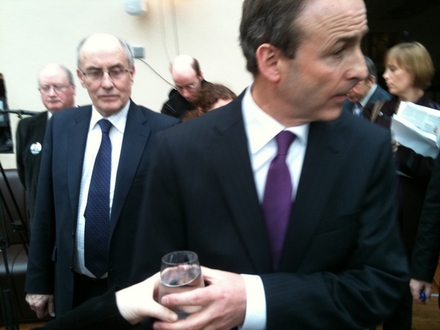 1229 'Leo Varadkar has a brass neck in passing negative comment on last night's leaders debate given Enda Kenny's position as the undisputed 'Mr No Show' of Irish politics' - John Curran
1223 Enda Kenny lodging his nomination papers a short time ago (Nominations for candidates seeking to run in the election closed at midday)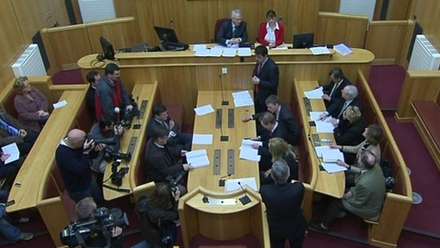 1222 Fianna Fáil says it will extend the Section 481 Film Investment Relief to 2016 if returned to Government.
Launching the FF Tourism Strategy Micheál Martin said the move would grow the number of direct and indirect jobs in the sector.
1209 According to a blog on TV3's website last night's election debate 'attracted an average of 411,000 viewers'.
1203 Roisin Shortall: 'What was remarkable about Micheál Martin's performance on last night's debate was his attempt to reinvent himself. '
1154 Fine Gael's Fergus O'Dowd said that we have got to stop the boat going off with our kids in it and we have to make sure that every possible thing they can do to keep them here is done.
1151 Fergal Keane: Labour says literacy rates have not improved in ten years. Primary schools need to spend 90 minutes a day on literacy in all classes...
1145 'We believe that access to third level should be free' - Ruairi Quinn
1139 'This is about enabling children in a modern society - they cannot do that if they do not learn to read' - Ruairi Quinn
1135 Live now: Labour News Conference
1129 Last night was 'a B-team debate' says Varadkar.
'I was canvassing last night and I was surprised when knocking on doors - most people weren't even watching it.'
1125 Leo Varadkar said the cost of the FG proposals would be around €177 million.
Admitting that this might seem low, he said part of it would be funded by welfare substitution, as a proportion of those affected would otherwise be on welfare.


1121 David McCullagh: Leo Varadkar started FG news conference by admitting he probably shouldn't be in politics as he's 'not really a people person!'
1118 90,000 people went on FÁS courses last year ... 37,000 ended up literally nowhere' - Fergus O'Dowd
Varadkar says FG plans include 23,000 internship places for unemployed graduates; 17,000 second chance education places for former retail and construction workers; 5,000 new Community Enterprise places; 700 work placements for apprentices to allow them complete their courses; and an overhauled FÁS.

1113 Fergal Keane: Labour presser catering report. HOT coffee, first of the week. Homemade cookies. 8 out of 10. Marks lost for Gilmore mugs.
1111 Leo Varadkar opens the FG morning briefing with a clip of Mary Coughlan - emigration is the topic Fine Gael will be focusing on today.
He talks about a 'GAA generation' emigrating from Ireland.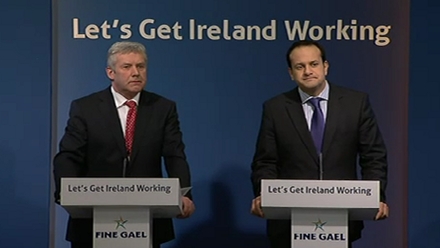 1110 Live now: Fine Gael News Conference
1100 John Gormley says he didn't watch the TV3 debate last night.
He said he had been excluded from participating by Fianna Fáil and Labour.
'In future debates I hoped all parties will be able to put forward their views, otherwise it is censorship.'

1041 Emma O Kelly: Outlining its finance plans, the Green Party said that in any new government it would ensure that there are no increases in income tax or cuts to social welfare rates over the next three years.
Party spokesperson Dan Boyle criticised Fine Gael and Labour Party for a 'dishonest and cavalier' attitude to Irish voters. He said their numbers simply did not add up.
The Green Party proposals include savings of €1bn in the public sector pay and pensions bill over the next three years, a cut of over €2bn in current non-pay costs, and cuts of €1.75bn in capital spending.
It also proposes raising an additional €3.204bn in taxation.

1030 Michael Noonan has told Today with Pat Kenny the regret in Limerick City is that there are five hard working TDs there and one is going to lose out.
On the same programme, Jan O'Sullivan said that she thinks The Labour Party can win two seats in Limerick City. Willie O'Dea has said that the Fianna Fáil brand isn't what it was.
1000 Fine Gael news conference at 11am, and Labour Party news conference at 11.30am. Both will be streamed live here.
0852 Sinn Féin's Aengus Ó Snodaigh will launch his party's proposals for community safety and combating crime.
He will be joined by Sinn Féin election candidates Larry O'Toole, Helen McCormack and Paul Donnelly.
The launch is set to take place at the Department of Justice at midday.
0830 Speaking on Morning Ireland, Irish Independent's Fionnan Sheahan said Eamon Gilmore missed chances at criticising Micheál Martin's record.
He also said people want to have a look at any prospective leader as the new Taoiseach will have to hit the ground running, and this could have hurt Enda Kenny's support.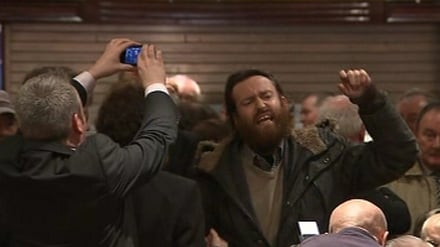 0715 David McCullagh: Enda Kenny spent much of last night being shouted at by an angry man (it has subsequently emerged it was a prank), but at least it wasn't Vincent Browne and it wasn't live on TV' (It was live online).