Follow on Twitter: RTE Elections | RTENews
Live updates:
2027 Teresa Mannion profiles some of the 16 candidates seeking to win one of the five seats up for grabs in Galway West.

2015 Paschal Sheehy presents profiles of the the three Cork County constituencies, with Dr Theresa Reidy, Lecturer in the Department of Government at University College Cork, and Mary Smithwick, Political Editor, Cork Evening Echo, offering their opinions on the outcome.

1924 Joe Mag Raollaigh: The gloves may be off in the election campaign but in Cork, Michéal Martin was donning them in the Glen Boxing Club in Blackpool.
This was a photo op only however; he wouldn't lay into the punchbag, even when the cameramen told him to imagine it was Enda Kenny!
When he got in the ring with one of the clubs young boxers he pulled his punches as well, which was probably the best choice, as the leader of Fianna Fáil hitting a young lad might not go down so well! Full blog here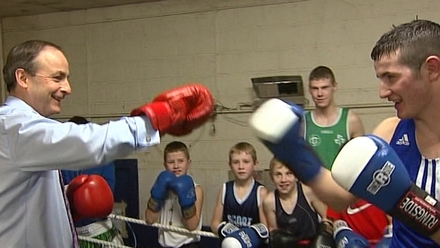 1913 Fine Gael has strongly criticised Mary Coughlan, describing her comments that Fine Gael are flip-flopping on its Irish language policy as 'pathetic'.
Minister Coughlan made her comments after Fine Gael said it would consult stakeholders before the introduction of Irish as an optional subject.
A Fine Gael spokesman said: 'We have long known that she has no ideas, today she confirmed it.'
Fine Gael is in favour of ending compulsory Irish after Junior Cert, but confirmed that they will consult with all stakeholders before the introduction of Irish as an optional subject.
Coughlan said earlier that 'it is now time for Enda Kenny to stop worrying about saving face and to abandon this wrongheaded and dangerous policy on the Irish language.'


1841 Drivetime: Philip Boucher Hayes has has assembled a panel of floating voters to see what factors will influence their decisions in Election 2011.
Every Friday in the campaign, Drivetime will hear how their views are changing or hardening. Listen here
1825 A spokesman for the Labour party has said that it has accepted proposals from RTÉ and TV3 to participate in debates featuring the party leaders.
The spokesman said it has agreed to a three-way debate and a five-way debate on RTE.
Labour says it has also agreed to a three-way debate on TV3 and a five-way debate organised by TV3 and Sky.

1819 Richard Dowling: A comfortable pair of walking shoes … that was his first request of the day. Having discovered that his old shoes were leaking, the Sinn Féin President's first stop of the day was to a shoe shop.
He didn't spend too long picking out a new pair and then off on the canvass. Accompanied by outgoing TD Arthur Morgan and several television crews, we were brought to Riverside Crescent on the northside of the town.
The reception on the doorsteps was pretty positive… a couple of kisses from women and several offers of cups of tea – all of which were politely declined.
1810 TV3 says it is is 'disappointed' by Fine Gael's decision not to take part in its debate hosted by Vincent Browne and Ursula Halligan.
'The leaders of Fianna Fáil and the Labour Party have already confirmed that they will take part in the programme.'
'We would also wish to extend a standing invite to Deputy Enda Kenny to participate in next Tuesday's programme.'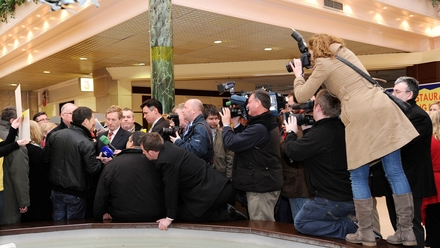 1804 'I am frankly amazed by the behaviour of Enda Kenny in relation my call for a series of meaningful debates between party leaders. After nine days of a constantly changing series of excuses he has now withdrawn from next week's first debate' - Micheál Martin
1749 In the last few minutes a party spokesman reiterated Enda Kenny's objections to any involvement by Vincent Browne in the debates - citing difficulties in the relationship between the broadcaster and the party leader.
1743 Fine Gael says it is finalising plans for a five way leaders' debate on RTÉ.
The party has also proposed a three-way debate between Fine Gael, Labour and Fianna Fáil, 'providing the programme can be broadcast on both RTE and TV3.'

1729 Green Party Senator Dan Boyle has pitched for a role in government after the election - saying his party could be a bridge-builder between Fine Gael and Labour in any rainbow coalition.
The 48 year old Senator, who was launching his campaign to try and regain the Dáil seat he lost in 2007, said there are too many inconsistencies in policy existing between Fine Gael and Labour and perhaps the Greens could help marry these inconsistencies as a bridge-builder.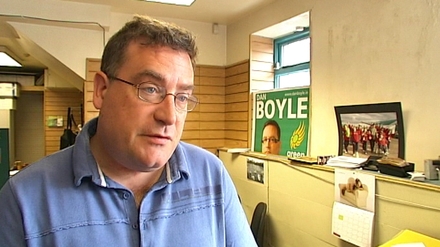 1649 Micheal Martin has been canvassing in Fermoy in north Cork, visiting local shops and businesses and greeting people on the streets.
'The canvass nationally is going very well but the environment is challenging.'
Regarding the Fine Gael mortgage relief plan for those with negative equity - 'we will have to wait for details but the Government already brought in some schemes to help those with mortgage difficulties.'
1644 Sinn Féin would support a Labour minority government if they could agree a programme for reform.
Speaking in Dundalk, Gerry Adams ruled out support for either Fianna Fil or Fine Gael - 'this is the first opportunity the country had to have a government controlled by neither party.'
He said he understood why Labour did not want to deal with his party because 'they are trying to gain middle class votes.'
Adams said they believe that 'being soft' on the Sinn Féin issue could frighten away some voters.

1633 Martina Fitzgerald: Day three on the campaign trail with the Labour leader in Kerry and there's only one issue - jobs, jobs, jobs.
1631 'Enda Kenny's refusal to participate in a debate involving Vincent Browne shows either the most incredible political arrogance or cowardice.
'On what basis does Enda Kenny believe he has the right to dictate who conducts an independent debate?' - Barry Andrews (Fianna Fáil)
'If the Fine Gael leader can't cope with a robust television journalist, how can he ask the people to have faith in his ability to cope with a real crisis? '

1626 Further to Enda Kenny's remarks, The Broadcasting Authority of Ireland says a complaint about the Vincent Browne comment has not been upheld.
Rachel Wright, speaking on behalf of the group Headline, had said comments made by Vincent Browne were insensitive and likely to cause harm and distress.
In response, TV3 said the comment was made in 'a flippant and glib manner,' however it understood the comment could have been viewed as offensive.
The station said Mr Browne offered a full and unreserved apology to viewers for any distress caused and wrote personally to Mr Kenny to express regret.
The compliance committee of the BAI said the swift action taken by the broadcaster sufficiently remedied the matter and that the complaint was resolved.
1625 'I will say to Vincent Browne directly I have been in hundreds of homes across the country where the tragedy of suicide has inflicted pain and stress and deep tragedy on families,' - Enda Kenny

1528 David Davin-Power: Sinn Féin is proposing to replace the Universal Social Charge with a third rate of income tax.
Aengus Ó Snodaigh said this afternoon the new rate of 48% on individual incomes over €100,000 would raise enough to compensate for the revenue raised by the charge - which he described as unjust and regressive.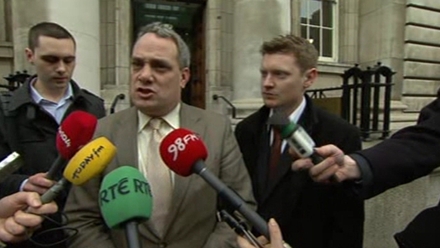 1515 'I wil not participate in any programme that Vincent Browne has anything to do with,' says Enda Kenny
Mr Kenny criticised Vincent Browne over comments he had made in regard to suicide - but said this would have no impact on his relationship with TV3, or other proposals it may wish to make.
Canvassing in Roscrea this afternoon, Kenny said he hoped the issue of a Leaders' Debate will be 'finalised' by this evening.
His officials are currently in discussions with the broadcasters in regard to the debate, including his proposal for a debate including all five main party leaders.


1455 David McCullagh: Black mark for the Sinn Féin PR machine! A news release emailed at 1439 in the name of Finance spokesperson Pearse Doherty called for support for mortgage holders in the light of rising interest rates.
But obviously the statement was drafted before they decided to put Pearse's name on it.
The first paragraph attributes the statement to an unspecified 'Sinn Féin candidate/TD', and later on quotes the previously unknown Sinn Féiner 'Joe/Jane Bloggs'.
Read them before you send them, guys, and remember to fill in the proper name!
1414 Willie O'Dea has accused Fine Gael of 'auction politics' after it highlighted plans to increase mortgage interest relief for people who bought homes between 2004 and 2008.
He accused Michael Noonan of trying to 'buy the votes of people under duress'.
'It's an uncosted gimmick designed to exploit the very real concerns of people who face troubles because of their mortgages.'
Mr O'Dea said the idea smacked of Fine Gael's proposals in 2002 to compensate Eircom shareholders and taxi drivers.


1333 Bryan Dobson: On Six One News this evening... Election 2011, live from Galway West with candidates and issues
1325 New Vision, a grouping of like-minded independent candidates, discussing economy & political system on RTÉ News At One now.

1318 David McCullagh: The Fine Gael proposal is to increase mortgage interest relief to 30% for people who bought homes for the first time between 2004 and 2008.
At the moment, there is a sliding scale of 20% to 25%, depending on the year the mortgage was taken out.
The cost of €120 million is to be financed in part by bringing forward the abolition of relief for new buyers to June 2011.
1308 If in in Government People Before Profit says it would tax the incomes of those individuals earning more than €100,000 at 70%.
1250 People Before Profit says the overall United Left Alliance will hopefully be looking at 'eight or nine seats on a good day.'
Richard Boyd Barrett said it could range anywhere between five and nine.
He said that there was clearly a surge of support for the Alliance across the country - the only thing against it was time.

1241 Labour has now given its view on the comments by Jean Claude Trichet - Eamon Gilmore says 'Mr Trichet is an important European civil servant and any civil servant will always stick to the plan that is there.'
He claimed Trichet would also stick to the plan when its renegotiated.
1237 What do you think? Campaign Daily wants to hear from you

1235 Ray Kennedy: Enda Kenny is claiming that 'it's now perfectly clear a process of re-negotiation is commencing' on the EU/IMF rescue deal.
Speaking in Co Laois, Mr Kenny was responding to comments by ECB chief Jean Claude Trichet that the deal could could not be altered.
Mr.Kenny said it was obvious from the statements of Mr Trichet that what he said amounted to his 'starting position.'
1230 Richard Boyd Barrett of the People Before Profit Alliance is looking forward to the likelihood of Fianna Fáil and the Greens 'being politically decimated for the damage that they have done to this country'
He also accused Fine Gael and Labour of being 'phoney' in their talk of renegotiation of the IMF deal - and he said that all they were really planning to do was spread the pain of the austerity measures over a longer period.


1227 David Davin-Power: This campaign has been devoid of election promises up to now and it fell to Michael Noonan to make the first - pledging to grant extra mortgage relief for those who bought houses between 2004 and 2008 at the height of what he called the madness of the property boom.
Mr Noonan said the cost of the relief would be fully accounted for in his party's detailed economic plan.
Over at Fianna Fáil HQ, Micheál Martin said parties like Labour who claimed they could thump the table in Europe and renegotiate the EU IMF deal were talking nonsense.
He appealed again for a new type of campaign which saw parties dealing honestly with the public.
Responding, Ruairi Quinn said Labour was not saying it would go back and unilaterally tear up the deal, conceding that some aspects of it were not negotiable
1225 How is social media affecting the election campaign?
1215 Brian Dowling tells Campaign Daily that while Fianna Fáil has told the Opposition that a broad renegotiation of the EU/IMF rescue package is not possible, it is taking part in ongoing negotiations on certain packages.
1200 Live now: Campaign Daily
1154 Quinn said the EU/IMF deal is not going to work.
'That is not a political position but a realistic economic one.'
He said Labour has a better call on that issue than either Fine Gael or Fianna Fail.
1152 Commenting on the renegotiation of the EU IMF deal, Ruairi Quinn said Ireland's ability to perform and trade its way out of the current crisis is something all EU member states have an interest in.
'Labour is not saying it will go back and unilaterally tear up the deal ... some aspects of the deal are not negotiable.'
Labour would be 'putting down a marker' at the next council of Ministers saying that the deal needs to be looked at.
1143 'Certainty is needed for people making investments in the green area,' says Labour.
'Climate change law and geo thermal legislation will help those willing to develop the natural resources which exist in Ireland.'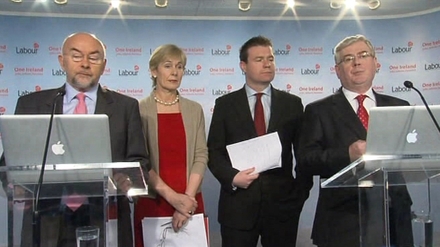 1141 Labour says its policy document will ensure Ireland can avail of job creation through green initiatives.
The party says 30,000 construction workers can be put back to work through retrofitting of housing stock that is substandard.
'the Government structure needed to grow the industry easily and efficiently do not exist,' says Liz McManus.
1139 Liz McManus and Ruairi Quinn are revealing Labour's plan for green jobs.

1134 Bryan Dobson: Campaign Daily live at midday - report on election & social media with tweeting TD's Simon Coveney, Chris Andrews & Ciaran Cuffe live in studio.
1134 'NAMA is not working, but it is so complicated, dealing with it is like unscrambling an egg' - Michael Noonan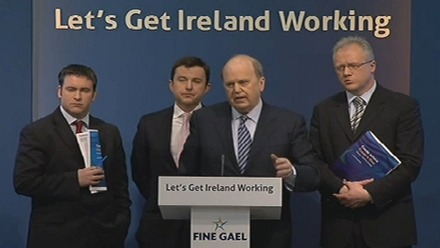 1133 Fine Gael says its Mortgage Interest Relief scheme would cost €120 million, which would be accounted for in its fiscal strategy which will be published next week.
It will be directed at those who purchased between 2004 and 2008.
1132 Labour's news conference has just begun. You can watch it here
1124 Noonan said Fine Gael opposed the decision to transfer all loans worth between €5 and €20 million from AIB, Bank of Irleand and EBS to NAMA.
This decision was part of the bail-out deal agreed with the IMF and EU.
Mr Noonan claimed that this move was crystallising debt very rapidly, and reducing the value of the banks if they had to be sold.

1117 David McCullagh: Noonan is attacking the 'shambles' the Government has made of the banking system, saying it would be hard to imagine a greater fiasco.
Under the plan, within Fine Gael's first 100 days in Government, all banks will be asked to come up with plans to cut their costs; Anglo Irish Bank and Irish Nationwide would be shut down by the end of the year, with their remaining assets transferred to NAMA.
And bond holders would be made share the debts of insolvent financial institutions.
1111 Fine Gael's Michael Noonan is revealing the Fine Gael policy to bring Ireland's banking sector 'back from the brink' and stimulate economic recovery.
FG proposes 'increasing mortgage interest relief for the negative equity generation' - Noonan says this will generate €166 a month

1106 Fine Gael campaign news conference due to begin shortly. Watch here
1050 At the end of the Fianna Fáil morning election news conference, Mary Hanafin was asked about the possibility of a debate being proposed between female politicians.
Hanafin questioned holding a debate between women 'simply because they are women.'
'I would welcome a debate between deputy leaders.'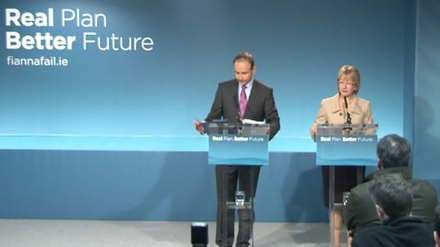 1046 Asked why a political donation from Owen O'Callaghan of IR£5,000 ended up in his wife's bank account - Michael Martin said there is no issue about the matter and the funds were spent on the election campaign within weeks.
1042 Micheál Martin was asked to address allegations about political donations he received from developer Owen O'Callaghan - he said contributions were used to fund the political operation of the 1991 local elections.
He said there is no question in relation to his integrity or the funding of his campaigns and 'the suggestion has never been made.'
'There was never a suggestion of any impropriety about donations I received from developer Owen O'Callaghan.'
Martin said he had given 'very comprehensive' evidence including documentary evidence to a Tribunal about the issues involved.
1036 Micheál Martin says Ireland's funding problems are nothing to do with last year's EU/IMF deal..

1033 Joe Mag Raoillagh looks back on the second second day on the campaign trail with the Fianna Fáil leader.
1030 On the question of whether the banking aspect of the EU/IMF deal could be renegotiated, Mr Martin said it is in the interest of the Eurozone that not only the Irish but the European situation is addressed.
He said it is clear that an individual approach from one ountry is not on the table, he said discussion about debt resolution mechanisms is on the table, but he said saying 'it's our way or Frankfurt's way' is not the way forward.

1023 'There is growing confusion about what needs to be done about the budget deficit.' says Micheál Martin.
'The more people listen to the debate in politics the more confused they get.'
1015 Fianna Fáil news conference from the party's election media centre in Dublin is due to begin shortly.
Micheál Martin and Mary Hanafin are expected to discuss the economic cases being made by the political parties during the campaign
0955 Watch live news conferences from Fine Gael, Fianna Fáil and Labour from 10am
0817 A draft of the Fine Gael policy on the Irish Language to be included in the partys election manifesto says it is committed to overhauling the way in which Irish is taught at primary and second levels of education.