How many ways can you completely sink a press trip?
I'm speaking from experience when I tell you: many.
Top of the list, however, is losing your phone on an island of 2,000 people and having half the local police force search for it while your next interviewee looks on laughing, only to find it bobbing in the public toilet.
Even better is if you've promised your plus one – a friend home from working abroad for four and a half years – that it'll be a suuuuper chill trip. If you want to really tank it, get so horrifically sunburned you resemble the Galway flag.
This was my three-day stint in Galway and the Aran Islands, where the exceedingly kind locals and passionate food producers, tour guides and hospitality workers made it one of the most memorable trips I've been on in years.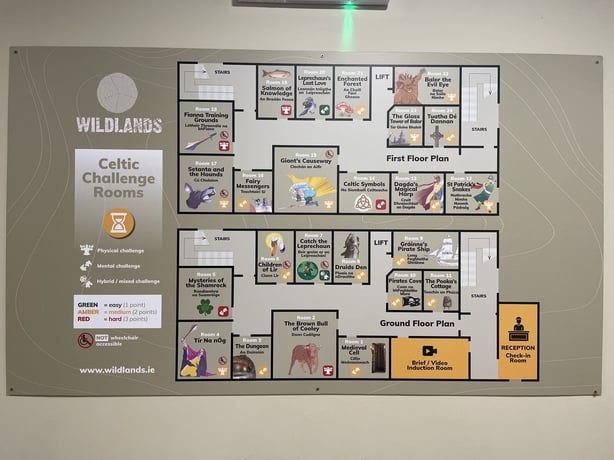 We begin, as with every cursed travel story, with a missed train. Despite delaying our arrival into Galway City by two hours, once there we were whisked to Wildlands, an indoor and outdoor adventure park ten minutes' drive from the station.
First up were the Celtic challenge rooms, a series of puzzle-focused escape rooms inspired by traditional Celtic myths. One pass gives you just 90 minutes to enter and escape as many of the 24 rooms as you can. Graded from easy to hard and covering mental tasks, physical tasks and a blend of the two, you're not long working up a sweat from sheer effort.
Fresh off a delayed train, you can only imagine how bamboozled we were but we quickly got the hang of it. For two friends who hadn't seen each other since college, either, it was an adorable return to shenanigans and we racked up a not-too-shabby 17 points.
Our hiccup-free streak wasn't as impressive, however, as we were onto the Zip n' Trek, a thrilling assortment of four zip line and obstacle courses set 15 metres in the air.
It was here that I foolishly let my guard down.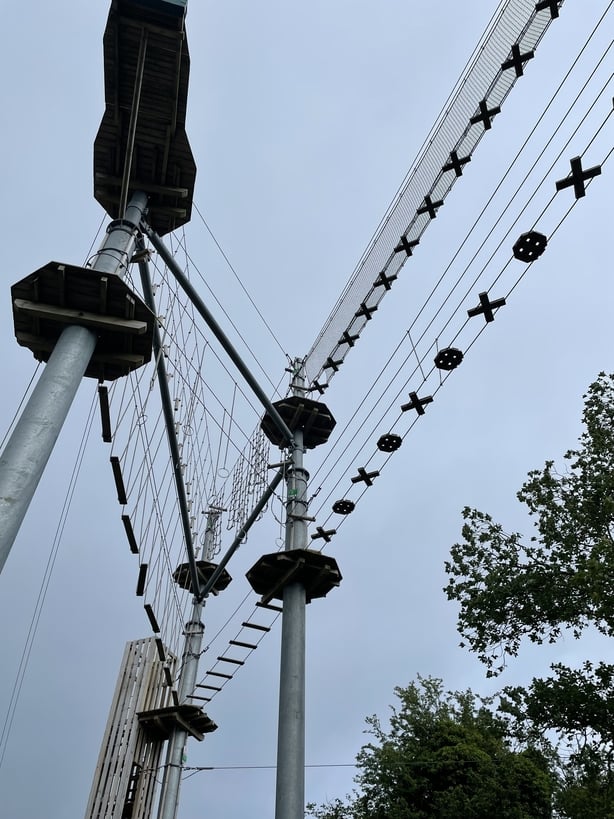 Raised on Tomb Raider, and with the calm reassurance of the instructors, I threw myself into the challenges, fearlessly zig-zagging my way over wires and balance beams. Having a great time, in my imagined element.
There I was, zipping through the trees, finally in my Lara Croft era when – on the second last zip line – I quite literally got ahead of myself by firing so fast down the line that I jerked backwards to the halfway point.
It was while moving backwards that I heard, in slow motion, our instructor's voice telling us earlier not to touch the white ropes along the zip lines unless you're stuck and not in motion, the piece of information ding-dinging like a hint in a video game.
Hilariously, I had fired back beyond the white ropes and was well and truly stuck and no longer in motion.
A few aggressive shimmies along the line eventually brought me close enough to grab the rope and pull myself to an embarrassing landing, before our last zip to a thrilling and mucky finish point.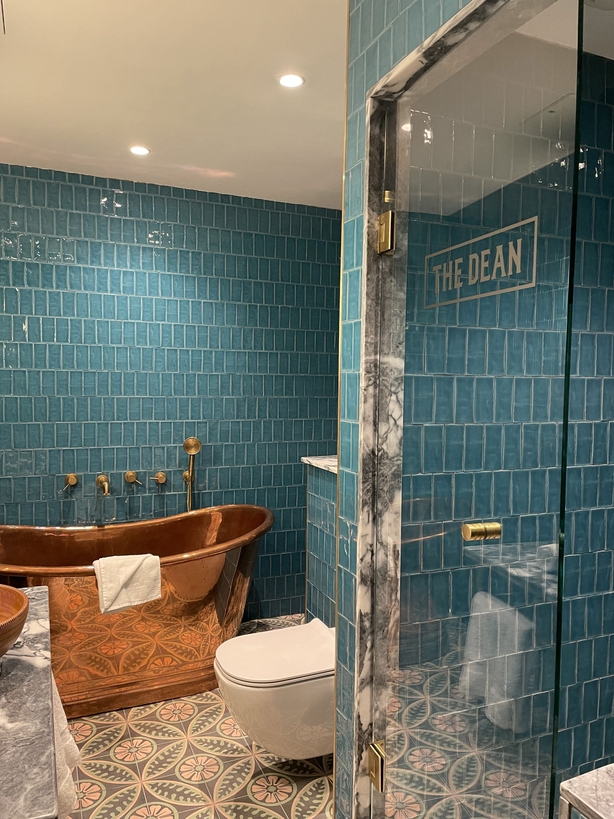 We headed back to the city to the newly opened The Dean hotel, a few minutes' walk from Eyre Square, which would be our home for the night.
After a quick costume change and a few minutes oohing and aahing over the brass bath, we headed to dinner in the hotel's Sophie's Restaurant & Rooftop Terrace. We went for the bacon and gruyere croquettes, split pea and bacon soup, Iberico pork with chimichurri and sirloin steak.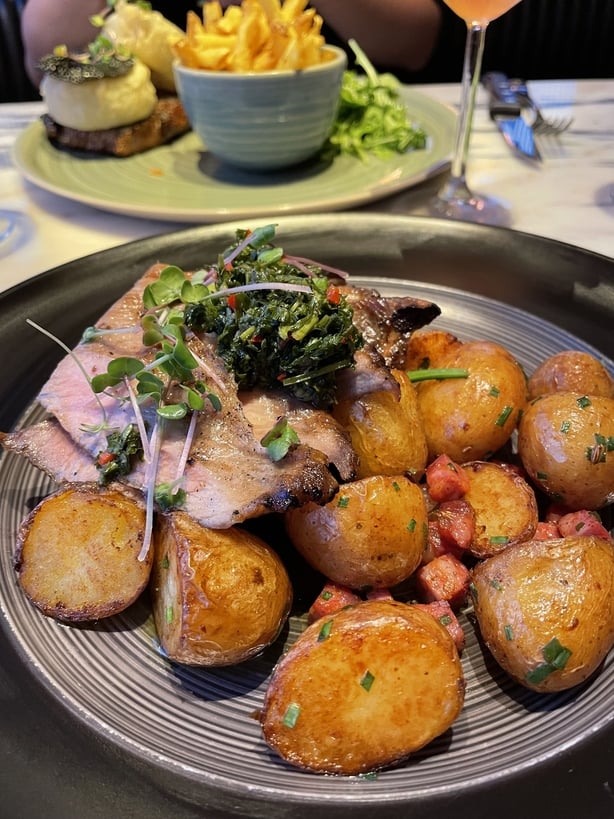 We followed this up with a nightcap in The Skeff on Eyre Square where, just to add to the calamitous vibe, we were ID'd for the first time in years and my friends' skirt ripped completely up the back.
Anyway, the next morning we set off bright and early for the ferry to Inis Mór, where we'd be staying for that night. We travelled with Aran Island Ferries, an award-winning family-run business which operates year round across all three of the islands.
A suspiciously calm and stress-free ferry ride brought us to the island in just 90 minutes, where we were met by Clodagh Gill, the owner of Ard Einne House, who kindly picked us up and gave us a whistle-stop tour of the island. On our way, we passed the three bike depots that would later come to be my own Dickensian ghostly tormentors.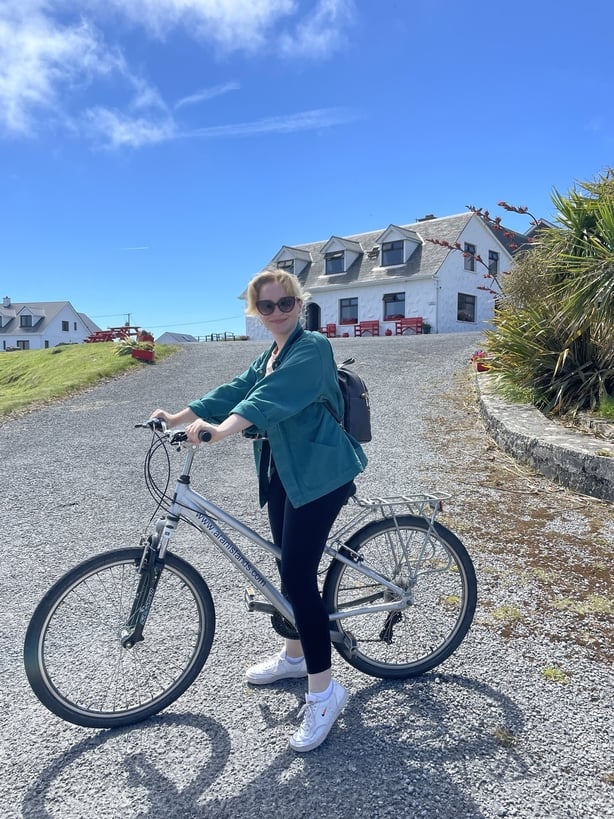 Once settled into our charming and cosy guesthouse we prepared to explore the island by bike, with a casual plan fleshed out for us by Clodagh. "Lots of sun cream and runners", Clodagh told us, that nugget of advice ding-dinging its way to the back of my mind.
With some SPF on my face, we set off exploring, hitting up the bustling village first, then onto the Black Fort – a dramatic cliff-side fort set amidst a sprawling rugged limestone landscape and overlooking the crashing waves of the Atlantic Ocean.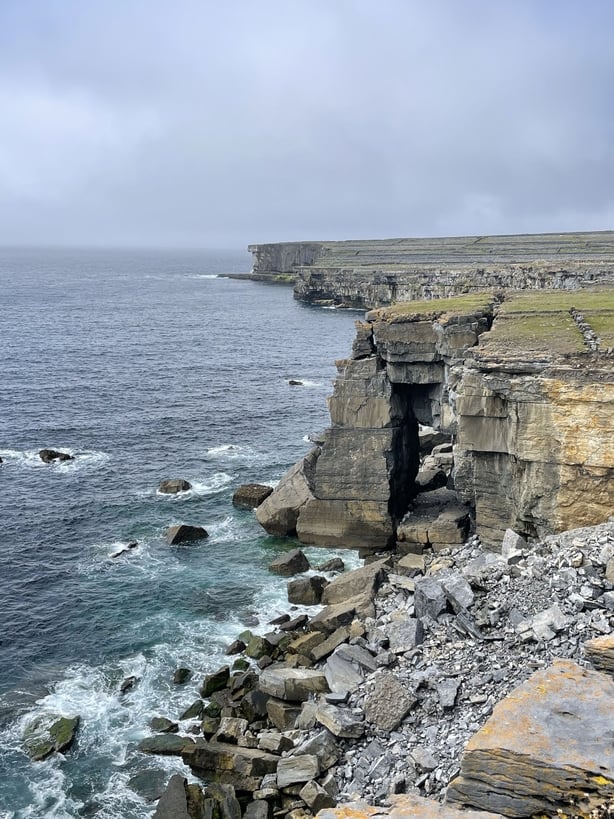 A lesser known site than the nearby Dún Aonghasa, its enclosed stone structure provides a serene cover from the wind, making it a peaceful spot to sit and take in the sights, or have a picnic, like ours which was packed by Clodagh.
Next, we hiked to St. Benan's Church, reportedly the smallest church in Europe, which overlooks the island. We finished our mini expedition with a trip to the eastern edge of the island where we watched the last plane take off from the airport and planned to meet our next contact, Gabriel Flaherty of Aran Islands Goat Cheese.
This is when I complete my transformation into island menace.
Not knowing which depot to drop our bikes off at, we Goldilocks our way through all of them before finding the correct one and nipping to the public toilets to change for dinner. Then, I realise I've lost my phone.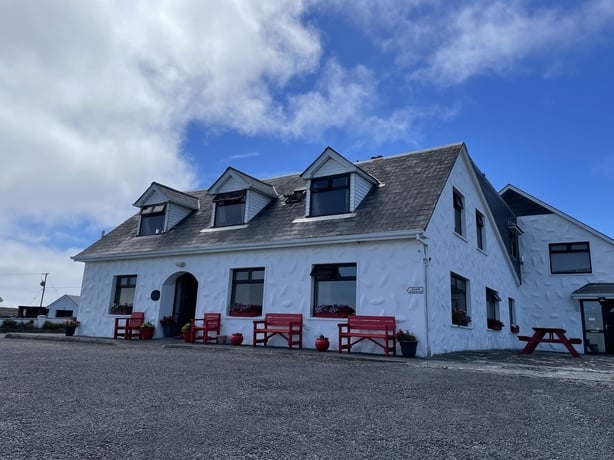 We tear out to scour the streets between the three depots, completing that loop at least 17 times. Someone suggests calling the Gards to report the missing phone, immediately after which one of two Gardaí on the island is recruited into searching for said missing phone.
The incredibly patient and helpful Garda suggests using Find my iPhone, which we do, which tells us it's on the beach, prompting me to interrogate everyone on said beach.
Amidst this Gabriel arrives, watching this pantomime in utter bemusement.
Just as I'm accepting my fate, one of my new beach friends runs up alerting us that his wife has found a phone in the public toilets, and that she doesn't want to fish it out because it's "gross". I'm sprinting so fast to the loos I barely hear him.
It was after fishing my phone out of the toilet like an exacerbated parent that I realised I was severely sunburnt. It didn't help that I was wearing all white and now repped the county colours.
Cut to my friend and I trekking back to the beach, container of rice in hand, while I glumly apologise for the shambolic trip and assert that I'm usually actually very good at my job.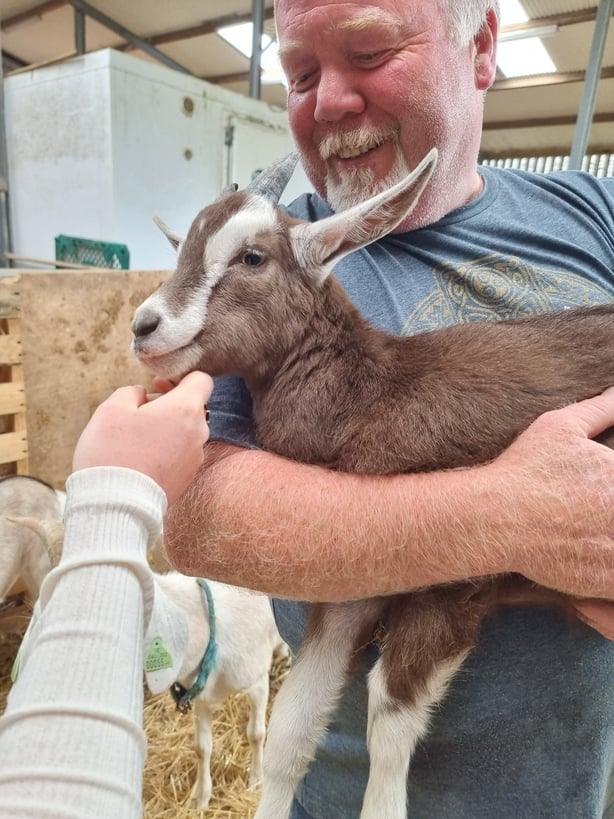 Enter: Gabriel Flaherty, whose passion for cheesemaking and good humour neutralised my embarrassment like apple cider vinegar on sunburn.
A former fisherman, Gabriel started his career like many on the island in tourism, working on a pony and trap. With some experience in construction, he built his cheesemaking facility by hand and takes deep pride in stocking products made only with ingredients that can be found on the island. He now runs the Aran Food Tour along with some other local producers.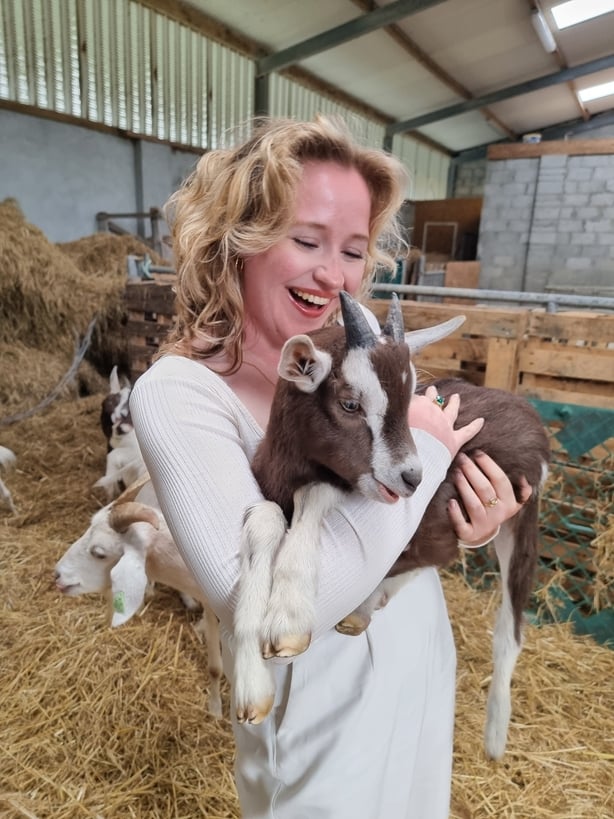 After meeting a few of his gorgeous goats – particularly seven-week old Marcus, one of two males on the farm – we sampled some of his goats cheese, including a fresh and clean salad cheese and a rich and distinctive Parmesan-style cheese.
From here, Gabriel drove us to meet Jenny O'Halloran of Bláth na Mara Seaweed, which was founded in 2002 by her father Máirtín Ó Conceanainn. They aim to restore seaweed as a main part of the Irish diet, harvesting and processing a variety of seaweed and educating visitors on how they can use them in soups, drinks and more.
We left with some bath soaks and a selection of recipes to try, as well as a longing to taste their seaweed pesto.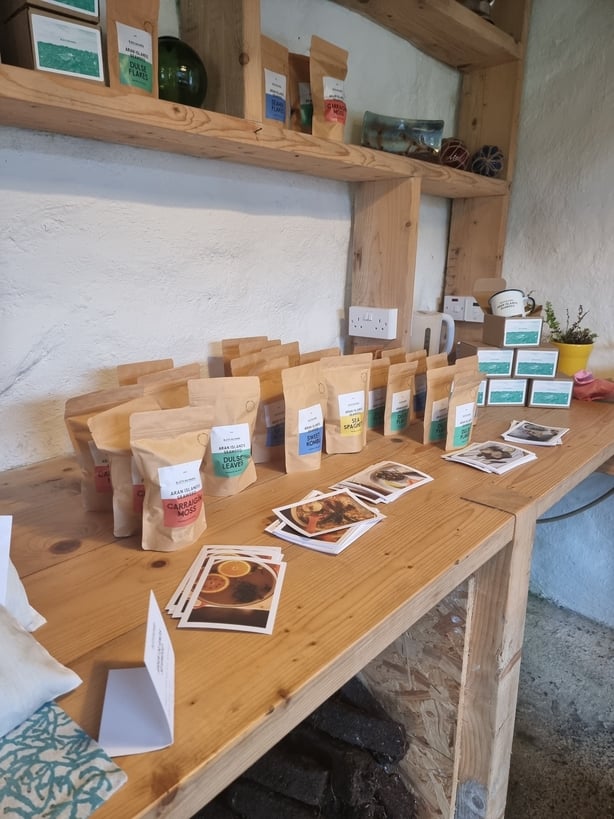 We ended the night with a lively dinner in Joe Watty's Pub, a landmark on the island for locals and tourists and renowned for its live music, which takes place almost every night. Greeted by co-owner Grace O'Flaherty, we tucked into fresh fish and chips, salmon rolls and a salad with some of Gabriel's own goat's cheese.
With the pub packed to the brim with dancing visitors, we felt truly part of the island, and it was only my sunburn stopping me from joining in. That, and my already bruised ego.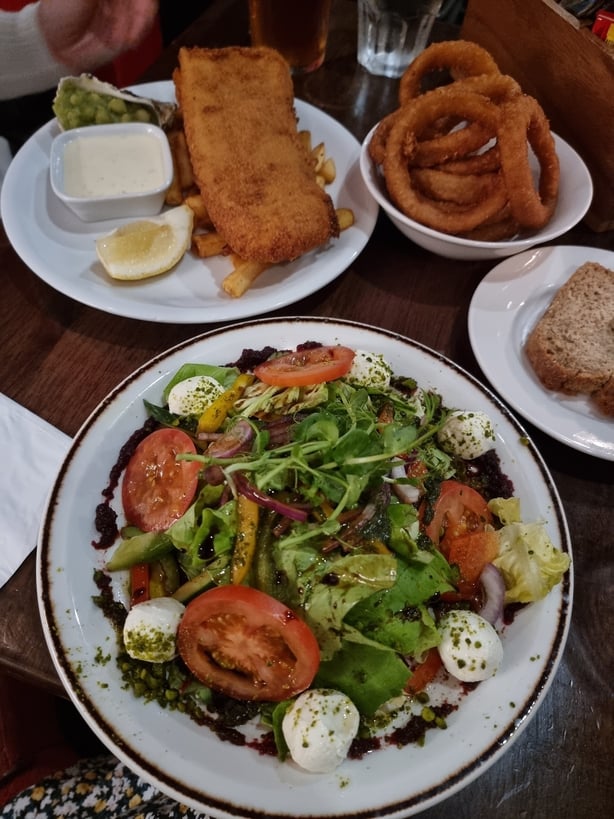 We awoke the next morning terrified of the chaos that was sure to befall us, but instead all we got was word of our tyranny from the day before, which had already made it around the island to our host Clodagh.
Our final activity was the Aran Off Road Experience, a guided tour that promises to show you the sites that lie off the beaten track. Led by year-round islander Aonghus Hernon, who also works as a teacher and ice cream purveyor, it really does show you a different side to the island.
One stop was the Worm Hole, a stunning natural rectangular shaped pool cut into the rugged coastline that fills and empties with the tide.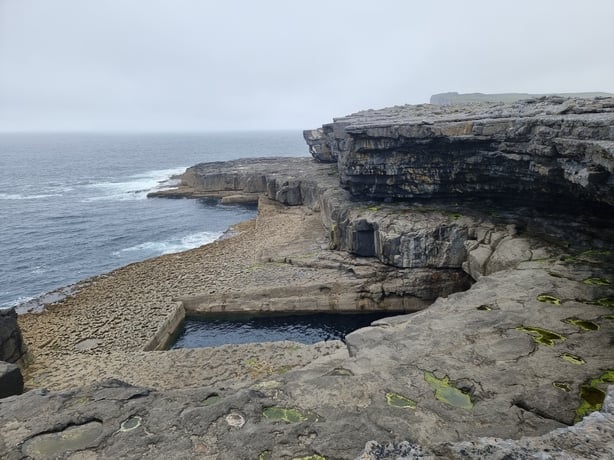 Although presented on social media as a must-see swimming spot, Aonghus stressed that it's actually far from it – with no infrastructure in place to safeguard visitors, it's a particularly dangerous spot for all but seasoned swimmers, if even.
He told our group of an Italian tourist who went swimming in it only to be sucked out with the tide, only to be luckily pushed back in before being rescued, a tale that left my friend and I quaking in our swimsuits, which we wore under our clothes for the trip.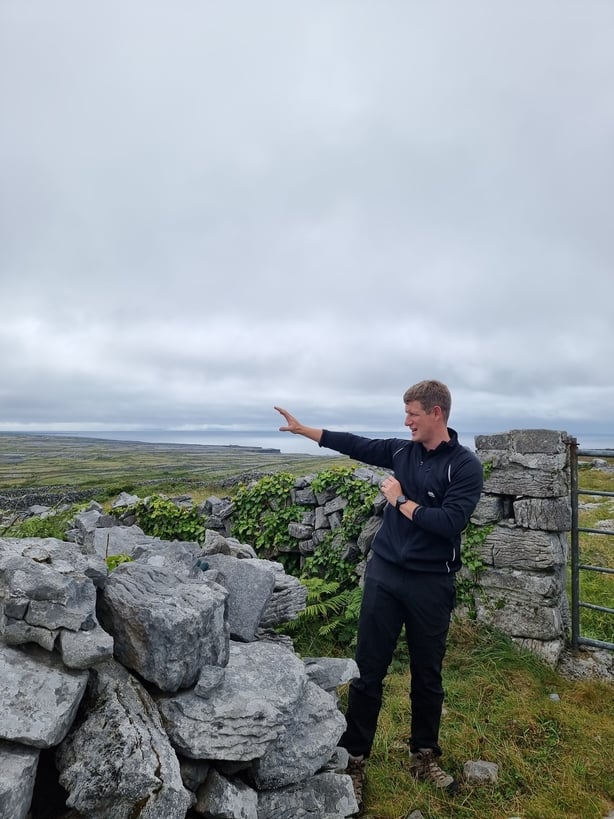 Our final stop was the majestic Dún Aonghasa, another cliff fort and one of the main attractions on the island. Built at the same time as three others on the island, its believed they were controlled by the same group and used for protection of the island. Didn't do much good against me, but that's by the by.
We wrapped up our trip with a serene and awe-inspiring cruise on Aran Island Ferries from Inis Mór past the Cliffs of Moher and down to Galway Bay once again. Seeing the Cliffs from the sea was a thrill, with the clouds seeping over the sides and a few dolphins springing up from the water to boot.
And so ended our epic journey to the West, where producers and tourism professionals are creating an enclave of artisanal food and produce.
The verdict
It was remarkable to see how much had changed since my first visit 11 years ago, as the islanders continue marry modern projects like natural wine and goats cheese Parmesan with traditional industries and local crafts.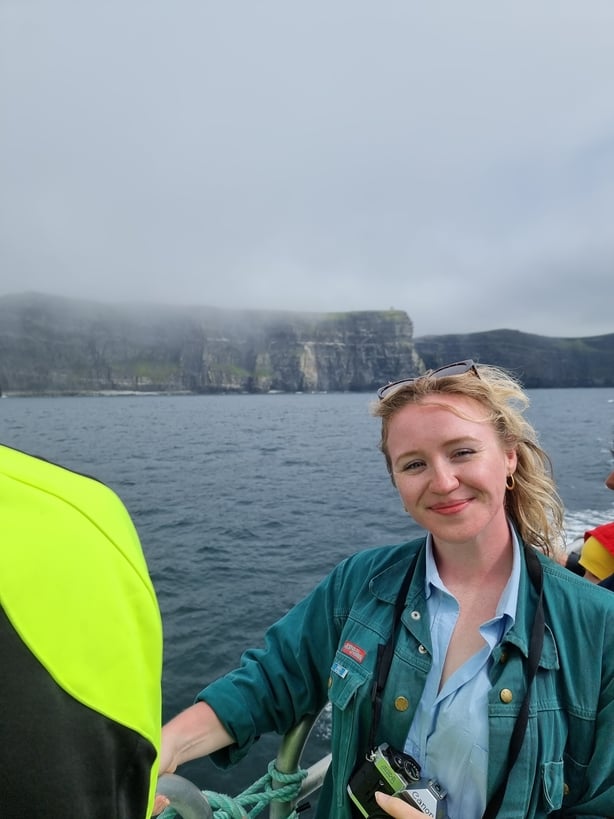 The details
We were invited to Galway City and Inis Mór for the purpose of review. Our accommodation in The Dean and Ard Einne were included, as was dinner in Joe Watty's and all featured activities. Prices for The Dean start at €159 for a ModPod room and €209 for a Super Room. A two-night stay in Ard Einne costs €220 depending on availability.
Zip n' Trek at Wildlands starts at €27 per person, while a Challenge Room 90-minute pass starts at €25 per person. The Aran Food Tour costs €20-€30 for a half day tour, while a full day tour costs €30-€70. The Aran Off Road Experience costs €45 for a four-hour tour.
For more staycation inspiration, check out our review of The Big Atlantic Lodge in Mayo and an adventure through Waterford City and Tramore.