Dublin City family stays can be tricky. You want to be in the middle of the city, soaking up the atmosphere, but you also need access to green areas to allow for some quiet time when the kids want to run amok.
We, as a family of two girls aged 3 and 7 years old, liked the sound of The Conrad Hotel's Junior package.
Perfectly located just off St Stephen's Green, the hotel has a reputation of going the extra mile for families staying there, so when they invited us to try out their junior package we jumped at the chance.
Top tip: Parking can be a bit hectic around the hotel since you are in the centre of Dublin so definitely use the hassle-free on-site parking.
VIP Kids
The package delivers large interconnecting King and Twin bedrooms, giving the kids plenty of room to run around and the parents some space to sit back and relax. The 48-inch TVs and Nespresso machines are a nice touch, especially for sleep-deprived grown ups.
The first of our rooms was fitted with a luxurious king bed and was a great size, however, it was next door in the inter-connecting room where all the fun was.
Our kids loved that their beds came with pink(!) bed linens - which were specially picked out for our two girls - and they nearly lost their minds when they spotted their own personal in-room tee-pee play area and OMY (recycled and sustainable products) giant colouring posters with felt pens to let their creative juices flow and allow the parents at least two minutes of peace.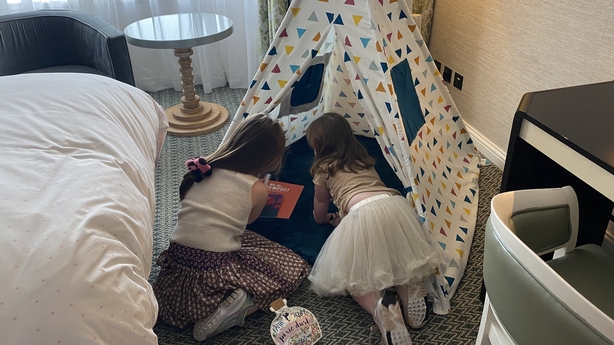 It was such a treat to be in a hotel room and have the kids playing with an array of age-appropriate toys. Also in the tee-pee was a selection of books by acclaimed children's picture book illustrator Chris Haughton - a really nice touch, and so lovely not to have to worry about packing a bedtime story.
Having toured the rooms thoroughly, we ventured out for a walk around St Stephen's Green, dodging the showers thanks to hotel's in-room umbrellas - an essential accessory for our stroll through the city.
Upon our return, my 7-year-old spotted some hot chocolates left out for the girls with a note informing us to 'call for hot milk'. Another really well-thought-out aspect to the kid's stay.
Our youngest is 3 years old so we have no need for baby amenities anymore, but I was told by the informative manager that for the hotel's smallest guests, cots are available upon request as well as a baby bathtub and bottle warmer.
The area where the Conrad is situated in Dublin has lots to offer families, and with nearby cultural attractions including MoLI (Museum of Literature Ireland), we were able to catch the Chris Haughton exhibition the morning after our stay.
It was just a five-minute stroll from the hotel and it was a lovely opportunity for children to 'walk through' Haughton's classic story A Bit Lost while collecting souvenir animals along the way.
You can even escape into the Iveagh Gardens through the museum's cafe.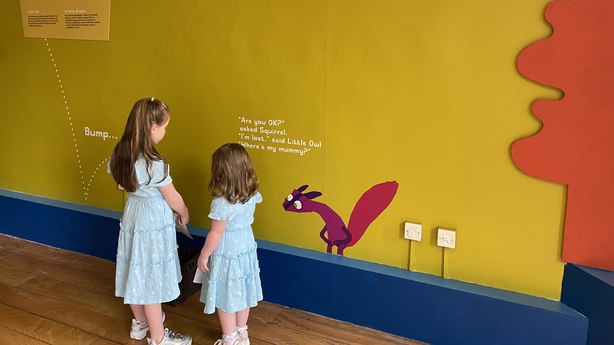 Dining
As a family, we dined at The Terrace Kitchen & Social House. It is a heated outdoor terrace and you can enjoy the views of the newly renovated piazza on Earlsfort Terrace and neighbouring National Concert Hall.
The staff were great with the girls from the minute we sat down, very attentive, chatting away with them and making them feel included in every step and to top it all off, the food was delicious.
We always have a little anxiety when bringing the kids out to a formal setting as they can be very enthusiastic when it comes to chatting at the diner table, but there was a great vibe this Friday night and everyone was enjoying themselves - including former DUP leader Arlene Foster.
The parents had oysters, mussels, and lamb for dinner - with each morsel made to perfection - while the kids ate from the children's menu, which had a great selection with something even for our fussy toddler. The 7-year-old chose the steak and declared it 'delicious'.
Of course, they both had to finish off their meals with a dessert each, which was brought out when we were finishing mains. Perfect timing.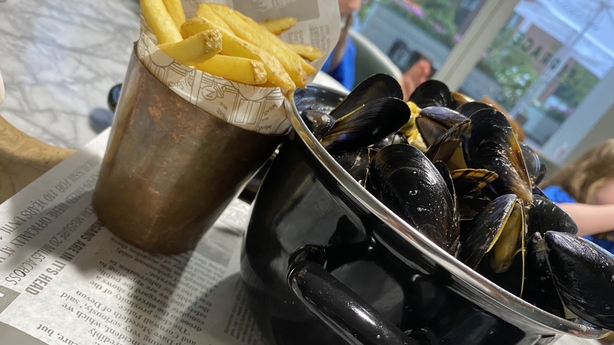 Breakfast is always the highlight for us on any stay.
In the Conrad, mornings deliver a COVID-friendly buffet-style breakfast, where a waitress picks out the items you want behind a screen, as well as a menu to order from.
I had the avocado and egg and added in some sausages and bacon from the buffet, my wife had the salmon bagel, and my eldest enjoyed a plate of waffles - sadly, she noted that she ran out of maple syrup really quickly. Her one an only complaint from the trip.
You have to book breakfast ahead of time due to social distancing rules, and I would recommend starting your day nice and early. We chose 9am, which turned out to be a very busy time, and by 9.30 am there was a queue down into the lobby as people waited for a table. It's worth seeing if you can go early or later in the morning to really enjoy your breakfast and miss the mad rush.
Click through the photo gallery at the top of the page to see what all the food looked like from the stay.
COVID-19 Protocols
It is something we all have to live with now and, thankfully, the Conrad is on top of their COVID-19 protocols, with top notch cleaning and a supply of hand sanitizers at every turn.
One nice touch, which I hadn't seen anywhere else, was a sticker on your room that you break open upon entering. It just gives visitors that peace of mind that no one has been in the room since the last clean.
Conrad Dublin's strict Covid-19 policies and procedures can be viewed here.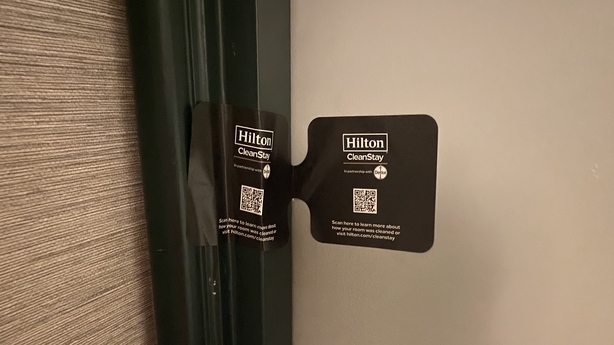 The details
We, as a family (two adults, two kids), have tried out a few family-orientated stays including Westport House Hotel , Glenlo Abbey in Galway, Ard na Sidhe Country House - and we were lucky enough to be asked to try out this revamped Junior package at the Conrad.
Conrad Dublin's Junior Package is from €449 per night.
In addition to the kid's package, the Conrad Dublin has also a choice of two other overnight packages available from €269 per night (two adults sharing). Conrad Dublin's Special Moments package and Conrad Dublin Shopping Retreat escape.
To learn more visit www.conraddublin.com or call +353 1 6028900.