Go Outside and Play is back this summer for a brand-new series, Famous Locations, and this time Carl Mullan isn't alone. With a summer of exciting staycation ideas ahead of us, we are thrilled to introduce Carl's new co-presenter, Karl Doyle!
Born with arthrofibrosis, which led to osteoporosis and scoliosis, Karl has been using a wheelchair for all of his life. His need for accessible routes (along with his cracking sense of humour) will bring a whole new element to the travel show as the two navigate travelling around the country's most scenic spots.
These famous locations are home to the big and small screen and ideal to get the perfect Instagram snap (is it even worth it otherwise?). This series is not to be missed ahead of planning some day trips or staycations around Ireland this summer.
We need your consent to load this Instagram contentWe use Instagram to manage extra content that can set cookies on your device and collect data about your activity. Please review their details and accept them to load the content.Manage Preferences
Having searched for FREEEDOOOOM!! in the Wicklow mountains, fought for the Iron Throne in Northern Ireland, and enjoyed a religious experience in the West, Carl and Karl slow things down for a romantic stroll in beautiful Blessington.
Based on Cecelia Ahern's best selling book, PS: I Love You is a 2007 romantic-drama directed by Richard LaGravenese and starring Hollywood heavy-hitters Hilary Swank and Gerard Butler.
With glorious scenes of the Wicklow mountains, Blessington lakes, and the Sally Gap, the movie is a love letter to Ireland (once you ignore the accents), and is the perfect spot for your next day out.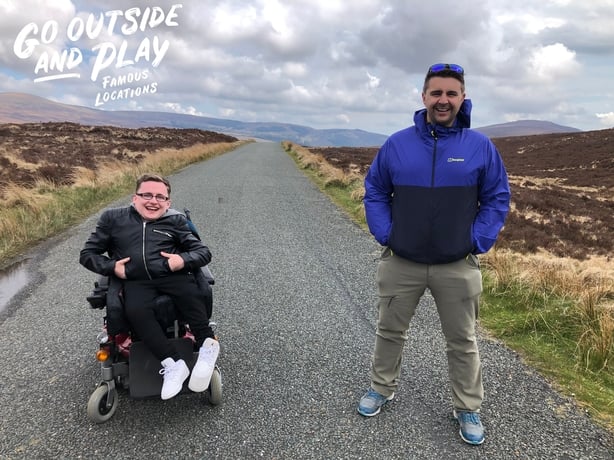 In Go Outside and Play, our hosts explore everything that beautiful Blessington has to offer, and Karl has an interesting activity lined up for them both on a scenic lake...
Where?
Blessington Lakes, Knockieran Lower, Co. Wicklow.
Famous connection?
In PS: I Love You, Holly (Hilary Swank), along with her friends Denise (Lisa Kudrow) and Sharon (Gina Gershone), head to Blessington Lake for a spot of fishing as part of Gerry's (Gerard Butler) master plan to help his wife through her grief from beyond the grave.
How to make a day of it
The romance between Holly and Gerry starts off as a chance meeting by Ballysmuttan Bridge in the beautiful Wicklow mountains. From there, the two decide to stroll back to her B&B in Dún Laoghaire (a whopping 34 kilometres away), but we would suggest taking a car.
The two walk through The Sally Gap, a crossroads right in the centre of the Wicklow Mountains National Park, before sharing a kiss while passing through the charming village of Lacken.
To continue your rom-com experience, you and your other half can then head on to the Blessington Greenway for a scenic walk (a little bumpy for wheelchair users) before trying your hand at fishing on Blessington Lakes.
Although referred to as a lake, the body of water is technically a reservoir, formed over 50 years ago by the building of the Poulaphouca Dam and hydroelectric station. Beneath it's still waters lies Ireland's very own Atlantis, with an entire village lurking beneath the surface having being flooded to form the reservoir.
To complete your romantic day out, head to Whelan's Pub on Wexford Street in Dublin for a spot of live music. Eagle eyed viewers will recognise the pub from the movie when Gerry serenades Holly with his rendition of Galway Girl.
1 in 7 people in Ireland have a disability that prohibits them from participating fully in the outdoors. RTÉ Player's Go Outside and Play is proudly sponsored by Rockshore.
Watch Go Outside and Play: Famous Locations on RTÉ Player now.