"Are we here already Dad, that was quick?'' And yes we were "here" already and yes, it was quick: 94 minutes door-to-door to be precise. We had arrived in Clontibret, our home for the next three nights and not a single "are we there yet?" had been muttered...
There's a first for everything and it was also our first time in Monaghan.
I never had any particular reason to go. "Sure, where is it?" "What's there to do there?" "It's a border county, right?" Yes, it is. It's part of the drumlin belt that covers southern Ulster but unfortunately for Monaghan, the county has been oft-overlooked as a destination in its own right. It's long been the last to get picked for the team but thankfully that is changing.
Thanks to a recent initiative by the tourist board - more to Monaghan - perceptions are slowly changing and people are starting to become aware of Monaghan's charms and what it has to offer. And believe me, it has a lot to offer.
Accommodation
Our home for our three-night visit was Tullybuck Cottage, a lovely four-star self-catering cottage situated in the beautiful rolling hills of Clontibret. 
Full of history, charm, character and comfort, this pre-famine cottage was recently renovated and extended to a high standard. It's nestled in nature - a 'close the gates or the cattle will get in' type of place - yet within easy reach of the many tourist attractions north and south of the border. It was a perfect base and a great self-catering option for this family of five.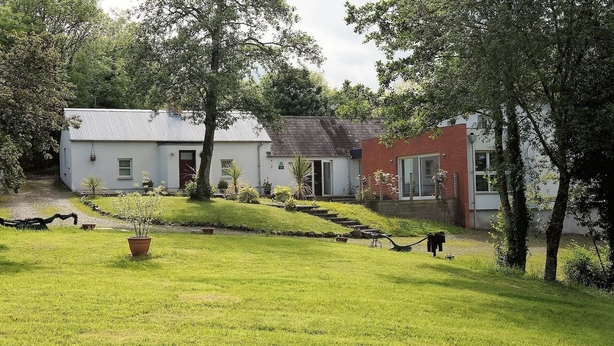 Things to do: Day 1
As many parents with young children will know, keeping them quiet 'occupied', is critical if you're to enjoy a holiday yourselves and on our first full day in Monaghan we couldn't have asked for more.
Castleblayney Outdoor Adventure Centre
First up was Castleblayney Outdoor Adventure Centre, based in the beautiful surroundings of Lough Muckno. Recently taken over by Zoe and Mark, the adventure centre offers high-quality outdoor learning and adventure experiences to all ages. 
We climbed a 40m fir tree, kayaked to an island across the lough, learned how to make a fire using flint and steel, toasted marshmallows, cooked popcorn, drank delicious hot chocolate and learned all about a variety of local insects. It was brilliant and our boys had an absolute ball. 
The centre runs camps, forest schools, sailing courses, paddleboard rentals, parties, team-building exercises and much much more. Free from gimmicks and technology, it brings you back to nature and it's definitely something we'll be doing again.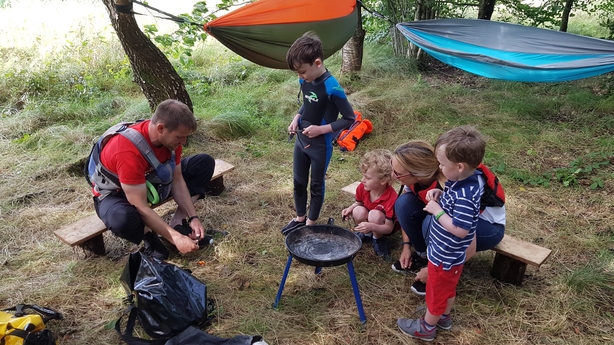 Concra Wood Golf & Country Club
After the dizzying heights of fir trees, we headed to the dizzying and spectacular views of Concra Wood Golf & Country Club which overlooks the stunning Lough Muckno. Lunch at The View restaurant was lovely with the standout feature being the fabulous panoramic views of the beautiful lough.
With bellies full, we then headed to the driving range to hit a few balls under the guidance of Ciarán Lavery - the club's Assistant PGA Professional - who showed us how to perfect our swings while our three-year-old perfected the art of throwing golf balls at his brothers.
It was good fun and "Fore" will never sound the same again.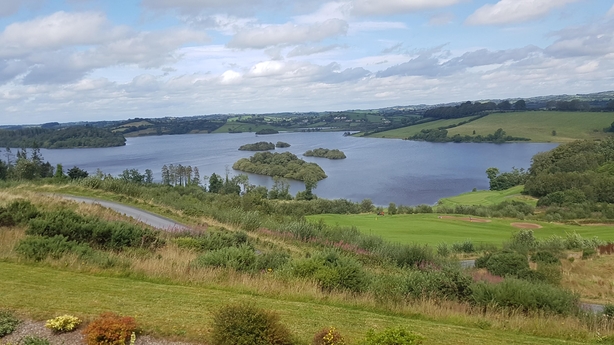 Swallow Studios
Following Concra Wood, we visited Swallow Studios, workshop to textile artist, designer, and Hand-Weaver extraordinaire Liz Christy. Liz readily welcomes visitors to her studio where you get to experience the different processes in the ancient craft of hand-weaving. 
We got to see first hand how Liz creates her beautiful Irish textiles, how wool is dyed and how she makes her lovely and very popular LizzyC Sheep. According to Liz, her inspiration comes from her love of artist Claude Monet, but based on the numerous pictures of Aidan Turner aka Poldark on her studio wall, I suspect she gets her inspiration elsewhere!
Swallow Studios It's well worth a visit and it really opened my eyes to just how much work and intricacy goes into hand-weaving. An exceptional art, an exceptional talent.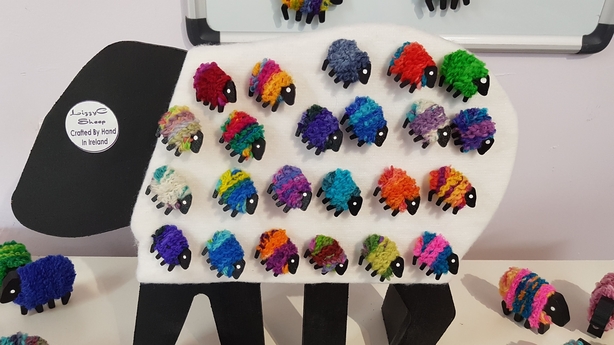 Things to do: Day 2
Heritage Walking Tour
On Saturday morning, we hit Monaghan Town for a free Heritage Walking Tour followed by a visit to the award-winning Monaghan County Museum. Now, heritage tours and my kids usually go together like diarrhea and sneezing, but Francie McCarron, a gifted storyteller and tour guide kept us all entertained with his historical tales and personal accounts of life in Monaghan.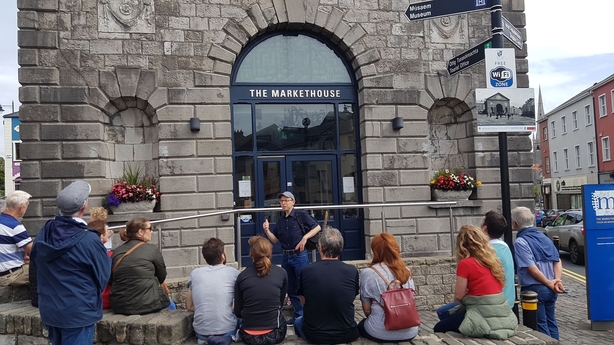 Monaghan County Museum
At the Monaghan County Museum, the very welcoming and very bubbly research officers Theresa and Helen brought us around the numerous exhibits and collections which tell the story of Monaghan from the end of the last Ice Age to the present day.
The collection consists of over 50,000 objects including a 12,000-year old Irish deer skull found in Lough Muckno, a 14th century Cross of Clogher, oh and all five of Tommy Bowe's jerseys from his Grand Slam winning Six-Nations campaign in 2009. 
The museum also has a Spitfire exhibition - The Monaghan Spitfire: Life on the Border with a World at War - which contains the remains of the fighter aircraft that crashed into a field in Co. Monaghan during the Second World War.
The exhibits are really well put together and there wasn't a single moan from our kids for the entire duration. Believe me, that says a lot.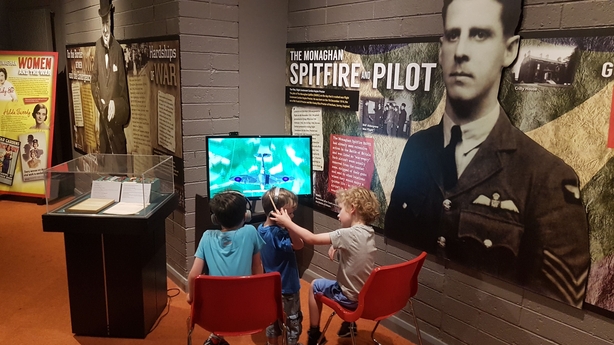 Blasta Street Kitchen
That evening we met the team behind Blasta Street Kitchen who treated us to a food fiesta from their HQ at Hughie's Pub in Corcaghan. Inspiring, infectious, enterprising and ambitious - while all backed up by delicious food - Blasta are taking street food and funky catering to the next level.
Their story is fascinating, their plans are impressive and with a cookbook coming out later this year they're on an upward trajectory to achieve even greater success. 
Keep an eye out for them at the upcoming Monaghan Street Food Festival 2019 on 28th September 2019, where they will launch The Hungry Hipster (the younger veggie brother of the Blasta Food Truck)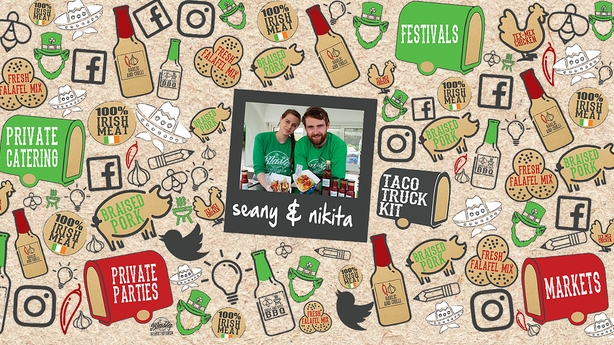 Things to do: Day 3
With our visit coming to an end and our eldest son turning eight (please slow down, Mr. Time), we headed for giants, animals and cake on our last day.
Rossmore Forest Park
Situated just a few miles outside of Monaghan town, Rossmore Forest Park is home to a new children's play park, a Giants Trail overlooking the lake and 'Big Ross' (a.k.a. 'Ross Mór') asleep under the playpark and the lovely walking paths.
It's a brilliant spot for families and outdoor lovers alike and kids will be entertained for hours.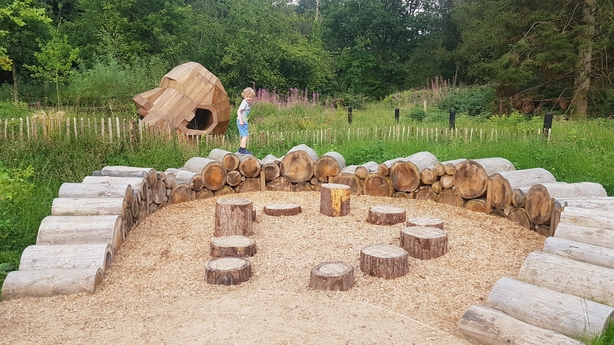 Sam Moore Open Farm
I genuinely don't know where to start (or finish) with this one. Yes, it's an open farm but it's far more than that. It's weird, it's wonderful, it's unique, it's quirky...very much like it's owner Seamus Keenan. From donkeys, turtles, and chipmunks, to poitin*, outdoor turf fires, and vintage cars, this place is a treasure trove of electricity. 
It's wacky and it's places and people like this that make Ireland so special. If you're ever in the area, be sure to pop in, you won't be disappointed.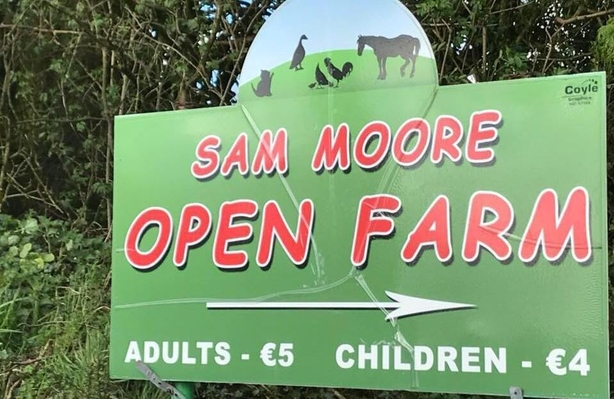 Matilda's Bakery and Deli
Now people who follow me on Facebook and Instagram will know that I enjoy the odd cake or three every now and again. And If it's accompanied by a cup of tea, well, even better.
So our final stop on our whistle-stop tour of Monaghan was Matilda's; once a butchers and passed down through the generations, it's now transformed into a quaint but beautiful cafe run by Anne-Marie aka Matilda (you can ask her).
The food is great, but the cakes, well they're simply out of this world. Pop in, tell them I say hello and if you're going to limit yourself to one treat go for the White Chocolate & Raspberry Tartlet. You can thank me later.
The only thing they were missing was a wheelbarrow to wheel this piggy out.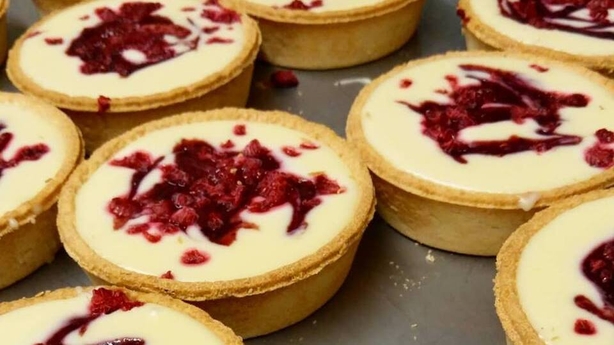 So there you have it, three days in Monaghan and three thoroughly enjoyable days at that. Yes, maybe it doesn't have the breathtaking landscapes of Kerry or the bustling atmosphere of Galway city but it has charm, it has character, it has a history and it has some wonderful people. 
It really surprised me, or maybe it didn't as I wasn't sure what to expect, but its rolling hills, meandering rivers, breathtaking lakes and beautiful parks make it an outdoor paradise. One thing is for sure, we'll be back. There's certainly more to Monaghan and I haven't stopped thinking about those bloody cakes.
For more to see and do in Monaghan, visit monaghantourism.com* and discoverireland.ie
DD
*I had the pleasure of being invited to Monaghan by Monaghan Tourism. 
---
For more information, reviews, tips, anecdotes and the odd giveaway, you can find me on:
Facebook | Instagram | e: digitaldad@rte.ie