All any last-minute getaway needs is delicious food, good fun and enthralling company. Coincidentally, this is just what you'll get in A Long Weekend in ... with Rory O'Connell, the Cork chef's sumptuous new food and travel show.
For the past few weeks, Rory has been jet-setting across some of the most captivating European cities out there, digging into the culture and vibrant food scenes of Palma de Mallorca, Vienna and Lisbon, and will go on to explore Bath, Nantes, Copenhagen, and Edinburgh.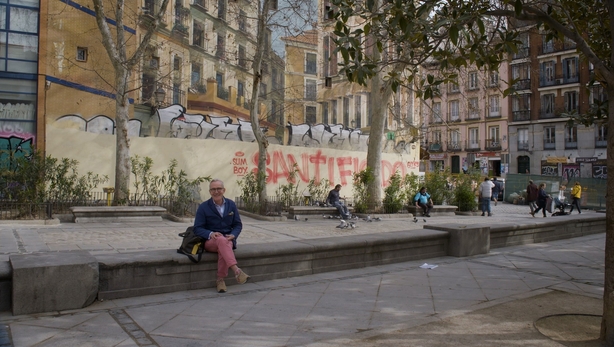 This week, it's the colourful facades and bustling markets of Madrid that lure Rory away, a city famous for its rich cultural attractions, incredible cuisine and forward-thinking society.
On tonight's episode...
Breakfast is the most important meal of the day, depending on who you ask, but when in Madrid this is doubly true - especially as breakfast here is so delicious. Eager to get stuck in, Rory's first stop is to San Gines, a traditional chocolatería renowned for its porras, a local snack similar to churros.
Much like churros, porras are crisp on the outside and fluffy on the inside and sometimes arrive dusted in sugar or cinnamon, though the latter are longer and thicker. Happily, both are served with cups of thick hot chocolate for dipping, certainly one of the most delicious ways to start your day.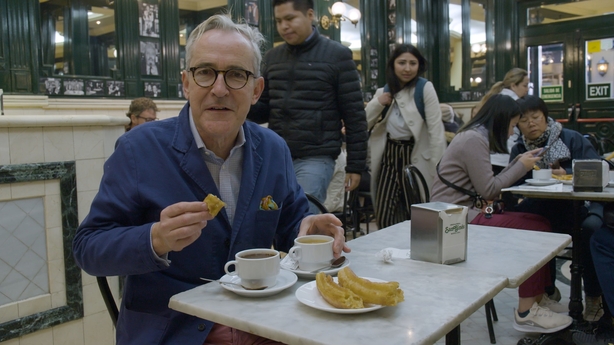 Next, Rory sets off across the grand city to Sobrino De Botín, where three strands of culture - food, literature and art - combine in one incredible dish. Established in 1725, this wood-paneled spot is which is the oldest restaurant in Madrid, and the source of the roast suckling pig mentioned in Ernst Hemingway's novel
Rory then heads to Sobrino De Botín, which is not only the oldest restaurant in Madrid, but the oldest in the world. Established in 1725, the famed restaurant featured in Ernest Hemingway's novel The Sun Also Rises, among other stories, and was a beloved spot of the writer. According to some sources, the Spanish painter Francisco Goya may have worked there as a dishwasher.
The food is what has sustained the restaurant for almost 300 years, however, and the speciality here is Roast Suckling Pig and Roast Baby Lamb cooked in wood-fired ovens. As it's still quite early, Rory opts for a "pre-lunch" of succulent local Roast Lamb.
We need your consent to load this Instagram contentWe use Instagram to manage extra content that can set cookies on your device and collect data about your activity. Please review their details and accept them to load the content.Manage Preferences
Equally celebrated is Madrid's impressive assortment of art museums, which house some of the most important classical and contemporary artworks in the world. Rory, however, decides to explore the city's street art, which is almost as revered. At the Tabacalera, a former tobacco factory, talented street artists are commissioned to create new graffiti every six months, and Rory is suitably impressed by their work.
Then it's time for tapas, the small plates that the country is renowned for, so Rory goes to the Mercado De La Reina restaurant. There he tries a delicious selection of tapas, including skewered octopus, sliced carpaccio and a rich oxtail dish, before heading to Museo Chicote, a still-intact 1930s cocktail bar once frequented by Ava Gardner and Sophia Loren.
The next morning, Rory does as the Madrileños do and heads to the Mercado De La Paz - the neighourhood market - for breakfast, picking up a tortilla with an unusual runny centre. Inspired to make his own tortillas, Rory visits Alambique, a cookery store brimming with every kitchen utensil imaginable, to buy an authentic Spanish tortilla pan.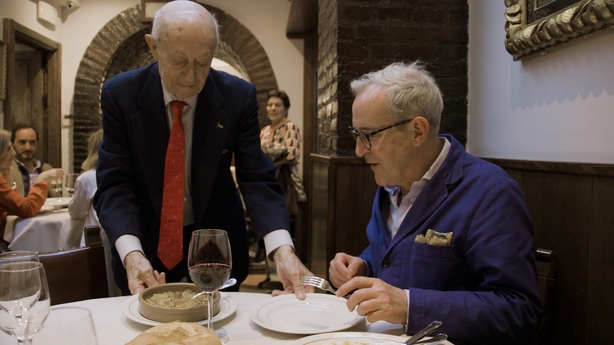 Next, Rory visits Casa Lucio, an acclaimed Madrid restaurant where 86-year-old owner Lucio Blázquez still works. Rory has come here to try the Egg and Chips, a dish that might sound familiar, but at Lucio's is made with high quality, flavoursome Spanish ingredients. He follows this with Tripe, Offal and Black Pudding in Tomato Broth, another of Lucio's signature dishes.
Back home in Co.Cork, Rory creates Octopus salad with red and green peppers inspired by his long weekend in Madrid.