Our German Girl Abroad is saying farewell to our wee Emerald Isle but before she goes, she's sharing some final insights to our country through the eyes of a tourist.

After telling you about my experiences in Dublin, my perception of Irish Manners and the Irish use of English language, my time on this magnificent island is coming to an end.

Now, for the last time, I will try to give you some insights to your home country through the eyes of a tourist.
Since my time in Ireland is coming to an end, I want to share one last thing with you lovely Irish people to wrap it up. So get ready for a flashback of my personal highlights by taking a look at five of my favourite places in Ireland.
Don't get mad at me. I know those places are super touristy and there is so much more to see in this beautiful country. But to me, every single location on this list is so special.
They knocked my socks off, had me smiling from ear to ear and made me want to rub my eyes because I couldn't believe what I was seeing and how incredibly stunning the scenery was... but I had make-up on so I just stood there wide-eyed, like little children do when they're staring at a giant colourful lollypop for the first time in their life.
Don't worry. I'll definitely come back to Ireland to expand on my experiences, knowledge and adventures. I want to explore every single corner of it, take the time to check out the cities and coast and find all those secret spots, the ones you can't find on the internet...
By the way, I am determined to give driving in Ireland a try when I come back, even though just the thought of it drives me kind of insane. But you've got to be brave, right?
So if you come across an apprehensive German girl driving a rental in a couple of months, buckle up, be kind to her and give her a little wave – because that may be me.
But for now, let's take a look back at the wonderful places I was lucky enough to see already.
Ready? Here we go...
1. Wicklow Mountains
As soon as I'd heard from RTÉ back in December, telling me the great news that I would be starting my three-month internship here in Dublin, I knew that one of my long-held wishes was about to come true - walking through the rocky landscape covered in blanket bog and wildflower heather.
The Wicklow Mountains were the first place I went to outside of Dublin. It was the day after Saint Patrick's Day that I and two fellow tourists, who I met during the parade, drove through the Wicklow Mountains.
It was raining as if the end of the world was near.
Those clouds were smashing everything they had to offer to the ground as two easy going Americans and an excited German girl were trying to discover one of Ireland's most popular spots - gushed with romance due to all those tissue requiring Hollywood movies.
The perk of choosing that specific day was that it seemed like we had the entire area to ourselves - not a single soul in sight, which is exactly what I imagined Ireland to be like in my daydreams, remember?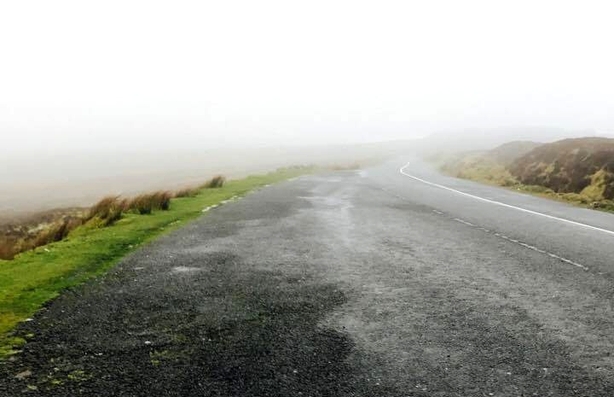 The first time we pulled over, the mix of heavy rain and beating wind turned my hair into bullwhips and my coat into a superman cape. However, it did no harm to my unshakable optimism - I was ready to fly.
Just a couple of minutes later the rain stopped and the sky cleared up, so I could really see all those different shades of green and brown and that lovely purplish shimmer that coated the scenery. All distorted Hollywood ideas of romance aside - I was in love - with the endless amount of nature's qualities.
And since I left a piece of my heart there, I came back a couple of weeks later for a second visit, which was even better because I had two of my favorite people from home with me this time.
I saved one of the few days I have left here for a final trip to the Wicklow Mountains - third time lucky. Maybe the weather will play along this time and I'll finally be able to make it to Glendalough.
2. Cliffs of Moher
Breathtaking. Period.
Those cliffs had me speechless. There are no words to describe the feeling that hit me when I caught my first glimpse of those giant moss-covered stone walls shaped in their significant formation. Everything else suddenly seemed so small - not in a bad way, but rather in a soothing way.
It's like they are ready to whisper the secret of life to you if you're just willing to clear your mind and listen.
It's as if they're saying: 'Rejoice in life! Carpe diem. All that stuff that is floating around in your head on a daily basis doesn't really matter, just look at it from a distant perspective.

'Find out what is truly important to you, hold onto that, let go of the rest and celebrate life.'
I know, I know, this sounds incredibly cheesy and impossible to implement. But you've got to experience it to understand. The view is mind-blowing. It puts you in a mood that is calm and elevated at the same time. I bottled that feeling and I'm carrying it with me. It keeps me serene.
And when it's getting foggy, I just blow those clouds away for an unobstructed view...
3. Galway
Galway, oh Galway. What a city. This place has been on my bucket list for years and it didn't disappoint. To me, it is the most Irish place I've been to during my stay in Ireland.
The look of the city, its streets, shops, restaurants and pubs and the people are exactly what I imagined this island to be.
The live music there was actual traditional Irish music. I even saw a few tap-dancing performances. I'm not sure if what I witnessed was an Irish jig, but I loved every minute of it - especially since you don't really get to hear that kind of music if you drift through Temple Bar in Dublin like all clueless tourists do.
You won't hear the sound of pop songs like Wonderwall and Sweet Home Alabama coming out of Galway's buildings and definitely not Galway Girl, whether it's Ed Sheeran's version or the old time classic.
There is another reason why I enjoyed Galway so much. It gave me those calming small town vibes. I guess I just feel more comfortable when the streets aren't too packed and the people around me seem as if they all know each other.
Don't get me wrong. I love the big city life in Dublin and I appreciate the fact that you can order pizza at three o'clock in the morning, delivered by a friendly face saying: "Good morning. Enjoy your breakfast pizza ma'am," as he hands over the cheesy delicacy - yep, that really happened - but Galway was a nice change of pace. I guess it felt a little bit closer to home.
The only thing that confused me a little was the fact that I didn't see a single girl with black hair and blue eyes... 'I took a stroll down the old long walk of the day I-ay-I-ay' - sorry about that.
4. Connemara
This place is the most unexpected on my list of favourite locations in Ireland. I've got to admit that I hadn't heard of Connemara before.

It was on our way to Galway when people were telling me and my Irish road trip pal that we should definitely drive through the landscape on our way back to Dublin.
We were both surprised and amazed by the beauty that this area holds. It is surrounded by a great variety of nature - little farms, sheep on the streets and fields, mountains, wild scenery, lakes, green and rocky settings alternate. It appeared like a picture - pure untouched nature.
If you're as lucky as I was, you'll even catch a rainbow breaking through the clouds. The picture above isn't even close to how pretty it looked in real life.
So, if you're planning a road trip anytime soon, take a recommendation from this German girl right here and drive through the stunning roads of Connemara.
My personal highlight was the lake you can see in the picture down below.
I couldn't believe my eyes when I saw that heavily vegetated little island covered in brushwood and those beautiful flat-crowned trees floating in the middle of that marvelous lake, set in motion by a fresh breath of Irish air.
I literally sat on that stone for a quarter of an hour looking at that special piece of land, a piece that looked like no one had ever stepped on it, observing the shimmering water and the sunlight that broke through the cloud and laid down on the top of the mountains perfectly. I will remember that image forever.
5. Loop Head
Those Irish cliffs just steal my heart, apparently.
Between the Atlantic Ocean and the Shannon Estuary lies the most dreamy place I've ever been to.
The unique formation of the cliffs covered in green, yellowish and reddish moss and pink flowers is simply gorgeous.
It's much less tourist packed than the Cliffs of Moher, so you can enjoy the look of the waves crashing against the rocks and cliffs even more - no one should have to choose between those two places. They are entirely dissimilar with different views, different setting, different vibes.
While the Cliffs of Moher take your breath away and heat up your lust for life and spirit of adventure, Loop Head makes you feel as if you've just found paradise.
The field, covered in the greenest moss, long silky grass and those tiny adorable pink flowers create an enchanting setting. It almost looks like a corny painting, but it's real and so darn beautiful.
You can also visit the lighthouse where you can get an unbelievable view from up above over the boundless looking scenery. A lovely Irish guide will tell you about the history of this place as you make your way to the top of the lighthouse.
And the best part is yet to come. Since I am a childish fool, who doesn't believe in the concept of growing up there was one characteristic about the Loop Head that I found particularly enjoyable. Those little hummocks made from thick tight grass... they're bouncy!
Can you hear my excitement about that? The field is basically a roofless bouncy house. I was running and jumping around like nobody could see me - I couldn't care less.

Don't laugh at me! Just spread your arms, bend forward as you start running and let the wind carry you. Feeling it? You're welcome.
Who said that playing plane is just for kids?
But stay away from the cliff's edges, 'cause that's bloody dangerous.
To responsible foolishness my friends - be happy, enjoy life and stay safe!
Goodbye Ireland, I'll see you soon!
German Girl Over & Out.
Tell me about your favourite locations on Twitter, Facebook, and Instagram!