Ingredients
Prep/cook time: approx 35 mins
338g plain flour, sieved
4.5g fine salt
4.5g baking soda, sieved
50g cocoa powder, sieved
225g butter
225g sugar
112g brown sugar
Couple of drops of vanilla extract
2 whole eggs
185g chocolate chips
To serve:
Chocolate or vanilla ice cream
Chopped caramelised pecan nuts
Toffee sauce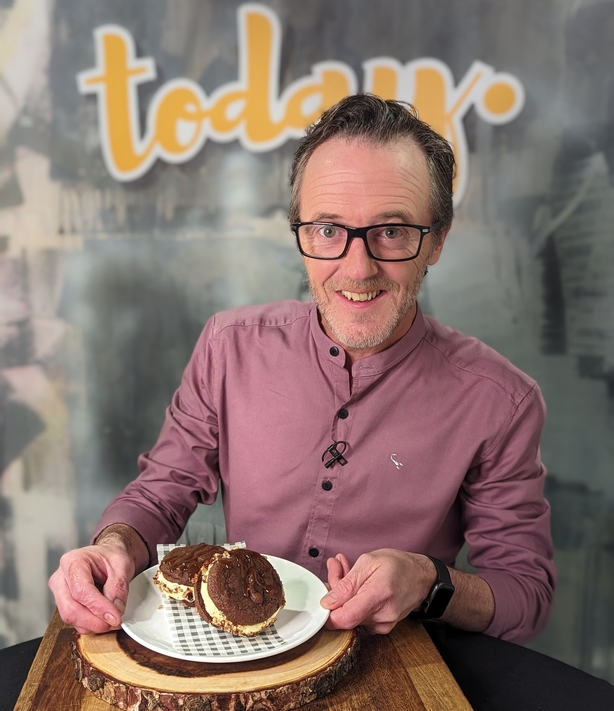 Method
Beat the butter and sugars in a stand mixer fitted with the paddle attachment until light and fluffy. Add the eggs one by one and then the vanilla extract.
Add the dry ingredients gradually and make sure they are well incorporated. Finally, add the chocolate chips and mix.
Place a sheet of baking paper on a clean work surface, then place half the dough on the paper and form a rough 6cm-diameter log. Roll paper tightly to enclose, securing the ends and twisting to tighten.
Wrap in cling film. Repeat with the remaining dough. Freeze for up to 3 months or, if using immediately, chill for 1 hour to firm. You can also roll the dough into round balls and place into the freezer until needed.
Preheat the oven to 180oC and place some grease-proof paper.
Slice 1.5cm thick cookies and spread over tray, leaving 2cm between cookies. Bake straight from fridge or freezer for approx 7 minutes. Remove from the oven and allow to cool on the tray.
For the ice cream sandwiches, place scoops of ice cream on a chilled baking tray lined with baking paper. With a piece of baking paper on top and working in batches, flatten with your hand to the size of the cookies.
Sandwich each piece of ice cream with two cookies, coat the edges with the candied nuts, drizzle with the toffee sauce and serve immediately.