Baked in a round cake tin with layers of apple and sponge cake flavoured with cinnamon, nutmeg, orange zest and a good dash of whiskey. Decorated with toasted almonds on top. Served with a sweetened orange whiskey, icing sugar cream.
Ingredients
Serves 8 to 10
For the cake
3 cooking apples, peeled and sliced into thin wedges.
Spoon over some lemon juice
120g soft butter
1 tsp vanilla extract
150g caster sugar
3 large eggs
270g plain flour
2 tsp baking powder
½ tsp ground cinnamon
A good grating of nutmeg
1 medium orange, zest only
4 tbsp milk
2 tbsp whiskey
For the cream
150ml cream
60g sifted icing sugar
1 orange, zest only
Dash of whiskey
Caster sugar and ground cinnamon, to sprinkle on the top
3 to 4 tbsp toasted flaked almonds, to decorate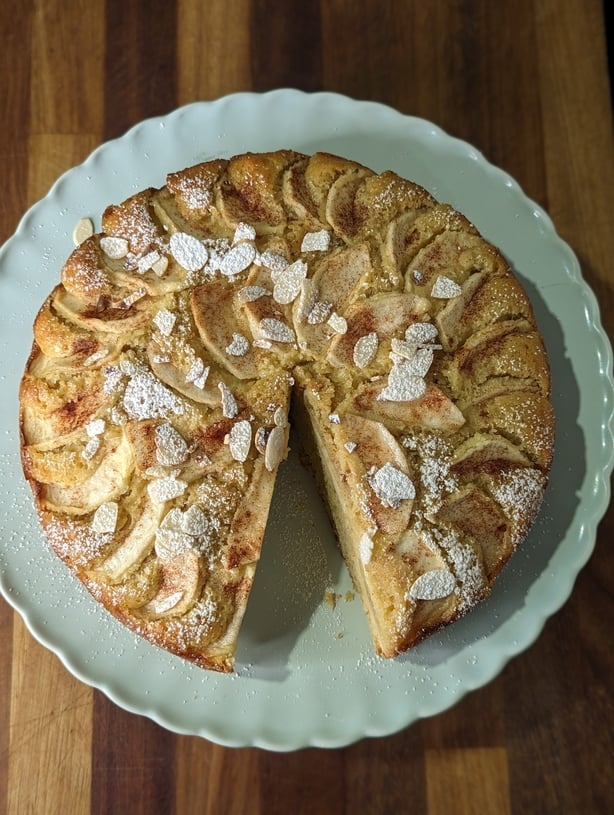 Method
To prepare the cream, place the cream, icing sugar, orange zest and whiskey into a bowl and whisk until soft peak stage. Spoon into a serving bowl and place in the fridge until ready to use
Preheat the oven to 180°C/fan 160°C/gas 4.To prepare the cake, line the base of a 22cm spring form tin with parchment paper. Brush the sides with melted butter and dust with flour. Set aside the slices apples – ready to layer up. The lemon juice will stop them from browning.
Place the soft butter, vanilla and sugar into a mixing bowl and cream until light and fluffy.Add the eggs, one at a time, whisking in between.
Fold in the flour and baking powder, cinnamon, nutmeg, orange zest, milk and whiskey.
Spoon half of the sponge mixture into the tin, arrange a half layer of sliced apples.Spoon over the remaining sponge mixture.
Arrange the apple slices on top. Dust 2 to 3 tbsp of caster sugar and ground cinnamon over top.
Bake for 30 to 35 minutes until the cake is baked. Insert a skewer to check and if it comes out clean then it is baked. Transfer to a cooling rack.
Leave in the tin for 10 minutes before running a thin knife around the tin to loosen. Unclip the tin.