As pasta bars become increasingly popular for takeaways, Catherine is going demonstrate how easy it is to make homemade pasta – and a delicious dish of Open Tomato Ravioli with a Chicken Marsala Sauce.
Ingredients
Serves 4
For the Tomato Pasta
200g strong white flour
Pinch of salt
2 large eggs
30ml (2 tbsp) tomato puree or sun-dried tomato paste (from tube not can)
For the sauce
75g smoked bacon/pancetta
2 chicken breasts, diced
2 shallots, finely chopped
1 garlic clove, finely chopped
1 tsp thyme, chopped
1 tbsp flat parsley, chopped
120g wild mushrooms, trimmed and wiped
2 tbsp butter
70ml Marsala
250ml cream
3 tbsp parmesan, grated
Salt and freshly ground black pepper
2 tbsp olive oil
Sprigs of thyme, to garnish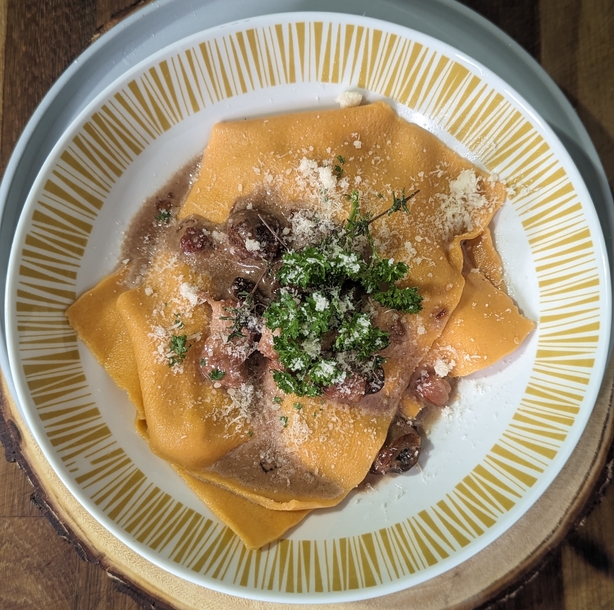 Method
To prepare the pasta dough, sift the flour and salt onto a clean work surface and make a well in the centre with your fist.
Beat the eggs and tomato puree together with a fork and pour into the well. Gradually mix the liquid ingredients into the flour, using the fingers of one hand.
Knead the pasta until smooth. Wrap and allow to "rest" for at least 30 minutes before attempting to roll out; the pasta will be much more elastic after "resting".
Ensure that your sauce is ready before rolling out.
To make the sauce, heat the oil in a large frying pan, add the bacon and fry until crispy, remove from the pan, placing on a clean plate.
Add the diced chicken and sauté until browned both sides. At the same time, in a separate saucepan, add some oil followed by the shallots and cook until softened. Add garlic and cook for about 1 minute followed by the thyme and parsley and transfer the cooked shallots, along with the bacon to the frying pan with the browned chicken.
Pour in the marsala, cook for 1 to 2 minutes. Stir in the cream and simmer until chicken fully cooked through then turn off the heat and set aside.
Meantime, add the mushrooms and butter to the frying pan and cook on a high heat until browned. Stir into the chicken marsala sauce.
To roll the dough, divide the dough into 5 equal pieces; roll the dough through all the settings on your pasta machine, ending with the second to last setting. Keep the dough you are not working with covered with a damp cloth.
Cut the dough into 12cm x 8cm rectangles. You need 3 per plate. To cook the pasta, bring a large pot of salted water to the boil. Add a little olive oil.
Cook the rectangles for about 2 – 3 minutes and carefully lift them out with a slotted spoon.
To serve, gently toss the pasta rectangles with the sauce and place in serving bowls. Sprinkle over the parmesan, garnish with thyme and serve immediately.