Ingredients
Serves: 4-6
Prep/Cook time: 1 hr approx
Chili:
1 tbsps sunflower oil
2 tsp chipotle paste
1 onion, finely chopped
1 tsp garlic powder
800g tinned black beans, drained & rinsed under water
400g tinned mixed beans, drained & rinsed under water
800g tinned chopped tomatoes
1 tin sliced red peppers, drained
1 tsp harissa paste
Pinch chili flakes - to taste, obviously the more the hotter
1/2 vegetable stock cube - crumbled
1/2 tsp dried thyme
1/2 tsp dried basil
4 eggs
Salt & pepper to taste
Garnish:
Sour cream
Sliced fresh red chili
Picked coriander leaves
Grated cheddar
Lime wedges
Warm fresh flour tortillas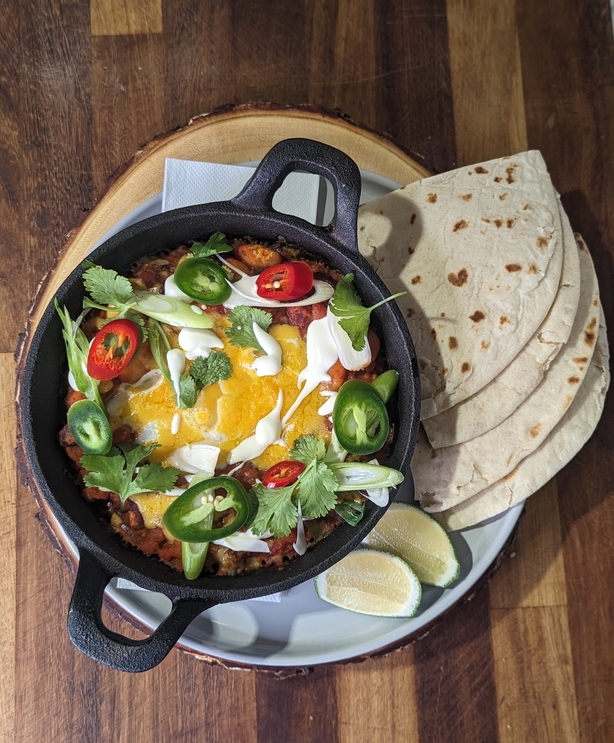 Method
Preheat the oven to 180oC In a heavy-based pot heat the oil and cook the onions for approx 5 minutes. Add the garlic powder, chili flakes, dried herbs and sliced peppers and cook for 2 minutes.
Add the chipotle paste, harissa paste, vegetable stock cube, beans, tomatoes and sugar, and simmer for about 15-20 mins until thickened. Season to taste.
Transfer the mix into serving bowls (Ramekins/Terracotta dishes) and make a whole in the middle.
Crack the eggs into the hole. Sprinkle with a little of the grated cheese.
Place in the oven until the eggs are cooked to your liking. I prefer them nice and runny but if you prefer them well done then cook them for longer.
Remove from the oven and drizzle with some sour cream. Serve with sliced red chili, coriander leaves, lime wedges and warm tortillas.