The recipe will make 4 teacups, so you can have a second round for chocolate lovers! Whipping the egg white will give a texture of a light soufflé without the stress of the collapsing soufflé!
Ingredients
Serves 2
100g butter
200g dark chocolate, broken into pieces
3 eggs, separated
110g caster sugar (10g +100g)
200g raspberry
½ lemon, juice
1-2 tbsp icing sugar
2 tbsp lightly whipped cream, to serve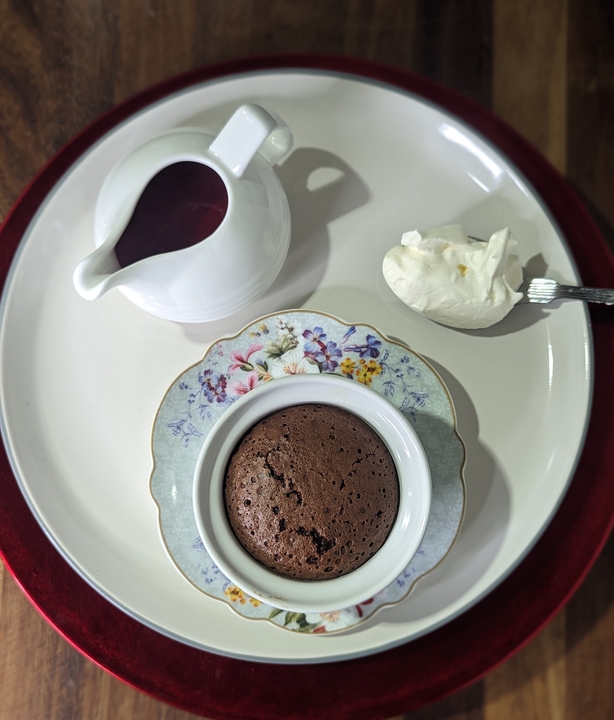 Method
Preheat the oven to 180˚C in a bowl, set over a small saucepan of simmering water, melt the chocolate with the butter until combined. Remove from the heat and set aside for two -three minutes.
In the meantime, in a separate bowl, beat egg yolks with 10g of sugar until combined. Keep aside.
In a third bowl, whisk the egg whites until a soft peak and start to combine the caster sugar until soft and shiny as a meringue.
Fold the egg yolk in the chocolate mixture and then the meringue. Fill twp porcelain teacups two-thirds full. Keep the rest for later in the fridge if you want to have a second go!
Arrange on a baking tray and bake for 10-12 minutes In the meantime, combine the raspberry with lemon juice and icing sugar. Blend or crush with a fork to create a puree.
Check the flavours and add extra icing sugar or lemon if needed. Pass through a sieve and keep aside until needed.
Once the chocolate mixture in the cups has well risen but still with a slight wobble in the middle. Remove from the oven.
Serve immediately with some raspberry coulis and spoonful's of lightly whipped cream.