Recipe courtesy of Eunice Power and Belling.
Ingredients
3 large aubergines
Olive oil
1 onion
1 clove of garlic
1 heaped teaspoon dried oregano
2 x 400 g tins of good quality chopped tomatoes
A scant dessert spoon of red wine vinegar
1 small bunch of fresh basil
3 Tablespoons of grated of Parmesan cheese
2 handfuls of dried breadcrumbs
A ball of Mozzeralla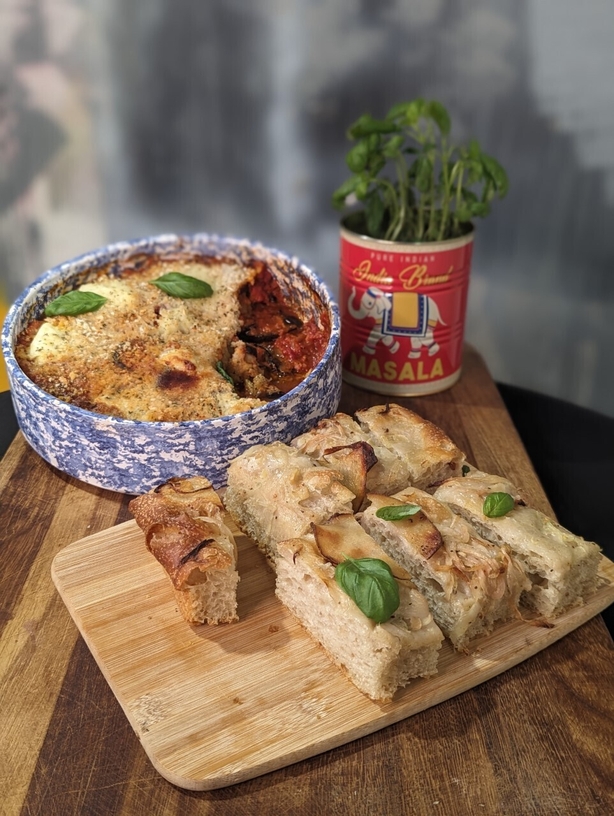 Method
Trim and slice the aubergines 1cm thick. Peel and finely chop the onion, and peel and finely slice the garlic. Place a medium saucepan over a gentle heat.
Add a large glug of olive oil, add the onion, garlic and dried oregano, then cook for 10 minutes, or until the onion is soft and the garlic has a tiny bit of colour.
Add the tinned tomatoes to the onion pan, give the mixture a good stir, then put a lid on and simmer slowly for 15 minutes, or until thickened and reduced. Season the tomato sauce with sea salt, black pepper and red wine vinegar. Next place a large frying over a medium heat.
Brush both sides of the aubergine slices with olive oil the fry until golden, this will need to be done in a few batches. Place each batch on a plate as you go. Spoon a layer of tomato sauce into a 15cm x 25cm baking dish, then add a fine scattering of Parmesan, followed by a single layer of aubergines.
Repeat these layers until you've used all the ingredients up, finishing with a little sauce and another good sprinkling of Parmesan.
Toss with the dried oregano and breadcrumbs and a little olive oil, then sprinkle on top of the Parmesan. Tear over the mozzarella (if using).
Bake at 190°C/375°F/gas 5 for 30 minutes, or until golden, crisp and bubbly, sprinkle basil leaves on top – it's best eaten straight away, but it can also be served cold.