Wade Murphy's fall-off-the-bone baked ribs.
Ingredients
Cooking & Prep time: approx 2 hours
Serves: 4-5
Rub & marinade for the ribs:
1 kg pork ribs - any membrane removed
100g brown sugar
1 tbsps garlic powder
2 tsp fine sea salt
1/2 tsp smoked paprika
Pinch cayenne pepper
1/2 tsp ground black pepper
1/2 tsp mustard seeds - toasted and ground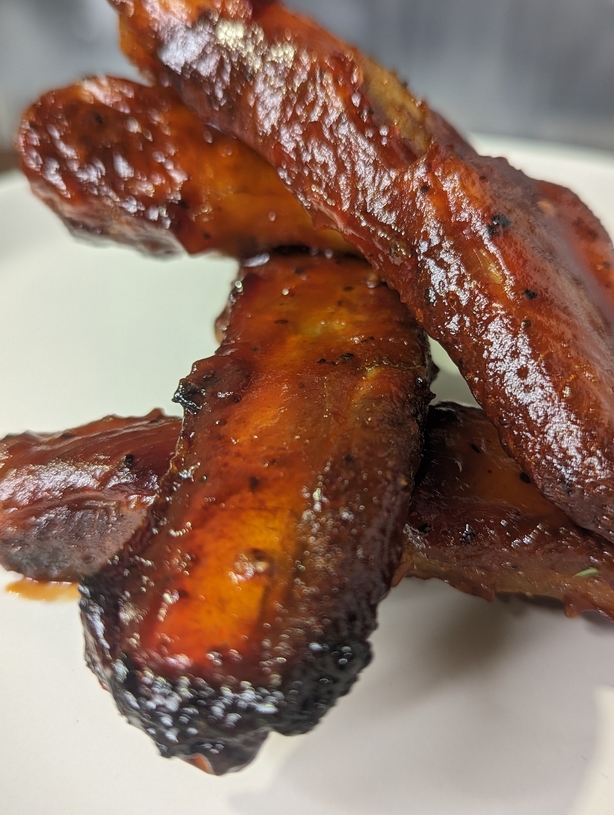 For the barbeque sauce:
500g tomato ketchup
225g dark brown sugar
65mls cider vinegar
125mls water
1 tbsp treacle
1 tbsp Worcestershire sauce
1/2 tsp garlic powder
1/2 tsp onion powder
Pinch of chili flakes
1/4 tsp mustard powder
1/4 tsp smoked paprika
1/4 tsp cumin seeds - toasted and ground
1/4 tsp fennel seeds - toasted and ground
1 tsp fine sea salt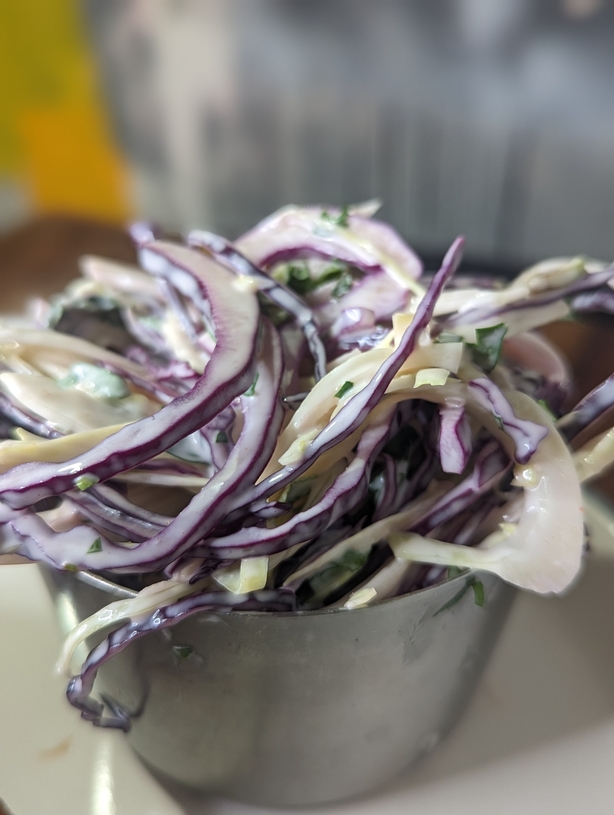 Apple & fennel slaw:
250g white Dutch cabbage - thinly sliced
200g red cabbage - thinly sliced and rinsed under cold water
1 bulb fennel - thinly sliced
1 Granny Smith apple - cut into thin matchsticks
2 tbsp cider vinegar
60g shop-bought mayonnaise
20g chopped fresh mint
20g chopped fresh parsley
Method
Preheat the oven to 150oC
Line an oven tray with tin foil. In a bowl mix all the ingredients for the marinade together. Add the ribs and coat evenly with the rub. Place the ribs on an oven tray with a little space between each on.
Cover the ribs with more tin foil and then place in the preheated oven for two hours. While the ribs are cooking make the barbeque sauce.
Place all the ingredients into a heavy-based saucepan and combine. Over high heat bring the ingredients to the boil, stirring continuously so it doesn't stick and burn.
Once boiling turn down the heat and simmer for approximately one hour until nice and thick.
For the slaw combine all the ingredients in a bowl and mix together. keep in the fridge until needed. Once the ribs are cooked turn the oven to grill.
Brush the ribs heavily with the barbeque sauce and place under the grill. Turn the ribs every couple of minutes until nice and caramelised. Brush with more of the sauce if needed.
Once ready serve the ribs on a platter with the slaw and some extra barbeque sauce on the side.
Happy cooking, Wade