Paul Flynn's chestnut mushroom carbonara with chorizo, garlic and Parmesan bread.
Ingredients
Serves 4
2 tbs olive oil
1 tbs butter
250g Chestnut mushrooms, cleaned and finely sliced
2 cloves of garlic, peeled and sliced
2 tbs roughly chopped flat parsley
350g spaghetti
3 eggs, beaten
100g Parmesan, grated
Chorizo, garlic and Parmesan bread
Serves: 4
100g soft butter
50g finely diced chorizo
2 cloves garlic, crushed
80g grated parmesan
1 Ciabatta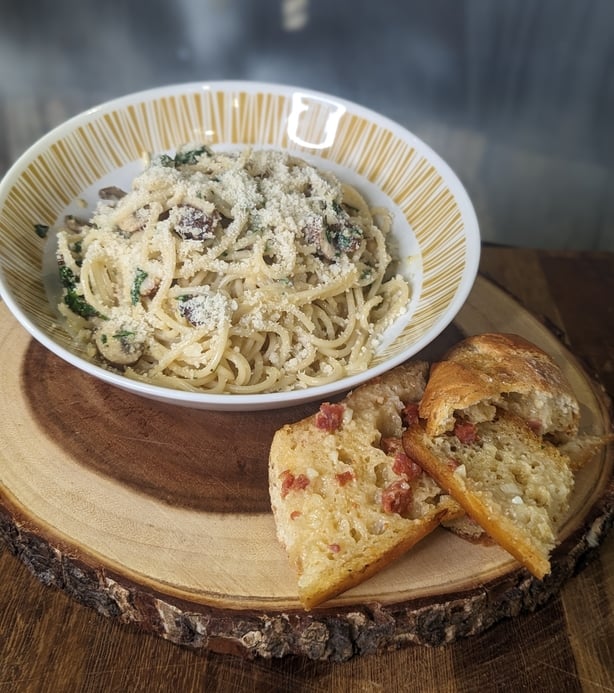 Method
Chestnut mushroom carbonara
Heat the olive oil and butter until gently foaming in a large frying pan or wok.
Add the mushrooms and garlic then turn the heat to high for a couple of minutes to cook the mushrooms. Add the parsley, season generously then remove from the heat. Cook the pasta as per packet instructions in a pot of salted water.
Meanwhile add most of the Parmesan into the eggs and mix. When the spaghetti is ready lift it with a tongs, or a pasta fork and add to the mushrooms quickly followed be the egg and Parmesan mixture.
Lift up the spaghetti so the egg mixes and thickens but doesn't scramble and the mushrooms mix through.
Season and add a few tablespoons of pasta water so the mixture is moist but not wet. Serve immediately with the remaining Parmesan sprinkled on top.
Chorizo, garlic and Parmesan bread
Set the oven to 180 degrees.
Fry the chorizo for a minute or so over a high heat until it crisps up and releases its oil, cool then add to the butter along with the garlic and Parmesan.
Mix thoroughly then slice the bread lengthways and smear the butter on both sides of the bread. Sandwich back together and wrap in foil then bake for 15 minutes till golden and crispy.