A really simple recipe guaranteed to win the hearts of all dessert lovers. I add a little spice for interest, serve with ice-cream and pouring cream for indulgence and green herbs for a zingy freshness. Yum!
Ingredients
1 fresh pineapple, fully trimmed, cored and flesh cut into bitesize, finger-sized chunks
100g brown sugar
50g salted butter, diced
Pinch sea salt
Shot or two of dark rum
Pinch Szechuan peppercorns, crushed
1 tsp vanilla paste
2 large eggs
125g caster sugar
125g self-raising flour
Zest of half an orange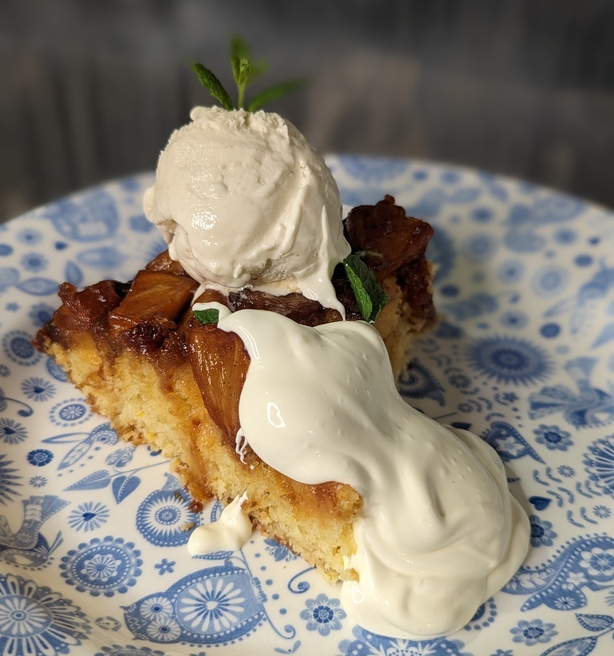 Method
Set your oven to Gas 4 or 180°C.
Pop the sugar into an oven-proof sauté or high-sided fry pan (with a heat-resistant handle) put onto a medium heat to melt and form a light brown caramel, about 5 to 7 mins. Add the butter, swirl around so it melts, pinch of salt then carefully pop in the pineapple chunks.
Cook for about 8 to 10 mins until the pineapple begins to soften.
Meanwhile, make a cake batter by creaming the butter and sugar until you notice the colour lighten and it takes on a light texture, then crack in the two eggs, add the flour, orange zest and gently incorporate together until thoroughly combined. Set aside.
Pour a shot of rum into the fry pan, drip-in a spoon of vanilla paste and sprinkle on a pinch or two of the crushed Szechuan peppercorns, swirl the pan to combine the ingredients, then remove from the heat.
Place dollops of the cake batter over the pineapple, then smooth out as best you can to cover the fruit and form a flattish surface. Pop the pan onto a middle shelf of your oven for about 20 to 25 mins or until a fork comes out clean.
Flip the cake out of the pan onto a large plate or serving platter, drizzle with a little more rum and serve immediately with ice-cream, pouring cream and maybe some ripped mint and basil.
Enjoy!