Recipe courtesy of Clonakilty Irish Yoghurts.
Ingredients
This is a gorgeous, good food mood dish, the chicken, courgette yogurt and tomato chutney are delicious served with rice or pitta bread.
2 part boned chicken filets, skin removed
½ teaspoon of salt
1 tablespoon of lemon juice
1 clove of garlic peeled and chopped
Small piece of root ginger, roughly chopped
Large pinch of flaked chilli
1 level teaspoon of Garam masala
1 teaspoon of ground cumin
150ml Irish yogurt Clonakilty kefir natural yogurt
Courgette Yogurt Relish
I small courgette coarsely grated
250ml of Irish Yogurt Clonakilty Kefir Natural yogurt
A scant teaspoon of salt
1 teaspoon of caster sugar
Freshly ground black pepper
A pinch of cayenne pepper
2 teaspoons of olive oil ½ of mustard seeds
I Jalapeno pepper, sliced
4 basil leaves, torn
Fresh Tomato Chutney
225g Fresh Tomatoes
1 onion red
1 green chilli
2 Tablespoon of fresh coriander chopped
I tablespoon white wine vinegar
Salt and pepper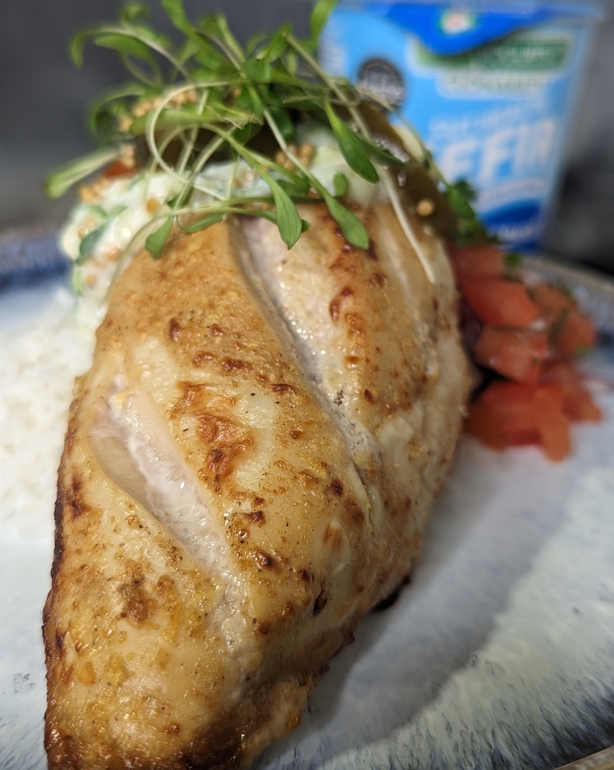 Method
Cut two deep diagonal slits into the fleshy parts of each chicken breast.
Put the rest of the ingredients into a blender and blitz for a minute then cover the chicken in the yoghurt marinade for a few hours or even better overnight.
Turn on the air fryer for 3 minutes at 190 to preheat then reduce the temperature to 180c and cook for 25 minutes.
Courgette Yogurt Relish
Put the courgette into a small saucepan along with 150ml of water. Bring to the boil and simmer for 2 minutes, drain then refresh under cold water, then pat dry.
Put the yogurt, salt, sugar, black pepper and cayenne pepper in a bowl and stir with a fork until smooth. Add the drained courgette and mix well.
Pour the oil into a small frying pan and set over a medium heat. When hot add the mustard seeds, as soon as they pot, in a matter of seconds add the Jalapeno and basil leaves then take the pan off the heat and pour over the yogurt.
Fresh Tomato Chutney
Half the tomatoes, remove the seeds and dice, finely chop the onion, deseed and chop the green chilli, mix all the ingredients together, stir well season and chill.