This dish is bursting with goodness, grilled fresh fish and crisp vibrant greens.
Ingredients
Serve with mash or plain boiled potatoes and, for that extra bit of indulgence, a spoon of sour cream on the side. It's ready in minutes but your fish will need a little trimming to make it perfect.
Paul's top tip: It's really important not to overcook your vegetables so everything stays crisp and green.
Serves 4
4 fillets of salmon
2/3 bag of petit pois peas (500g).
1 little gem lettuce(181g) washed and shredded.
4 spring onions, (87g) trimmed and cut into 3cm pieces.
1 vegetable stock cube crumbled into 250 ml of water.
1 Thai Green Curry Kit (available in supermarkets)
Bunch fresh coriander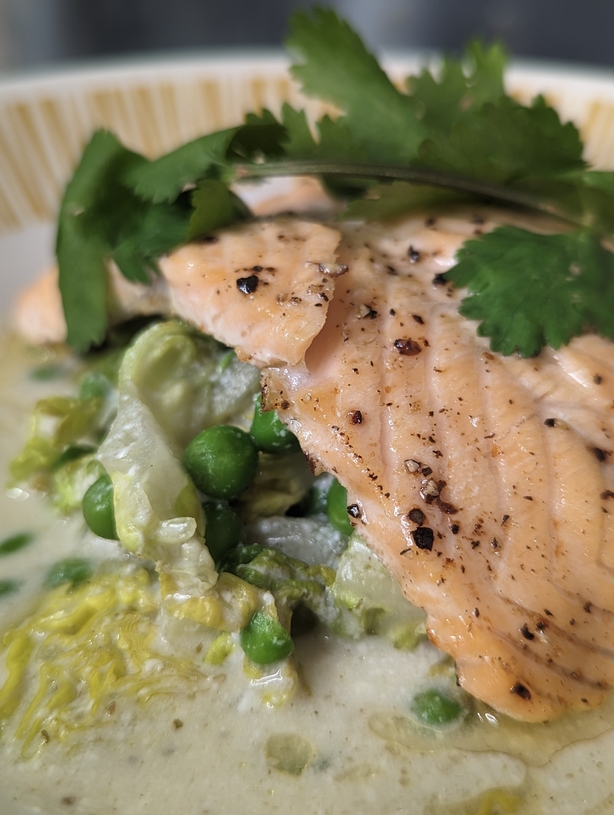 Method
Preheat your grill Brush a tray with a little olive oil, add salt and pepper to the tray and place your trimmed salmon fillets skin side up, then brush the salmon with a little more olive oil, season lightly and set aside till ready.
Bring the water and stock cube to the boil, add the peas, the Thai green curry paste and spices.
Put a lid on the pot, bring back to the boil and simmer for 2 minutes. Add the spring onions, lettuce and coconut milk and cook for no more than 1 minute.
Meanwhile, grill the salmon for 5-6 minutes. Season the peas mixture, then spoon in to warm bowls along with some of the juice. Serve the salmon fillets and coriander on top.