Seared on the pan, these tender dumplings get a crisp and crunchy outside.
Ingredients
Serves approx 6
Prep/Cook time: 40 minutes
1 packet dumpling pastry or wonton wrappers
2 large eggs beaten
1 onion, thinly sliced
1/2 head Chinese cabbage, blanched and thinly sliced
200g tofu, diced
100g bean sprouts, chopped
120g vermicelli noodles, cooked and finely chopped
2 cloves garlic, finely chopped
1 tbsp sesame oil
2.5 tbsp soy sauce
Pinch salt
Fresh black pepper
To garnish:
Soy Sauce
Toasted sesame seeds
Scallions, finely sliced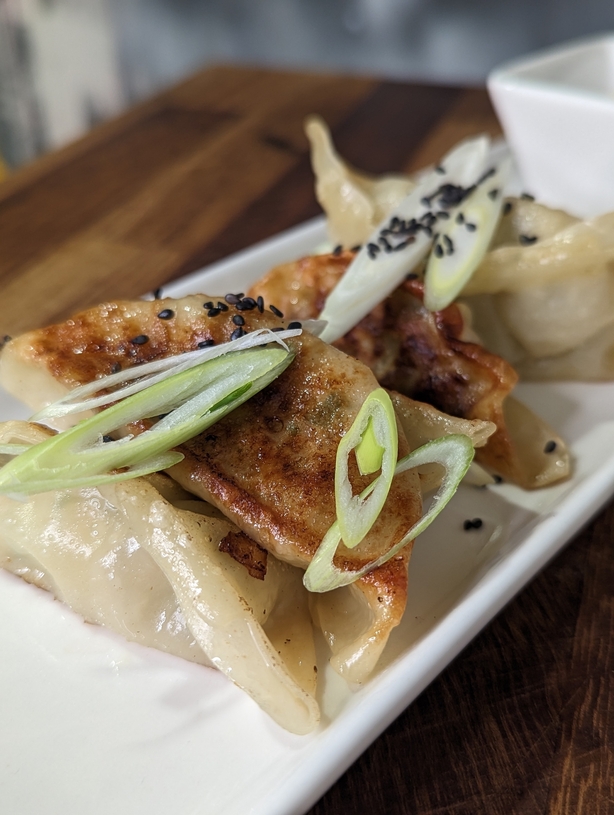 Method
In a bowl mix the egg, onion, cabbage, tofu, beansprouts and noodles.
Separately combine the garlic, sesame oil, soy sauce and seasoning.
Pour the wet mix over with vegetables and tofu mix together.
Have a small bowl of cold water on your prep station. Place the dumpling wrappers on the work surface. Place approximately 1 tablespoon of the mix in the centre of the wrappers. Using your fingers wet the edges of the wrapper and fold in half. Crimp the edges. Repeat until all the mix is used up.
How you cook the dumplings is up to yourself. They can be steamed, deep fried, fried or even just boiled in hot water. You can steam the dumplings and then freeze them once cooled and then just take them from the freezer as you need them.
Serve them with the soy sauce, toasted sesame seeds and sliced scallions.