Watch Donal's Festive Party on Thursday 29th December at 8.00pm on RTÉ One.
Ingredients
Donal Skehan's pink negroni spagliato
Serves: 8
Takes: 10 minutes + chilling
Ice
8 x 25ml shots campari
8 x 25ml shots red vermouth
1 x 750ml bottle chilled sparkling rose/pink prosecco or nosecco (non-alcoholic)
4 slices of orange, halved
Fire & Ice Mocktail
Serves: 12
Time: 15 minutes + infusing time
250g caster sugar
175ml water
1 hand fresh ginger, peeled and chopped
6 limes, 4 quartered and then cut in half and the other two sliced to garnish
1 large bunch mint, leaves picked
Ice
1 bottle tonic water or soda water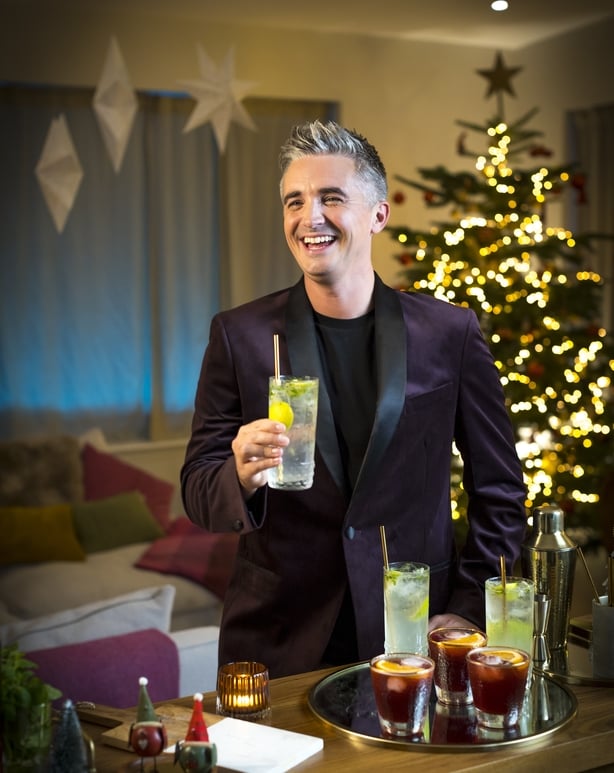 Method
Donal Skehan's pink negroni spagliato
Fill 8 tumblers or short-stemmed glasses with a few ice cubes.
Pour a shot of campari and a shot of vermouth into each glass.
Top with the sparkling rose.
Stir gently, add a half moon of orange and serve.
Fire & Ice Mocktail
Put the sugar and water in a pan over a low heat and stir gently until the sugar dissolves.
Add the ginger and bring to the boil then cover, reduce the heat and simmer gently for 15 minutes.
Allow to cool and steep for about 1 hour (longer if you want a more fiery syrup).
Strain and transfer to a bottle, before transferring to the fridge.
Pour a couple of fingers of syrup into a cocktail shaker, add some sliced limes, and some mint leaves, leaving some for garnishing.
Muddle together with a cocktail muddler (or the end of a rolling pin if you don't have one).
Strain over ice and top with tonic or soda water and garnish with a lime slice and some mint