When you spatchcock a chicken it makes it cook more evenly and also it's a much quicker way of cooking a whole bird.
Ingredients
Serves 4
Prep/Cooking Time: Approx 1hr 30 mins
1.5kg chicken
2 tbsp fennel seeds - toasted and crushed
1 tsp lemon zest, reserve the juice for vegetables
2 cloves garlic - finely chopped
2 tbsp flat parsley - chopped
1/2 tsp smoked paprika
Pinch dried oregano
Pinch red chili flakes
3 bulbs fennel - cut into wedges
1kg potatoes cut in half
Salt & pepper
2 red onions - cut into wedges
1/2 orange - cut into chunks. Reserve the other half for serving
5 tbsp olive oil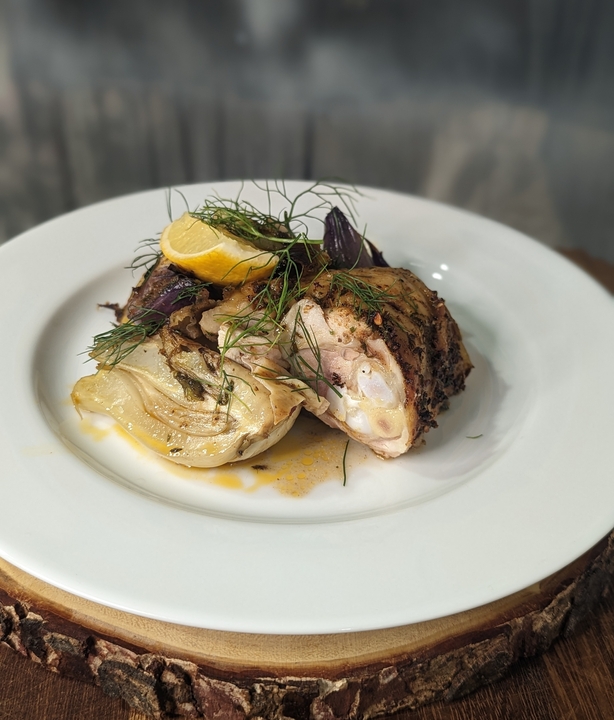 Method
To spatchcock the chicken: Flip it over so the backbone is facing up to you. Using a good pair of kitchen scissors or a sharp knife, cut down either side of the backbone, you can keep this for stock. Turn the chicken over so that it is skin side up and push down firmly on the breastbone to flatten out the bird, you will need to break the backbone. Make a few cuts in each leg joint of the chicken.
To make the marinade: In a bowl add the crushed fennel seeds, lemon zest, 1/2 the garlic, 1/2 the parsley, smoked paprika, oregano, chili flakes, and 3 tablespoons of olive oil. Mix and season with salt and pepper.
Rub this marinade all over the chicken and leave to marinade for at least 30 mins. If you want you can double up this recipe and serve the remaining half with the finished dish.
Preheat the oven to 190oC.
In a large roasting dish place fennel, lemon juice, potatoes, garlic, orange and red onion. Drizzle remaining olive oil over, season with salt and pepper, and toss well to coat. Spread out in an even layer.
Place the chicken, skin side up on top of the vegetables. Pour any remaining marinade over the chicken. Place into the oven for approx 50 mins or until the juices run clear. I'd recommend if you have a probe on your oven to place the probe into the thickest part of the leg and set to 76oC.
Once the chicken is cooked and crispy, remove just the chicken from the tray and place on a board to rest for at least 15 - 20 minutes. Place the vegetables back in the oven and cook as the chicken is resting until caramelised and softened. Remove from the oven and finish with remaining parsley and seasoning.
Carve the chicken. Place the vegetables and chicken onto serving plate. Garnish with reserved orange slices and remaining marinade.