Are you ready for Stir Up Sunday?
Ingredients
Makes: 2-pint pudding
For steeping
100g raisins
50g sultanas
100g dried cranberries
½ orange, zest only
½ tsp ground ginger
½ tsp ground cinnamon
4 tbsp whiskey
100ml pear cider
75g light brown sugar
200g peeled, cored and diced fresh pears
60g caster sugar
4 tbsp ground almonds
150g spelt flour
½ tsp ground cinnamon
½ tsp mixed spice
½ orange, zest only
1 egg, beaten
60ml orange juice
75g grated chilled butter
For the toffee sauce
200g light brown sugar
220ml double cream
100g butter
4 tbsp pear cider
For the topping
1 to 2 pears, sliced into thin wedges, cored but skin left on
Dash of lemon juice
1 tbsp butter
1 tbsp rapeseed oil
1 tbsp caster sugar
Sprigs of rosemary, to decorate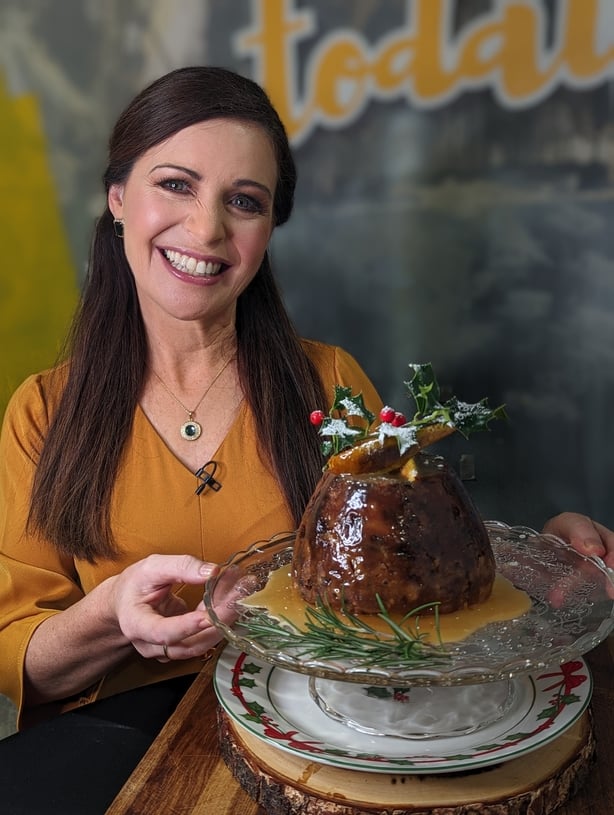 Method
To steep, combine all ingredients together for steeping, cover and leave in a cool place overnight.
To make the pudding, generously brush a 2 pint pudding bowl with melted butter. Line the base with a circle of parchment.
Mix the diced pear, caster sugar, ground almonds, spelt flour, cinnamon and mixed spice, orange zest together in a large bowl. Carefully stir the soaked fruit into the dry ingredients. Stir in the beaten egg, orange juice and grated butter.
Spoon the mixture into the prepared 2pint pudding bowl. Cover the bowl tightly with a well-fitting lid or a layer of baking parchment and foil.
Secure with string, ensuring to cross the string over the top of the bowl. This forms a handle (otherwise it is difficult to lift the steaming pudding from the saucepan later).
Place the bowl in a saucepan of just simmering water. The water should reach a level, just below the lid of the bowl. Cover and simmer very gently for 3½ hours. Keep topping up the water with boiling water as required.
Cool in the bowl and store in a cool dry place.
To prepare the sauce, place the sugar, cream, butter and cider into a saucepan and bring it to the boil, turn down the heat to a simmer and stir frequently while it thickens. Set aside to cool. When ready to serve, heat the butter and oil in a frying pan and add the pear slices.
Sprinkle a little sugar over them and lightly brown. Set aside, ready to decorate the pudding.
To re-heat, steam again for at least ½ to 3/4 an hour. Turn out the pudding on a cake stand or platter. To decorate, spoon over a little toffee sauce, place the pear slices on top and arrange rosemary sprigs dusted with icing sugar on top. Serve with cream.