The beauty of homemade tacos is that when it comes to serving it's a perfect excuse to get everyone to assemble their own. All the different elements can be laid out on the table and from there, it's choose your own taco adventure time! Take the time to char the corn tortillas on a hot griddle pan or over an open flame using tongs – it makes such a difference to their flavour.
Ingredients
Serves: 6
Prep: 15 minutes
Cook: 15 minutes
2 tbsp olive oil
2 red onions, quartered
750g free-range skinless chicken thigh fillets, sliced
3 garlic cloves, grated
1 tsp ground cumin
1 tbsp chipotle powder
To serve:
¼ red cabbage, very finely shredded
Juice of 2 limes, plus wedges to serve
Pinch of sugar
Drizzle of extra virgin olive oil
6 large flour or corn tortillas, warmed
1 red onion, thinly sliced
1 large avocado, sliced
Guacamole
Handful of coriander (cilantro) leaves
Sea salt and freshly ground black pepper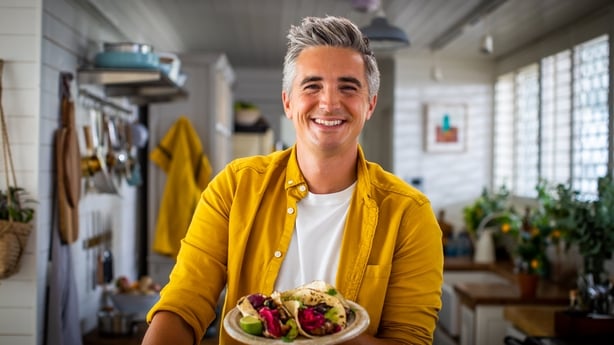 Method
Toss the olive oil, red onion, chicken, garlic, cumin and chipotle powder together in a bowl until completely coated. Add salt and pepper to season.
Place a large griddle pan over a high heat until hot, then add the chicken and red onion and allow to char on all sides until the chicken is cooked through and the red onion wedges are tender.
Keep warm in a low oven while you prepare the toppings.
Toss the shredded red cabbage with the lime juice, a good pinch of sugar and some seasoning. Add a drizzle of extra virgin olive oil and set aside to pickle.
Spoon the chicken and onion wedges onto warmed tortillas and top with pickled cabbage, sliced red onion, avocado slices, dollops of guacamole and a scattering of coriander.
Squeeze over lime wedges, roll up and devour.