Ingredients
Serves: 4
For the sauce:
100g butter
50ml olive oil
500g cherry tomatoes, halved
2 garlic cloves, sliced
2 sprigs thyme, leaves removed
For the polpette:
500g sausage meat
1 tsp chilli flakes
2 Tsp fennel seeds, roughly crushed
1 egg
50g breadcrumbs
1 tsp olive oil
To serve:
350g bucatini
Small handful basil leaves
Grated Parmesan cheese
Sea salt and freshly ground black pepper
You'll need:
Sauté pan
Frying pan
Saucepan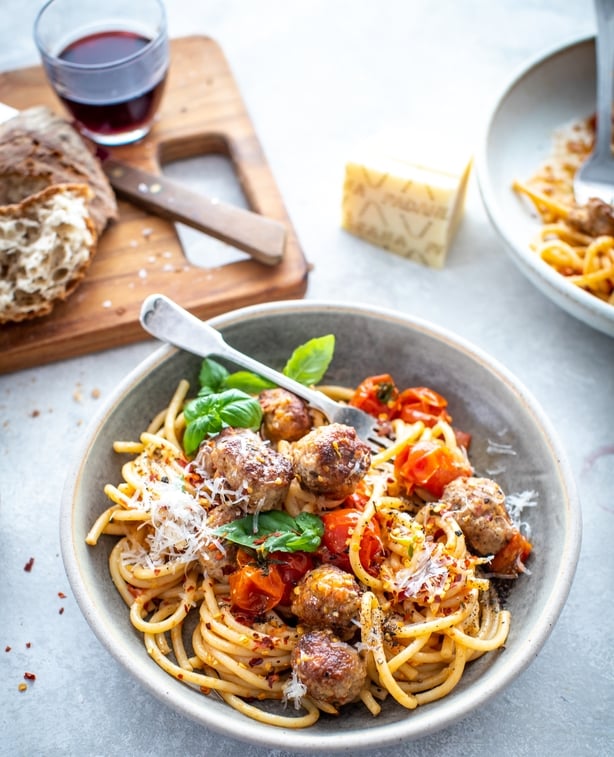 Method
Add the butter and oil to a sauté pan over a low heat. Once melted, add the tomatoes, thyme and garlic. Allow to simmer over a low heat for 15-20 minutes until the tomatoes have softened completely. Use a fork to lightly press the tomatoes down.
Mix all the ingredients for the polpette, apart from the oil,in a medium-sized bowl. Using damp hands, shape into balls about the size of a walnut. You're aiming for thirty.
Add oil to another pan over medium heat and fry the meatballs for 10-15 minutes, tossing occasionally to brown all sides. While they are cooking, cook the pasta.
Bring a large pot of water to the boil. Salt the water well and add the pasta. Cook for 10-12 minutes or according to packet instructions until al dente.
Transfer the rough tomato sauce to the meatballs and bring to a steady simmer until the meatballs get nicely coated.
Using tongs, transfer the cooked pasta to the sauce and toss through. Serve sprinkled with basil leaves and grated Parmesan.