Watch Donal's Family Kitchen, Wednesdays on RTÉ One at 7:30pm.
Ingredients
Serves: 4
For the braised short ribs:
1-2 tbsp rapeseed oil
4 large short ribs
2 onions, thinly sliced
4 garlic cloves, thinly sliced
2 sprigs thyme
3 tbsp plain flour
500ml stout
2 tbsp treacle
1 litre good quality beef stock
2 bay leaves
For the cheesy polenta:
500ml milk
250ml chicken stock
2 sprigs thyme, leaves removed
250g fine polenta
50g butter
75g Cáis na Tíre
Small handful parsley, finely chopped
Sea salt and freshly ground black pepper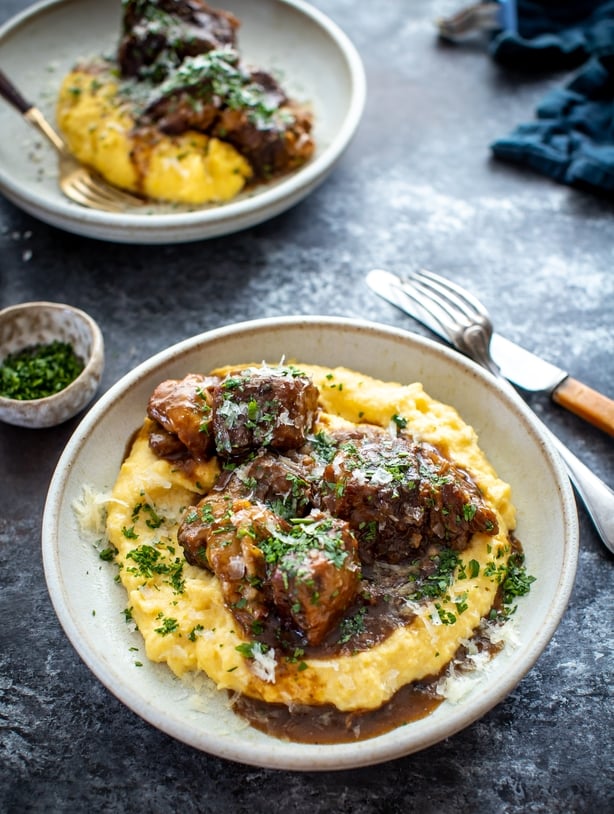 Method
Heat a large heavy based casserole pan. Season the beef and brown the short ribs in batches, it'll take 6-8 minutes.
Transfer to a plate. Add the onion, garlic, and thyme. Sauté for 3-4 minutes until softened a little. Add the flour and stir to cook for another minute or so.
Add in the stout and simmer for 5-6 minutes until reduced by half, scraping the bottom of the casserole with a wooden spoon to remove any brown bits.
Return the beef to the pan with the treacle, stock and bay leaves. Cook for 1.5-2 hours until tender and the meat is almost falling off the bone. Discard the thyme and bay leaves.
When the short ribs have almost cooked, prepare the polenta. Add the milk, stock and thyme to a medium saucepan. Add the polenta slowly while stirring through to prevent clumping.
Reduce the heat slightly and cook for 10-15 minutes until the polenta has absorbed all the liquid. Stir through the butter and two thirds of the cheese.
Serve the polenta in bowls. Top with the short ribs, spoon over the sauce and then sprinkle with the remaining cheese and parsley.