Lasagne was one of the first things I learned to cook and it still remains one of my favourite comfort food dishes. This version yields next-level results. I've used braised beef shin, cooked gently until quiveringly tender, which makes all the difference to the ragu, which is then layered between pasta and a rich cheese sauce.
Ingredients
Serves: 8
Prep: 30minutes
Cook: 3-3½ hours
2kg beef shin, cut into pieces
3 tbsp plain (all-purpose) flour, seasoned
4–5 tbsp olive oil
1 large onion, finely chopped
250g chestnut mushrooms, finely chopped
3 garlic cloves, grated
1 bay leaf
5 sprigs of fresh oregano, leaves stripped
2 tbsp tomato purée
450ml good red wine
200ml fresh beef stock
400g tin chopped tomatoes
2 tsp red wine vinegar
12 sheets of fresh lasagne pasta
Mixed leaves, to serve
For the cheese sauce:
75g butter
75g plain (all-purpose) flour
800ml whole milk
150g Cheddar cheese, grated
100g Parmesan cheese, grated
1 teaspoon Dijon mustard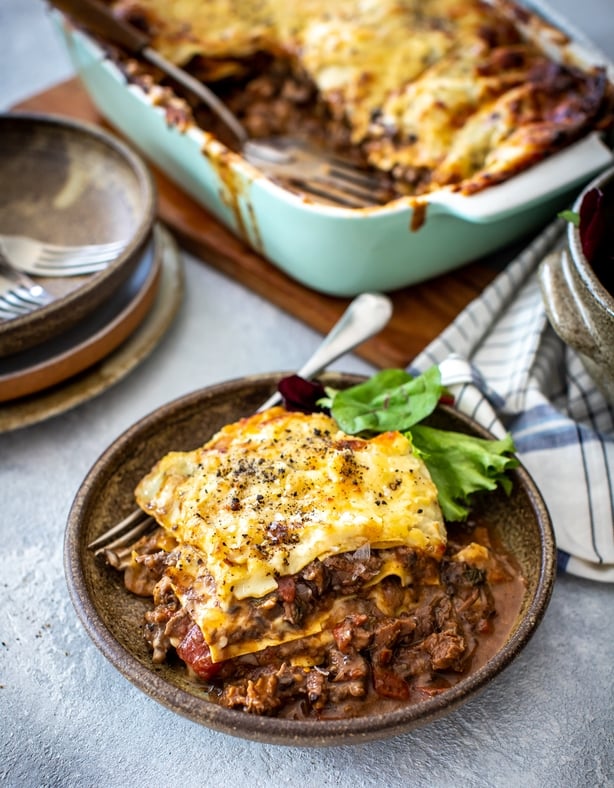 Method
To make the filling, toss the beef in the seasoned flour. Heat a good layer of oil in a casserole and fry the beef, in batches if necessary, until really browned on all sides. Transfer to a plate.
Add the onion and mushrooms with a little more oil to the casserole and fry for 10 minutes until golden, then add the garlic and tomato purée.
Pour in the wine and let it bubble for 2-3 minutes. Add the beef stock, tinned tomatoes and red wine vinegar and return the beef to the pan. Season with salt and pepper and bring to the boil and bubble for 2–3 minutes. Add in the herbs.
Reduce to a simmer and cook gently, partially covered, for 2½–3 hours until the meat is really tender and falls apart when you push it with a spoon.
Meanwhile make the cheese sauce. Melt the butter in a pan and stir in the flour and cook for a minute or two then gradually add the milk until you have a smooth, thick sauce. Season well and add most of the cheese (saving some for scattering on top) and the mustard.
Once the beef is tender, remove the bay leaf and shred the meat into the sauce. If the sauce is looking a little juicy you can reduce it until it just coats the meat.
Preheat the oven to 200°C/180°C fan/400°F/Gas 6. Spoon a third of the meat into a large ovenproof dish, then top with 4 of the lasagne sheets and spoon over a third of the cheese sauce. Repeat the layers twice more, ending with cheese sauce.
Scatter with the rest of the cheese and bake for 30–35 minutes until bubbling and golden. Serve with a green salad.