Ingredients
Makes 4 x 400ml jars
For the salmon
4 salmon fillets
1 tbsp sweet chilli sauce
2 tsp honey
1 tsp sesame oil
1 tbsp sherry
1 tbsp soy sauce
Small grating of fresh ginger
2 spring onions, finely sliced
For the dressing
1 spring onion, finely sliced
1 tsp honey
½ red chilli, chopped
250ml coconut milk
Juice of ½ lime
Salt to season
For the salad
100g brown rice
2 tbsp toasted coconut flakes
2 tsp coriander, chopped
Zest of 1 lime
40g baby spinach leaves
2 handfuls of rocket leaves, washed
120g kidney beans, drained
120g sweetcorn, drained
12 cherry tomatoes, halved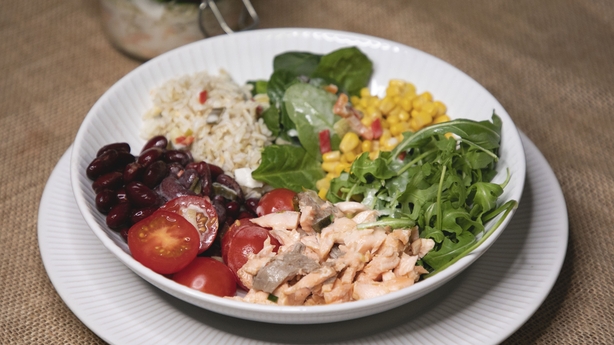 Method
Cook the brown rice according to the package instructions. It generally takes about 40 minutes to cook. Rinse in cold water to cool. Season with salt.
To prepare the salmon, combine the sweet chilli sauce, honey, sesame oil, sherry, soy sauce and the ginger together and mix well. Spread over the salmon. Leave for 5 minutes. Heat a frying pan with a little oil, the spring onions and sauté 3 minutes before adding the salmon and cook for 4 to 5 minutes on both sides or until the salmon is cooked.
Take the salmon out and set aside to cool, then flake into pieces.
To make the dressing, use a saucepan to heat a little oil, add the spring onions and sauté until cooked but not brown. Add the honey, chilli and cook for a further 2 minutes.
Pour in the coconut milk and simmer slowly for 6 to 7 minutes, stirring from time to time. Season with a little salt and add the lime juice. Set aside to cool.
Stir in the coconut flakes, lime zest and coriander into the cooled rice.
To assemble the jars in layers, spoon some dressing into each jar first, then add the flaked salmon.
Followed by some coconut lime rice, then baby spinach leaves and rocket leaves, followed by the kidney beans and the sweetcorn and finish by adding the tomato halves on top.
Place the lids on the jars securely.